Kennebunkport ME Wedding
Lindsey and Bennett had a classic, elegant Kennebunkport ME wedding. One of those weddings that we'll remember for many years to come. If you're going to work on your birthday, as I did here, THIS is the kind of job to have!  What a glorious day! There was a beautiful wedding, a great couple, a really fun wedding party, close-knit families, quintessential coastal Maine town, storybook church, classic car, five-star dining, a Sperry tent, you name it, we had it.
Lindsey's dad recounted that as a child, Lindsey told him during a walk one day along Kennebunkport's Ocean Avenue, "Dad, when I  get married some day, I want my wedding to be at St. Ann's church and my reception to be at The Breakwater Inn."  In our photos is Lindsey's childhood that dream come true, at the very same locations Lindsey hoped for. As a Kennebunkport Maine wedding photographer, I can attest that it was a storybook day.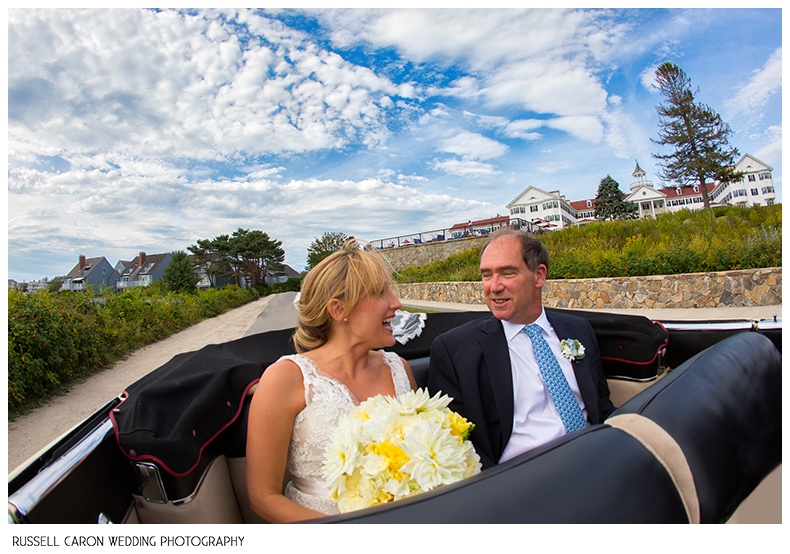 With a vintage car rented from Motorland in Biddeford, Maine, Lindsey and her dad arrived at the church in grand style, as you can see above. St. Ann's Episcopal Church, below, an historic seaside chapel, is such a charming location for a Kennebunkport ME wedding.
Below, what a beautiful smile! Lindsey was just beaming the entire day.
Bennett surprised Lindsey when he sang a song with the Jim Ciampi band, below.
If you enjoyed Lindsey and Bennett's Kennebunkport ME wedding, please leave a comment below. Thank you!
Wedding Kennebunkport ME style! Kennebunkport Maine wedding photographers, Russell and Liz Caron, put the fun into wedding photography for Maine wedding couples.  Feel the love as this dynamic pair effortlessly capture each of your cherished moments, producing natural poses and unparalleled art for your special day.  For more information, 
please 
contact us
 right away!