Unique Bridal Portrait | Sebasco Harbor Wedding Photographers
We love this unique bridal portrait of Belle, on her way to her wedding ceremony at Sebasco Harbor Resort. What is there about a bride on a boat? That alone is a recipe for some likely awesome photo ops. But this image was really different for us.
For all the hundreds of weddings that have taken place at Sebasco Harbor Resort, this was the first that anyone knows of where the bride arrived by boat. The bride and her dad were driven a little way upriver to the home of a friend, to an awaiting lobster boat. And this lobster boat was pristine, to say the least.
We captured this image with Belle striking this contemplative pose all on her own, pensively drinking in the quiet of the moment on a warm early June day. Not much longer and the day would turn a lot busier than this moment. And that is one of the many things we loved about this image, and what makes it our #9 top pick of 2018.
Check out the rest of their Oceanside Maine Wedding. If Belle looks familiar, she's been in this countdown once before already, a week ago, with our #16 pick.
Photo by Russell Caron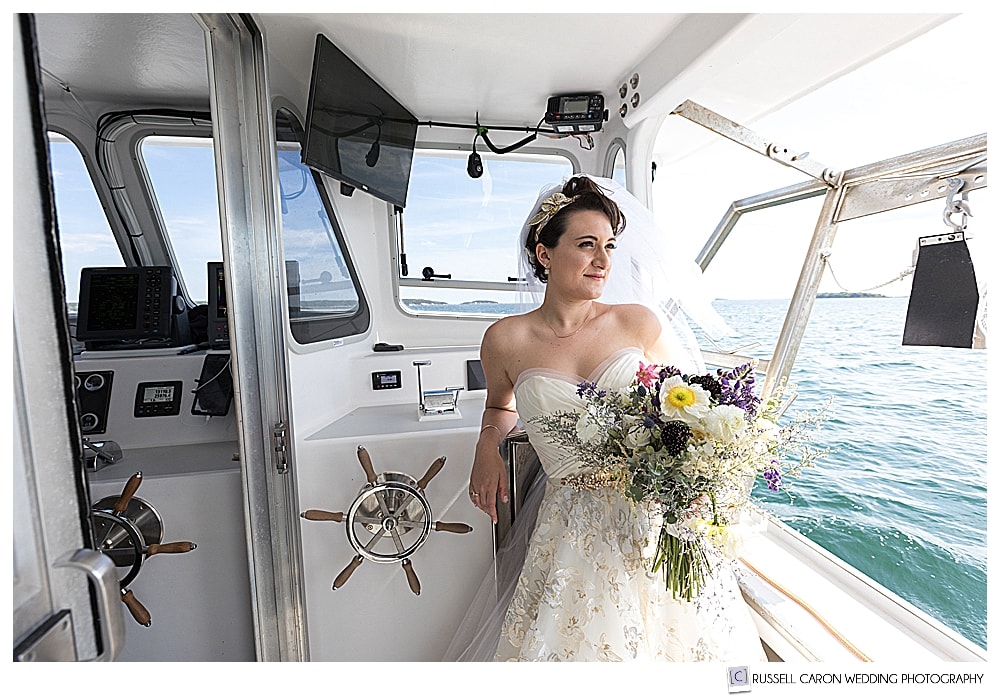 Vendor Partners
Venue: Sebasco Harbor Resort
Photographers: Russell Caron Wedding Photography, photographs by Russell Caron and Liz Caron
Officiant: Lisa White
Florist: Michelle Peele
DJ: Dionne Entertainment
Hair: Amy Roche
Wedding dress: Matthew Christopher from Allegria Bridal
Paper Suite: Paper Source
Cake: The Black Tie Company
Please comment on the blog post, and share!! Thank you 🙂 Stay tuned for our #8 favorite tomorrow! Come back every day, until we reach #1 on December 31!
Award winning Maine wedding photographers Russell Caron and his wife, partner, and co-shooter Liz Caron photograph weddings, and weddings only, from Boston to Bar Harbor and destinations worldwide. Let us tell you more about why choosing us as your wedding photographers could be one of the very best choices you'll make among your wedding day vendors. Contact us today for more information and our availability for your wedding!