Heartfelt Sebasco Wedding | Sebasco Harbor Wedding Photographers
Belle and David are completely devoted to each other, which you can clearly see in this heartfelt Sebasco wedding photo. A day long planned, it unfolded perfectly. There was fun, hope, excitement, laughs, and lots of anticipation. Mostly, there was love.
A heartfelt ceremony led to the vows, and during the vows, well, you can see what happened. Real emotion is one of our most cherished moments to capture. Nothing says real emotion as well as real tears, wouldn't you agree?
And, we like to emphasize that we are not standing as near to the bride and groom as the photo may make it seem. Our two-photographer "clockwork", the same for every wedding we photograph, has us move opposite each other. And, we use our "long" telephoto lenses to close in on the real emotions of the face, mouth, and eyes during key times, like this one. Without being in the way.
This is why we love images like this, and this one is favorite enough to give it our #16 spot in the top 18 images of 2018. See the blogpost of Belle and David's beautiful Oceanside Maine wedding!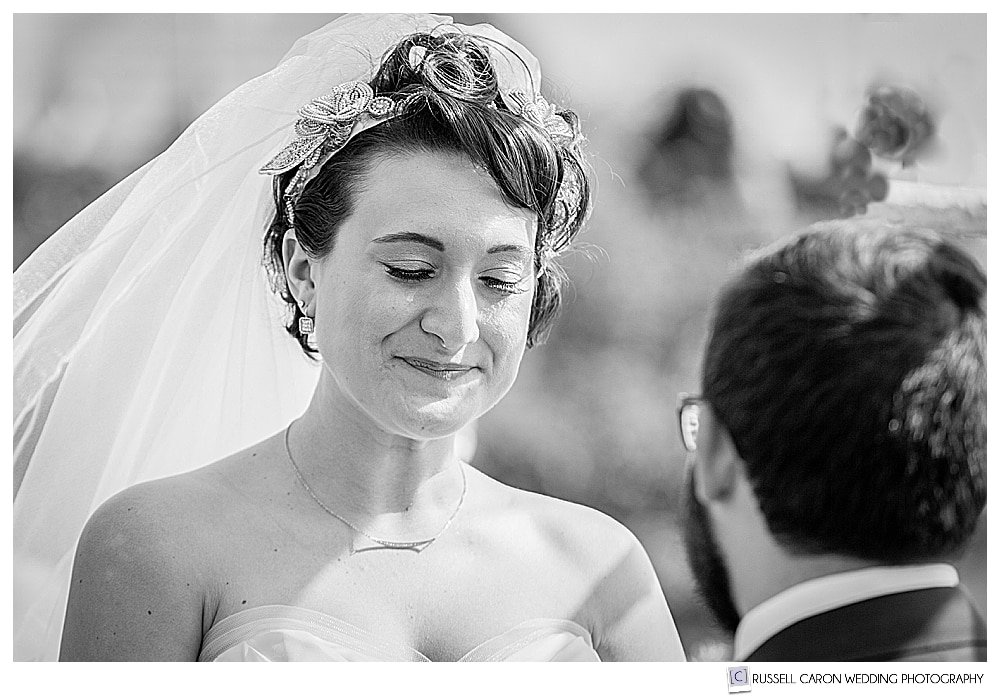 Please comment and share this heartfelt Sebasco Wedding ceremony!! Thank you 🙂 What do you think #15 in the series will be? Come back tomorrow, and every day, until we reach #1 on December 31!
Vendor Partners
Venue: Sebasco Harbor Resort
Photographers: Russell Caron Wedding Photography, photographs by Russell Caron and Liz Caron
Officiant: Lisa White
Florist: Michelle Peele
DJ: Dionne Entertainment
Hair: Amy Roche
Wedding dress: Matthew Christopher from Allegria Bridal
Paper Suite: Paper Source
Cake: The Black Tie Company
Award winning Maine wedding photographers Russell Caron and his wife, partner, and co-shooter Liz Caron photograph weddings, and weddings only, from Boston to Bar Harbor and destinations worldwide. Let us tell you more about why choosing us as your wedding photographers could be one of the very best choices you'll make among your wedding day vendors. Contact us today for more information and our availability for your wedding!