Serene Bridal Portrait | Phippsburg Maine Wedding Photographers
Krystal is in the dining room of the 1774 Inn in Phippsburg, Maine. At each wedding we photograph, we take time to make a quiet, reflective, serene bridal portrait. Just like we did here with Krystal. Talk about everything falling together in a blink! It's par for the course with wedding photography; if you have 5 seconds to see, plan, and execute a shot that's often generous.
As we entered the formal dining room at the venue, the light falling through this window spoke to us, very affirmatively I may add. We asked Krystal to pause for a moment, take a deep breath, and take in the beauty of the moment. We didn't have to direct much more than that, and this, our #8 top wedding photo of 2018 was then outcome! Take a look at Krystal and Greg's lovely 1774 Inn Wedding!
Photo by Russell Caron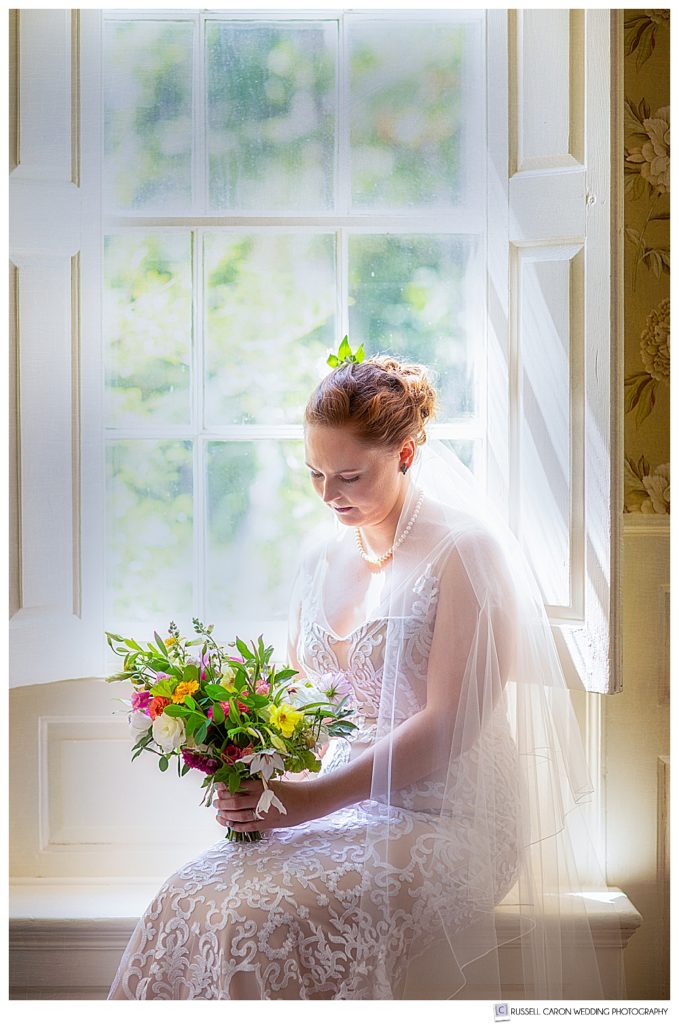 Vendors
Venue: 1774 Inn
Planner: Salty and Sweet Events
Photographers: Russell Caron Wedding Photography, photographs by Russell Caron and Liz Caron
Officiant: Andrea Rhode
Florist: Stem & Vine Floral
Catering Company: Churchill Events
Tent: Marshall Tent
Rentals: One Stop Event Rentals
DJ: Dionne Entertainment
Hair: Adalia Salon
Makeup: Beauty Couture
Wedding Dress Designer: Kpoene Kofi-Nicklin of Mignonette Bridal
Bride's Shoes: Tieks
Men's Wear: Men's Wearhouse
Paper Suite: Bayview Printing Co.
Cake: Sea Flour
Please comment on the blog post, and share!! Thank you 🙂 we're getting closer every day to #1! Come back every day, until we reach #1 on December 31!
Award winning Maine wedding photographers Russell Caron and his wife, partner, and co-shooter Liz Caron photograph weddings, and weddings only, from Boston to Bar Harbor and destinations worldwide. Let us tell you more about why choosing us as your wedding photographers could be one of the very best choices you'll make among your wedding day vendors. Contact us today for more information and our availability for your wedding!