CYC Wedding Dance Party | Camden Maine Wedding Photographers
We're now into the Top 10 of our 18 favorite 2018 photos, with this black and white CYC wedding dance party image. Here's their Camden Yacht Club wedding.
Leigh and Patrick's Camden Yacht Club (CYC) wedding in September of this past fall was one for the books! We see great dance parties every weekend, and we love it! And this CYC wedding dance party was certainly no exception – it blew us away! The dance floor was packed all night, and that's what makes for great dance party photos! There was something more than very special about this view of the newlyweds we obtained from a small balcony overlooking the dance floor. The main room at CYC is rustic, warm, and charming, all at the same time. It's a classic place, and this classic shot rendered in black and white not only shows that vibe, but really highlights the happiness of this perfect-for-each-other couple!
Photo by Russell Caron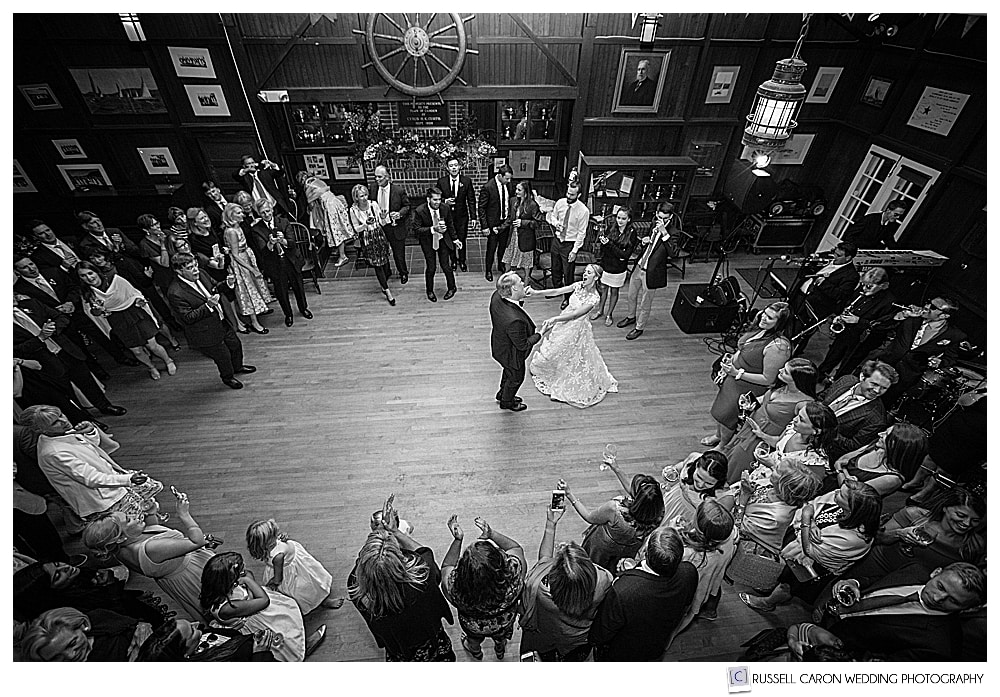 Vendor Partners
Ceremony Venue: Our Lady of Good Hope
Reception Venue: Camden Yacht Club
Photographers: Russell Caron Wedding Photography, photographs by Russell Caron and Liz Caron
Officiant: Father Bob Vaillancourt
Florist: One and Supp
Paper Suite: Ashley Begley
Catering: Trillium Caterers
Band: Search Party
Hair: Hair That Moves
Wedding dress: Guillermo Couture
Cake: Trillium Caterers
Please comment on the blog post, and share!! Thank you 🙂 #9 is coming up tomorrow, any thoughts as to what it'll be? Come back tomorrow, and every day, until we reach #1 on December 31!
Award winning Maine wedding photographers Russell Caron and his wife, partner, and co-shooter Liz Caron photograph weddings, and weddings only, from Boston to Bar Harbor and destinations worldwide. Let us tell you more about why choosing us as your wedding photographers could be one of the very best choices you'll make among your wedding day vendors. Contact us today for more information and our availability for your wedding!