Nonantum Resort Weddings | Kennebunkport Maine
Welcome to Kennebunkport, Maine, the home of the wonderful Nonantum Resort. Nonantum Resort weddings are some of our very favorite Maine weddings! As Kennebunkport Maine wedding photographers, we love the Nonantum for so many reasons. First, its' fantastic location alone would make it on our top favorites list. Second, it's the super-friendly staff, the service, the food, the hospitality, the care they give not only their customers, clients, and guests. Third, they treat vendors well, too! It's hard to imagine a town and venue better suited for a fantastic Maine wedding and Maine wedding photography. Let's start this quick tour with our favorite images we've taken at and near the Nonantum.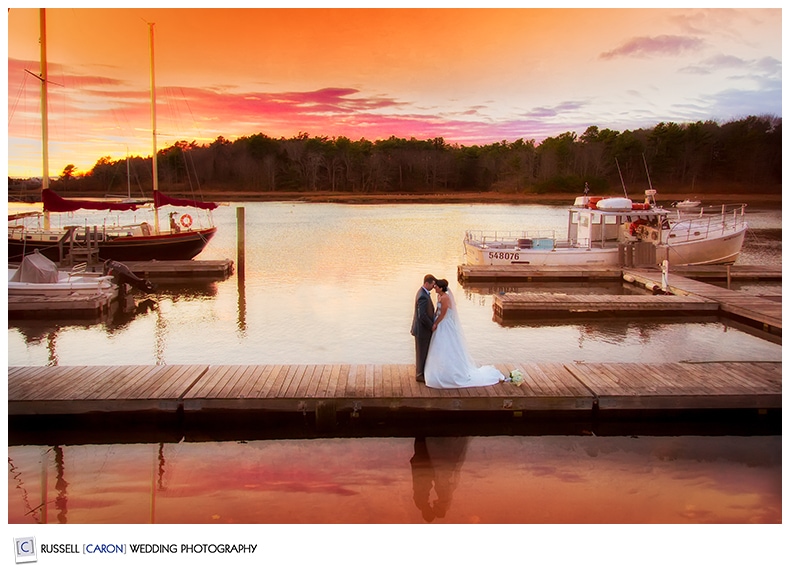 Dock Square

Below, Collen and Andrew and their bridal party proudly stroll into Dock Square in Kennebunkport, Maine. What a beautiful wedding party!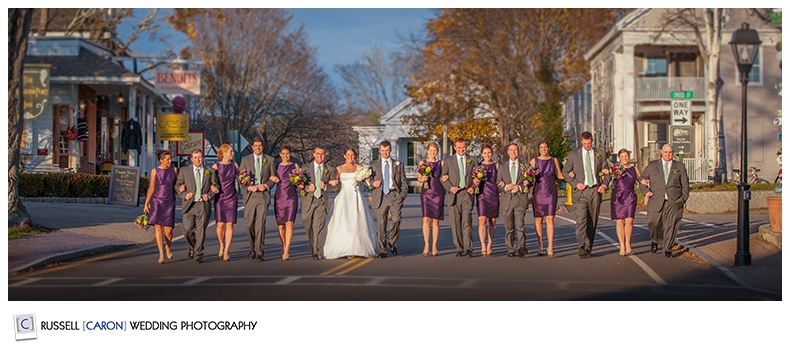 Above, be it a ketch, or a breakwater…there is always a great place to photograph groomsmen and bridal parties. Andrew and his men at left and Andrew and Colleen's entire bridal party on the breakwater, which is literally just a few hundred feet from the Nonantum Resort.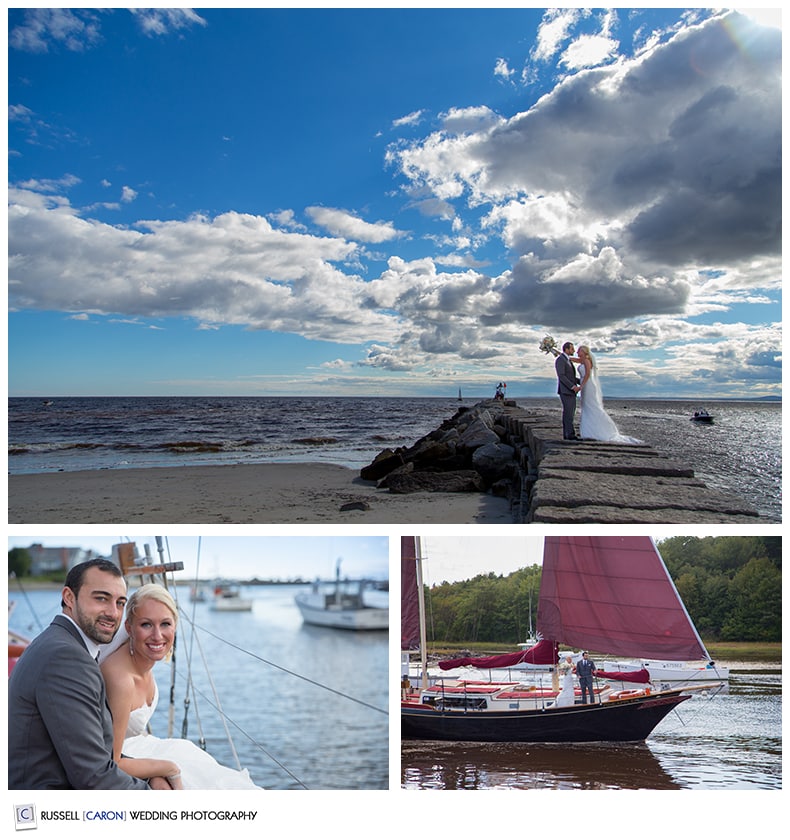 Above, arriving to Nonantum Resort weddings from the water is an easily-arranged option, regardless if your wedding was on- or off-site. And one that's the pleasure of the bride and groom, the guests on shore, (and the wedding photographer, too!)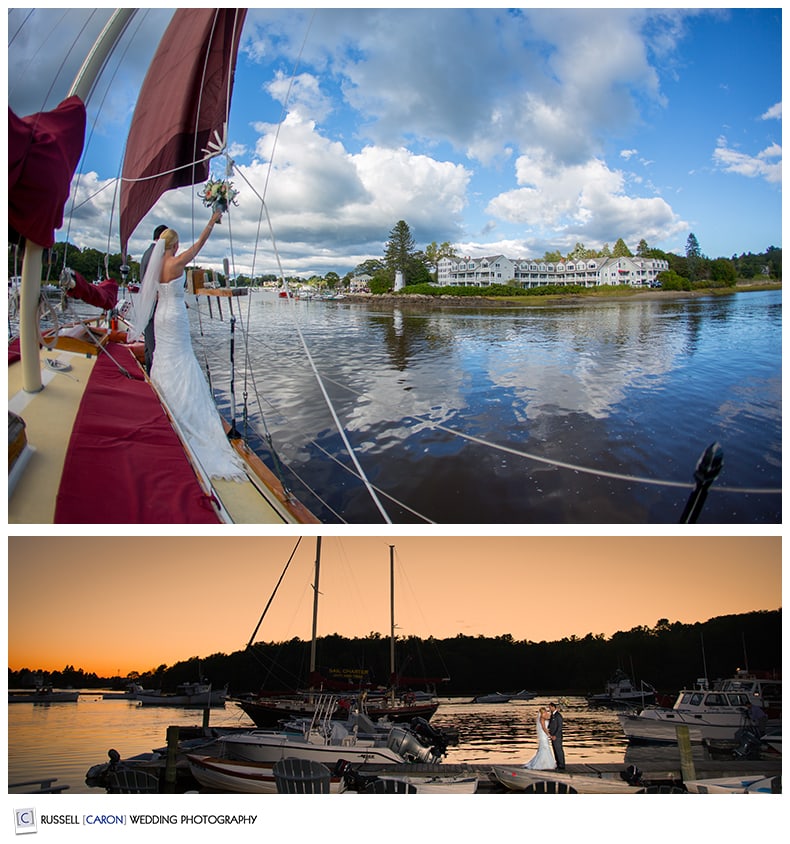 The sunsets are gorgeous from the Nonantum's back lawn, above. That's Jennifer and James above, both on the boat and at the dock at sunset.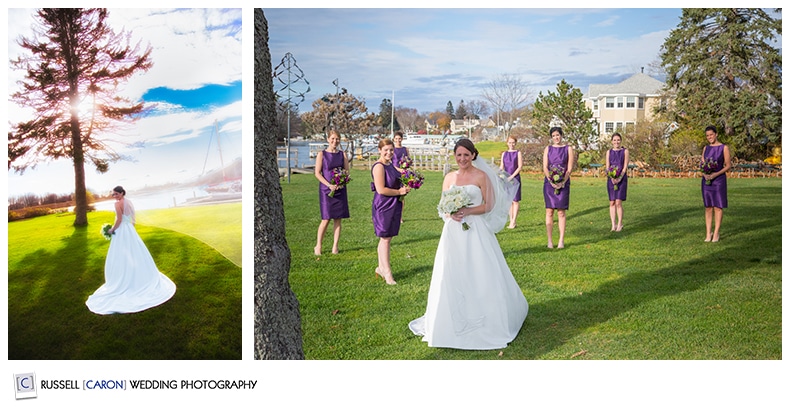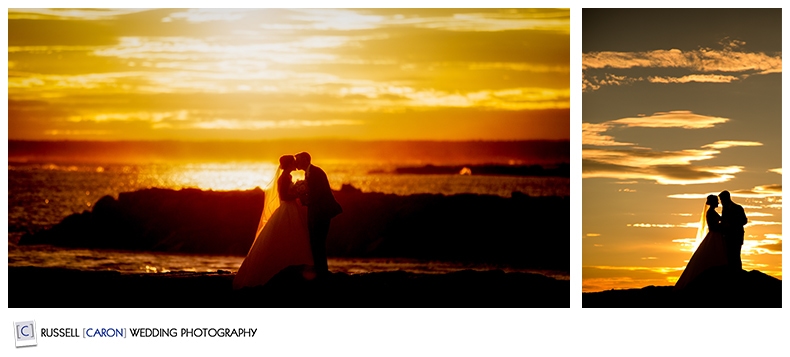 Also, the back lawn provides a great place for bridal party photos either before or after the ceremony. Above, more dreamy sunsets from the very nearby Colony Beach and breakwater.
Below, the bridal suite makes a great spot for the kind of bridal portraits that will be remembered for a lifetime. Here's Jennifer in September, 2013.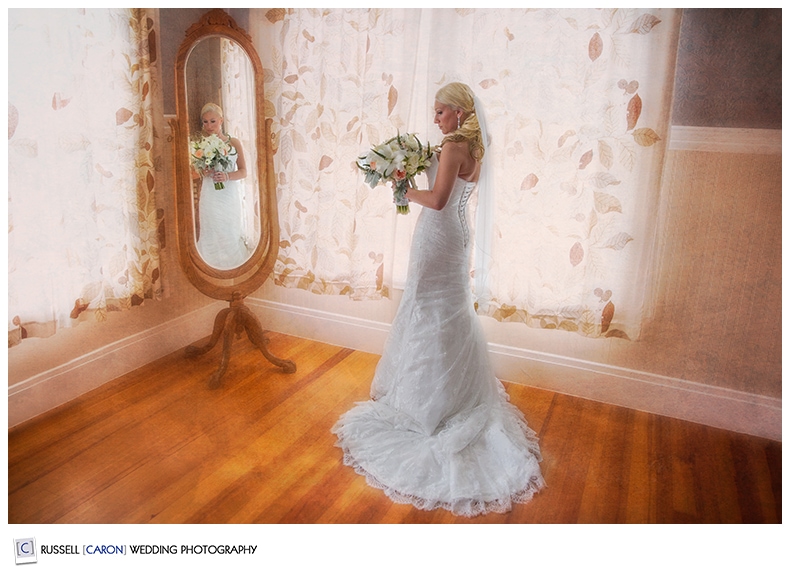 Below, some of the most memorable moments from Pam and Brett's wedding.  At right, guests await their arrival from the water.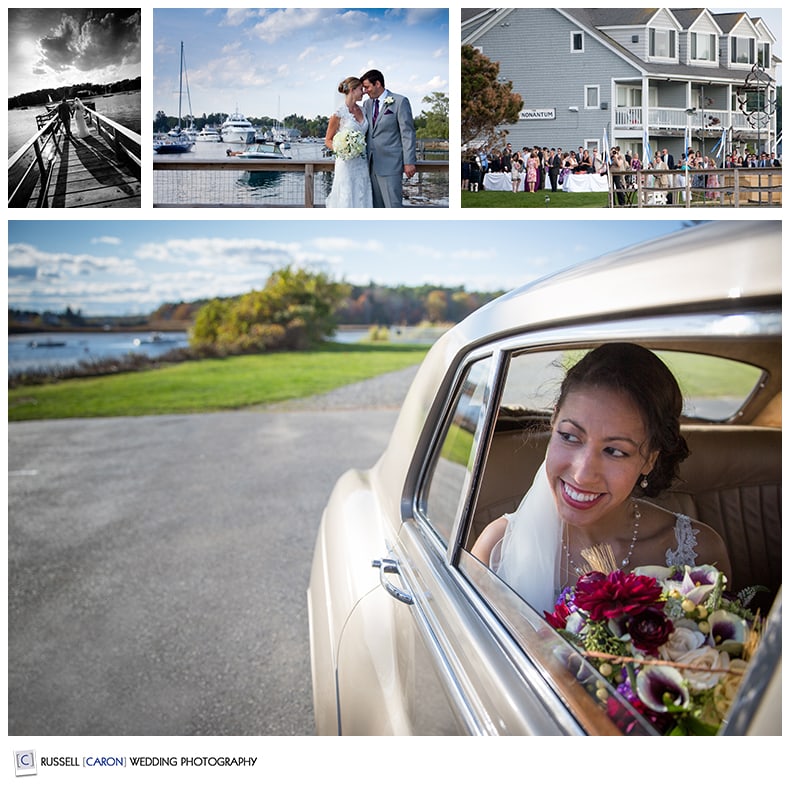 Above, Tiffany awaits her chauffeur in the Maine Limousine 1957 Bentley. This was for the Real Maine Weddings Magazine Real Maine Wedding of Year 2013.

The first dance in the ballroom is always spectacular.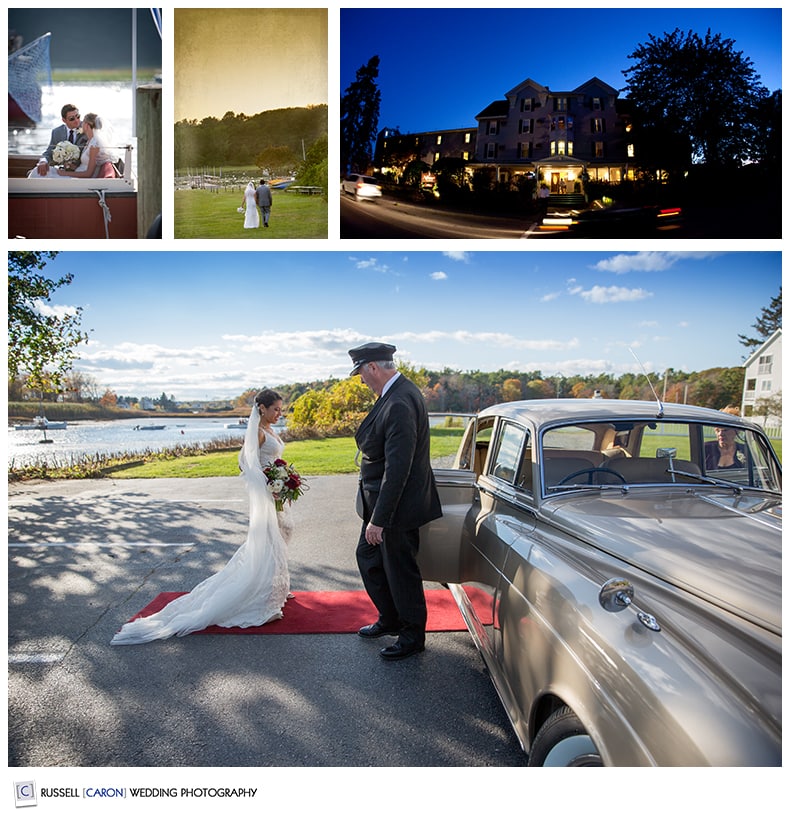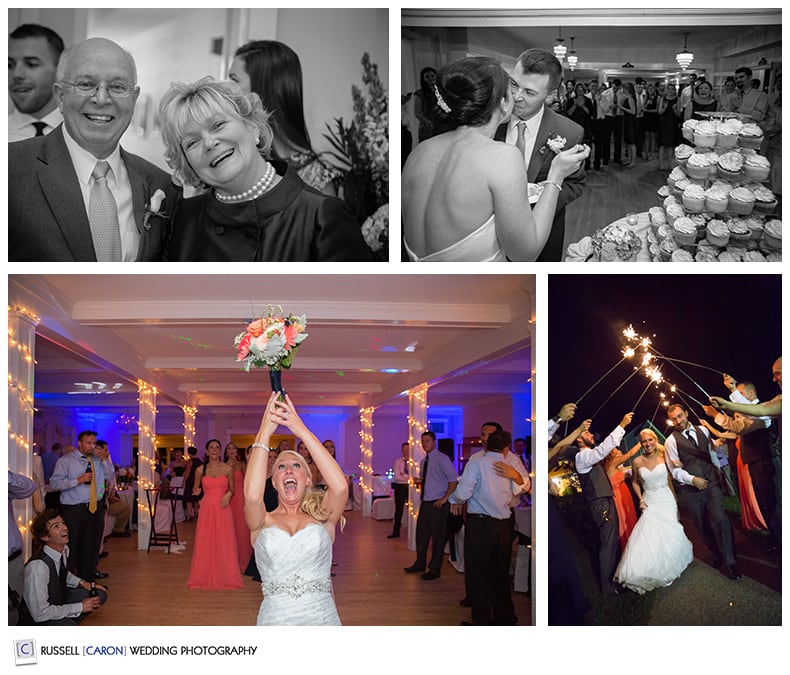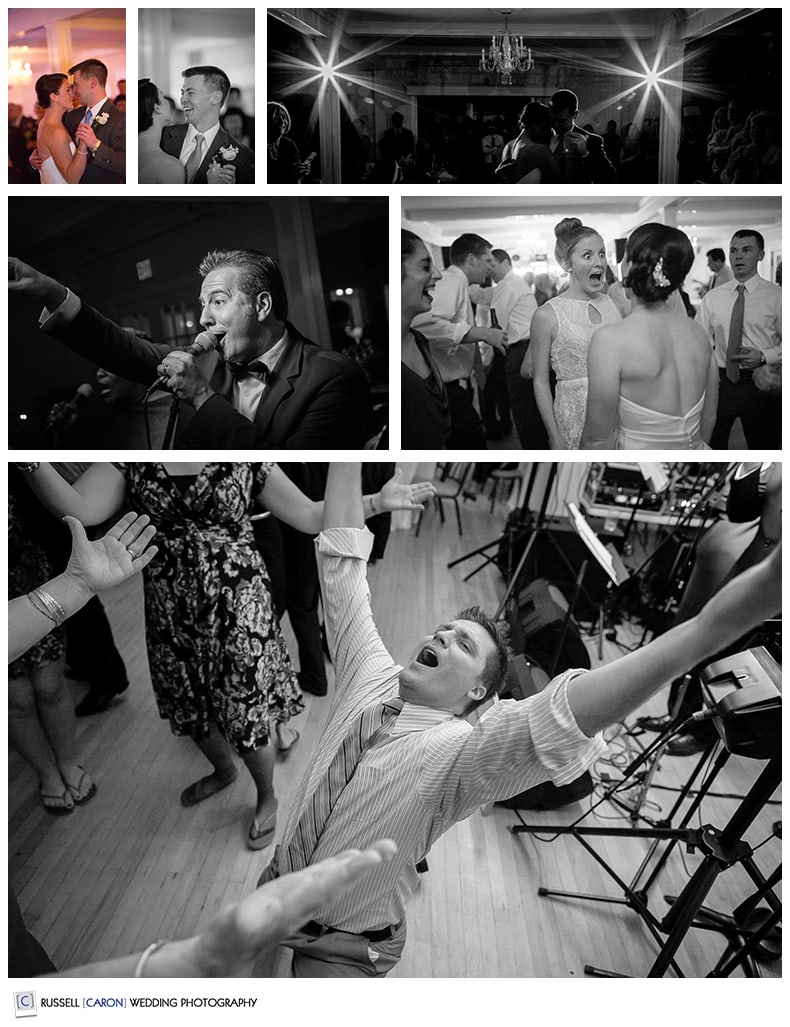 Kennebunkport Maine wedding photographers, Russell and Liz Caron, love photographing Nonantum Resort weddings! We would love to be involved in your special day and will travel to whatever location you can think of whether it be Nonantum Resort, or a resort in the Caribbean!  For more information, please contact us right away!