Ski Esta Newry Maine Wedding Photographers
Cold? Yes!  Windy? Yep!  Did that deter outdoor photos for Jillian and Michael's Ski Esta Newry Maine wedding?  Heck no!  Lovers of the outdoors and cold weather, this venue really fit the bill for them.  Warm with friends and family indoors, their ceremony was filled with emotion. Teachers in Massachusetts, Jillian and Michael will have lasting memories of their Maine wedding with photographs like these and many more to follow: Congratulations to our most recently-photographed couple.  Photos by Newry Maine Wedding Photographer Russell Caron and Liz Harris. Above, one of our favorite shots of the fall/early winter season. We love when our couples give us the time to take amazing wedding photographs of them.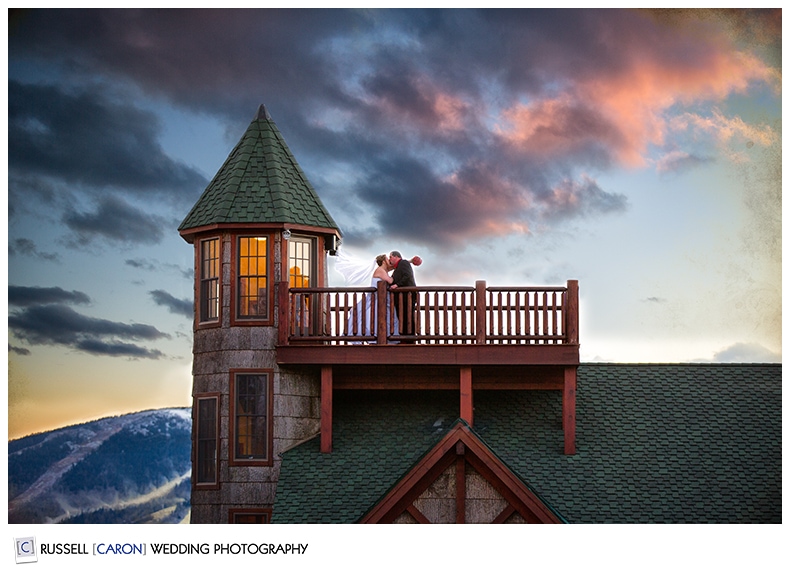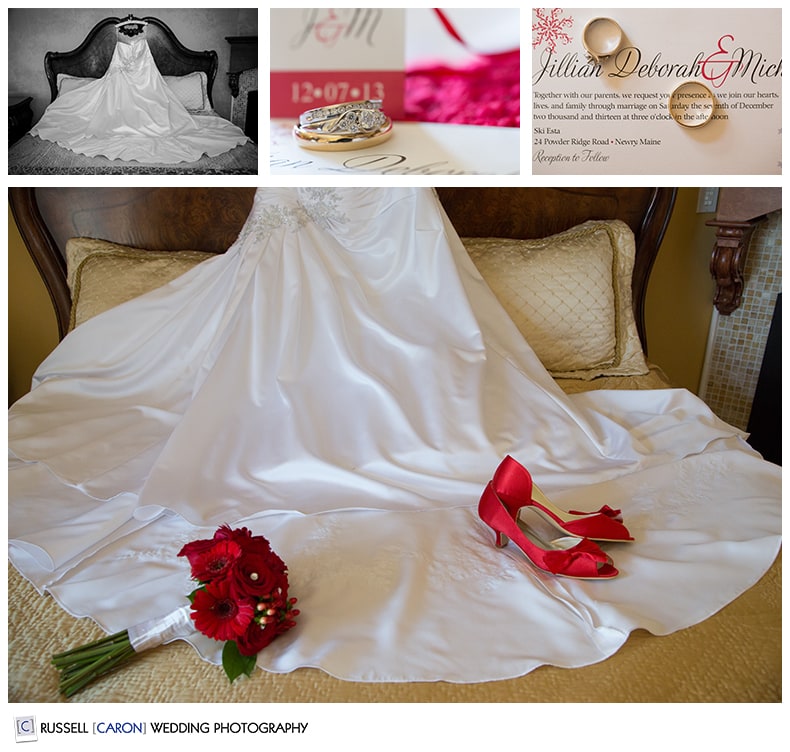 (Above) Details of the day; the bride's shoes, her bouquet, and of course, the beautiful gown.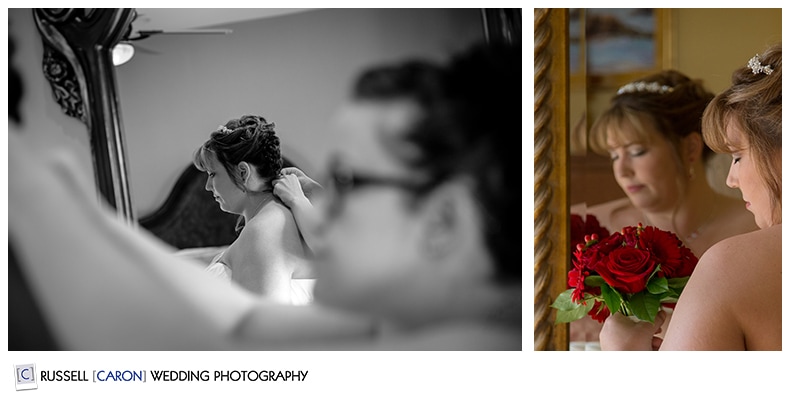 (Above) Maid-of-honor Bonnie does some last-minute adjustments to Jillian's hair in her suite;  Jillian posed so beautifully for her bridal portraits at her SkiEsta suite.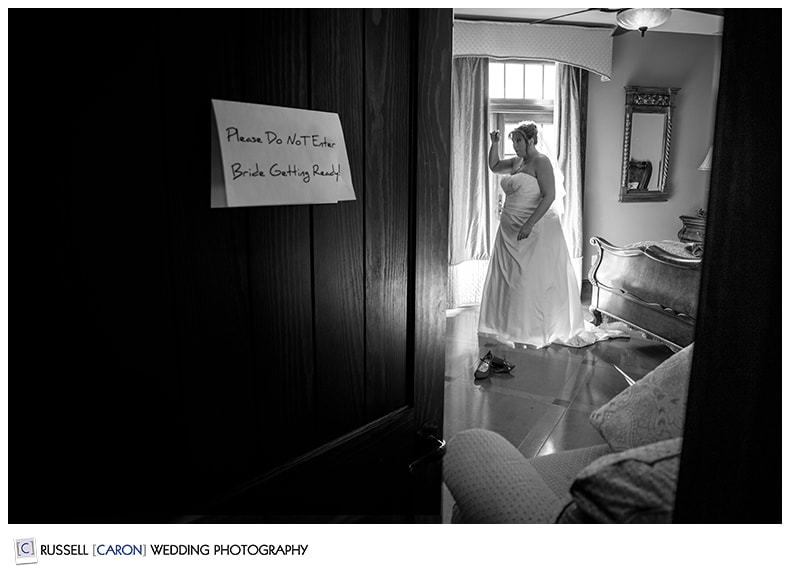 (Above) A quiet peek into Room 4 as Jillian prepares for her upcoming first look with Michael!
(Below) Jillian's bridal portraits were, well, stunning, to say the least.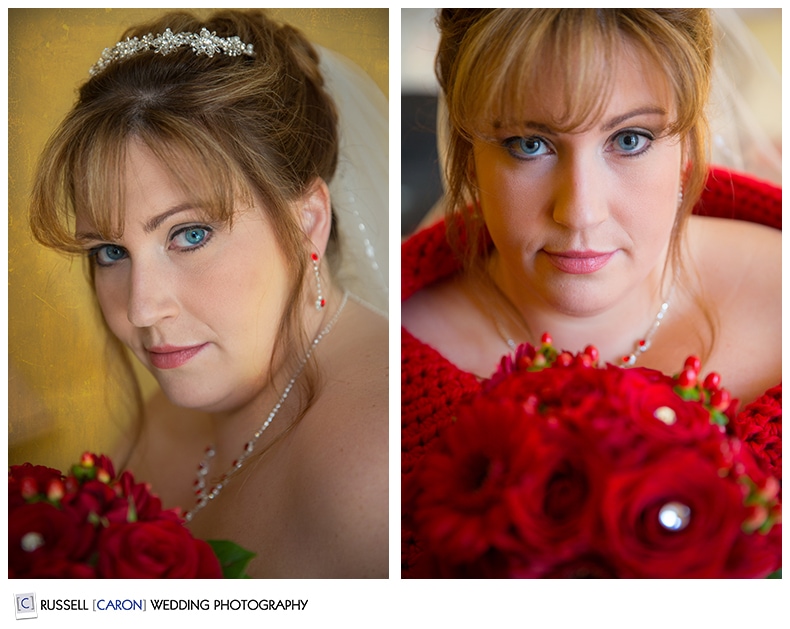 (Below)  The wedding day first look! These two were simply as amazing and precious as could be upon seeing each other for the first time. These images will help them remember what a special moment in their lives this was.  We don't think they even realized just how cold it was outside, despite our finding good light and less breeze on the northerly side of the SkiEsta mansion.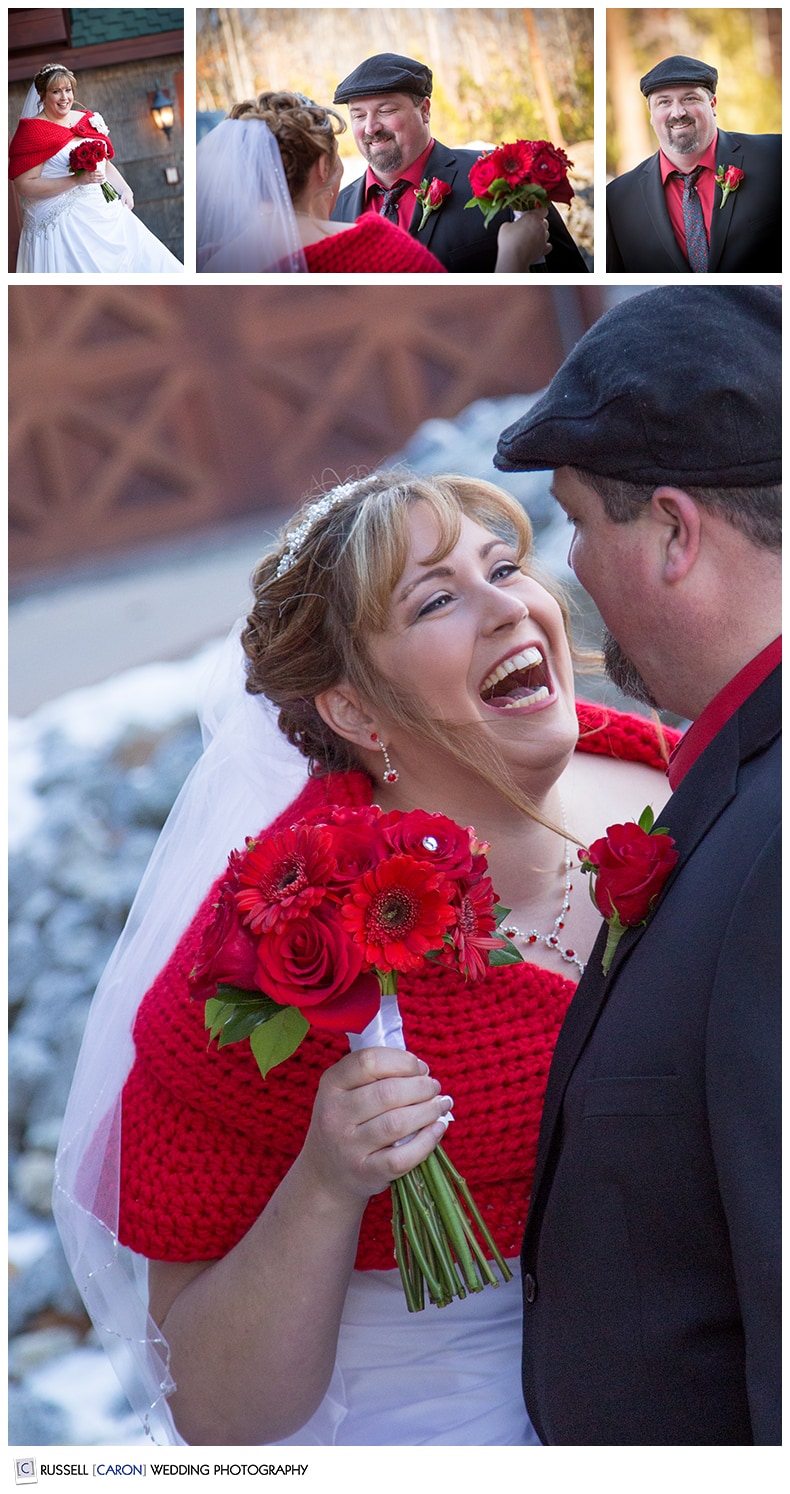 (Above) Red and black makes a bold statement as the colors of the day for both the men and the ladies. (Below)  Michael and Jillian's dog Ashley poses below with her owners just before wedding time. Oh, and those red shoes were just perfect!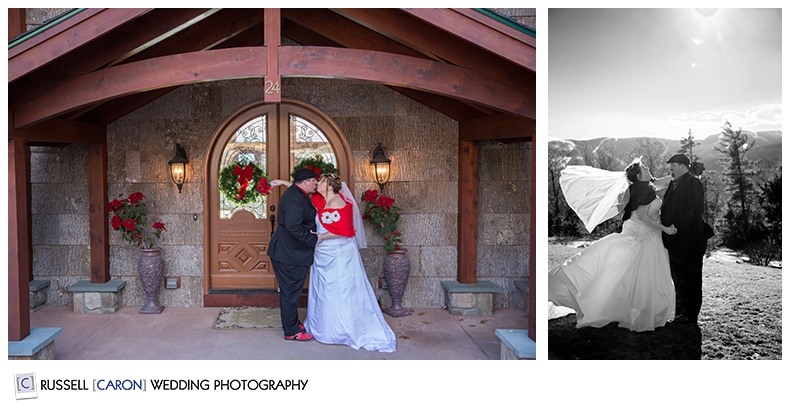 (Above) Michael and Jillian stop for a photo and a kiss (we especially loved how Michael asked if he could kiss his bride-to-be in just about every shot we were going to take!) The wind did some great things to Jillian's veil, making already-picture-perfect moments truly come alive. (Below) The view from the balcony at SkiEsta, looking out toward Sunday River, is nothing less than stunning. Eighteen days before Christmas makes hand-inscribed ornaments a perfect favor for guests to take home. The bridal party cheers the couple on, and their first "official" posed photo on wedding day.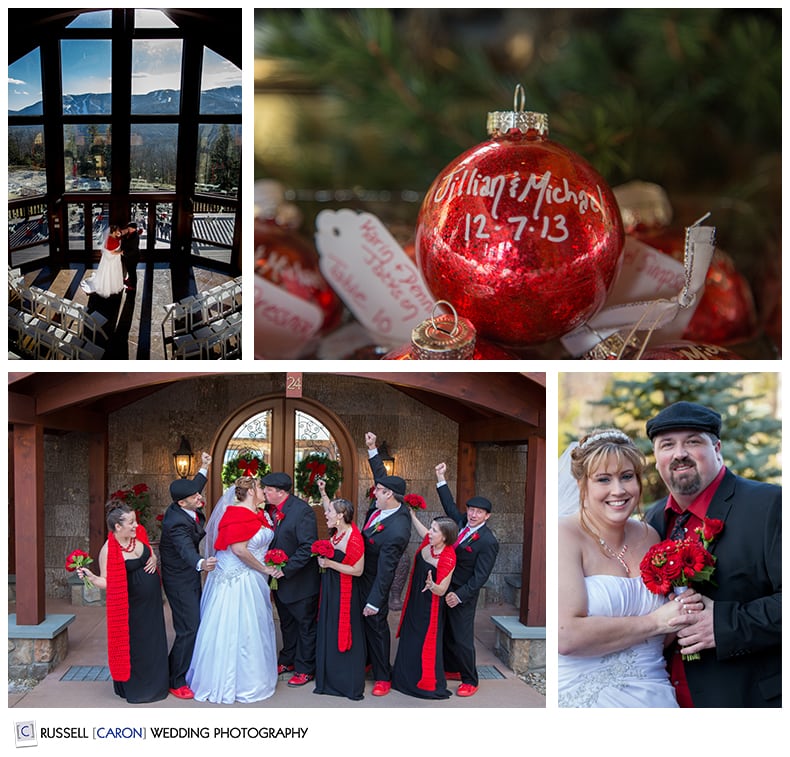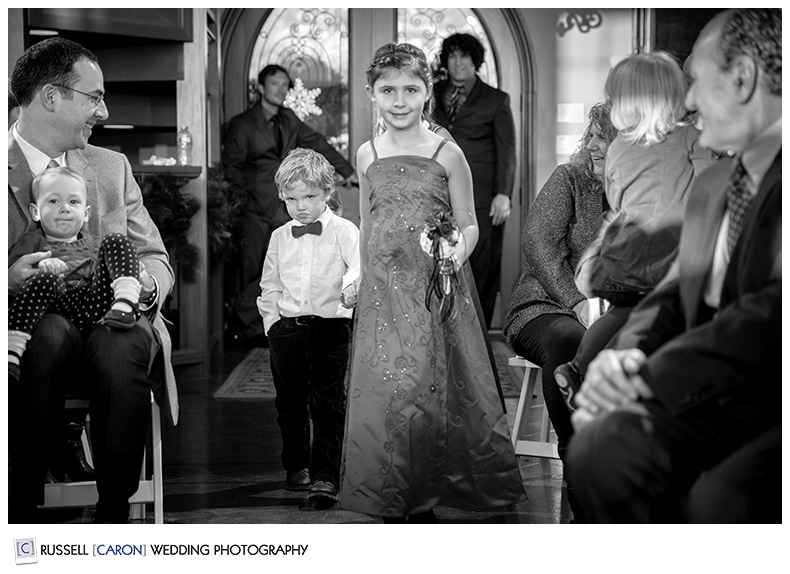 (Above) How cute is this?  We love ring bearer Orion's expression! And how precious 7-year old Gia is as she walks him in. Everyone did an awesome job.
(Below) There was lots of emotion as Jillian was walked up the aisle by her dad. Proud parents and friends and relatives looked on with great happiness. As did the groom-to-be.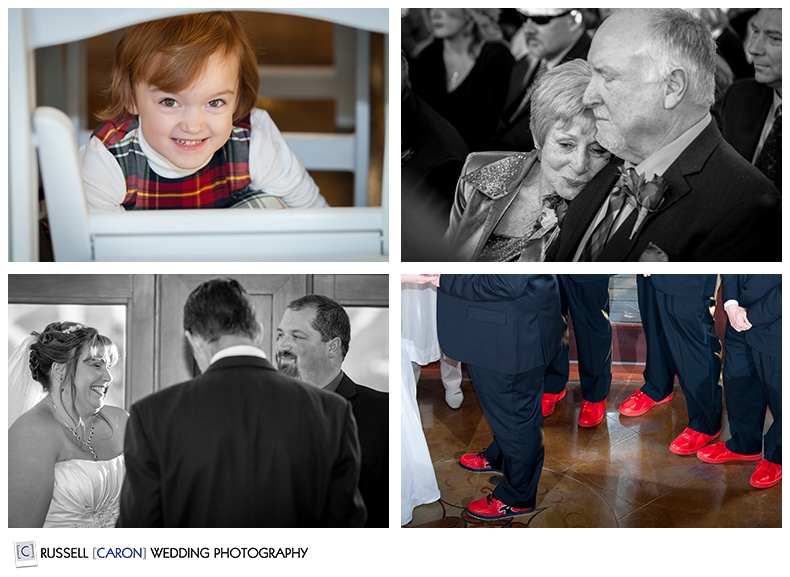 (Below) The first kiss! And heartfelt tears from Bonnie.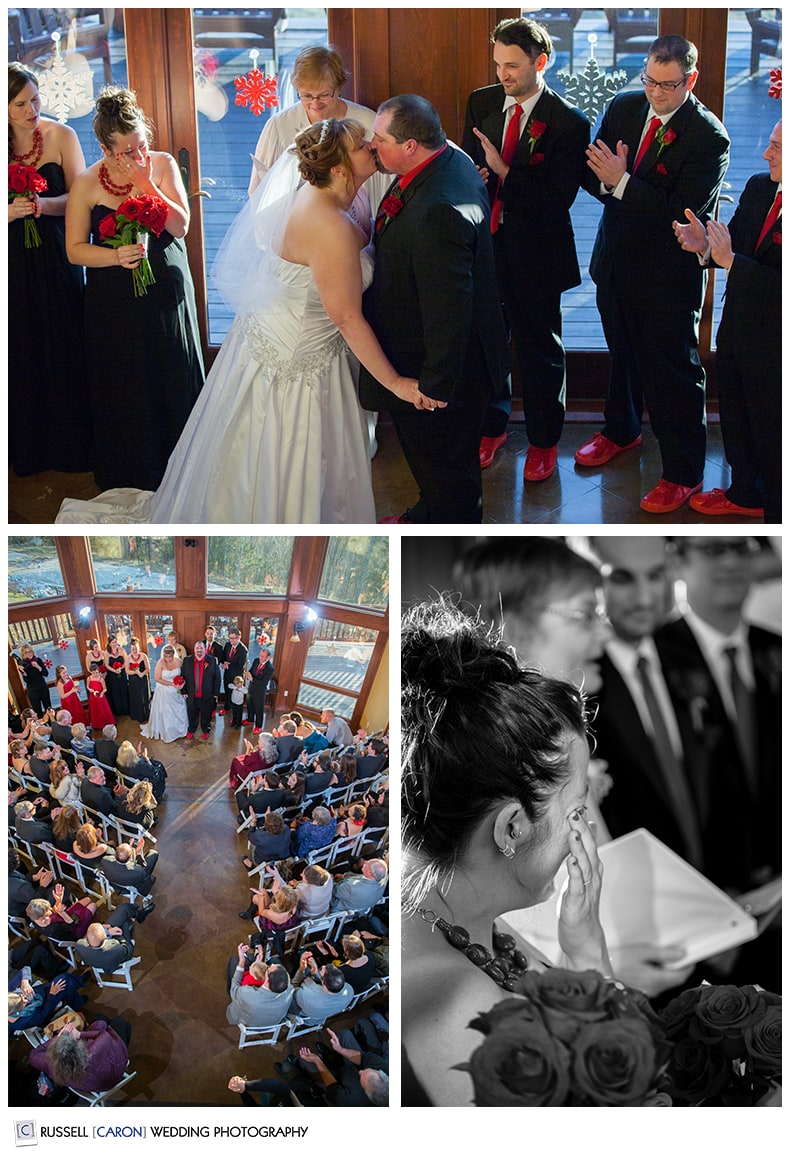 The officiant took care of having everyone present come forward with the newlyweds right after the wedding ceremony for a photo we took from the balcony.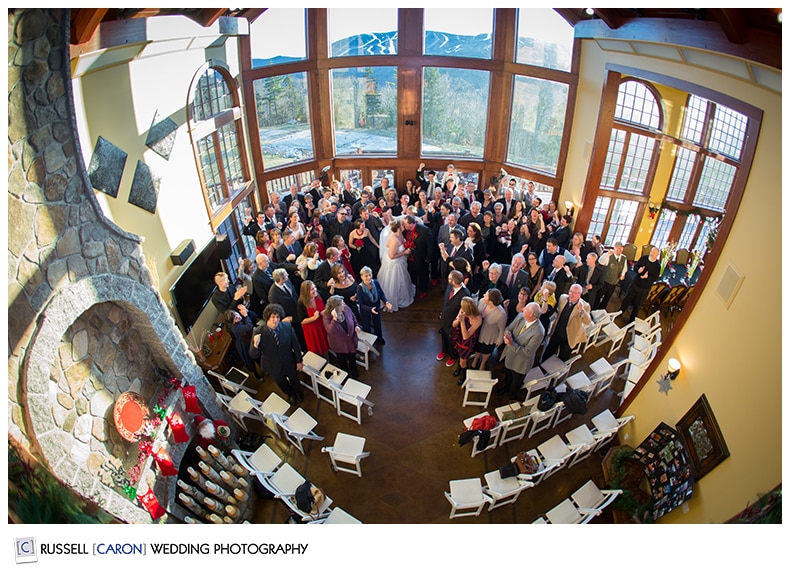 (Below) Details inside the grand dining room prior to the reception; the black and red-themed place setting, and the beautiful mansion resplendently lit at dusk. Liz stepped outside in the cold to do this shot, and it gives a good sense at the grandeur the Sk iEsta present of itself.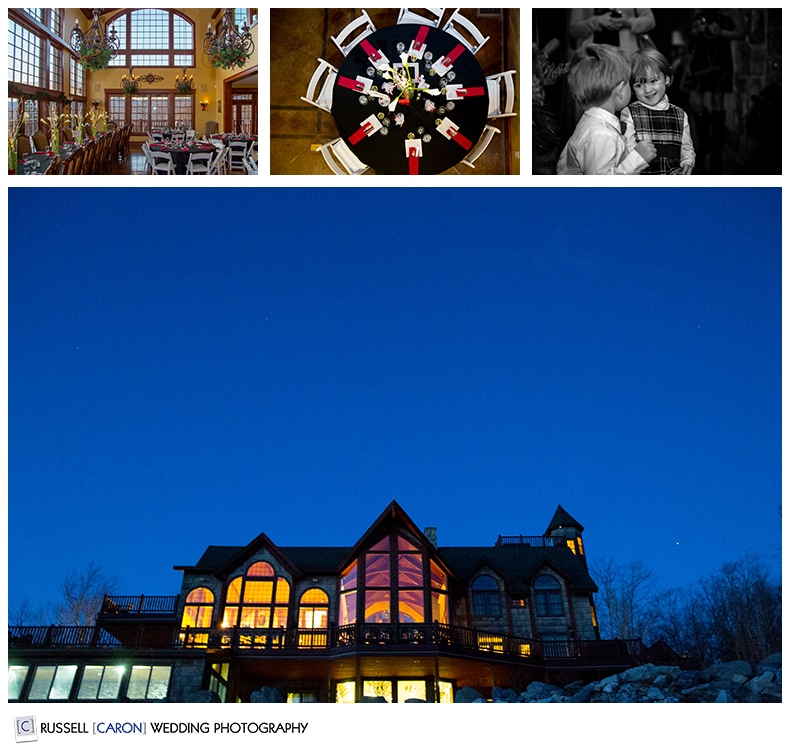 Below, the first dance. We love the elegance of the venue for the timeless look this creates.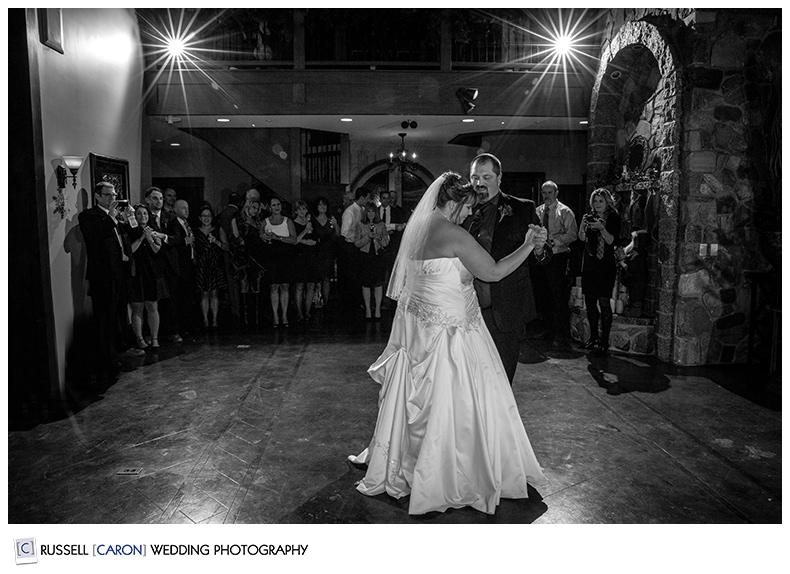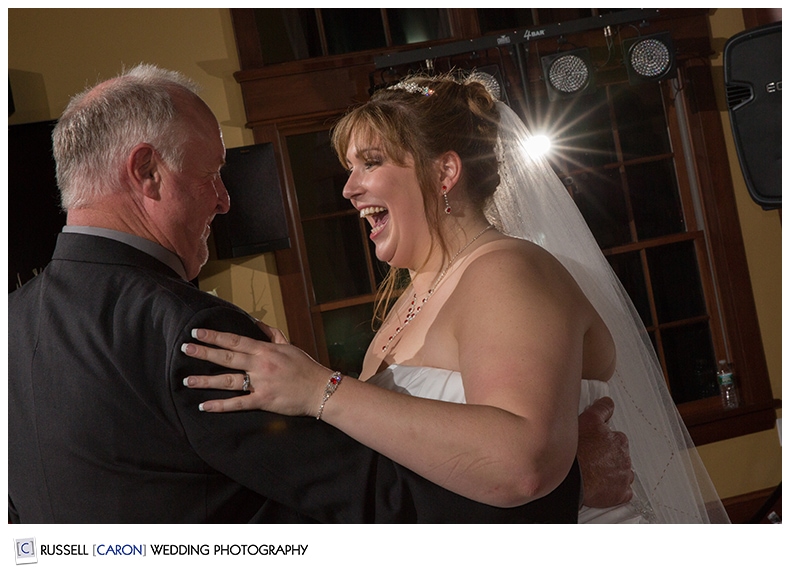 (Above) A very happy moment during Jillian's dance with her dad. (Below) Michael and his mom, and the party that ensued. DJs Maine helped ensure that a great time was had by all.

Ski Esta Newry Maine wedding photographers, Russell Caron Wedding Photography, would love to be involved in your big day, just as we were for Jillian and Michael. We will travel to whatever location you can think of, whether it be a SkiEsta Newry Maine wedding or a resort wedding in the Caribbean or a villa in Tuscany.  For more information, please contact us right away!