2013s Best Wedding Photographs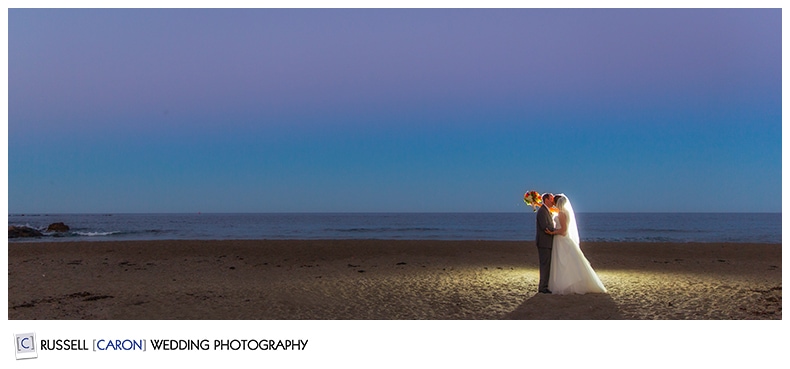 Here are Russell Caron Wedding Photography's 2013s best wedding photographs, from our subjective opinions. It's been an amazing year.  As every season of simply fantastic weddings, with all the fun and sweet couples, we ask ourselves how in the world will we be able to do it all again the next year?  Yet, that is just what we do, year after year, season after season.   We said it as we closed out 2012, and equally-terrific couples, venues, ceremonies, families, friends, experiences, photographs, and great times for certain did come along in 2013.  We went through every wedding catalog (so far…there is one more on New Years Eve, which of course will be blogged on its own very shortly thereafter) and asked ourselves to find one best image from each set (we pulled a few extra here and there) that was either a favorite moment or a favorite image.  Let's just say, this was not an easy task.  Lovers of coastal Maine wedding photography, if we had pulled all of our top favorites we would be presenting nearly 2,000…which is way too many for one blog post, and would in all reality largely be a repeat of the images in this year's posts.  In no particular order, let's take a look at the images that made 2013 special for not just our couples and families, but us as well.   They're in no particular order, and images side by side or above and below don't relate to each other in any way.  We do like how the following images reveal the breadth and scope of our contemporary approach encompassing a variety of styles including candid journalism, creatively-directed artistry, and classic bridal portraiture.   Later blog posts will showcase our capturing of details and other elements, all of which we capture as we achieve capturing of the images we use to tell, with photographs, the story of the wedding day for you, the bride and groom.   (above: Julia and Patrick at dusk at Short Sands Beach, York, Maine)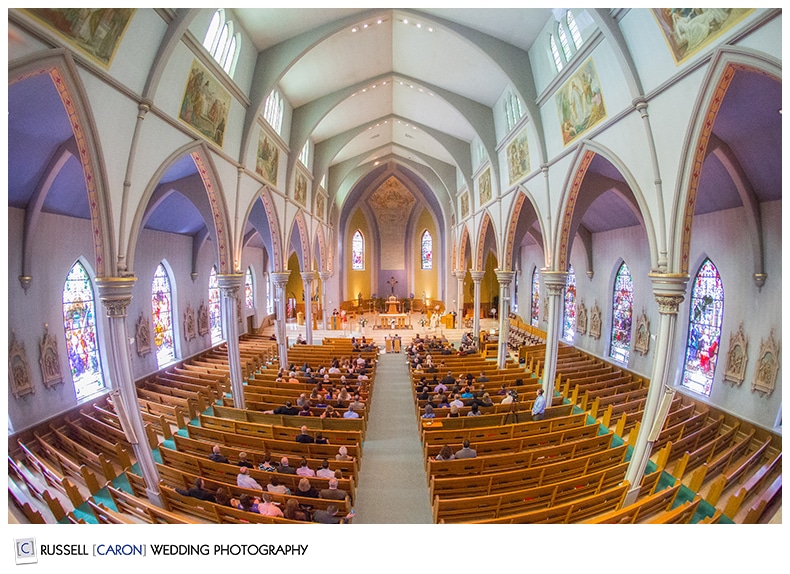 (above) An all-encompassing view of James and Jennifer's beautiful church wedding.  (below) It was a matter of calculated timing to reach this dock with Caitlin and Scott during the minute or two right after the sun had set over the horizon in July at Popham Beach, Maine.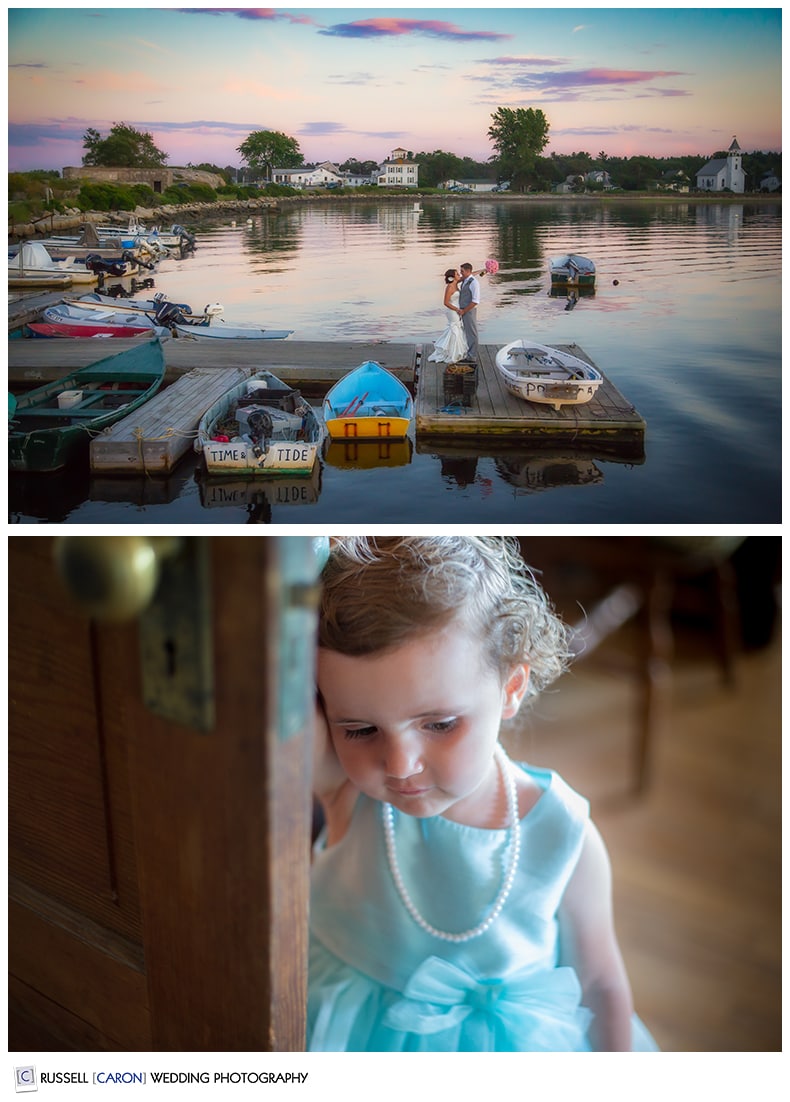 (above) And, could this little flower girl possibly be any more precious?

(above, left) Dasha and Sean at the dock at dusk at Sebasco Resort in Phippsburg,  Maine.  (right) Lindsay rides in the backseat of a classic car with her very proud dad, Dean on the way to their St. Anne's church in Kennebunkport.  Both of these weddings were in September. 

Katy and Julian against a Sebasco Harbor sunset, and at right, Andrea and Melissa on a knoll in South Berwick just after they exchanged vows in November. 

(Above left) Christopher and Lucy had an amazing wedding at Portland Maine's State Theatre, and (right) Liz and Matt had a brief-enough break from the rain during their September 13 Peaks Island wedding to get out to the shore line for this photo.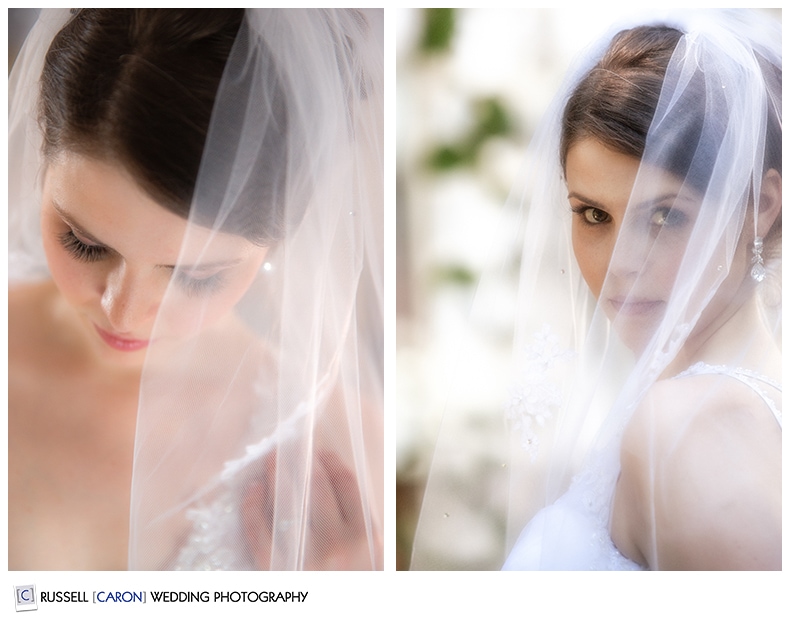 (above left and right) We can never get enough of beautiful bridal portraits.  This blog post doesn't adequately tell the story of how important these are to our shoots… but we do them at every single wedding and most of the time these are indeed some of the best images we capture…a look at some of our regular blog posts will reveal more.  Anyhow, here beautiful Erica poses at the Whitehall Inn in Camden, Maine.  The image on the left was planned and posed, the right was captured with less planning as Erika swung around and looked at me.  That's why our cameras are always at the ready in our hands and close to our eyes. 

(above left) Julia and Patrick stop for a moment against a great backdrop for second photographer Liz Harris.  At right, above, three flower girls at Jenn and Rob's wedding in western Massachusetts.  Below, Jenn and Rob at a rustic and patriotic barn.  We love barns, be they brightly colored or rustic and worn.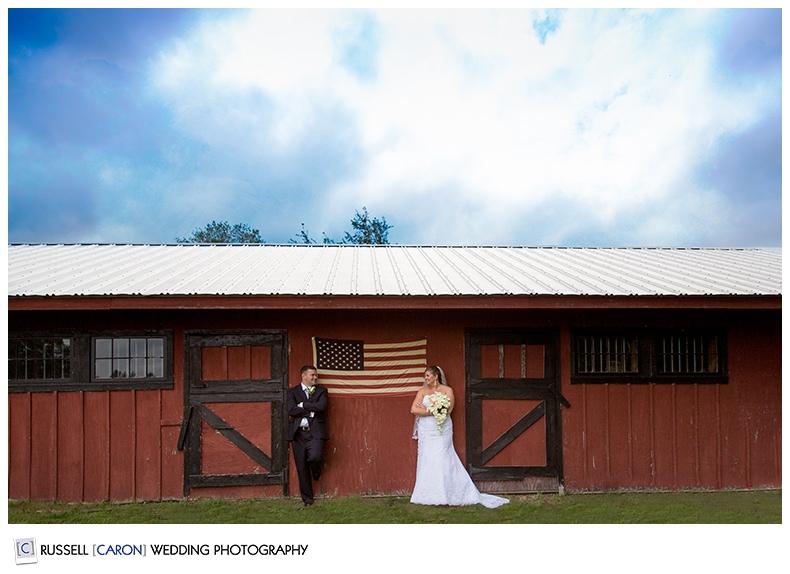 (above left) Erica and Cyrus were such fun to work with.  We got to know them earlier in 2013 during their engagement session.  We're planning a best of 2013 blog post from our engagement sessions in a few weeks.  At right, above, a guest is in awe at the dance moves of a young man at the Whitehall Inn reception of Erica and Cyrus.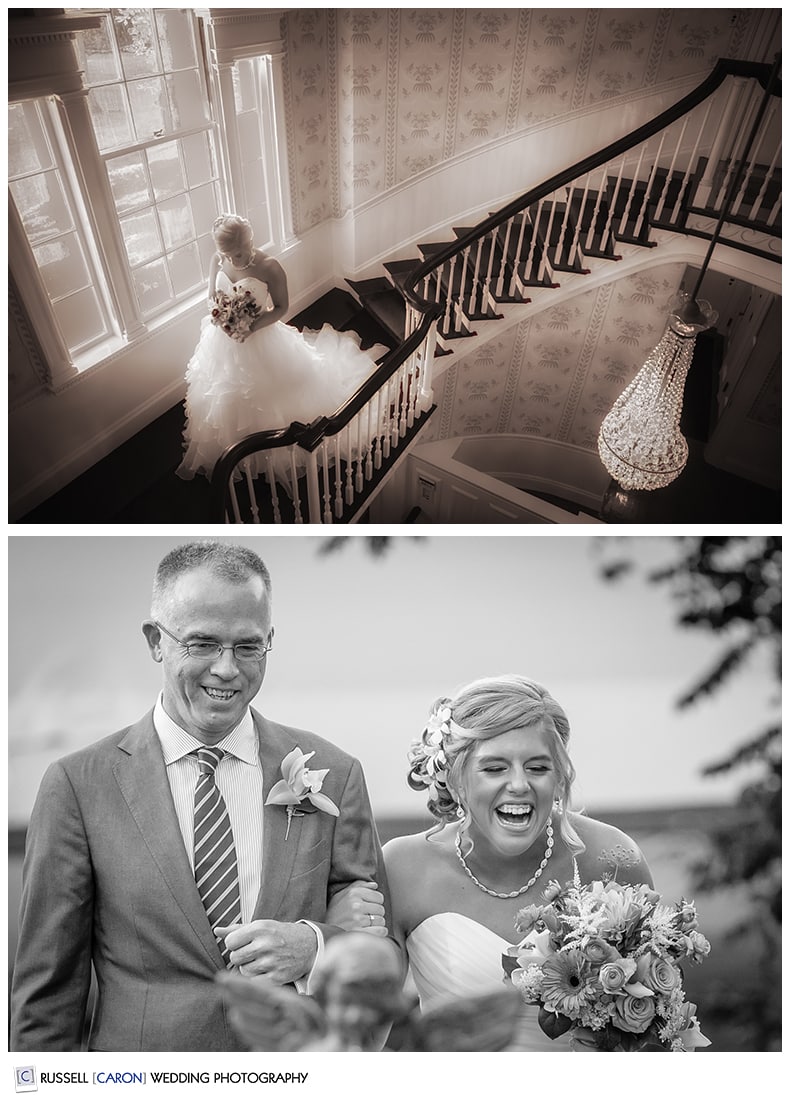 (Above two images) Despite the title of this blog post, Kate's (and some others shown here) were not in Maine… Her wedding at Glen Magna Farms in Danvers, MA was absolutely a stunning memory for us.  Look at the grand stairway in the mansion!  And how about Kate and her dad!  We love capturing these images and memories that our work as Maine wedding photographers gives us the opportunity to do!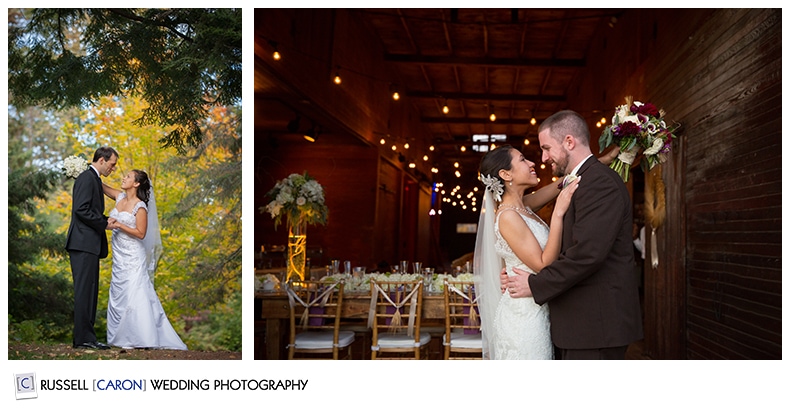 At left above, Jonathan and Elania renew their vows in Camden, Maine this past October.  At right, we were the proud co-photographers of the REAL MAINE WEDDINGS Magazine REAL MAINE WEDDING OF THE YEAR 2013 contest wedding in Kennebunkport, Maine.  Tiffany and Patrick were the lucky winners of this $100,000+ wedding.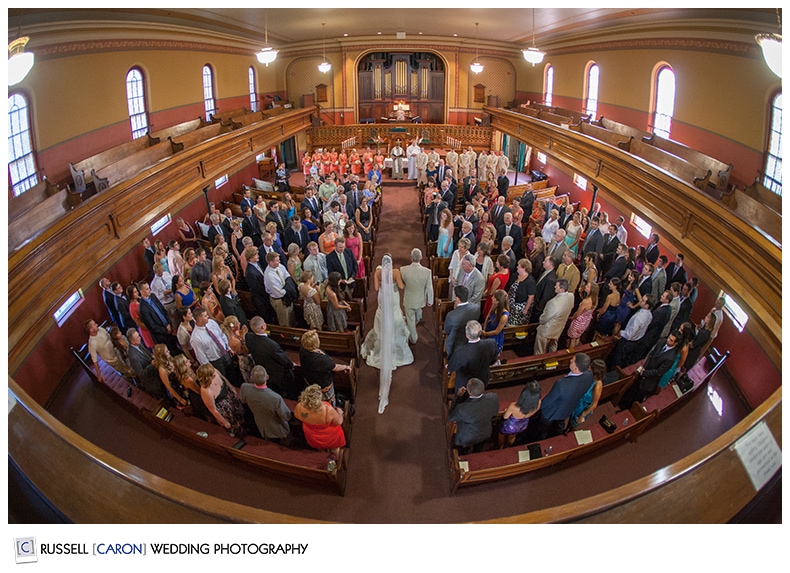 (above) Sara and Brandon married in Yarmouth, Maine in July.  Second photographer Liz stationed herself in the balcony for the procession..and what a great, great image this made using her fisheye lens.  With the groom-to-be looking on with anticipation, the bridal party awaiting, and with family, friends, and guests bringing the church to near-capacity,what one photo could better sum it all up?  Did you know that two photographers are automatically part of all our wedding photography collections? 

Weddings took us from (above left) an indoor ceremony at Boston's Taj Hotel in June to Nichole and Katrin's East Boothbay, Maine oceanside ceremony on a very cool and windy fall afternoon. (Below) One more image from the Boston wedding of Nora and John.  This one from 16 stories up at the Taj hotel across from the Boston Public Garden and that's Nora and John down in the Public Garden, free of others due but inconsistent rain that gave us the time to make this photo.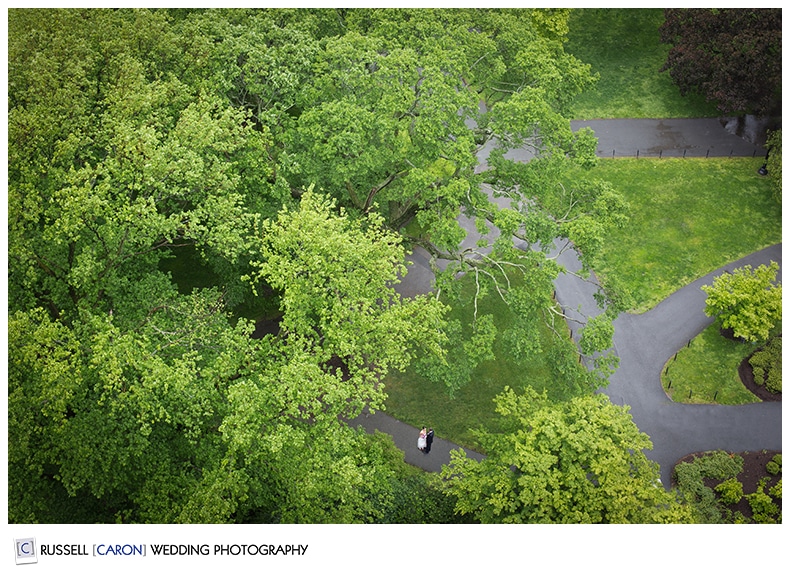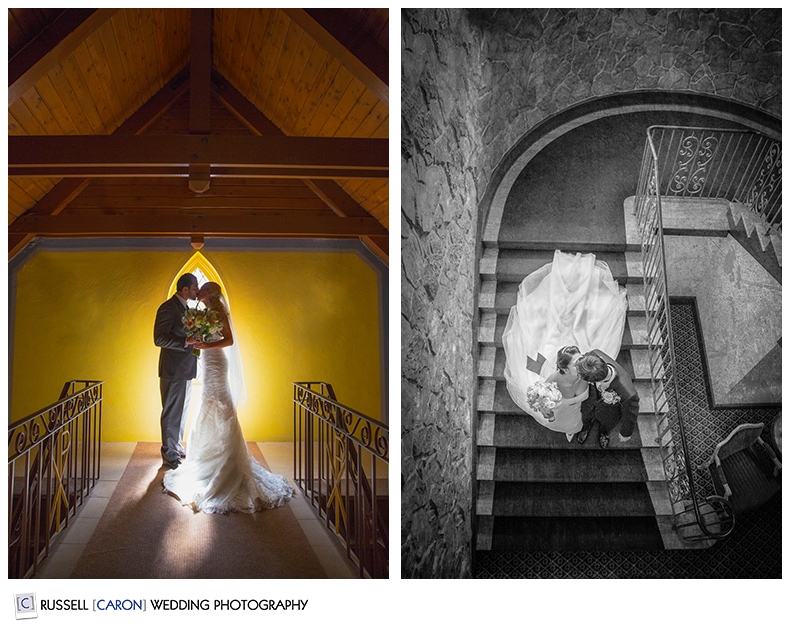 We love finding great places in churches (above left) and reception venues and hotels (above right) to create magical images for our clients.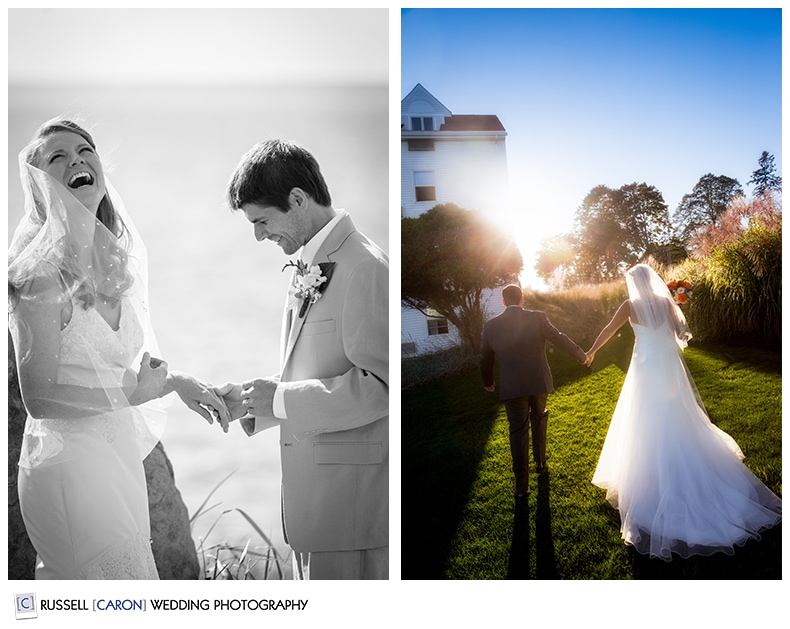 (above left) Grace and Trent exchanged vows at a favorite spot of theirs, the Hermit Island Campground, surrounded not only by their friends and family, but also by water on almost all sides.  We just love the emotion that poured forth from both of them.  Above right, Julia and Patrick walk from their lawn wedding at the Union Bluff in York Harbor, Maine.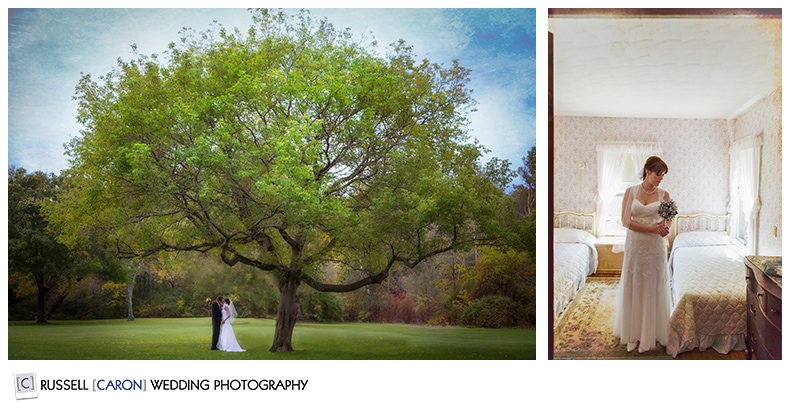 (above left, Brittany and Brigham in Brittany's hometown of Yarmouth, Maine, and at right, Jessica prepares in a beautiful classic home in Winslow, Maine.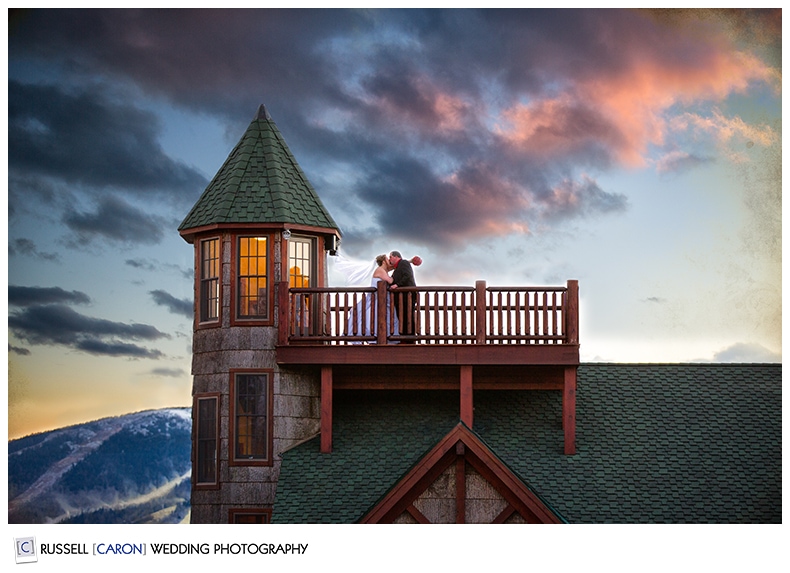 Jillian and Michael atop the SkiEsta mansion in Newry, Maine, during their December wedding.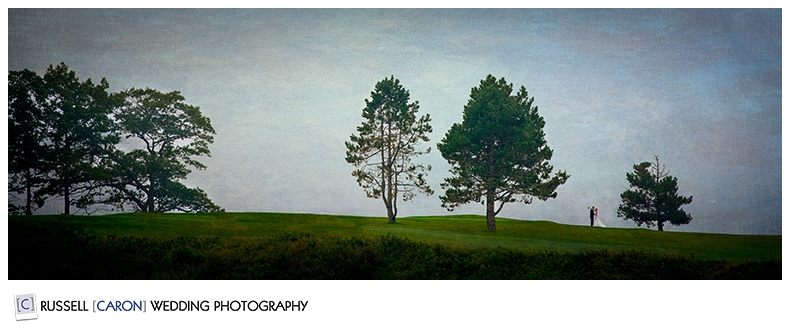 (above) Cara and David chose the magnificent Samoset Resort in Rockport-Rockland, Maine late last August.  Here, we asked them to take their golf cart to a nearby knoll while we stayed back a way and photographed them with our long lens.  We love being able to add photos, like this one, that show the scale and place of their selected wedding locations.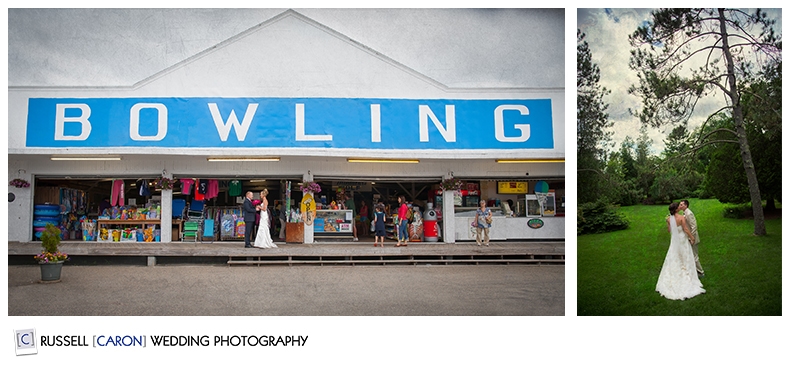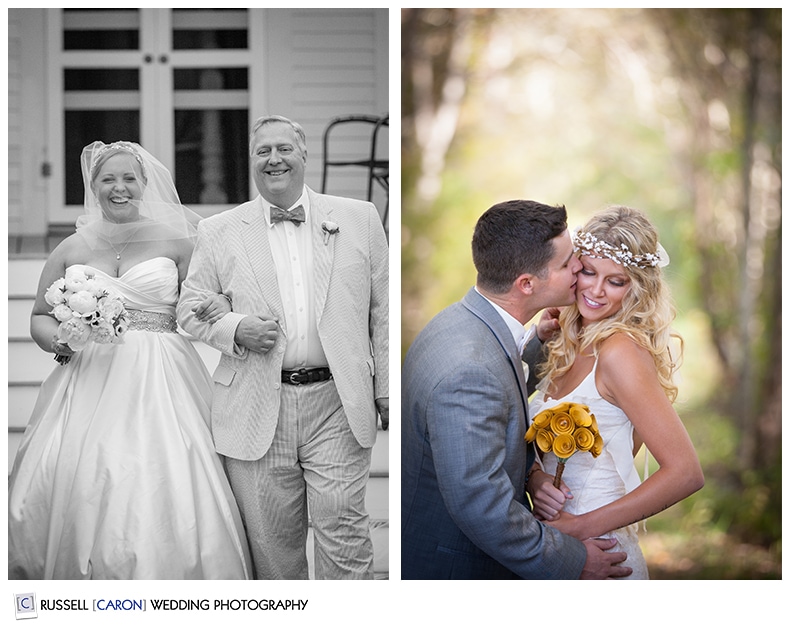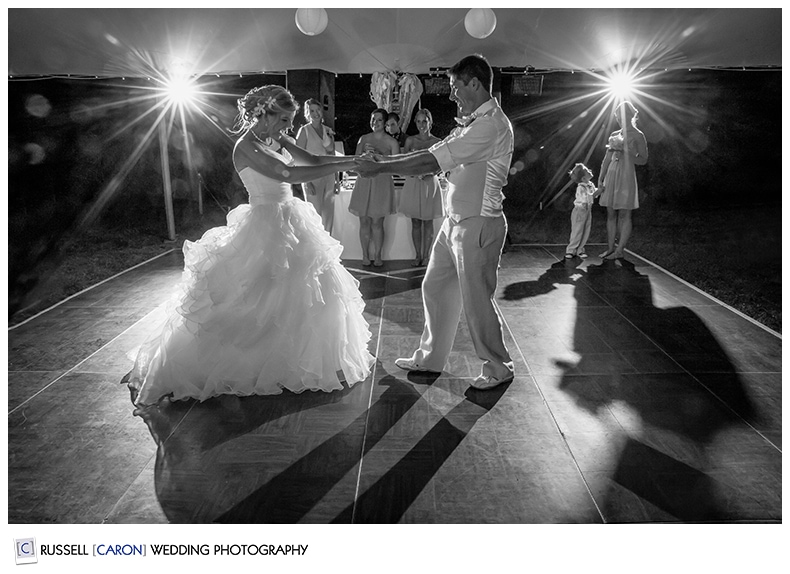 (above) One of our "signature looks" is like this; a classic black and white of the first dance with special lighting crossing the dance floor, making a myriad of interesting shadows amidst a moment the couples never forget.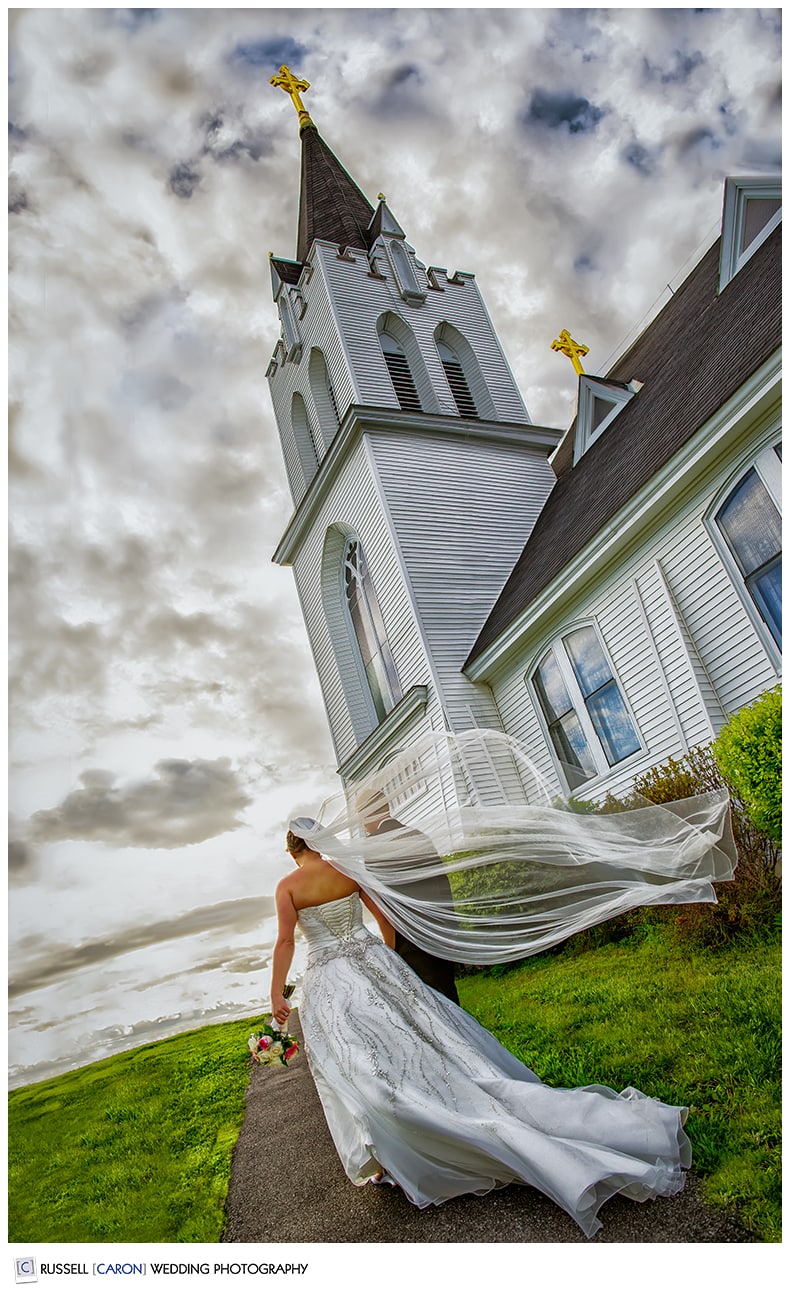 This image of Kimberly and Tyler just after their spring wedding in Boothbay Harbor at the iconic Catholic Church, with Kimberly's veil in motion in the breeze, is one of our favorites of all time, not just 2013.
Getting married?  Lovers of coastal Maine wedding photography, Russell Caron Wedding Photography, would love to be involved in your wedding.  Let us join you in creating the perfect memories of your special day.  For more information, please contact us right away!