French's Point Maine Wedding Vendors
Jessika Brooks Brewer hosts an annual vendor networking event for Maine wedding vendors who have worked at French's Point. This year the event took place on May 17, with Maine wedding vendors from all over the state. We were pleased to provide photographic coverage for this French's Point vendor networking event. Even more, we are proud to be a part of this community.
Jessika is one of the most kind, caring, and hospitable people that you will ever meet. This is very fitting as Jessika is CEO and owner of French's Point. French's Point is a stunningly beautiful Maine wedding venue in Stockton Springs. Jessika's family acquired French's Point in 2002, and has beautifully restored and renovated the property.
Jessika is a smart and savvy business owner. She has made it her mission to keep French's Point a champion of Maine wedding venues. And she keeps a close eye on Maine wedding trends. Jessika keeps her finger on the very pulse of the Maine wedding industry. Part of this is knowing the numbers. And part of knowing the numbers is having a keen sense for how bringing in thousands of people each season (3,500 just for the weddings at French's Point last year, in fact) to the State of Maine influxes substantial dollars into the Maine economy. When someone comes to French's Point for a wedding, they will also be hiring a large number of other Maine wedding industry vendors. People like caterers, officiants, floral designers, planners, photographers, videographers, bands, DJs and bartenders, just to name a few. So you can see the trickle down effect.
The Maine wedding industry
The wedding industry in Maine is many things for many people. No one can deny that it is an economic force, a source (sometimes even a sole source) of income for hundreds of independent Maine small businesses. The trickle-down effect of having tens of thousands of people travel to Maine to attend one of the approximately 10,000 weddings per year that happen in Maine, is a major part of this economic force. By many measures, Maine is one of the top states in the union for destination weddings; that being where the bride, groom, friends, and families largely travel a significant distance from different states to Maine to have their summer weddings. So it's no surprise, that most of these weddings occur between June and October.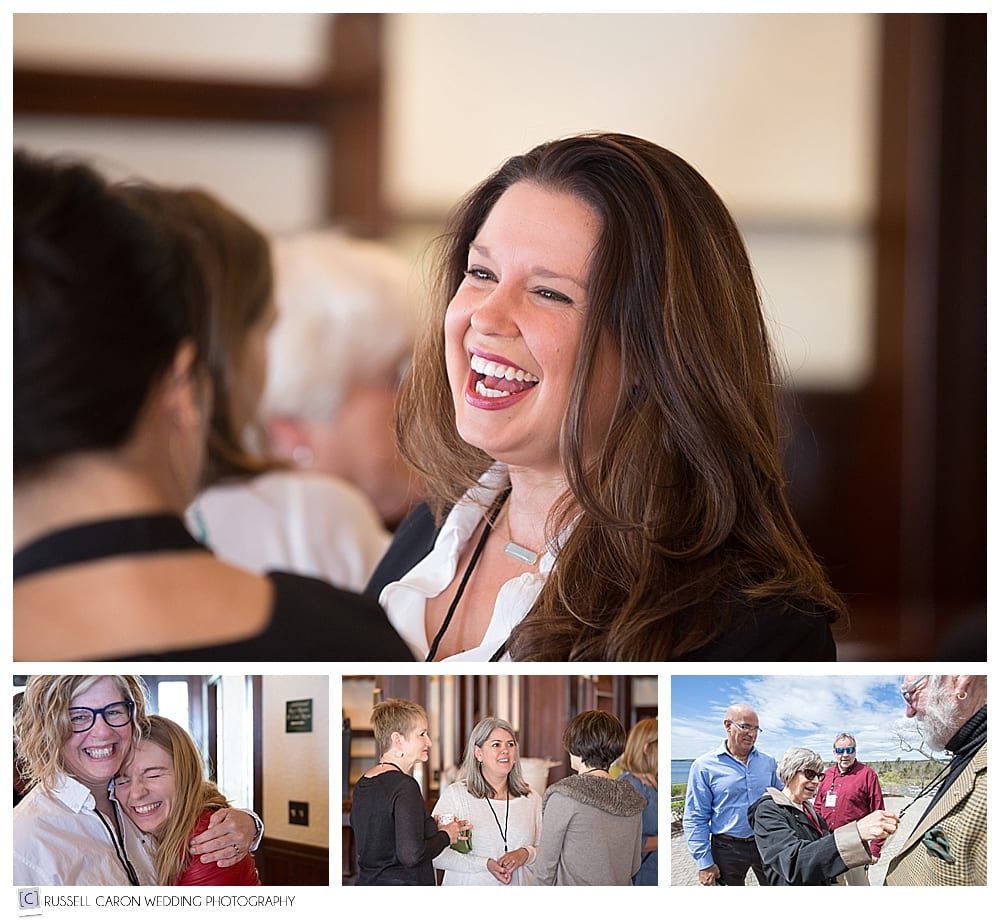 Delicious food prepared by Dandelion Catering, of Yarmouth, Maine.
Award winning, husband and wife photography team, Russell and Liz Caron are Maine wedding photographers at Russell Caron Wedding Photography. They put the fun into wedding photography for  wedding couples, near or far! Feel the love as this dynamic pair effortlessly capture each of your cherished moments, producing natural poses and unparalleled art for your wedding day. For more information about this, please contact us right away!