Beautiful Maine Drone Wedding Photo | Sebasco Harbor Resort Weddings
Belle and David, what else can we say about your wonderful Sebasco Harbor Resort wedding?!? This is one of our very favorites from your wedding day. This beautiful Maine drone wedding photo was possible for many reasons. 1) Belle and David were willing to pose at the pool, 2) it was early June, and as nice as it was out, that's early for the pool in Maine; and 3) three sides of Sebasco Harbor Resort's beautiful salt water pool is surrounded by the Atlantic Ocean.
Having no one else around while we're composing a drone wedding photo, the better. It gives us the freedom to compose shots like this without the need for much post-processing intervention.
Things that came together, to make this our #2 top drone wedding photo of 2018, were all those chaise lounges in one hue of blue; the aqua color of the water in the (saltwater) pool; and how adorable Belle and David laying there. We love it when a viewer has to look twice to see what is going on in a shot. This shot truly embodies it all. This could have easily been a first-place tie, but, alas, Liz and I did come up with our #1 drone image of 2018, and we will show you that tomorrow!
See Belle and David's Oceanside Maine wedding!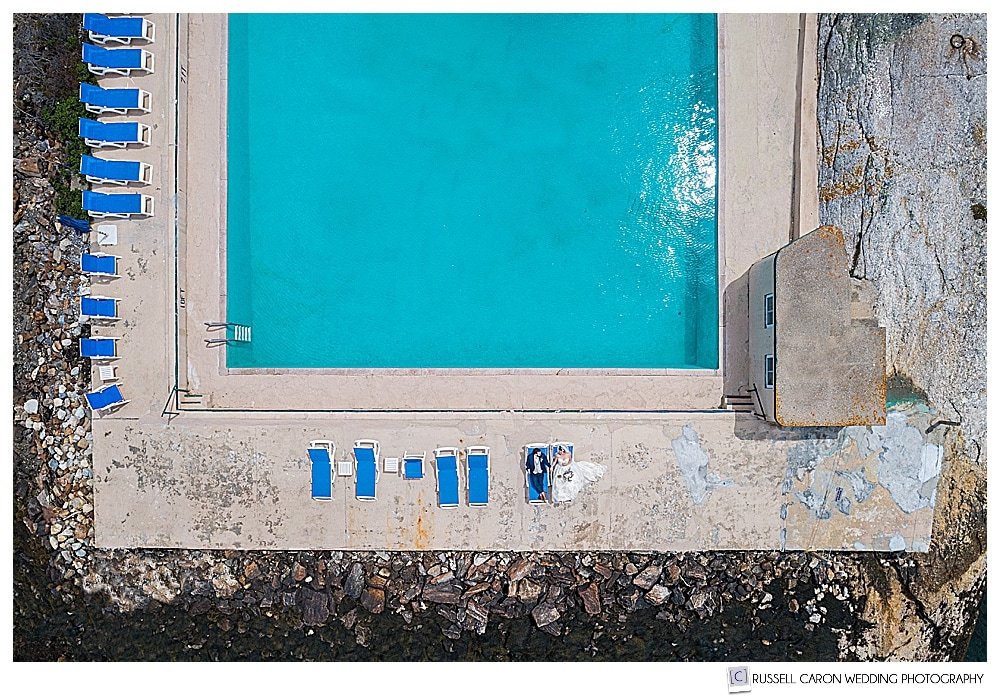 Vendors
Venue: Sebasco Harbor Resort
Photographers: Russell Caron Wedding Photography, photographs by Russell Caron and Liz Caron
Officiant: Lisa White
Florist: Michelle Peele
DJ: Dionne Entertainment
Hair: Amy Roche
Wedding dress: Matthew Christopher from Allegria Bridal
Paper Suite: Paper Source
Cake: The Black Tie Company

We love the bright colors in this beautiful Maine drone wedding photo at Sebasco Harbor Resort! Please comment on this post, and share on social media, thank you!!! The #1 Maine drone wedding photo will be shared tomorrow! Stay tuned!!
Award winning Maine wedding photographers Russell Caron and his wife, partner, and co-shooter Liz Caron photograph weddings, and weddings only, from Boston to Bar Harbor and destinations worldwide. Let us tell you more about why choosing us as your wedding photographers could be one of the very best choices you'll make among your wedding day vendors. Contact us today for more information and our availability for your wedding!