Unique Maine Drone Wedding Image | Maine Drone Wedding Photography
There's nothing we didn't love about Jenna and Will's elegant Castine Maine wedding. From the planning (wow to Sweetest Thing Weddings!), to the florals, the church, the families and friends, the quintessential New England town of Castine, to this beautiful couple. This unique Maine drone wedding image just put the whole day over the top!
Jenna and Will married at Will's family's Castine home. Replete with an amazing backyard garden. But their wedding day, for us, was our chance to truly immortalize this very special place for Jenna and Will. We placed them into a whimsical and playful pose and took the photo from a couple of hundred feet in the air.

It's not just a unique Maine drone wedding image, it's our #1 drone photo of the year!!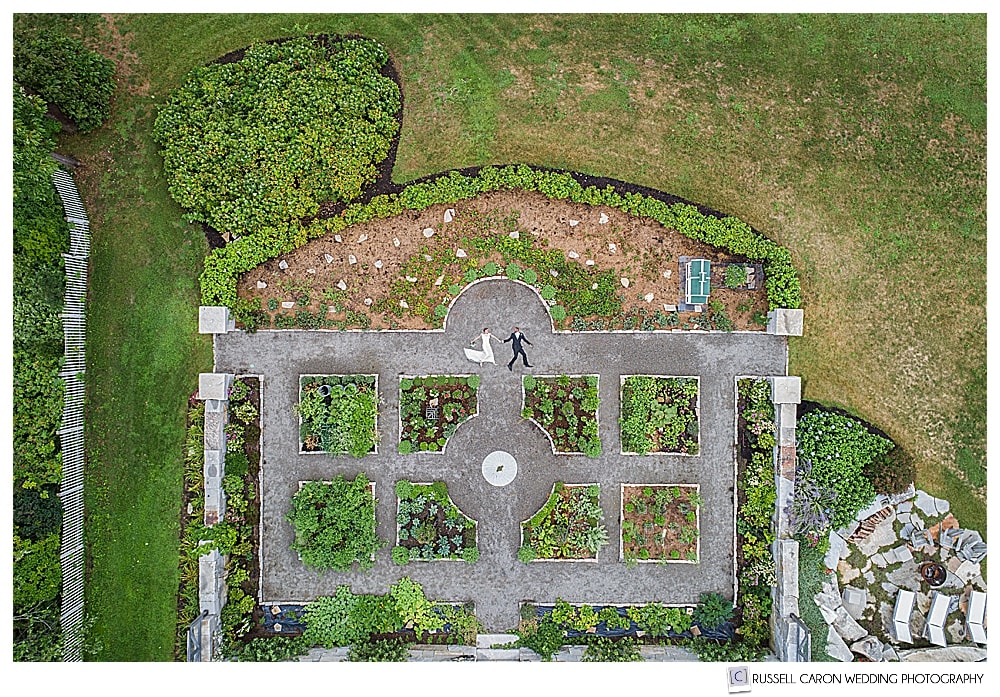 Vendor Partners
Venue: Private residence, Castine, Maine
Planner: Sweetest Thing Weddings
Photographers: Russell Caron Wedding Photography, photographs by Russell Caron and Liz Caron
Officiant: Margaret Beckman
Florist: Elisha Townsend of E Grace Designs
Catering Company: Rioux Catering
Tent, Lighting and Rentals: Wallace Events
Band: Silver Arrow Band
Hair: Robbie Fakhoury
Makeup: Gina Leonard
Wedding Dress Designer: Theia
Wedding Dress Boutique: Lovely Bridal Houston
Bride's Shoes: Michael Kors
Bagpiper: Gray Maxim
Cake: Rioux Catering
Cocktail Music: Chris and Jack Harris
What do you think of this unique Maine drone wedding image? Please comment on this post, and share on social media, thank you!!!
Next up, the 6 top engagement photos of 2018! You won't want to miss these!
Award winning Maine wedding photographers Russell Caron and his wife, partner, and co-shooter Liz Caron photograph weddings, and weddings only, from Boston to Bar Harbor and destinations worldwide. Let us tell you more about why choosing us as your wedding photographers could be one of the very best choices you'll make among your wedding day vendors. Contact us today for more information and our availability for your wedding!