Beachy Kennebunk Engagement Image | Maine Engagement Photography
Megan and Mike were so much fun to photograph, as you can see from this beachy Kennebunk engagement image!
Honestly, I mean, how much more iconic could a summery, "beachy" engagement image be? We ended up at the always-spectacular Gooch's Beach area of Kennebunk. Megan and Mike were awesome sports! They hadn't really planned or dressed for romping in the water, but they were game, and so were we!
We explored the very differing effects of running along the shoreline toward the light, and then reversing things to have the light falling on them (as in this shot).
And it's not all about the photography and the light, it wouldn't begin to be a worthy photograph without a really loving couple simply enjoying themselves and looking lovingly into each other's eyes.
You can see all the fun we had during their beachy Kennebunkport engagement session!
It all adds up to being one of our top two engagement photos of the entire 2018 season. We're really looking forward to more fun and beautiful photos this summer during their Nonantum Resort wedding!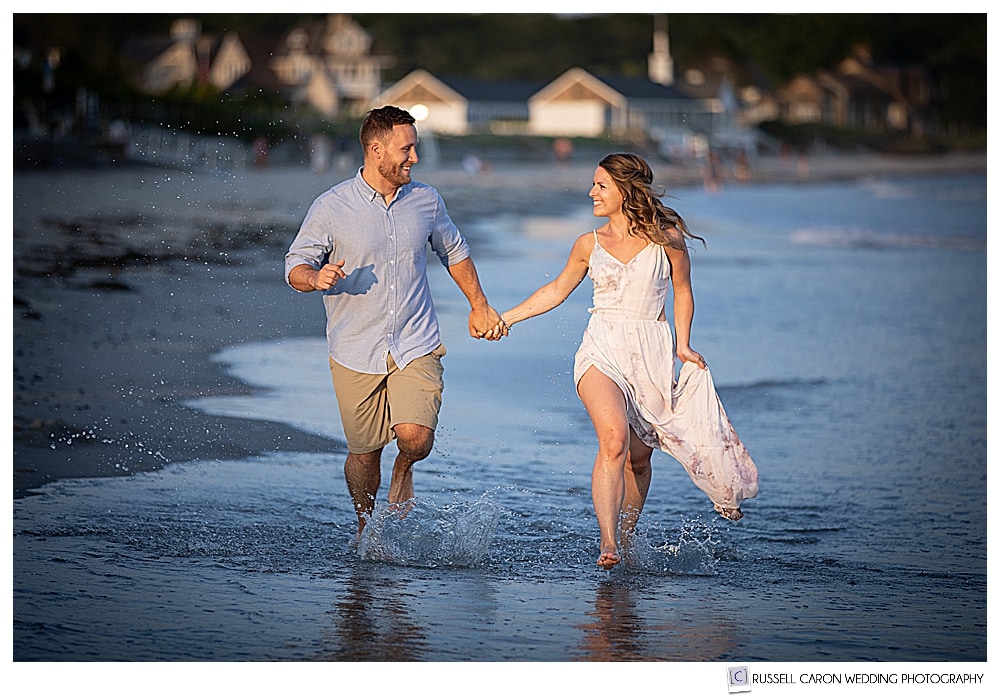 Let us know what you think about this beachy Kennebunk engagement photo! Please comment and/or share this post, thank you!! Tomorrow will be our #1 top engagement image of 2018!
Getting married? Maine wedding photographers, Russell and Liz Caron of Russell Caron Wedding Photography, would love to be part of your wedding day. Engagement sessions gives us an opportunity to work together before your special day. The connection we build during an engagement session is invaluable, and a whole lot of fun! We had such a great time, as you can see in this beachy Kennebunk engagement image, imagine yourself doing the same! For more information, please contact us right away!