Wedding Photographers
As wedding photographers, we develop a special relationship with all of our couples. By the end of wedding day, we've been through a lot together! So you can imagine that the toughest task in the studio all year is: how to choose just 14 images to represent the best of 2014. Fourteen from over 100,000 or so images taken over the season. One percent (1.0%) would have been 1,000 images. So we're talking here about what ends up being our top .014% [point-zero-one-four] percent. Fourteen one-thousandths of one percent. Every single wedding we photographed provided us candidates. However, no matter what we would do, every wedding could not possibly be represented in a list of just 14 images, making this all the tougher of a job. We had to check our personal connections, ties to the day, ties to the image, and ties to the feelings at the door to make these decisions; we had to base our choices as if we were entering these images into professional wedding photography competition, which we will indeed be doing with some of them. Here, starting at #14 and working to #1, we proudly present our Top14 wedding images of 2014!
#14 Emily and Kurt
September 20, 2014. Sugarloaf, Carrabasset Valley, Maine. Photographer: Liz
What a great wedding day this was; a warm September afternoon, with guests being treated with a short ride up Sugarloaf Mountain to the mid-summit base lodge and to the King Pine room for Emily and Kurt's fun-filled reception. Then followed the bride and groom's chair lift ride. This image made the list because of the stunning setting, the placement of the bride and groom, their real-life happiness just oozing out of this shot. Both are avid skiers and their love for their surroundings is evident. Further cementing this as an iconic image is the favorable light, cropping, composition, and overall feel Liz caught at this just right 'picture-perfect' moment.  This is a shot that wouldn't have happened without her as the second photographer as I was in the chair behind Emily and Kurt getting shots as they turned and looked back, which were fine, but this shot is a great one, landing it at #14 of our Top14 of 2014.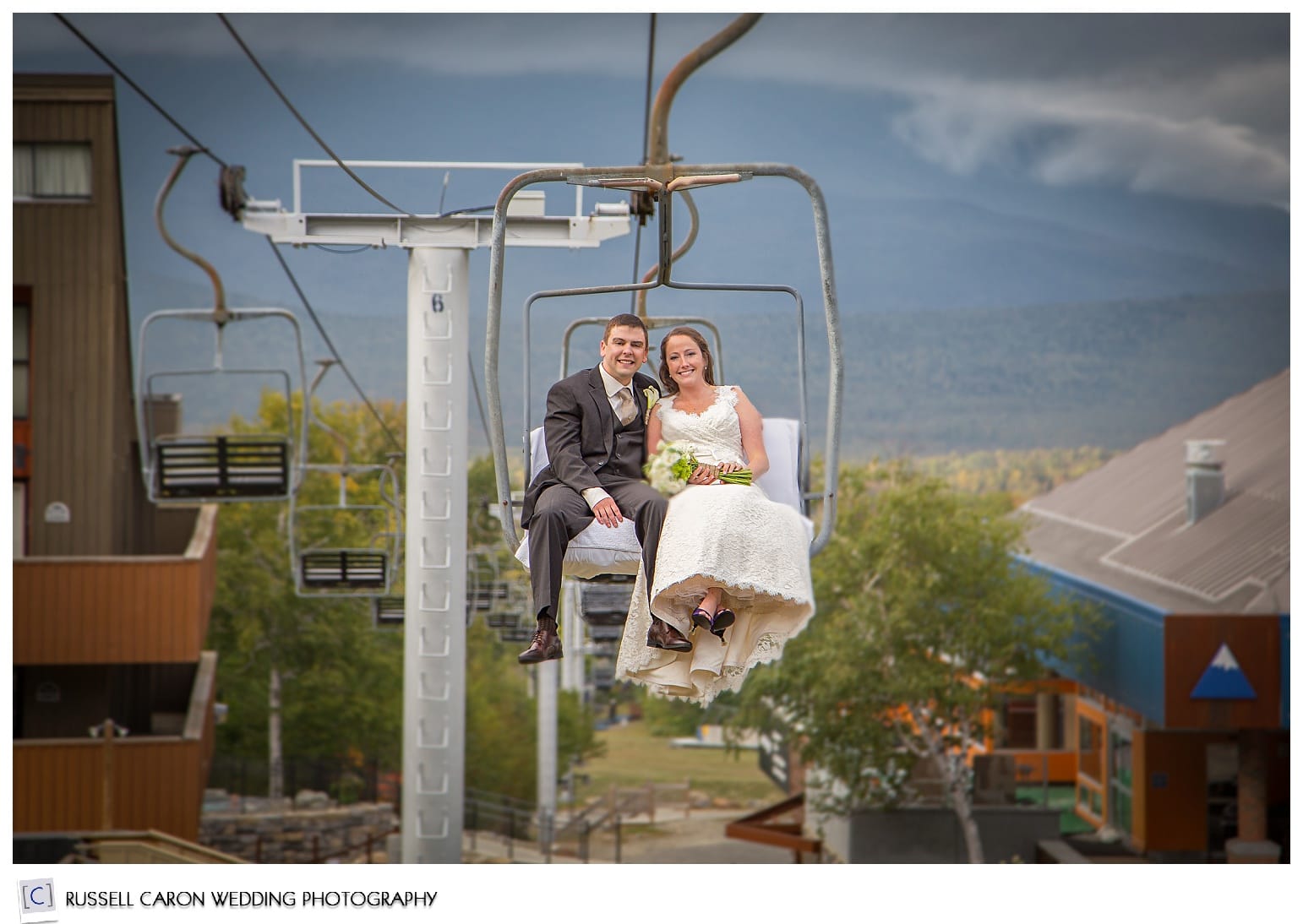 #13 Heidi and Greg
August 20, 2014. The Red Barn, South Berwick, Maine. Photographer: Russ
We photograph weddings using a well-defined and pre-planned set of approaches; including, but not limited to, candid, editorial, journalistic, portraiture, classics, artistic, environmental, and blends of them all. This pick immediately followed several posed family shots, and thanks to keeping the camera in hand, and the right index finger close to the shutter release at all times, this precious moment made our Top14 of 2014 list at #13. Heidi and Greg shared a priceless moment of glee after admiring their wedding bands.  It's a real moment, and it speaks so perfectly of the reality of their abounding joy.  Shot from a distance with a long lens out on the side lawn at the Red Barn at Outlook Farm, the image simply just tickles us. The black and white conversion reflects not only a love for this processing by Greg, but us, too, for pure journalistic shots. And, wow, how we love Heidi's hair!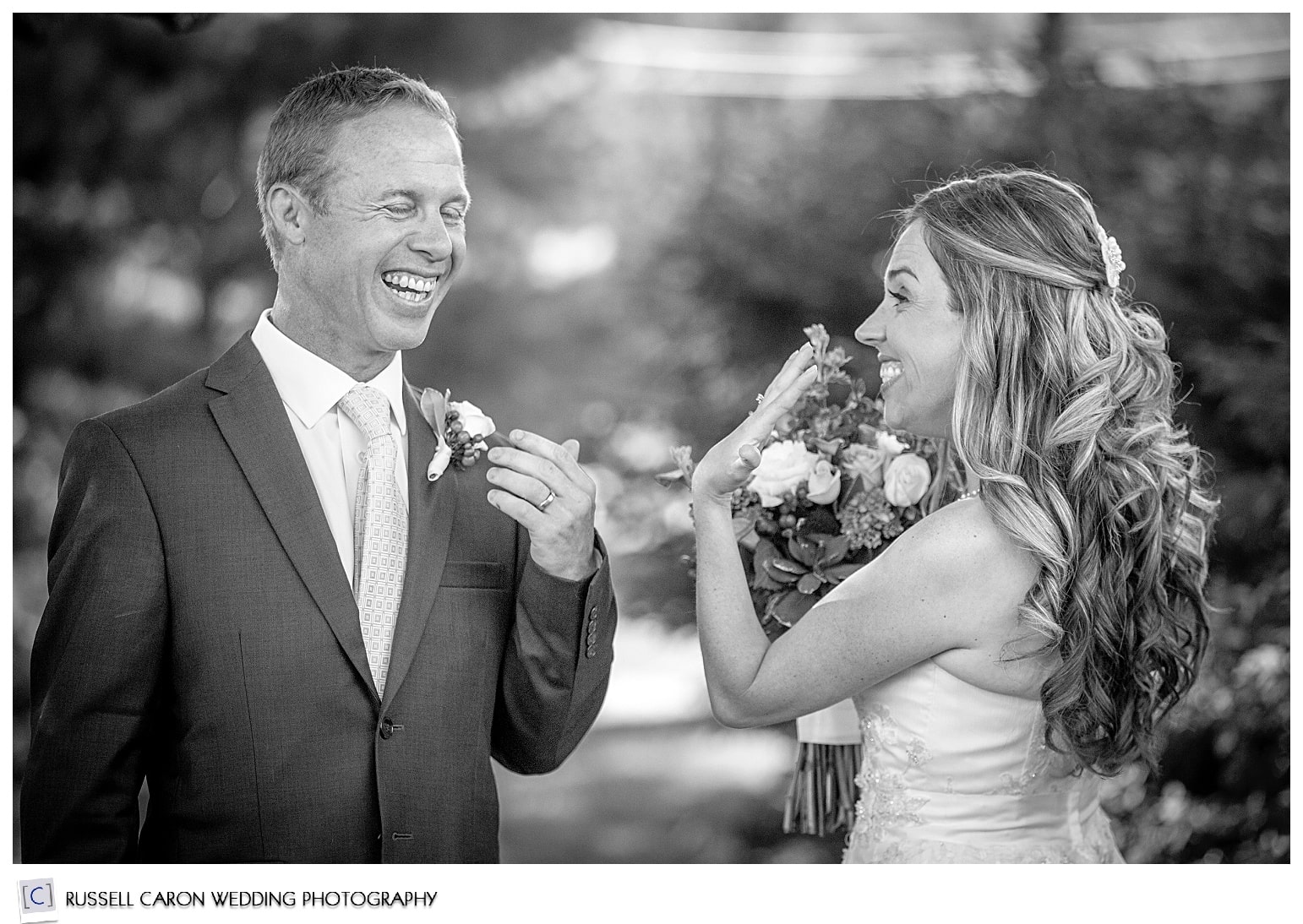 #12 Bailey and Joe
July 19, 2014. The Cliff House, Cape Neddick, Maine. Photographer: Russ
Maine is known for its rock-bound coast and known, too, as a fantastic place for a destination wedding. Some reputable sources say Maine is the #3 state in the nation for destination weddings. This image represents one of these perfect settings that brings it all together and can certainly attract people to Maine for their destination wedding. Many will "just know" this is a wedding in Maine at first glance.  It comes in at #12 of our Top14 of 2014 list because of its idyllic nature, the crispness of the overall scene, and the "cliff" (visible at left) that gives The Cliff House its name and so perfectly typifies the ruggedness of the Maine coast and the miles of vastness that are defined by the vista. We love our wide angle lenses for reasons that this image visually explains.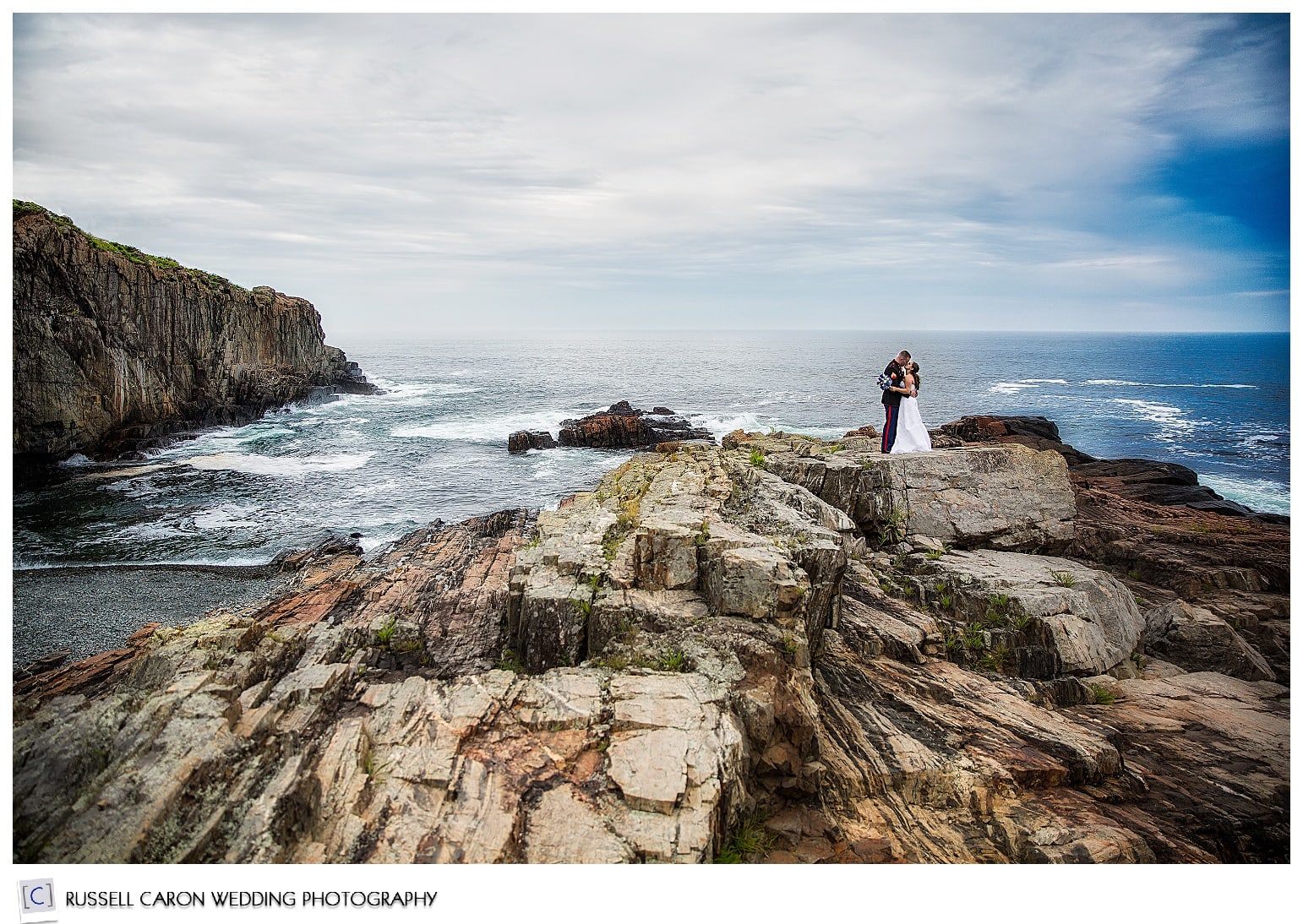 #11 Kimberly and Chris
August 8, 2014. The York Harbor Inn, York Harbor, Maine. Photographer: Russ
This was yet another fantastic day, which is to say it was just like all our weddings are! A great setting with a great couple. And the gift to us of time to go places before the wedding, after the first-look. It was a humid and warm day, and the threat of showers loomed. And they came, literally 90 seconds after the ceremony ended. But as fast as they came, they went. Kimberly and Chris let us take them to some of our favorite York Harbor spots, including this dock. At first, you may miss them all tougher, but of course, they're right there at the end of the right pier. To me, I am always looking for docks lined with colorful dinghies, and it was frosting on the cake to have the chance to photograph such a gorgeous Maine scene with a real-life bride and groom as we did here. By the way, that's a real rain shower over the Atlantic Ocean straight back in the distance. The only editing we needed to do for this shot was making it such that Liz, who not only was shooting from the pier with the couple, but also helping with the gown, was hidden from view. Everything fell into place and combined to make this the #11 of the Top14 of 2014 for us.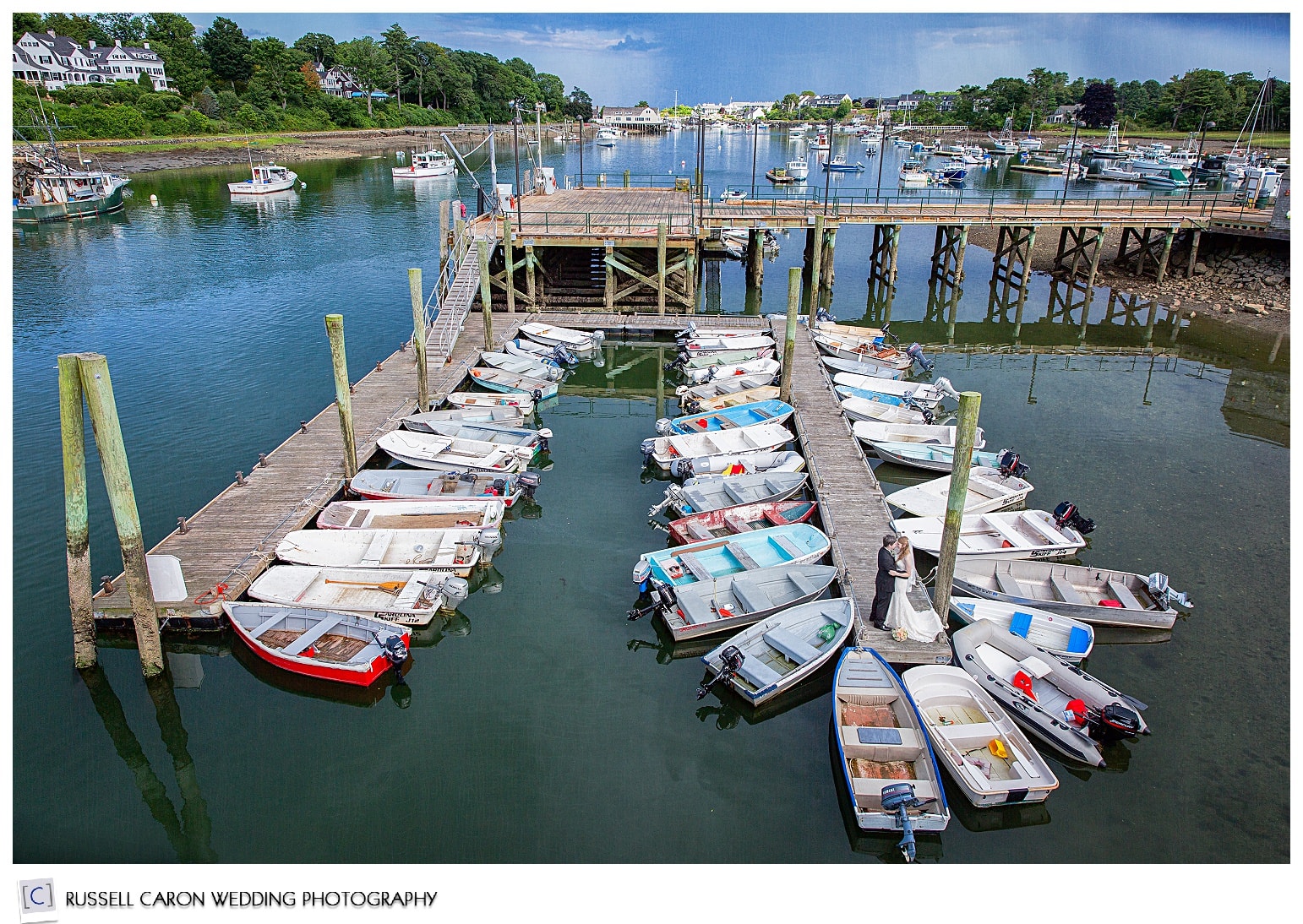 #10 Laura and Bret
October 5, 2014. The Colony, Kennebunkport, Maine. Photographer: Russ
Laura's portrait makes the cut in the top 10 of this collection because of this portrait we simply love. Gorgeous bridal portraits are a signature of ours, and this example tells the whole story.  Bret (sorry, not pictured here!) and Laura are a wonderful young couple.  We're proud of how this image ranked as our #10 in our Top14 of 2014 wedding images.  This portrait was taken in the hotel suite at The Colony in which Laura prepared, with no special equipment other than our favorite portrait lens, a reflector, and our knowledge of light.  Oh, those blue eyes just wow us.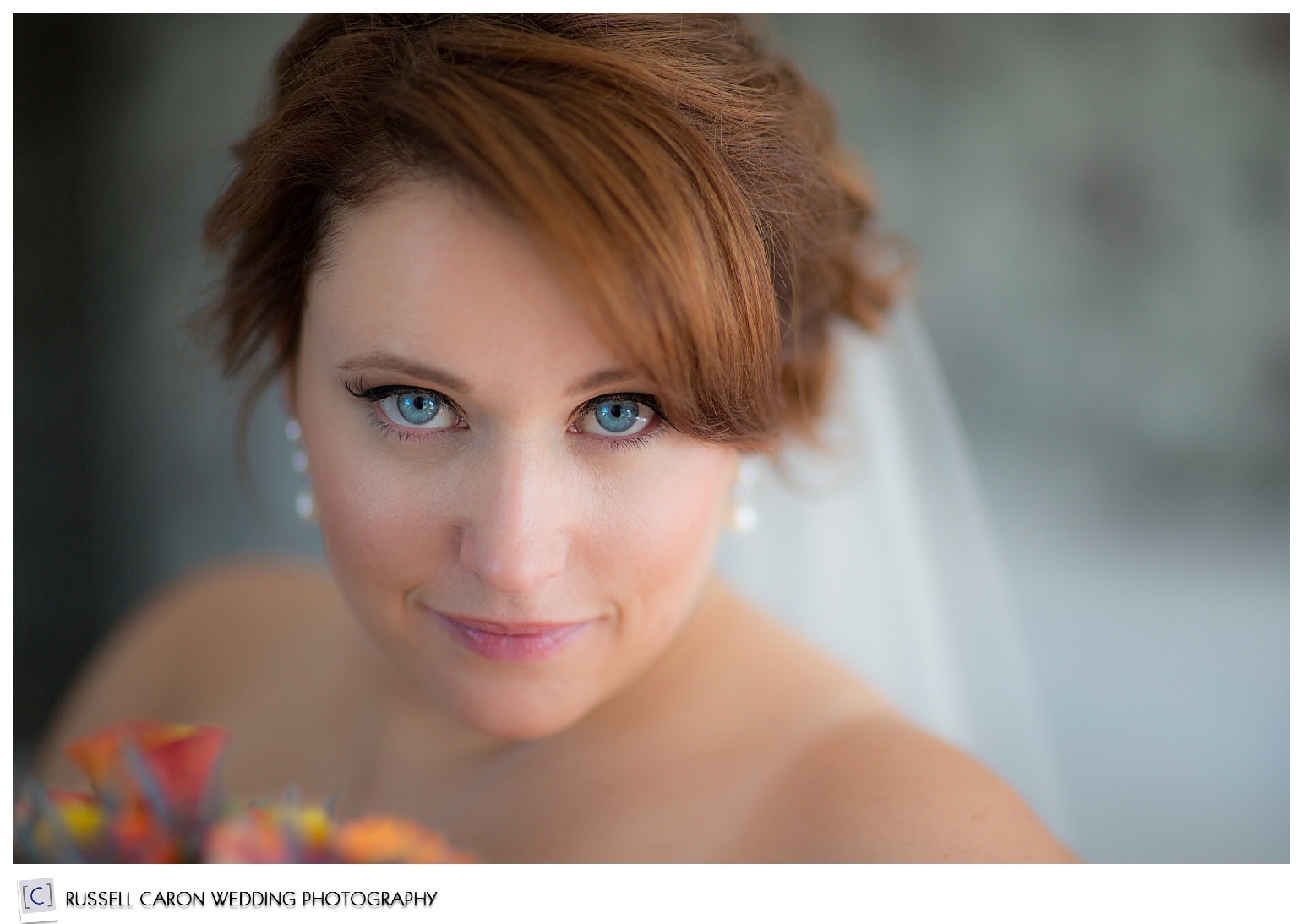 #9 Crystal and Kyle
June 14, 2014. The Inn at Ocean's Edge, Lincolnville, Maine. Photographer: Liz
Crystal and Kyle carefully orchestrated their first look and subsequent events of their beautiful wedding day to allow adequate time to drive around to various photo stop locations in Camden and Lincolnville, something we appreciate beyond words. I was on the upper level of the dock in Camden Harbor working my shots with Crystal and Kyle, Liz went down on the dock — initially to help pose the couple for my shots. But, like she is awesome at doing, she saw a different viewpoint and a different shot altogether, and set up the shot from her perspective.  In this case, it truly surpassed what I had been shooting for. The tender, soft moment that was really happening was more than evident in her shot below, and coupled with the harbor scene and the drama in the sky, landed this photo as our #9 in our 2014 list of our Top14 wedding images!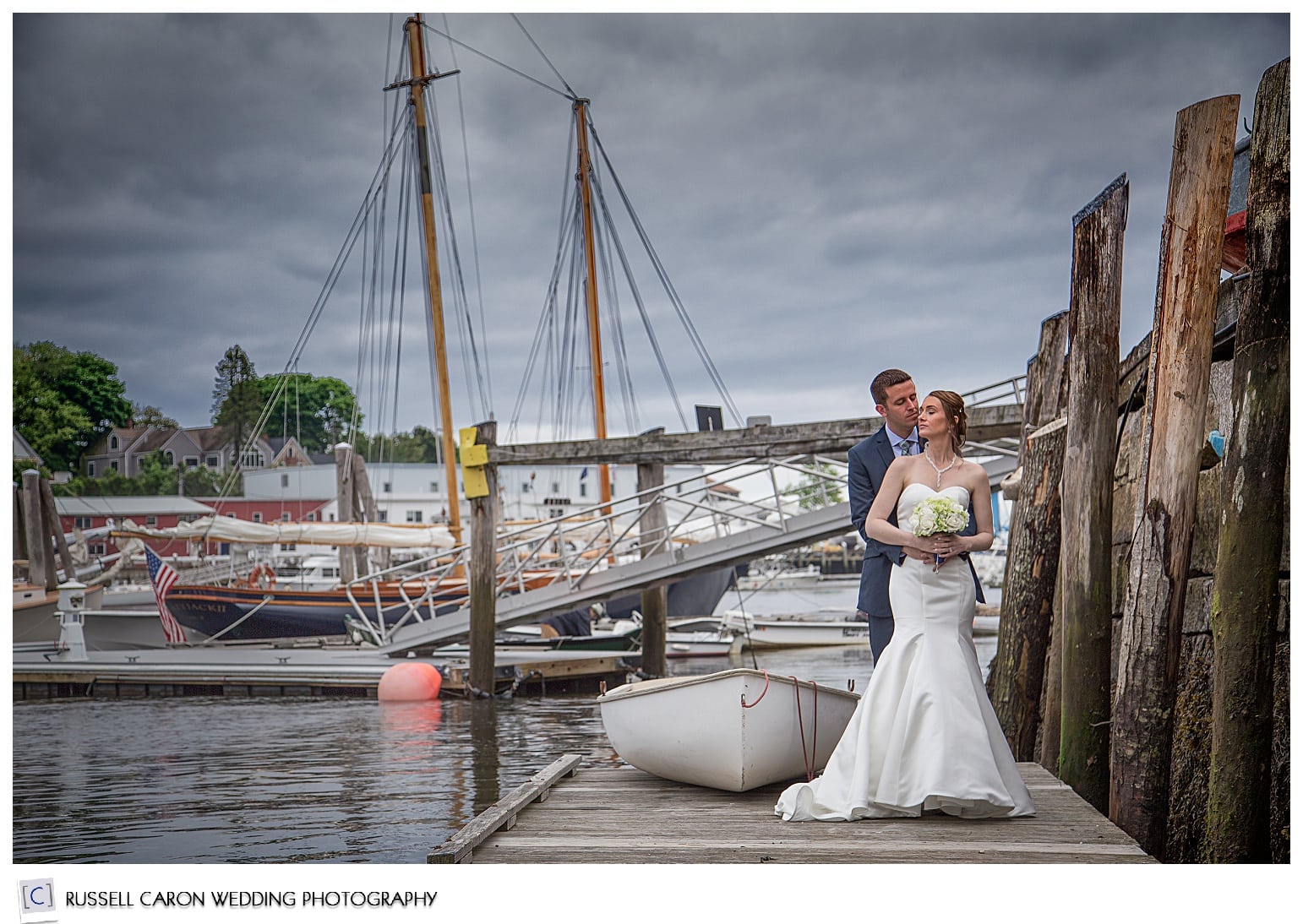 #8 Mallory and Trevor
September 5, 2014. Wolfe's Neck Farm, Freeport, Maine. Photographer: Russ
Mallory, well ahead of her wedding day, told us about wanting a photo on this bridge, located at Wolfe's Neck Farm, the site of their ceremony and reception, in coastal Freeport, Maine. Little did we know that the skies on wedding day would be giving us a dramatic show of light, shape, and heavenly-like rays shining down on the bay. We enhanced the drama by choosing black and white, to the agreement of the couple, whose home is graced with a large canvas of this shot. Just to the south, this weather system was spawning strong downpours, which thankfully stayed at bay for at least a while as Mallory and Trevor's outdoor wedding happened without a hitch. Later that evening strong showers did come to Freeport but also cleared through and resulted in a gorgeous rainbow under which we photographed the couple. Yet, it's this image that wins our #8 spot on our Top14 of 2014 wedding images.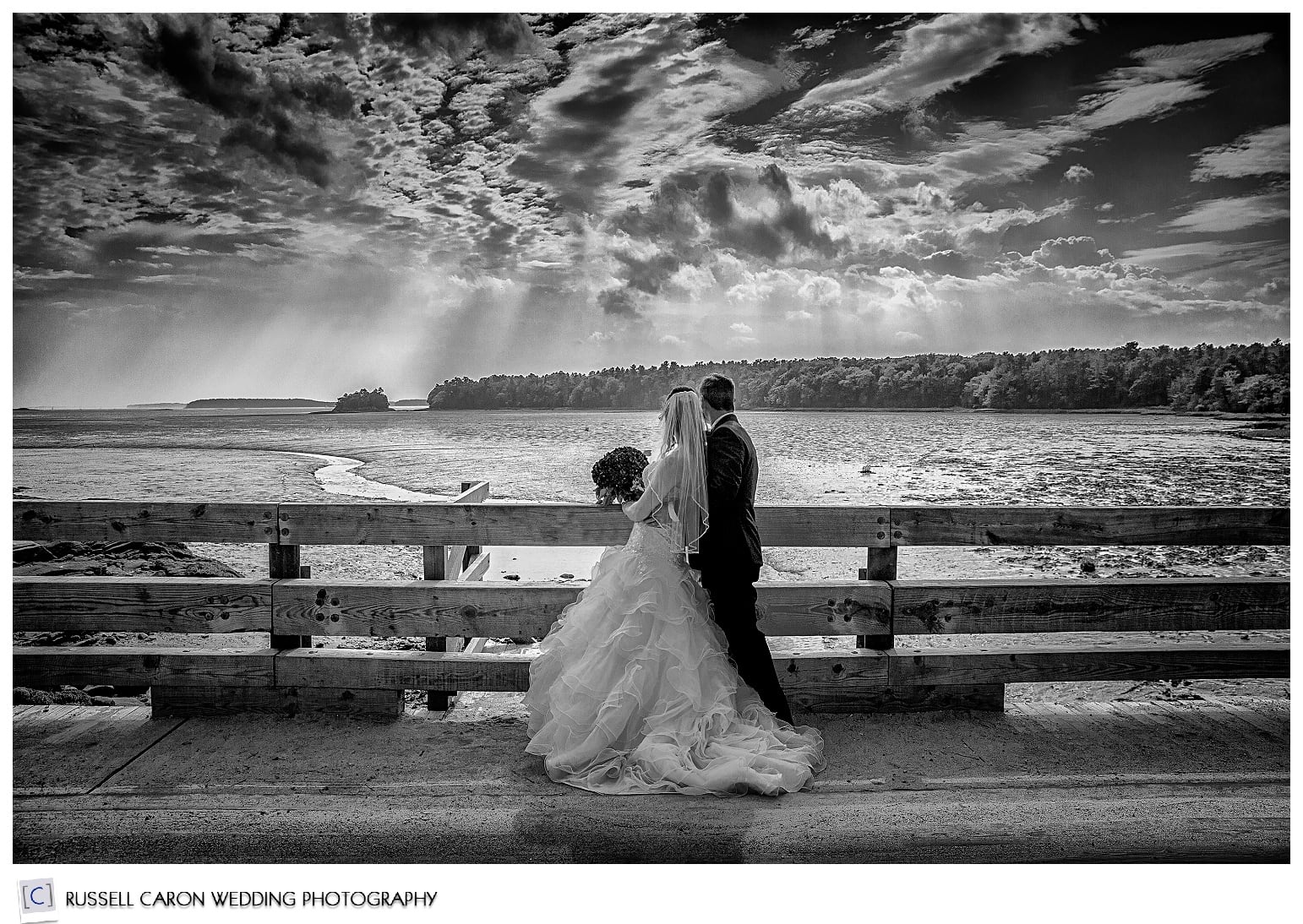 #7 Lisa and Owen
June 21, 2014. Pier 77, Cape Porpoise, Maine. Photographer: Russ
OK, this was one fast-moving set of events culminating with one really stunning sunset. Incredibly, the colors WERE this vibrant; the water was this much literally on fire; and Lisa and Owen really were standing there; this isn't a post-processing fest. We were READY for this sunset shot, as we had long before wedding day known that this view from Cape Porpoise on the longest day of the year would likely be quite pretty as the sun went down. We however had no way of knowing in advance it was going to be one of those "once-in-a-lifetime moments." The great part with having prepared for a sunset shoot was that we had already set up and in-hand all of necessary lighting equipment to properly light the couple and the foreground for proper color balance and exposure AND handle the sky behind. So though we knew we were going to head outside for the sunset, it came sooner than I was expecting. While eating our meal during the reception, Liz glanced out the window and saw that crazy things were starting to happen in the sky. We grabbed our cameras and two off-camera flashes. At the same time, Lisa and Owen had also come to the realization of the outside sky conditions and we immediately rushed to the water's edge at the harbor, got them in place, and shot away. This intensity lasted perhaps 2-3 minutes at the most. Guests from nearby Pier77 restaurant, the reception venue, fled to the outside, to witness this amazing sunset, too. Without the special lighting we had at the ready, any photos we would have otherwise attempted would have either left the couple in silhouette or left the sunset washed out. We're proud of being prepared and being able to capture a truly spectacular moment in time with a great newlywed couple!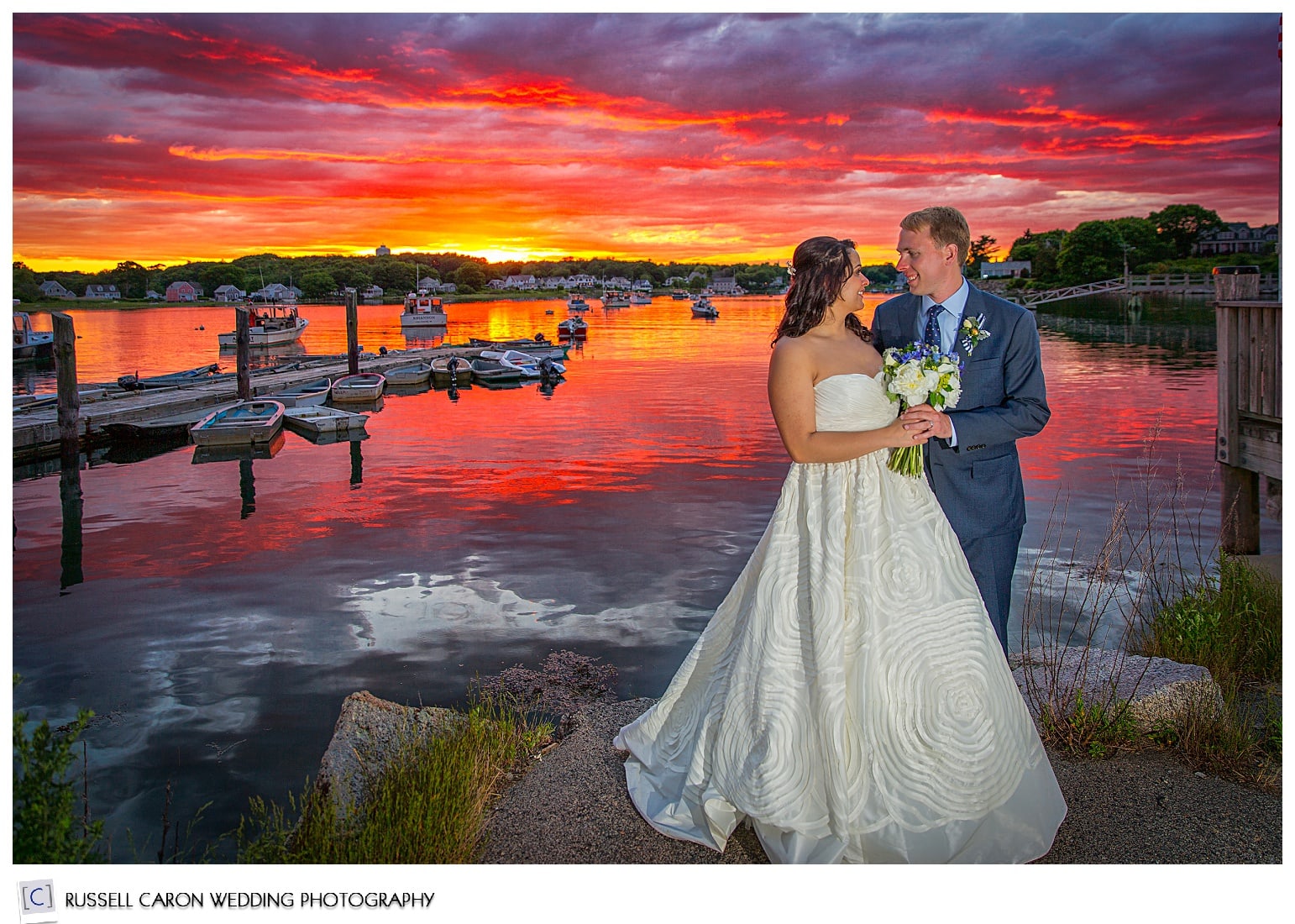 #6 Heather and Jon
July 29, 2014. Port Clyde, Maine. Photographer: Russ
Heather and Jon traveled to a family cottage in Maine's mid-coast region from their Iowa home. We wanted to be sure to include as many waterfront artistic shots as we could on their mid-week wedding day. Though there was a tight timeline, Heather and Jon gave us the one hour it took to scoot from the cottage to Port Clyde and back with about 20 minutes to shoot in the fishing village. We took several waterfront shots that we all love, and even some inside the Port Clyde General Store at the dining counter, but it is this outside shot of the storefront that won our hearts and won this image into our #6 slot of the Top14 of 2014 wedding images. There was just a narrow moment of time without people entering or exiting this busy spot, and it took just a little of our editing skills to clean up a few otherwise distracting elements as we made this moment a piece of art for Heather and Jon's memories of one very special wedding day in Maine.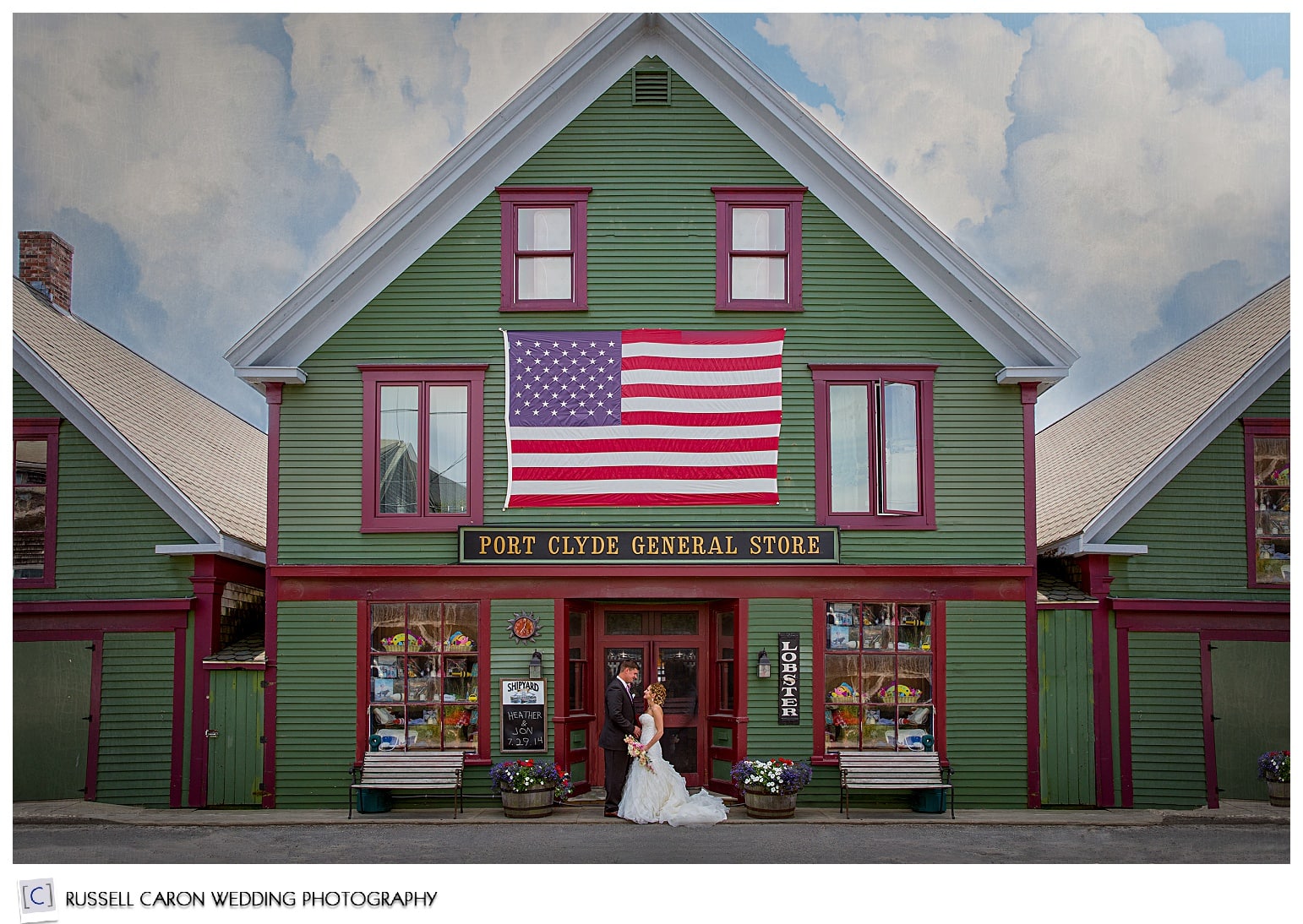 #5 Stephanie and Rick
October 11, 2014. Jackson, NH. Photographer: Liz
Fairytale and storybook iconic; peak foliage weekend in the mountains of New Hampshire, in the truly idyllic town of Jackson. Clean, clear, cool air, an old barn, in a postcard-like vista, and a fantastic couple right after their first look. We had scoped this spot out earlier in the day, arriving a couple of hours before our official start time. We carefully planned the timing of the day and after chatting with the bride and the groom, had the nod to jump in our vehicle the 5 minutes it took to come back up the road from the Whitney's Inn location of their ceremony and reception to place them so romantically in this field. We had several stellar shots from this quick jaunt, including some at the iconic covered bridge entering town, but it is this one image taken by Liz that melted us the most and landed it at #5 on our Top14 of 2014 list. We could live this day over and over, and we know that this image is going to be a key part of helping Stephanie and Rick be able to do just that!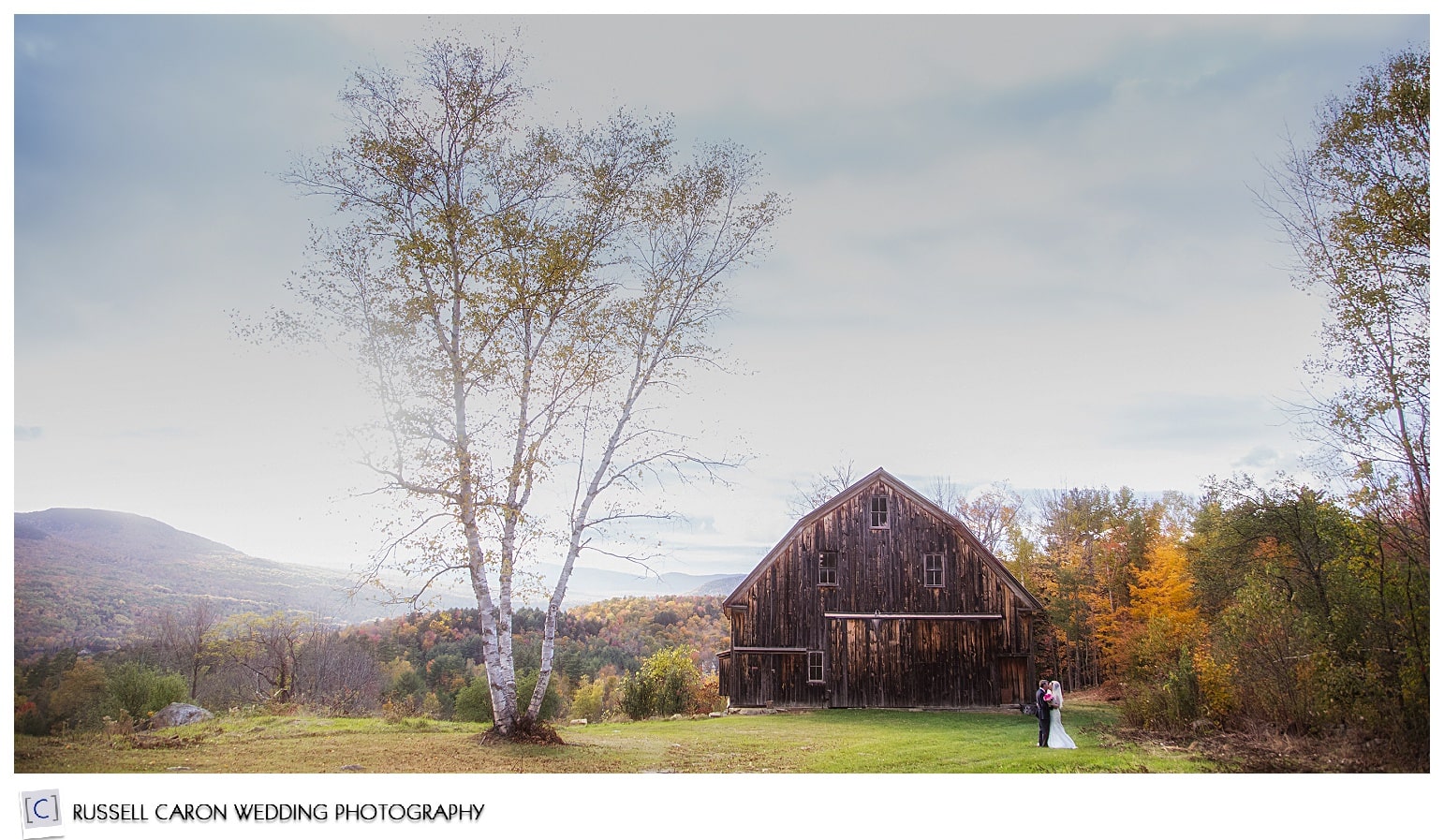 #4 Jamie and Brian
May 17, 2014. The Nonantum Resort, Kennebunkport, Maine. Photographer: Russ
It's hard to match the fun and excitement of the Hora, a traditional circle dance at Jewish weddings in which bride and groom and parents are separately lifted into a chair and danced around. Jamie and Brian were married earlier at the Nonantum Resort in Kennebunkport, Maine, and this wedding left us with so many fun moments and images, but none to match this fun instant. We have yet to see a bride being hoisted in the chair during the Hora not have great big eyes, but Jamie set a new standard here with both her eyes and her priceless expression. We even love that one of our off-camera flashes behind us sets a reflected sparkle in a large mirror behind Jamie. Brian and both sets of parents soon had their turn, while our friends at Wavelength band perfectly carried the music all night so well!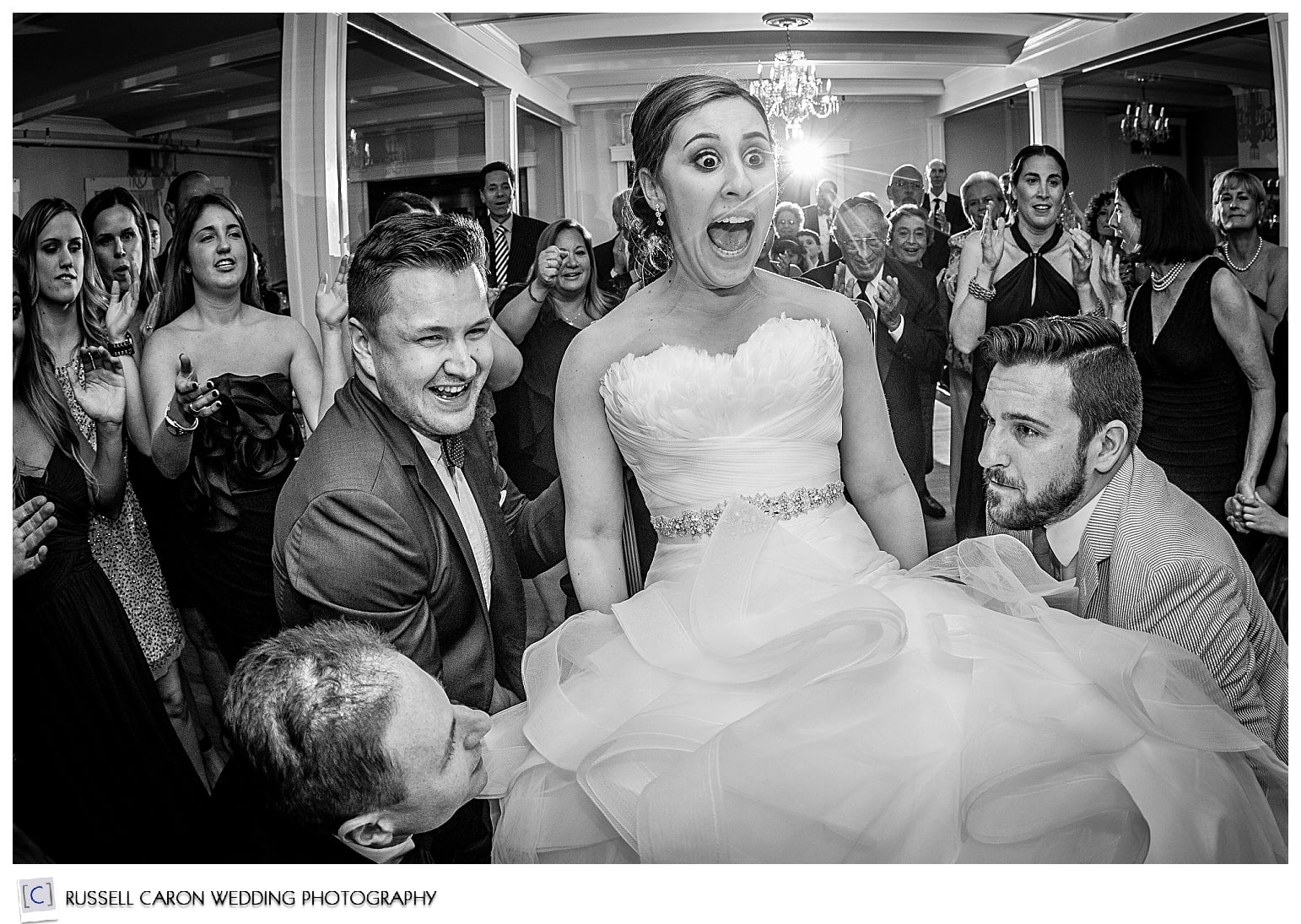 #3 Patty and Tommy
October 4, 2014. Linekin Bay Resort, Boothbay Harbor, Maine. Photographer: Russ
Our #3 Top14 of 2014 image takes little in terms of explanation, as it is, at once: dreamy, romantic, soft, real; beautiful in subject, storytelling, and in its photographic elements. Just minutes after Patty and Tommy's first look on a drizzly October afternoon at a coveted park in Boothbay Harbor, Maine, the gray light did its part in being a perfect fit for the mood set by this location and this couple. While we guided and directed this shot, if not for who this couple really is, and how they are such a perfect fit for each other, the shot may have been good but it wouldn't have been what they made it to be just by being themselves and letting their feelings extend through themselves into our shot; it's our #3 top wedding image of 2014.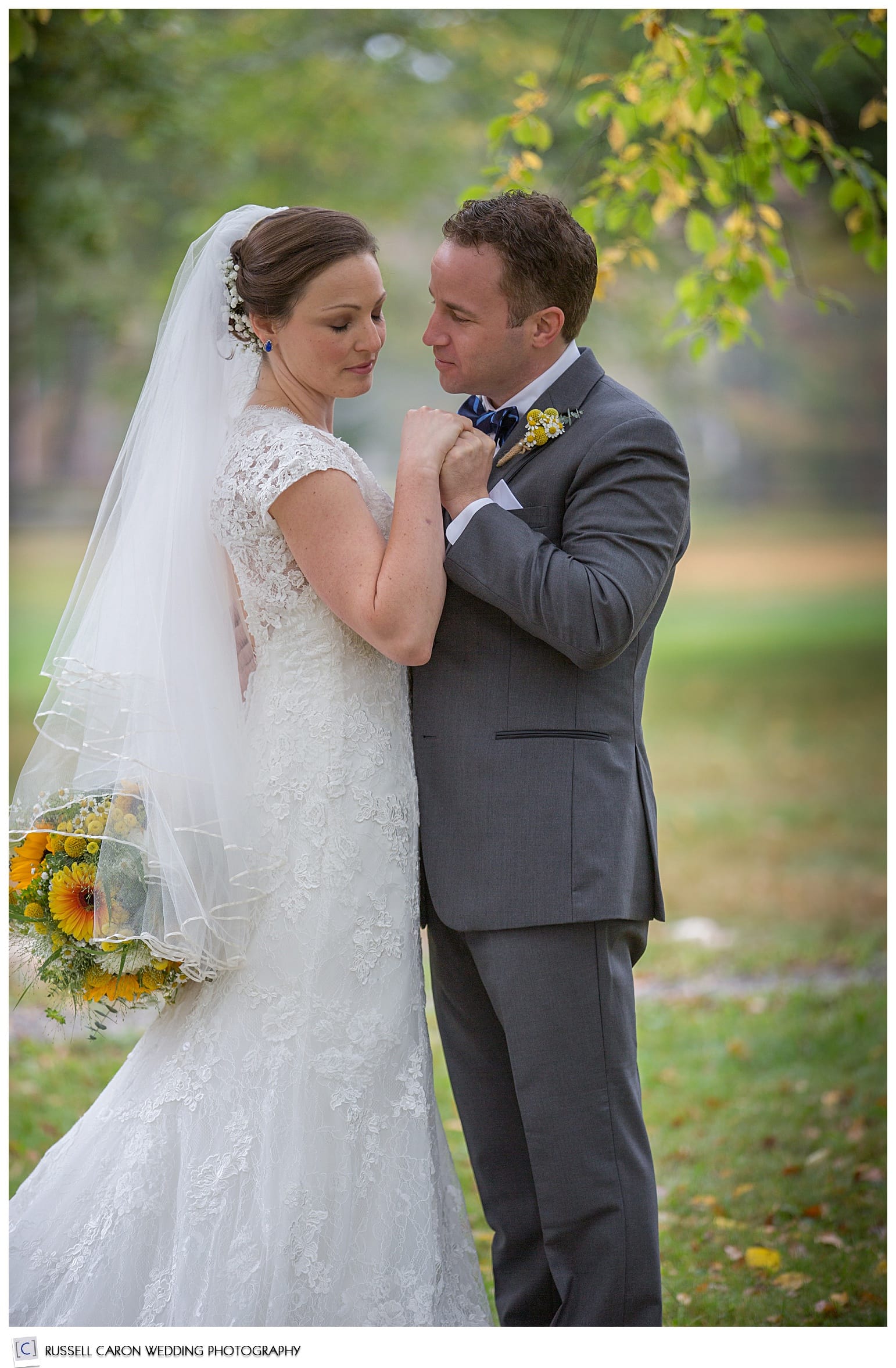 #2 Sheena and Dominic
January 18, 2014. The Hilton Garden Inn, Freeport, Maine. Photographer: Russ
The story behind our capturing this image is to never stop shooting. It was the end of the night on a snowy January Saturday night in Freeport, Maine. Hours before, we could have, photographically speaking, "called it a day", but that isn't the way we work. We knew that we had scored dozens of awesome shots already because of how Sheena and Dominic so willingly left the photo process totally to us, allowing us in the process to do what we do best. With Liz inside covering the reception, I made a trip to our car to start putting away some no longer needed equipment. The gorgeously large, softly-falling snowflakes that had graced us most of the afternoon persisted. I put the gear away, and then noticed the scene below. What if I could bring the bride and groom outside here and add some of my off-camera flash lighting effects? Would Sheena and Dominic be willing to leave the party, and comfort of being indoors on a snowy light; would they want to come out for this grab shot? For a split second I debated not asking them, but then I heard Liz' voice inside my head saying what she often reminds me: "Just ask! All they can do is say 'no.'" So, that said, I quickly set up the lights and camera I needed to get the shot. I should have questioned if Sheena and Dominic would say 'yes', as they readily did, since they had been so accommodating all along. We headed out, I put them in position, I managed to pull this shot off hand-held, without a tripod. Taken at the Hilton Garden Inn-Freeport Downtown, this image ranks as our #2 of our Top14 of 2014 wedding photographs! Thank you, Sheena and Dominic, for being such an awesome couple and letting us make this truly memorable image for all of us to remember the day by.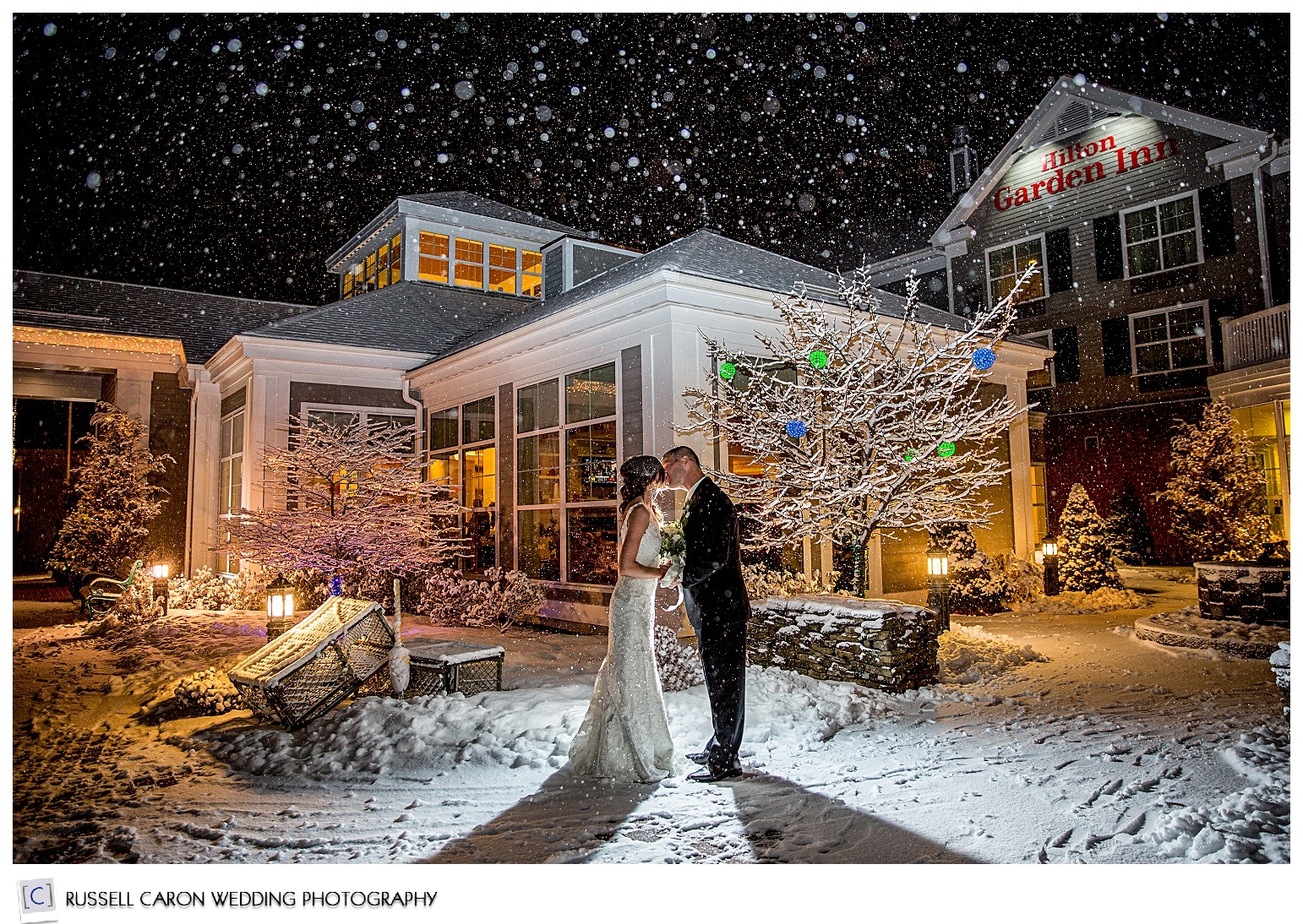 #1 Gina and Jake
September 13, 2014. Spruce Point Inn, Boothbay Harbor, Maine. Photographer: Liz
This was such a striking moment; we even wrote a whole blog post, based completely on this moment and this photograph, about why a second photographer is so important. (You can read that post here. And it's worth a peek since the same exact moment in time is shown from my perspective as the lead photographer in comparison to this vantage point Liz had as the second photographer.) Gina and Jake's September wedding in Boothbay Harbor was full of real emotion, and at the moment during the vows that Gina's tears of joy flowed most freely, her loving husband-to-be, Jake, reached toward her cheek and gently wiped back her tears. I just love how Liz nailed this moment and only caught Jake's hand and sleeve entering the shot. There is no explanation needed for anyone as to what is going on here, and this is solidly, out of a tenth of a million photos we captured at weddings this year, our #1 wedding image of 2014! Great image, Liz!
-Russ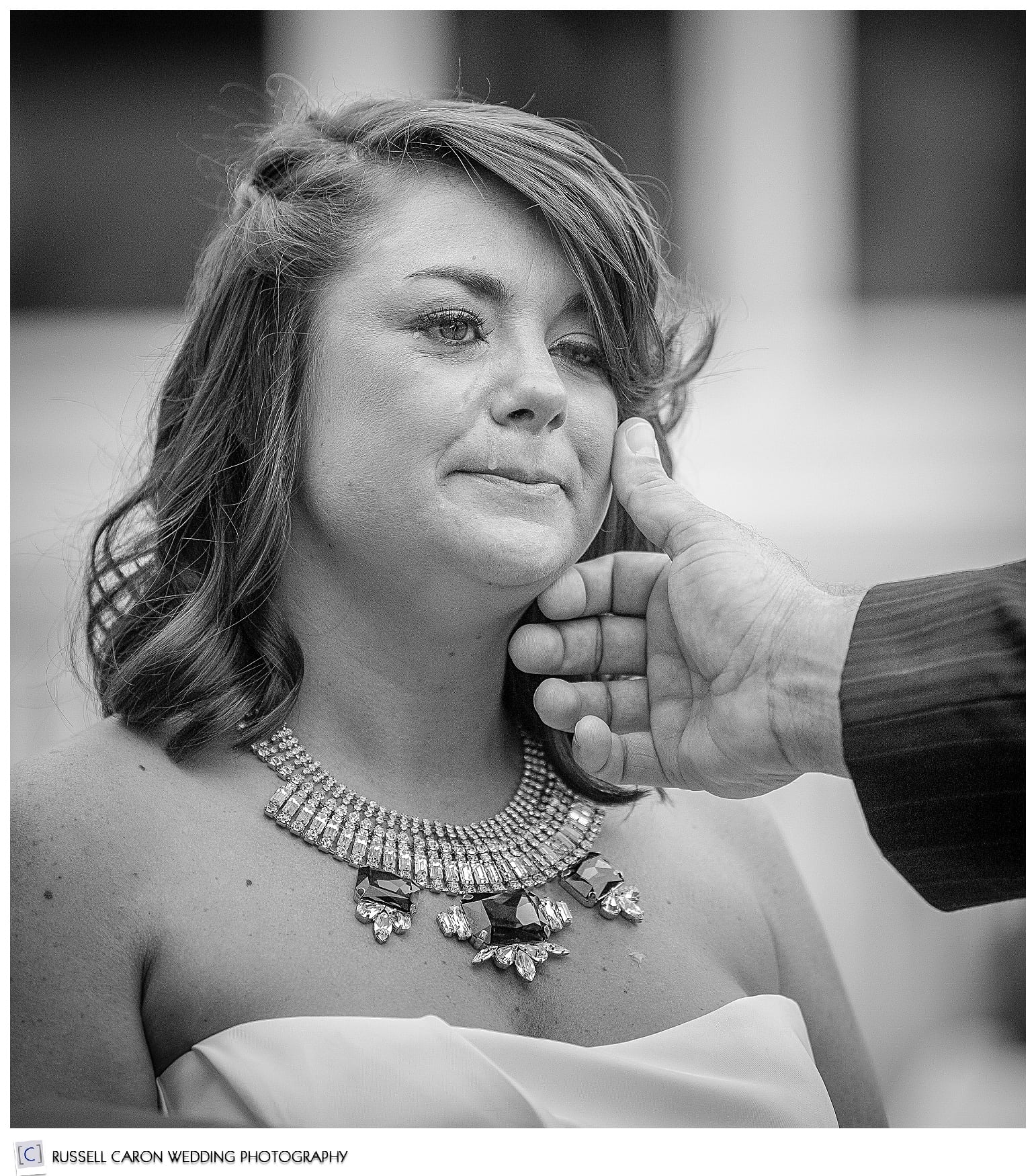 We cannot wait to see what lies ahead for us and our wonderful 2015 wedding couples!
Maine wedding photographers Russell and Liz Caron of Russell Caron Wedding Photography put the fun into wedding photography for Maine wedding couples. Feel the love as this dynamic pair effortlessly capture each of your cherished moments, producing natural poses and unparalleled art for your special day. For more information, please contact us right away!