Maine Engagement Photographers
As Maine engagement photographers, picking our top images each year for this blog post is at once one of the most fun and one of the most difficult tasks we undertake. We're also working on the 'Top 14 of 2014' wedding images and had the same quandaries there that we have here: that being how to whittle down thousands of great engagement images to just 14. And, as with weddings, though each and every engagement session generated one or more 'finalists', it was impossible to feature an image from each engagement session because the numbers simply don't work. So, we sharpen our eye, our pencils, we sit back with hot cups of coffee, and we (quite amicably) talk the pros and cons, the emotion, the photographic merits, the ins-and-outs of each image until we narrow things down to 14. And, we don't impose any restrictions on what we choose. As such, it is perfectly OK if one session yields more than one top favorite. That happened three times in our Top 14, actually. The good part is that next year we will be able to have one more because it will be the Top15 of 2015. For now, let's look at the images that made this oh-so-difficult cut. Here goes:
#14 Michelle and Ryan
November, 2014. Perkins Cove in Ogunquit, Maine. Photographer: Liz
Pets in shoots can be a plus or a negative. While we are concerned that the best image of our main subject, the couple, could be disrupted by the pet or pets not behaving or 'posing' their best, when it all comes together it's a winner. And that is what happened here and why this shoot, on a very cold and windy day in late fall, comes in at #14 to open our Top 14 of 2014 engagement images list. We're looking forward to Michelle and Ryan's wedding at the Wentworth in Jackson, New Hampshire, and it will be here very soon, as their wedding is one of the first of the summer 2015 season for us.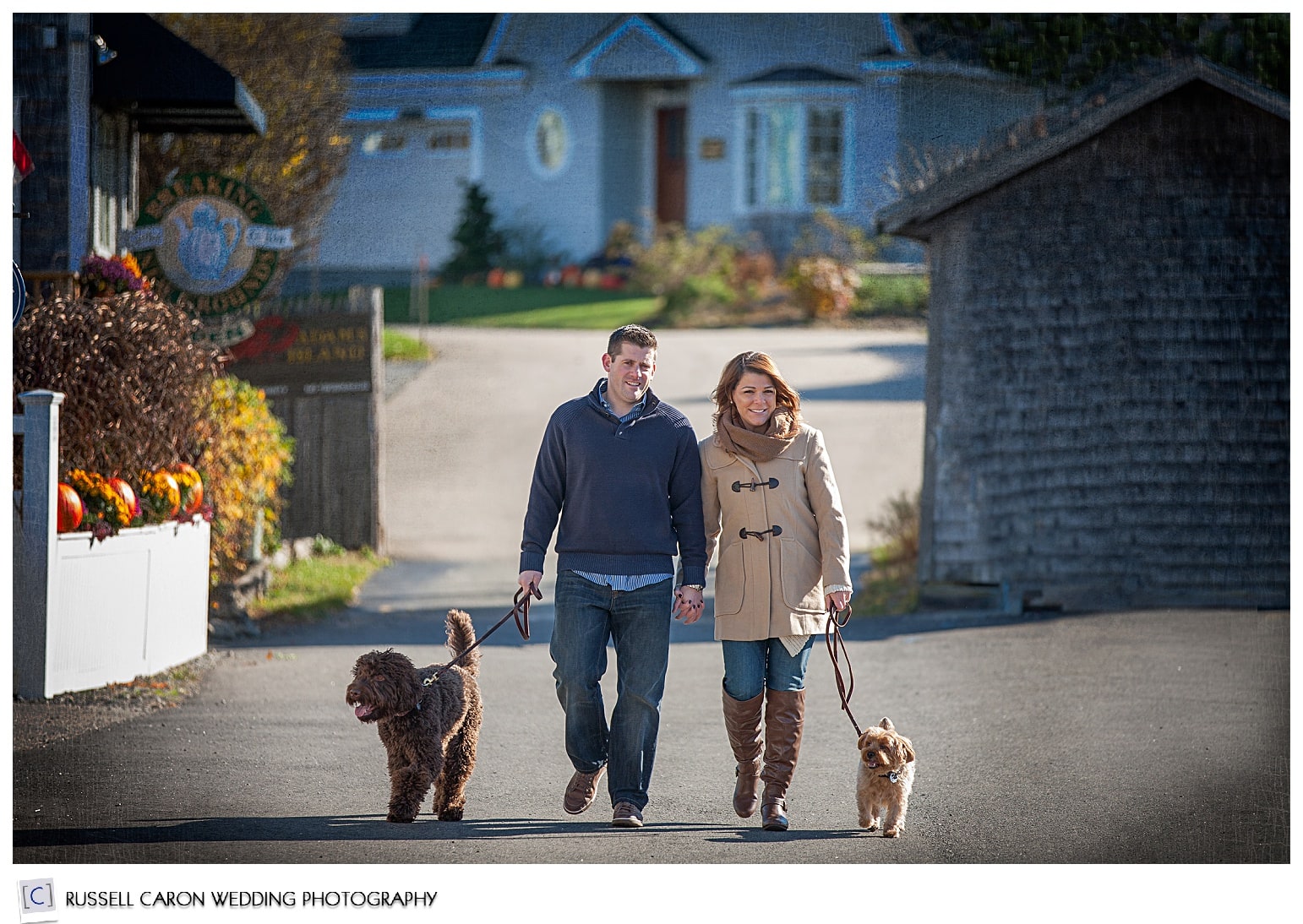 #13 Kristin and Greg
June, 2014. Cape Elizabeth, Maine. Photographer: Russ
Kristin and Greg have known each other for a very long time, and we already know that because of this, their upcoming wedding at the Nonantum Resort in Kennebunk is going to be a very fun- and love-filled event. We loved their Fort Williams Park engagement session because of the lush greens and tranquility; her cute dress and his sharp outfit, the light, the flow of the day, and the fact that mere feet away from this tranquil-looking scene were swarms of tourists and playing children and families. We often like isolating a couple to be in their own little world, and we really feel we captured that here with these two. We're certain that August 21, 2015 will be remembered forever, and, like all our weddings, we can't wait to help Kristin and Greg preserve lifetime memories with our artistry on that day.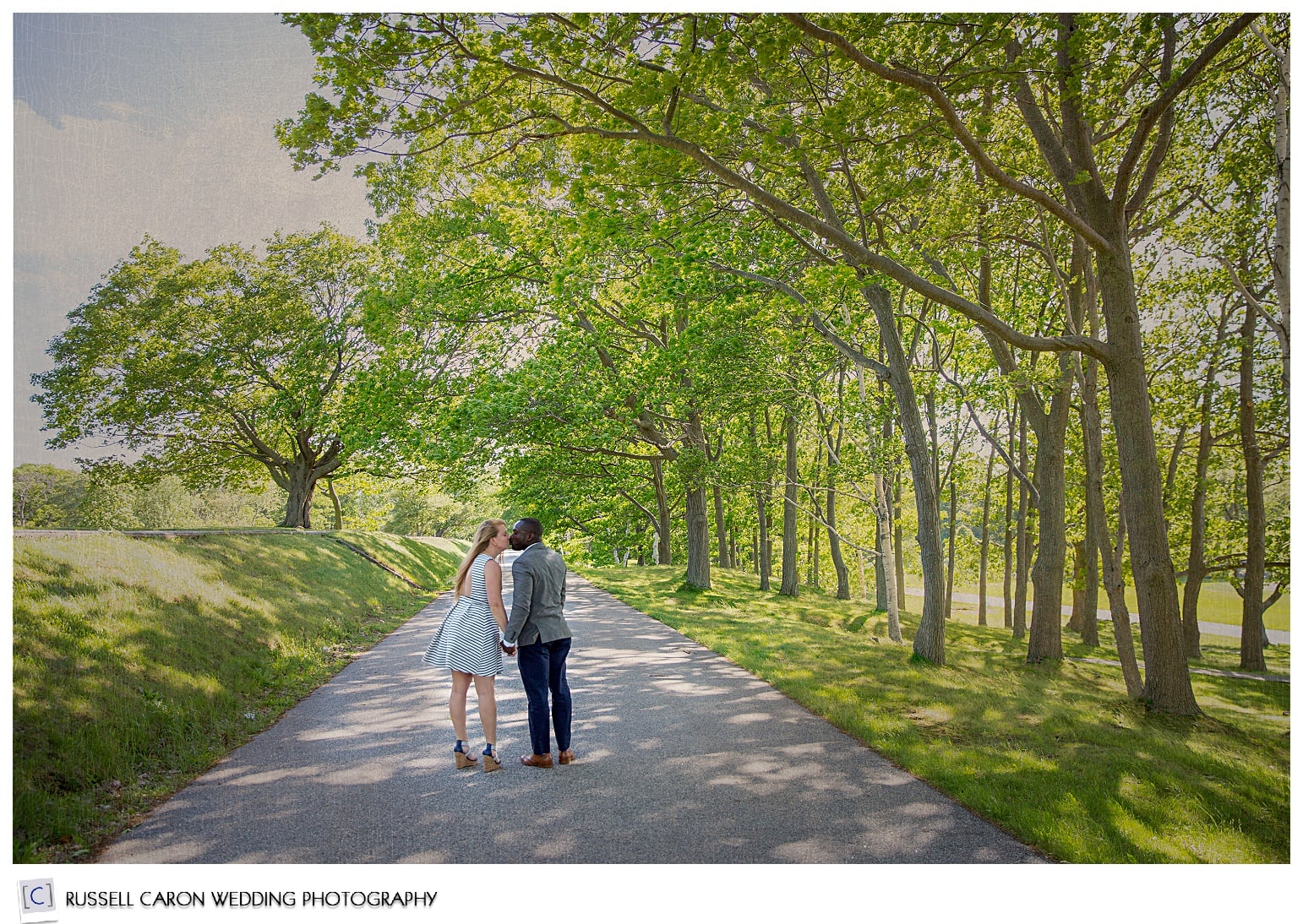 #12 Emily and Kurt
May, 2014. Kennebunkport, Maine. Photographer: Russ
Oh, oh, oh, that sky! And, with a super-fun couple, who could ask for more? We love wide, scene-setting, somewhat abstract and very artsy images of couples ias much, if not more sometimes, that our soft and close-up moments. This image, coming in at #12 on our Top14 of 2014 engagement image collection, represents the kind of environmental, wide, striking images that defines one of our signature styles, with its vast sky:land ratios, made possible by, and thanks in no small part, to the splendor of that late afternoon, spring sky. And, in a bit of foreshadowing, stand by for more from Emily and Kurt: one of their wedding images from their Sugarloaf wedding in September 2015 made our Top14 best wedding images! The September skies were very different than the skies on their engagement session, as was their location, so it all adds up to artistry in a variety of ways.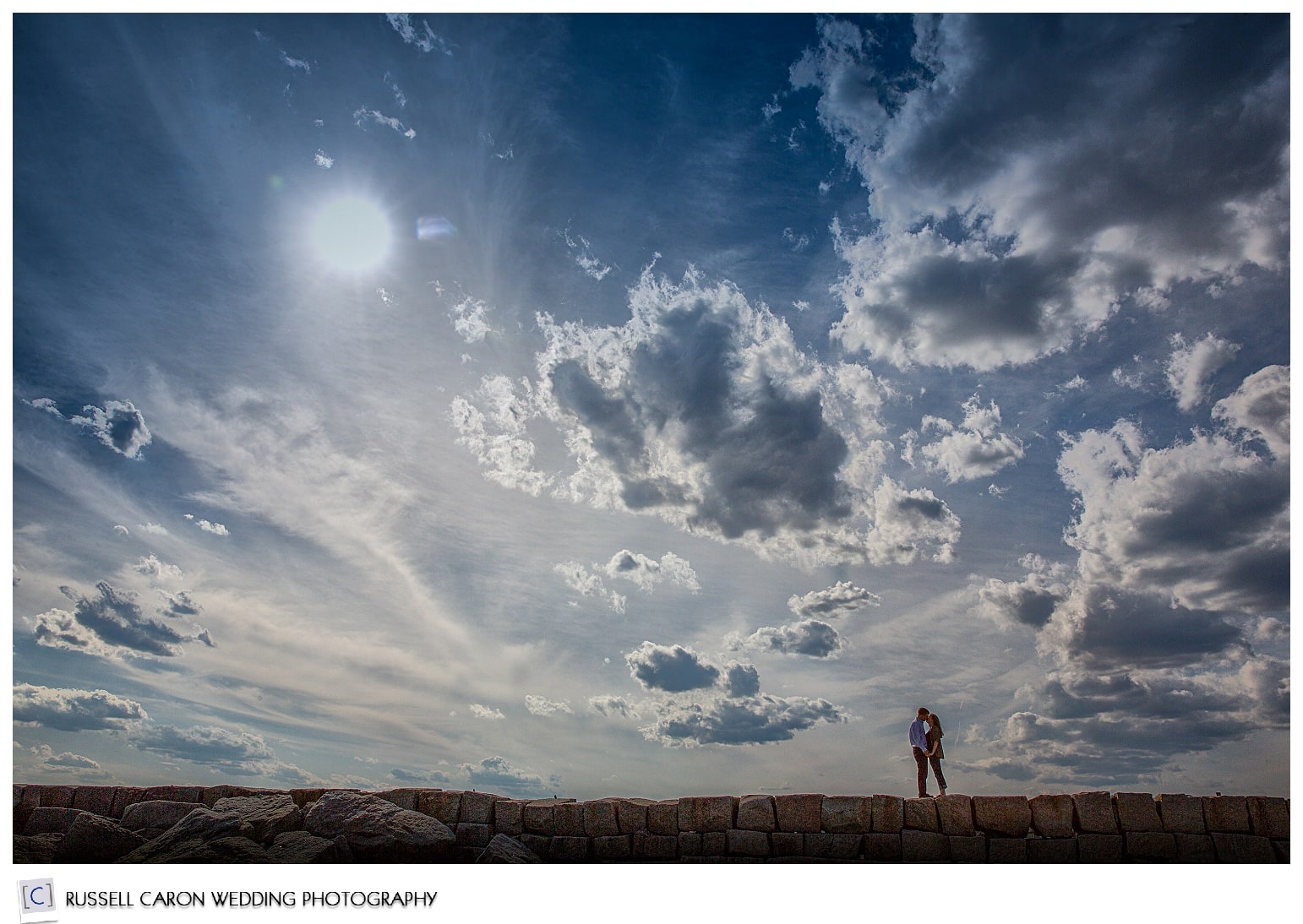 #11 Ashley and Mike
August, 2014. Moody Beach, Maine. Photographer: Russ
It was a really warm and humid afternoon in late summer at Moody Beach between Wells and Ogunquit, Maine, at a location literally feet from where Ashley's grandparents rented a cottage every summer. So, with this special meaning from childhood, she and Mike really felt at home.  Photographically speaking, this image comes in for us at #11 in our Top 14 of 2014 engagement images because of the quality of the summer pre-sunset light we were playing with and capitalizing on. Ashley and Mike were really fun and worked so well together as a couple as well as with Liz and I as their photographers. This shot, in particular, with its high-key feel, glow, and great fill light on their faces from the wet ground really sparks a great feel with us, and we are sure them, as well. Seemingly alone in their own world, as can be seen, and as well left intact in the final image, there actually were surfers, sunbathers, and walkers all around. We chose an image that reflected that and avoided ones we took where we isolated them, as we feel this composition really speaks for what we felt that day: harmony and light, and a couple in love. We're greatly looking forward to their June 6 wedding at the Wellesley Country Club in Massachusetts!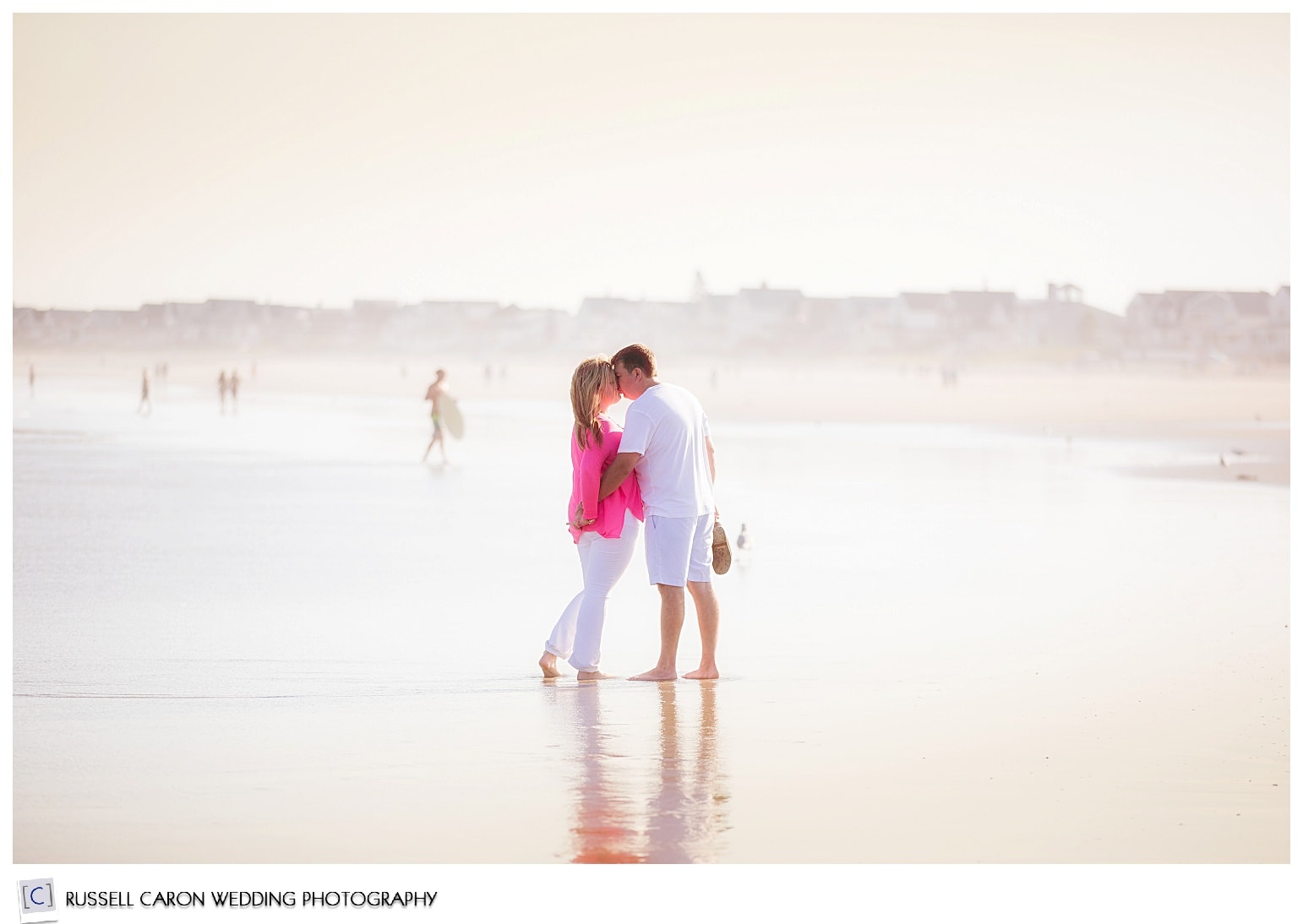 #10 Madeleine and Chris
August, 2014. Ferry Beach, Scarborough. Maine. Photographer: Liz
A walk along the beach on a warm August evening, timed for sunset. Liz has a favorite lens, her long and very crisp zoom, and as she is tracking Madeleine and Chris as they walk toward her as she directed, a seagull crosses into the image at just the right place and angle, making it a truly iconic "Maine" shoreline shot.  Coupled with the gorgeous golden light of this later summer evening, this is our #10 Top 14 of 2014 engagement image. Madeline and Chris are from New York City and will be marrying in June at the ViewPoint Hotel in York Beach, Maine.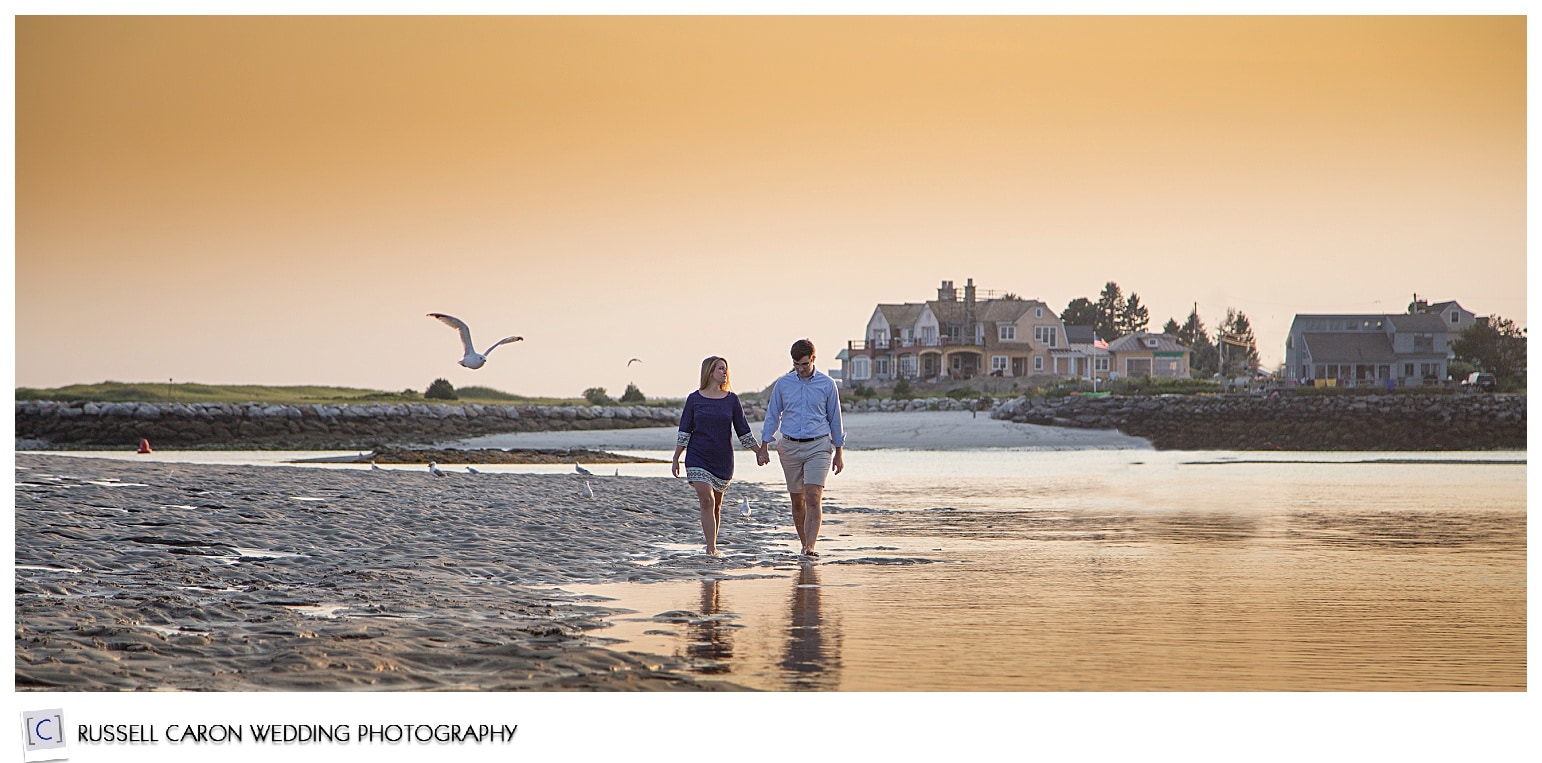 #9 Colleen and Chris
September, 2014. Portsmouth, NH. Photographer: Russ
As evidenced with some of our other favorites, one look we really love are classic doorways, walls, and windows. Walking with Colleen and Chris one warm Saturday in September in downtown Portsmouth, NH, we encountered this white brick facade and bright red doorway in an old colonial block. We of course immediately asked them to cross the street and pose romantically together. This image ensued, and it instantly became a hit with us, and as such it's our #9 image in our Top 14 of 2014 engagement images. Colleen and Chris will be married in Nashua, NH at St. Aloysius of Gonzaga (St. Louis) Church, with a reception to follow at the Crowne Plaza Hotel in September, and if this image is any indication, and we know it is, they will be a 'picture-perfect' couple then as much as they were on this engagement session.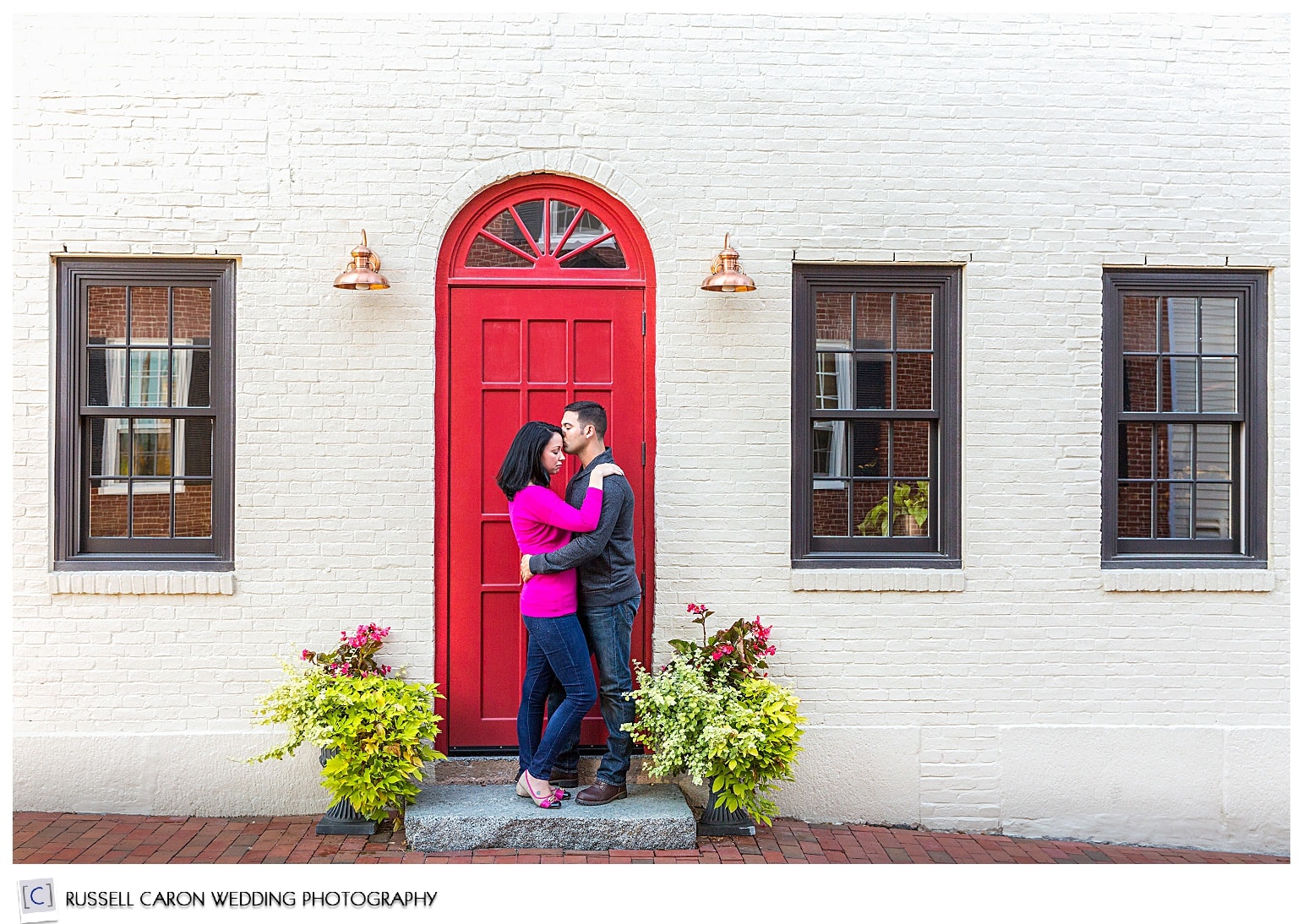 #8 Laura and Chad
June, 2014. Old Orchard Beach, Maine. Photographer: Russ
Officially the earliest engagement session we can recall, Laura and Chad wanted a sunrise shoot at the ocean in Old Orchard Beach, Maine, during the summer. So we all arrived pre-sunrise and got an amazing series of shots with them in the ocean as the yellow-orange sun rose behind. But, in the end, it was this shot that pushed all our buttons. Again, continuing on the theme of walls, and adding color and shape to define the fun, we were truly taken by this image because of the shadows (both of the tree and of Laura and Chad) and how it fits into the amusement venue's still-closed yellow steel door. Strong side light in an image like this makes in a winner for us. Laura and Chad will be married in a seacoast town with a totally different vibe, Bar Harbor, in May at the Atlantic Oceanside Hotel.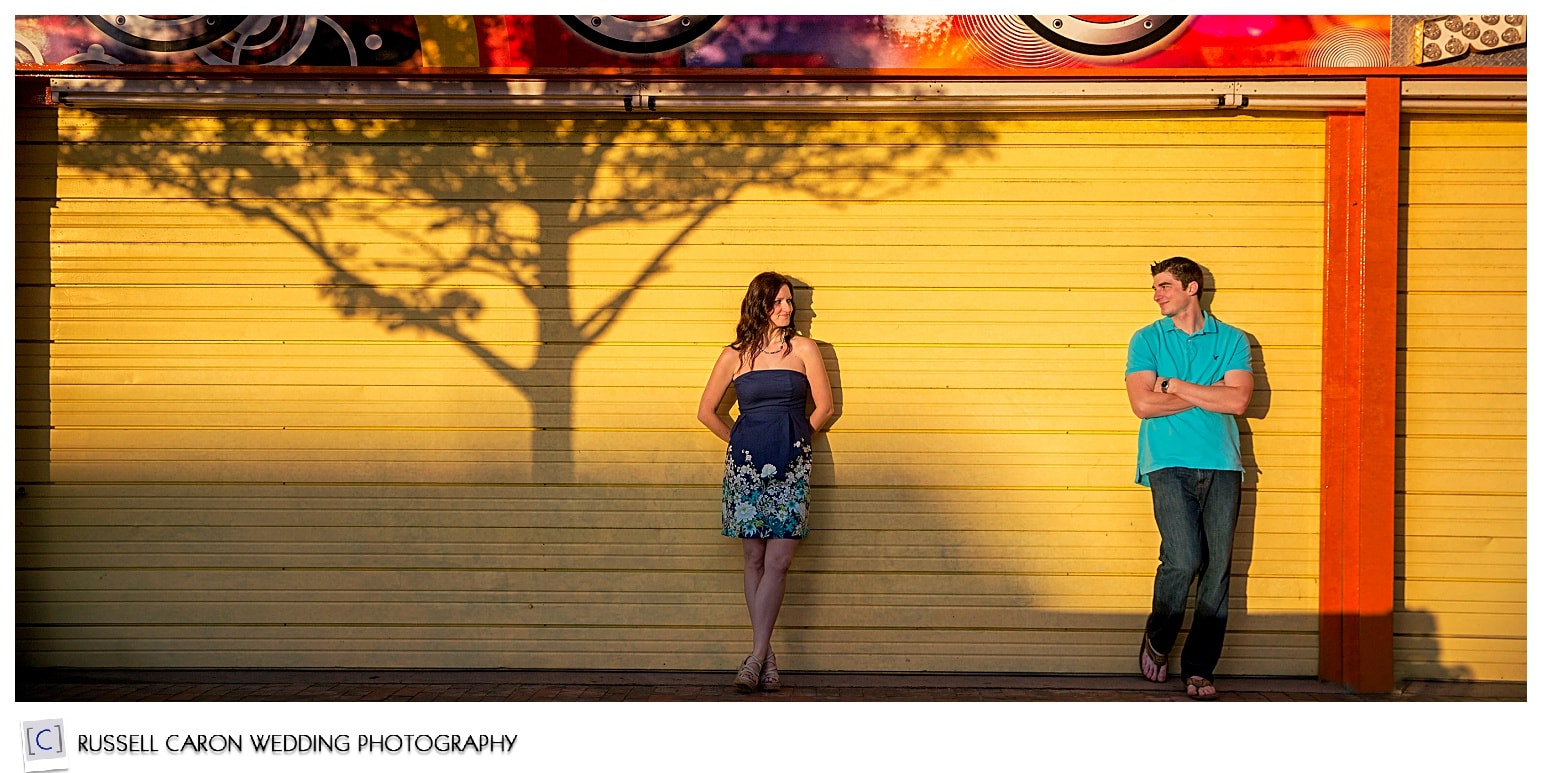 #7 Megan and Ryan
December, 2014. Salem, Massachusetts. Photographer: Liz
A theme is developing here. If a fantastic engagement image is going to have an animal or a bird in it, it seems with all likelihood that Liz is going to be the one to capture it! And that is the case here. What a shot Liz took with this one. All natural-the birds are all 100% real and were really there..no post-processing trickery used. We were setting up Megan and Ryan for a shot when the pigeons just flew in, almost as if in formation, and buzzed the shot. Depth of field of Liz' lens captured a just-right amount of sharpness. Megan and Ryan will make another appearance on this list, as their shoot was one of three from the Top14 of 2014 engagement sessions that featured two images in our Top14. Megan and Ryan are marrying at Sebasco Harbor Resort, in Phippsburg, Maine, in September.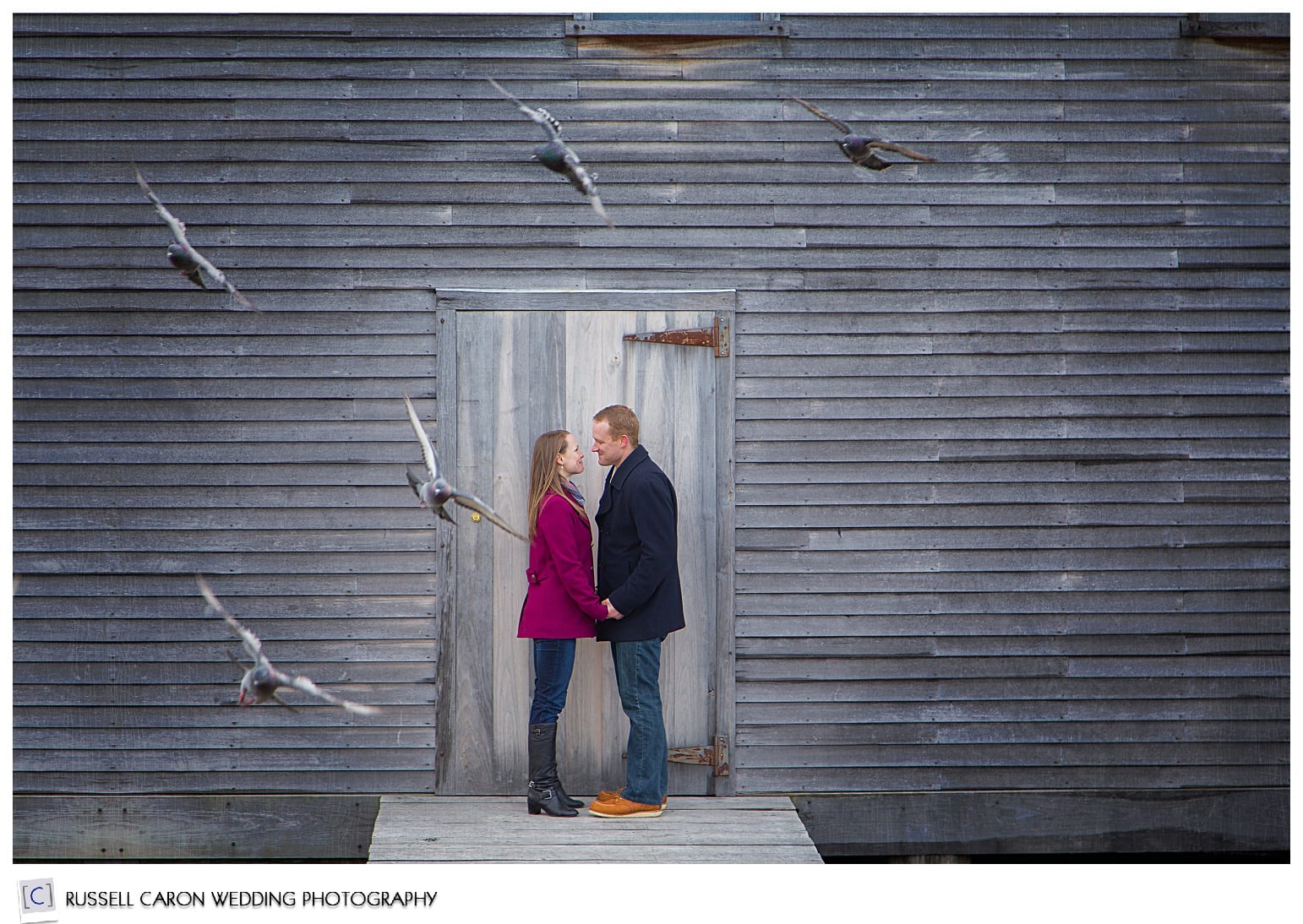 #6 Crystal and Kyle
May, 2014. Downtown, Portland, Maine. Photographer: Russ
We chose this as our #6 on the Top 14 of 2014 engagement images because it combines everything: vivid color, interesting lines, our fisheye lens, birds in flight, a great couple (who also landed a spot in our Top 14 of 2014 wedding images list!) and even an empty parking lot in front of this amazingly-painted wall in downtown Portland. The image only needed a few pieces of litter on the ground cleaned up, and a few spots of peeled paint corrected for the sake of keeping our subjects the focus, before we had a winning image on our hands. Crystal and Kyle are one of those couples that were naturals together and for the camera, both here and at their wedding that occured just a few weeks later, at the Inn at Ocean's Edge, Lincolnville, Maine. (Shot with our 'fisheye' lens).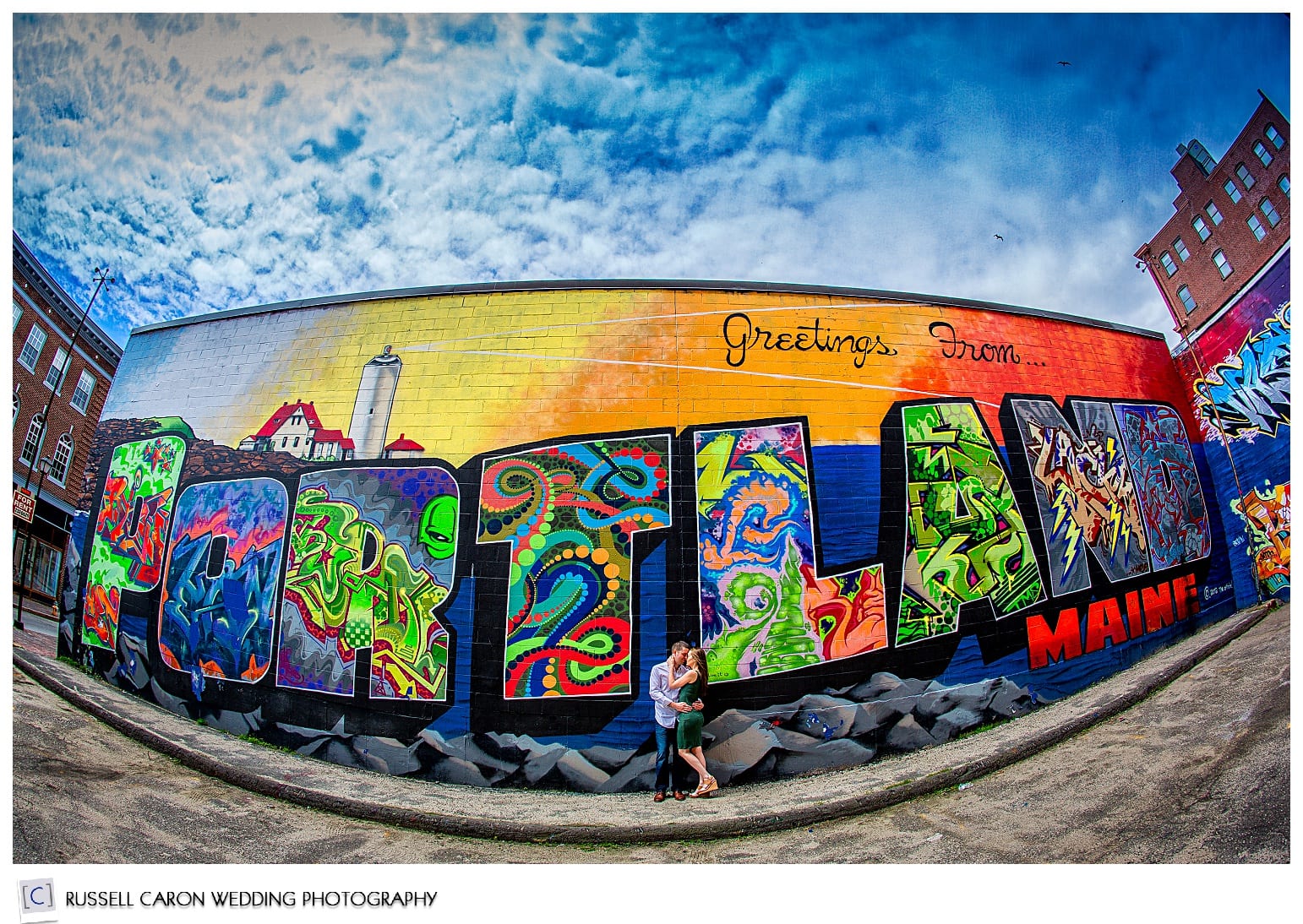 #5 Ariel and Kevin
September, 2014. Kennebunkport, Maine. Photographer: Russ
Ariel and Kevin's "red wall" image is so darn cute, but it's not the red wall, it is thanks to Ariel's totally self-directed and adorable pose. It landed solidly as our #5 Top 14 of 2014 engagement image. And, Ariel and Kevin will appear again on this list!  But, no peeking ahead, please. Instead, just look at how cute she made this image. Playfully looking at her fiancé with flower in hand, legs bent and foot pointing down all so perfectly. The red wall, the balance of lighting inside the store, the look of Kevin back at her, it all fell perfectly together and make us wish that it was September 2015 right now to keep photographing these two. It was actually quite a bit darker outside than it looks here, so we shot this image with a very fast lens at near dusk, and couldn't be happier with the way it turned out. The whole image from concept to exposure happened in under 10 seconds. We love what unfolds before us as Maine wedding photographers, some things planned, and many things not.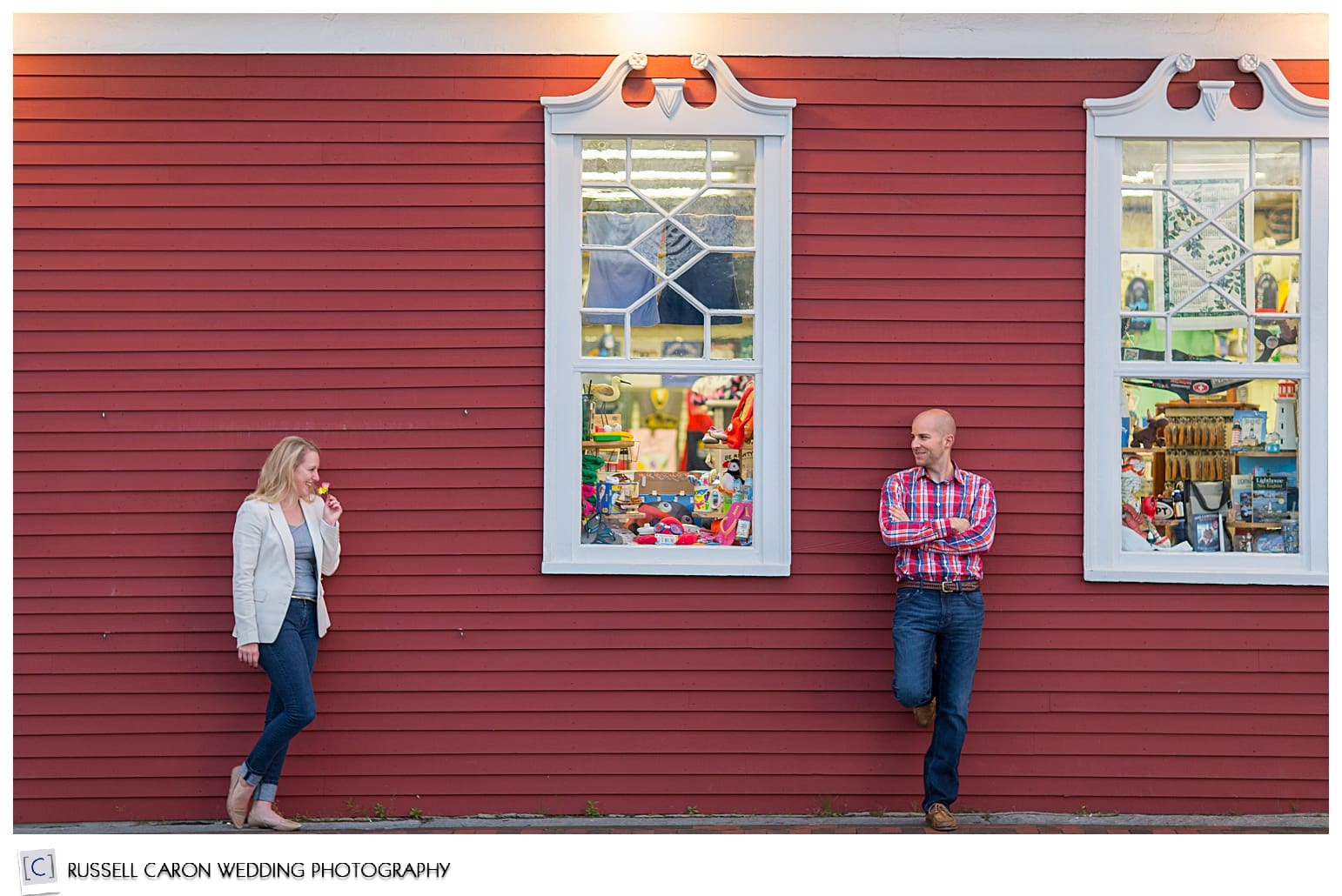 #4 Audrey and Chris
September, 2014. Boston, Massachusetts. Photographer: Russ
Like all our couples, Audrey and Chris are a couple that we just can't stop saying wonderful things about. This is a different point of view, for sure, and is a result of the planning Audrey put in to giving us one fantastic day of shooting in Boston!  Audrey met Chris while bowling at an alley near Fenway Park, and thus this particular spot holds great meaning to them. She worked out all the arrangements for this shoot ahead of time and the management team at the lanes could not have been more accommodating. How many bowling centers let the photographer go down the alley? Not many! So, we took advantage of the offer, and using multiple off-camera flashes that we hid from the view of our 15mm fisheye lens, nailed this shot, complete with bowling ball in mid-air. This is one amazing couple and we could not possibly be more excited for their August 2015 wedding at the Nonantum Resort in Kennebunkport, Maine, Audrey's home town. Chris is from Scotland and rumor has it that a second run of their wedding will happen there in 2016 for the benefit of Chris' family! This shot may be cool, but the idea of having a second wedding ceremony in Scotland is way, way cooler, even!!! This is the first of two appearances that Audrey and Chris make in this collection.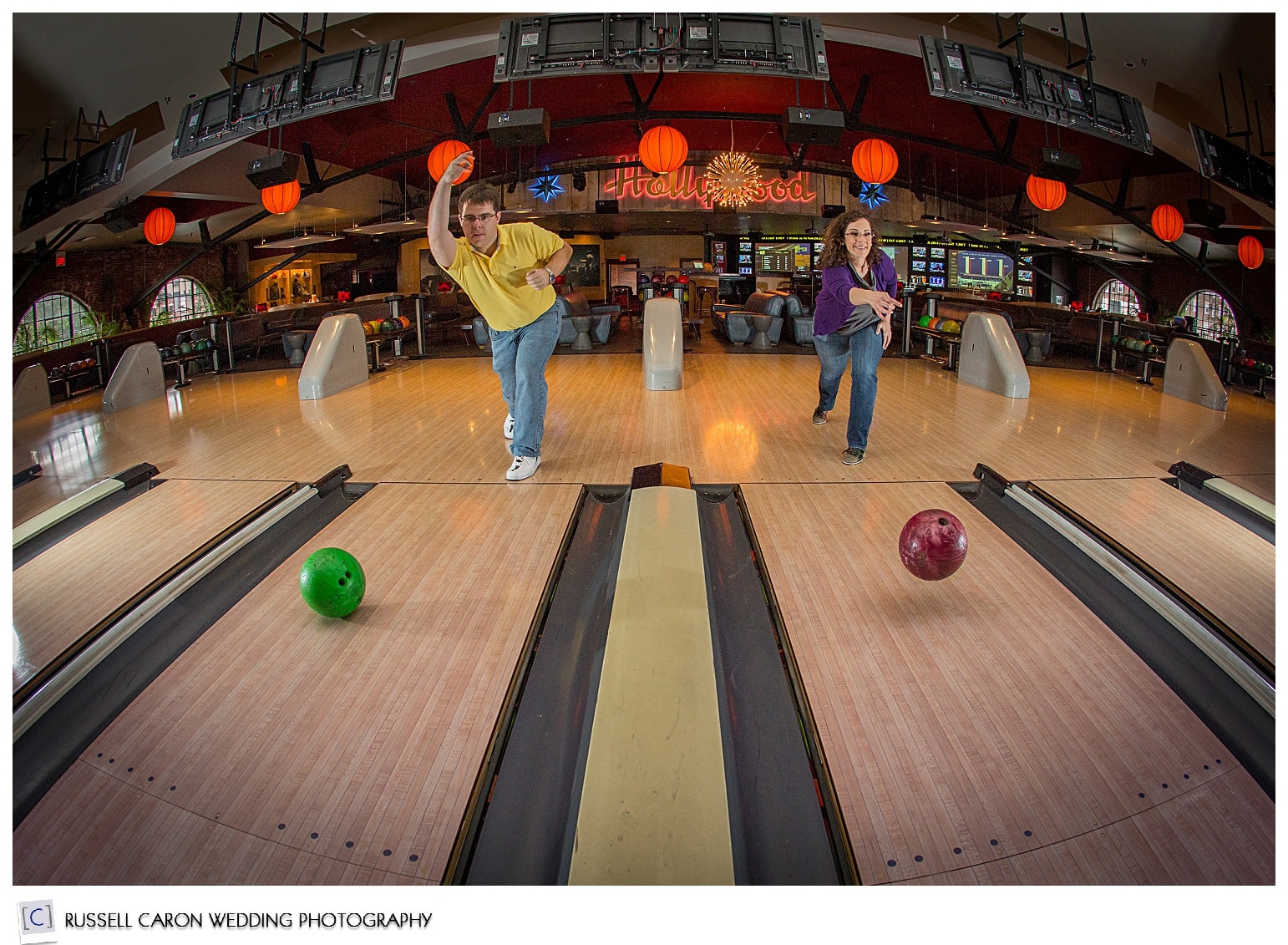 #3 Megan and Ryan
December, 2014. Salem, Massachusetts. Photographer: Russ
During Megan and Ryan's engagement shoot, drawn to the waterfront area of Salem, we were even more strongly drawn to this colonial-era building, a former (as you may have guessed by the sign!) sail loft. Taking some artistic license doing some editing and adding some fine-art touches, this image was wildly popular when we first shared it, and so it solidly comes in at #3 of our Top 14 of 2014 engagement session image collection. We just love this photograph, and love how wonderfully Megan and Ryan photographed; they were naturals from the start.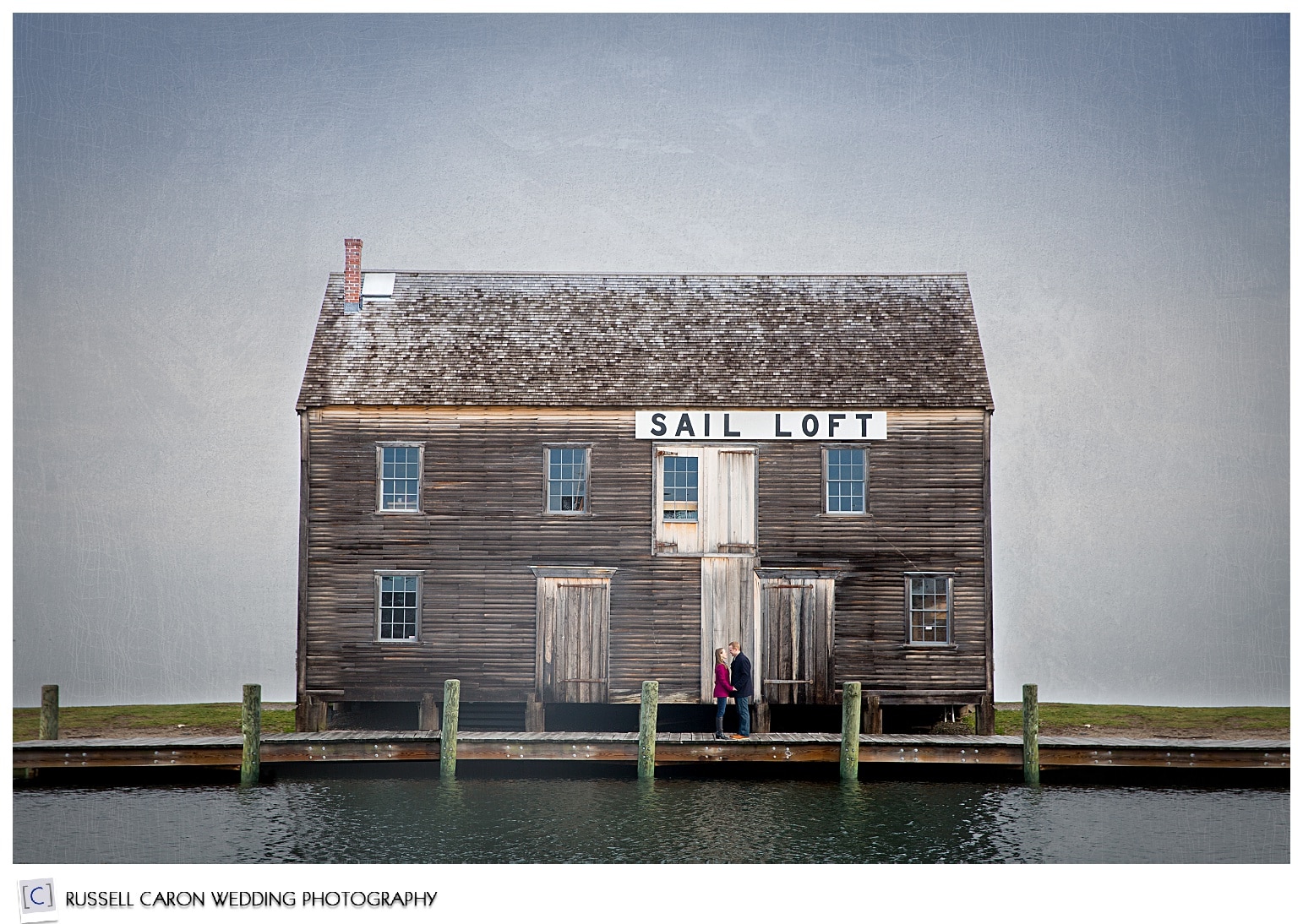 #2 Audrey and Chris
September, 2014. Boston, Massachusetts. Photographer: Russ
Audrey and Chris return here in their second image in this collection, our runner-up to the top of the list!  Wanting a shot of the city skyline in the background, Cambridge was the ultimate vantage point, specifically from the MIT Sailing Club. After obtaining permission to use the dock, Liz went down with Audrey and Chris, stepping out of the shot for a moment, and Russ grabbed this from the sidewalk above. The sailboats, their colors, the masts, the lines, the blending of the foreground and background, the shapes, the deep gray textured sky, the composition of the panorama, it all just solidly added up to our #2 engagement image of the year.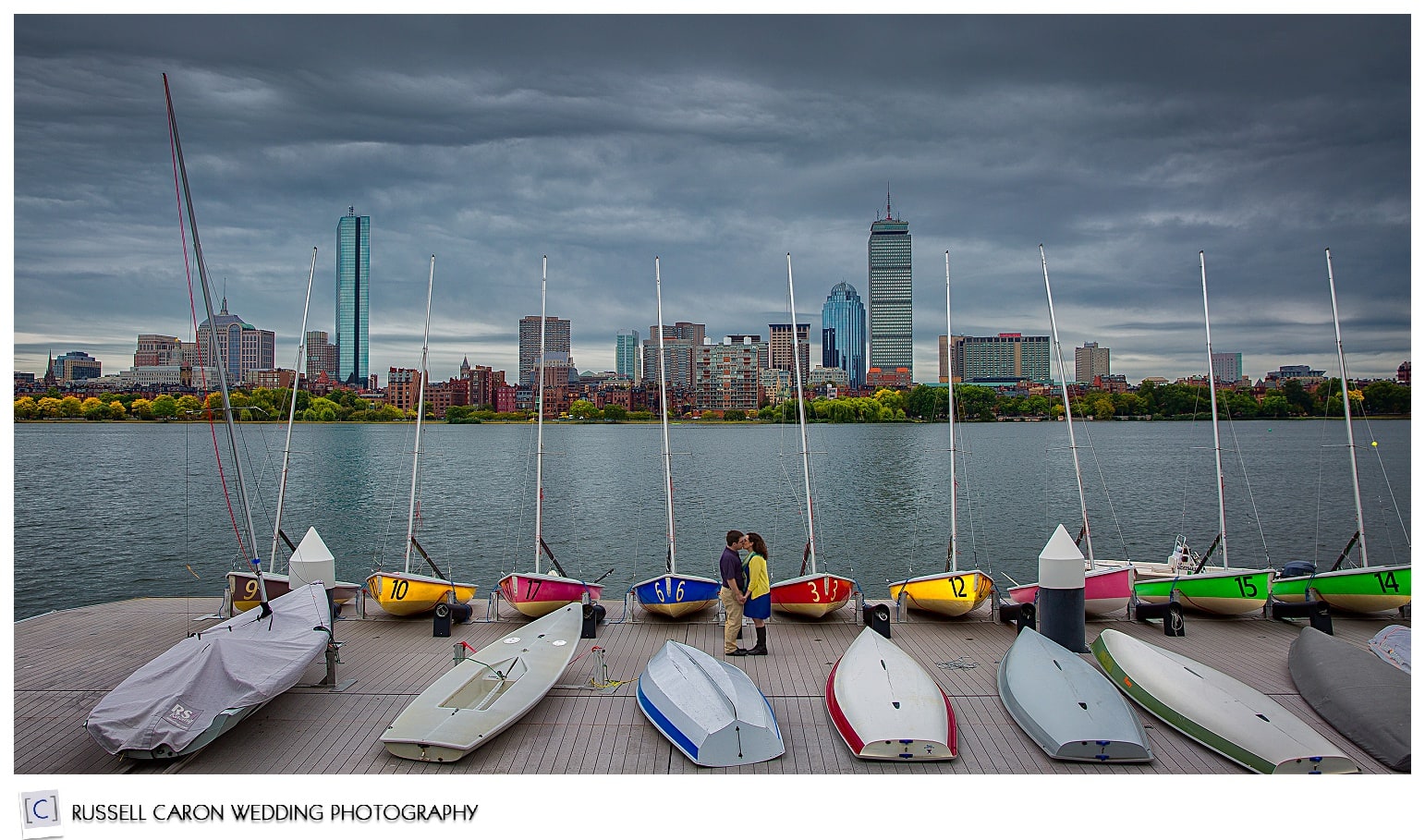 #1 Ariel and Kevin
September, 2014. Kennebunkport, Maine. Photographer: Russ
This #1 winning engagement photo of the year shows just how spontaneous and fun Ariel and Kevin are. We could talk about this image all day, but why bother? It indeed speaks a thousand words all on its own. We love it, and it is our #1 engagement image of 2014!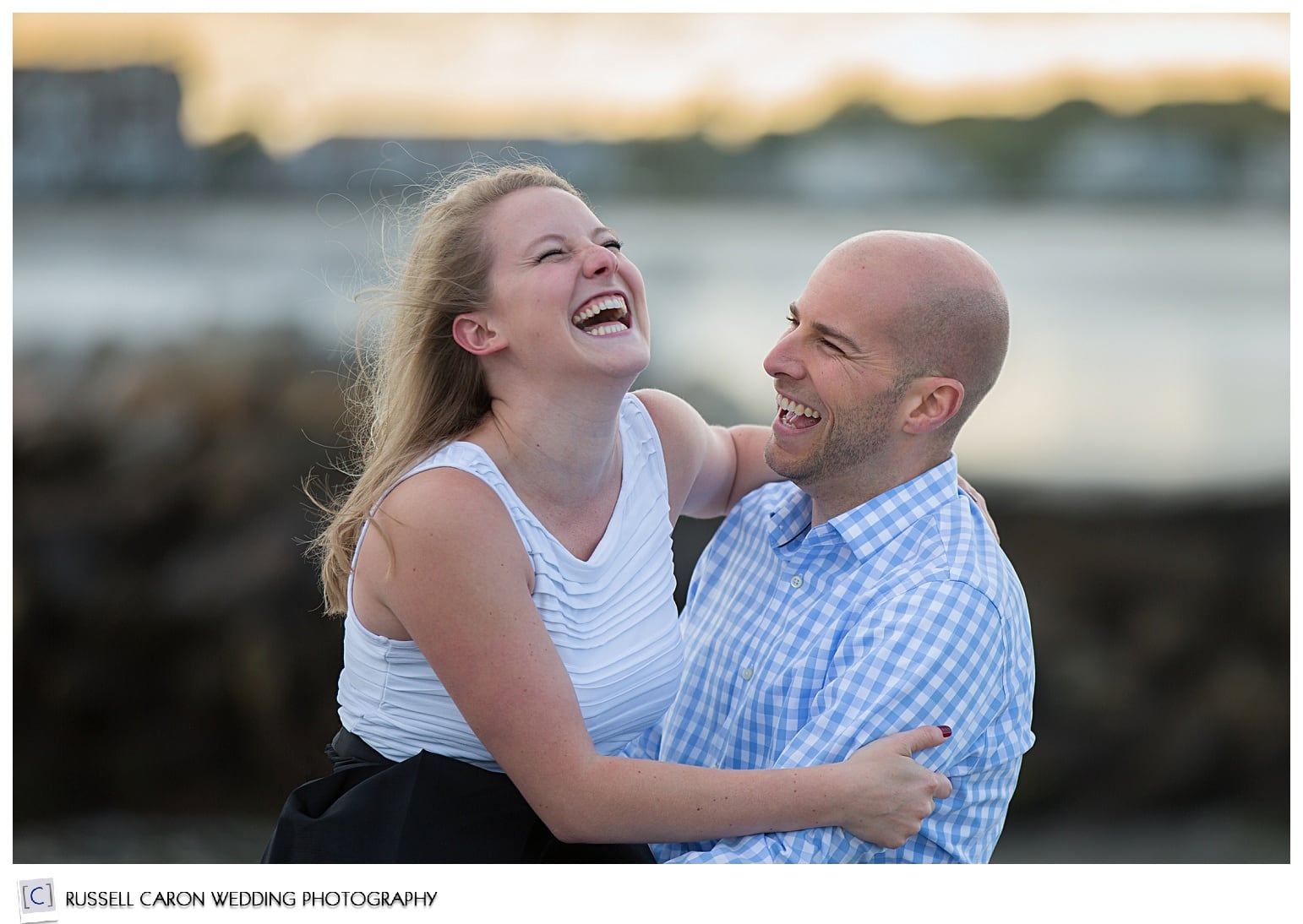 -Russ
Maine Engagement Photographers, Russell and Liz Caron, would love to be involved in your big day. Let us join your wedding and help in creating the perfect memories of your big day. For more information, please contact us right away!