Fairytale Wedding | Norumbega Inn | Camden Maine
When you think of a fairytale wedding, what images come to mind? Castles with turrets? Horse-drawn carriages? A beautiful bride in a long flowing gown? A groom in black tie? Maybe all of the above? We were the photographic team to capture just this very kind of real-life fairytale wedding last spring at one of the most perfect of locations, the Norumbega Inn in Camden, Maine. Picture the bride and groom having just been married and being shuttled off by horse-and-carriage as this opening image portrays: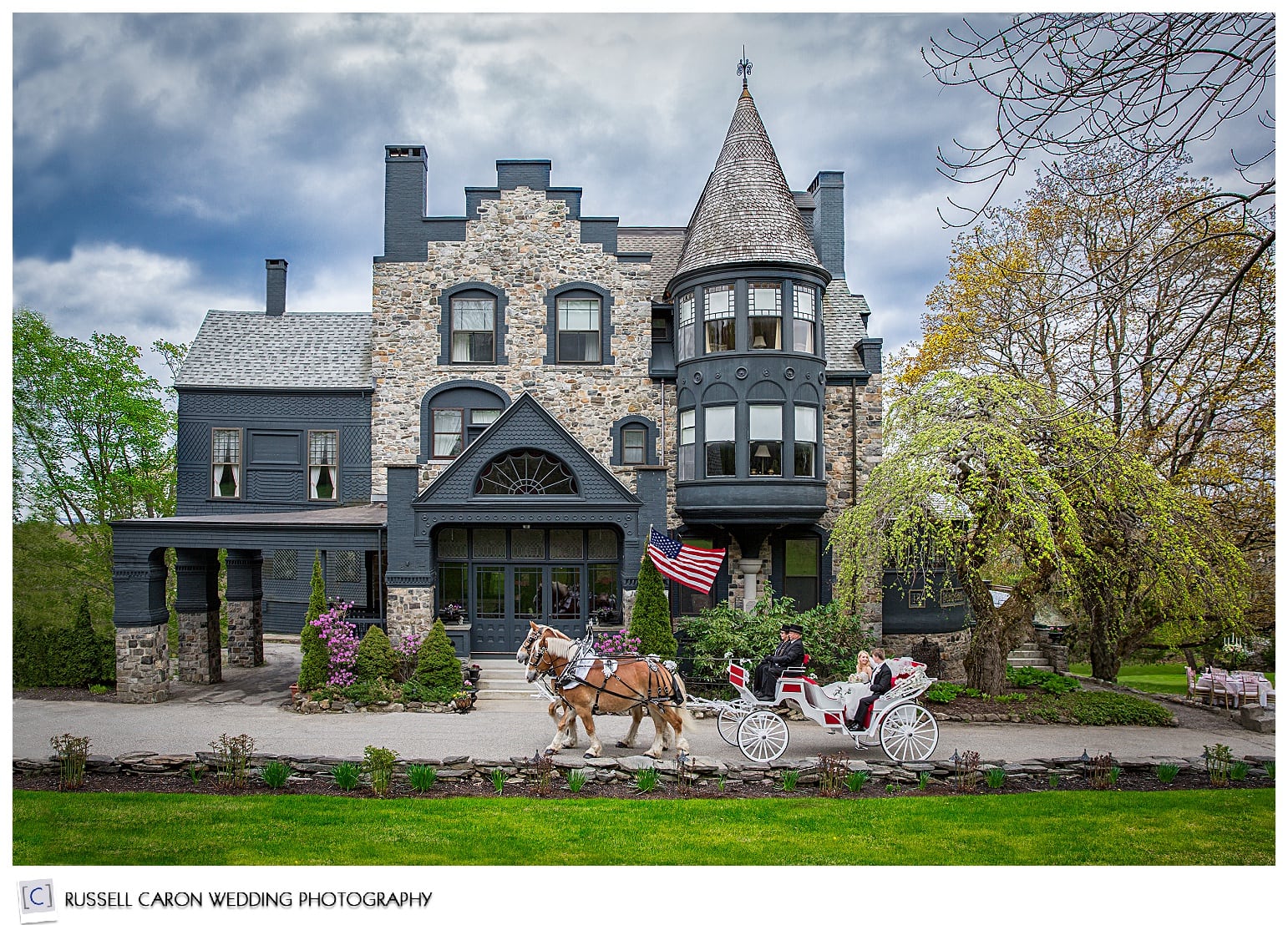 A romantic bride-and-groom couples session could not possibly, for this fairytale wedding, be any better scripted than to have two gorgeous Belgian draft horses pose so stately with them; a stark contrast in some ways to their soft, relaxed glamour, but also a perfect fit and compliment to the look we were seeking with bride Annabelle and groom Luke.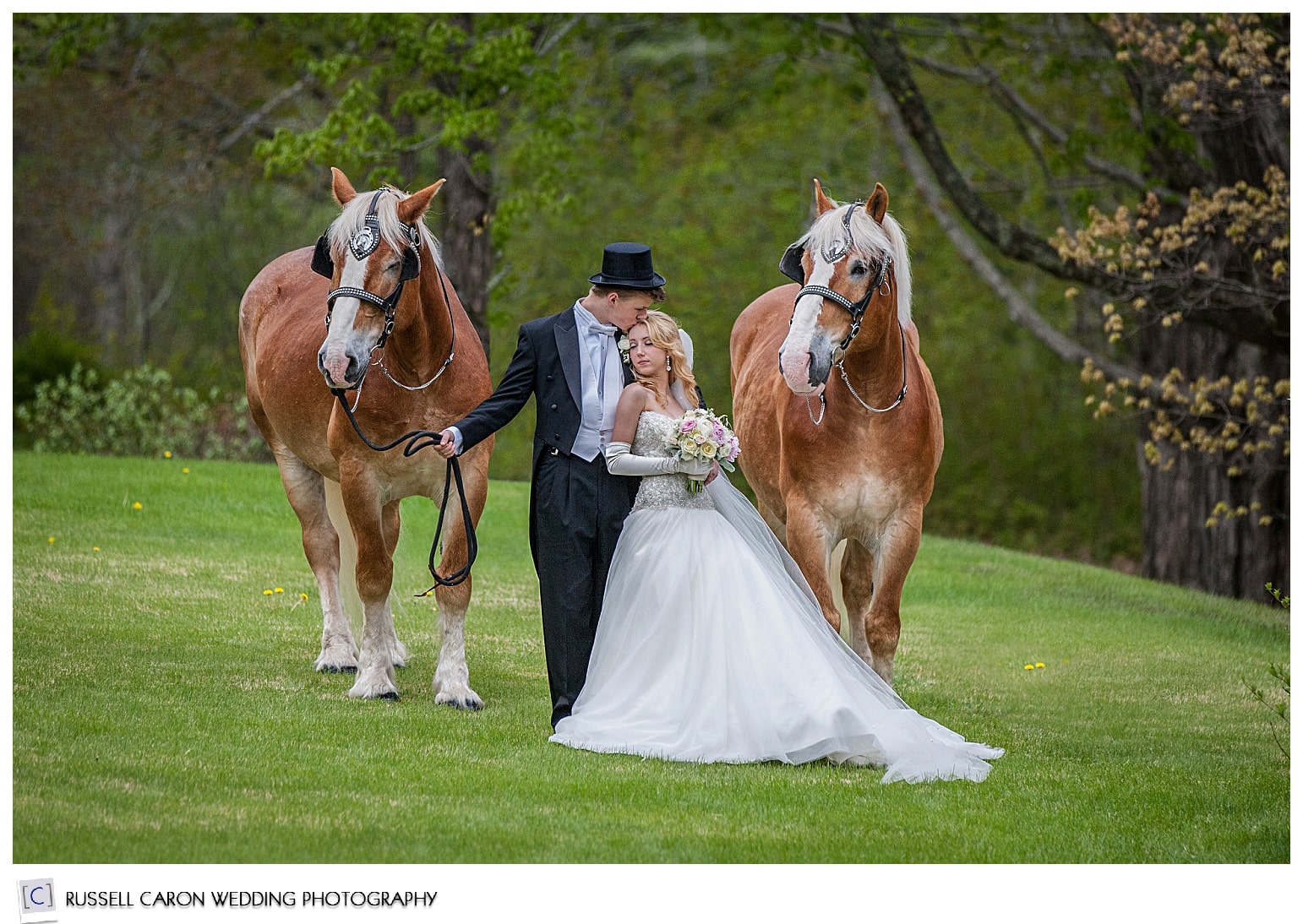 Annabelle, in this portrait, showed us her pensive side, as we requested, with the ever-so-perfect little twist of a smile.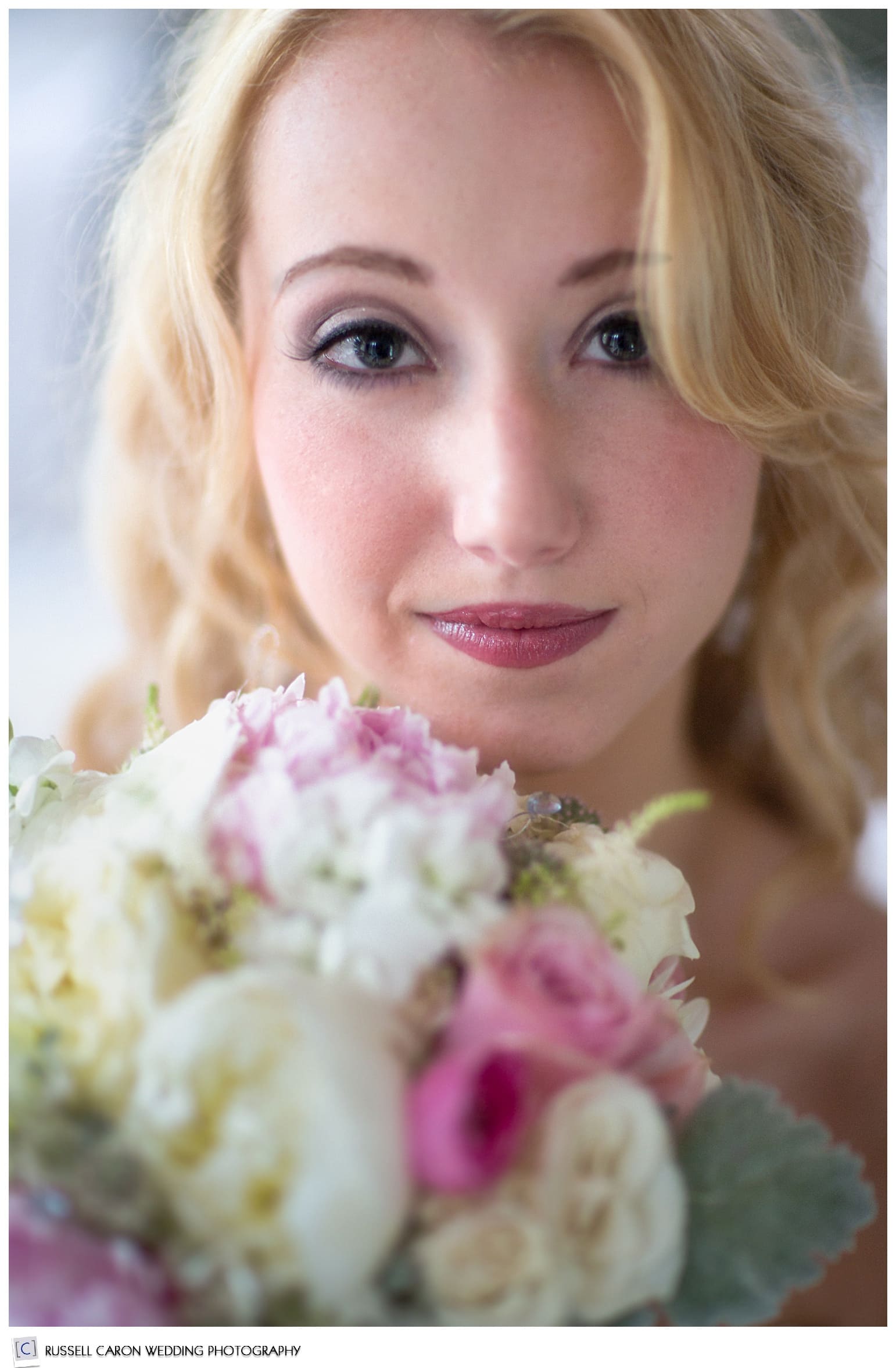 And then, looking downward from the wrap-around balcony level of the library suite at the Norumbega, this playful look as she let herself relax on the sumptuous linens adorning the bed.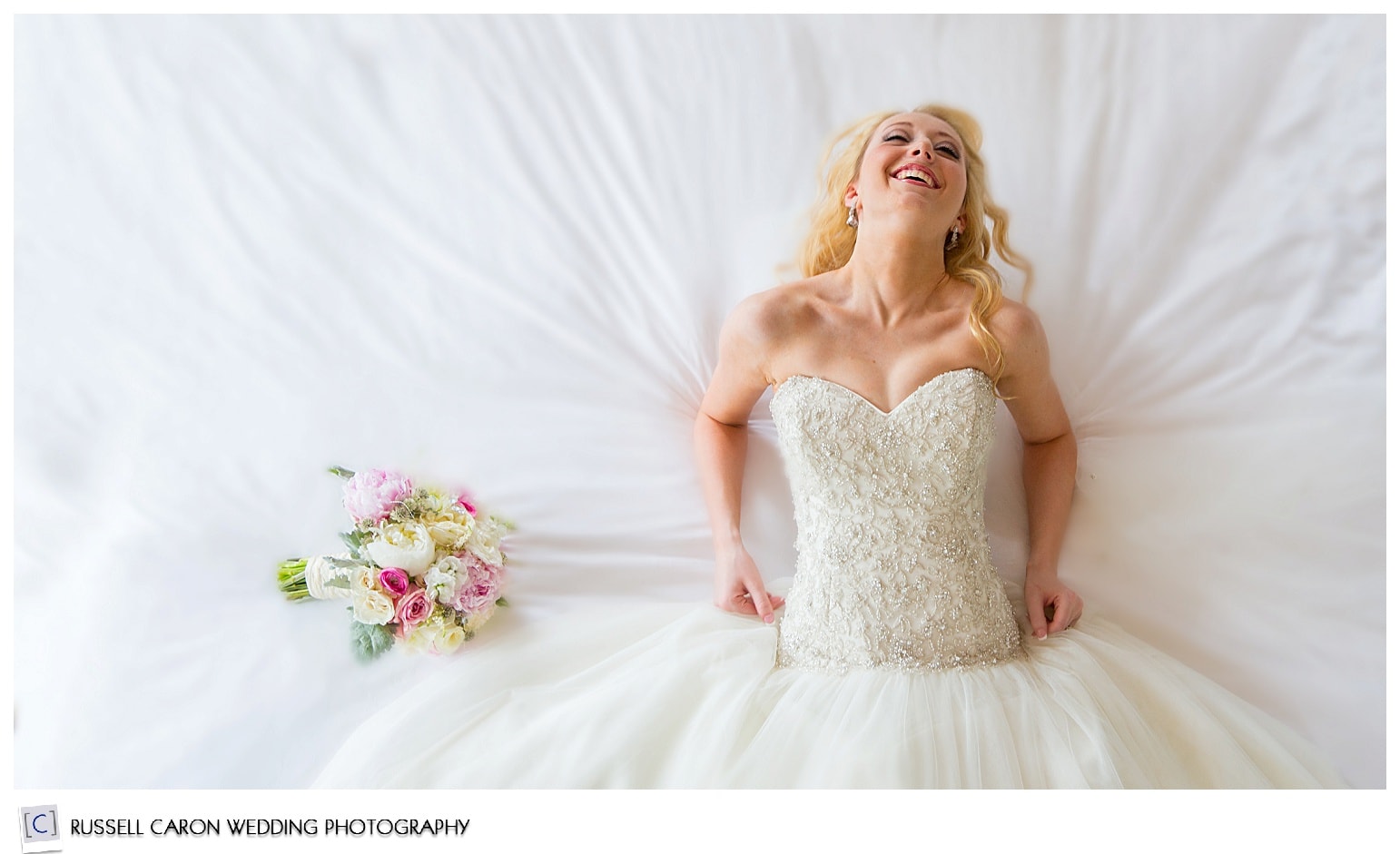 A wide overall view of the colorful and unique library room, with Annabelle's beautiful "intent" look, as stunning in its own way, as was the playful look above.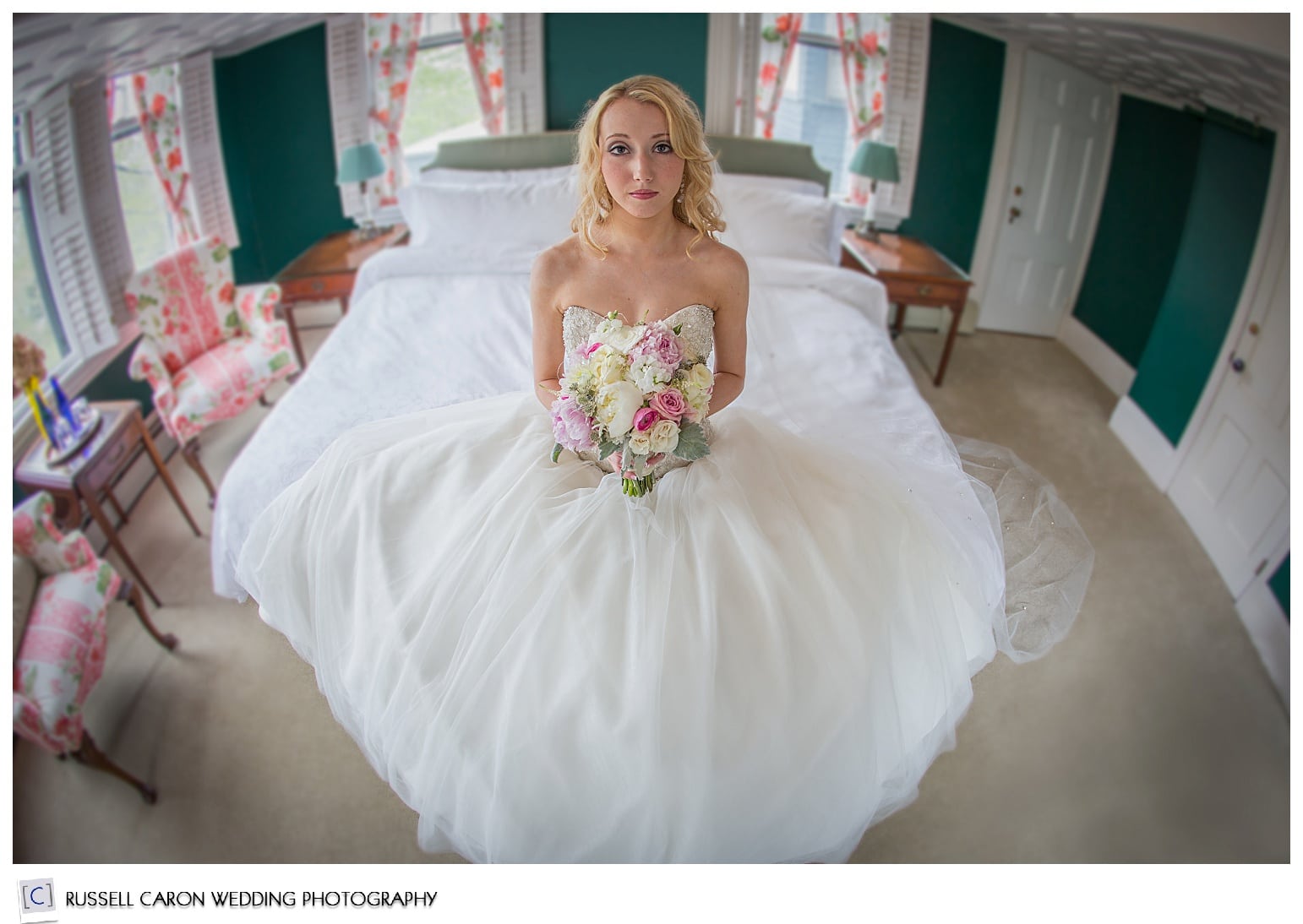 Luke's attire was a perfect match for Annabelle's stunning gown as she posed for a full-length bridal portrait near the Norumbega's signature 'cornerstone' turret.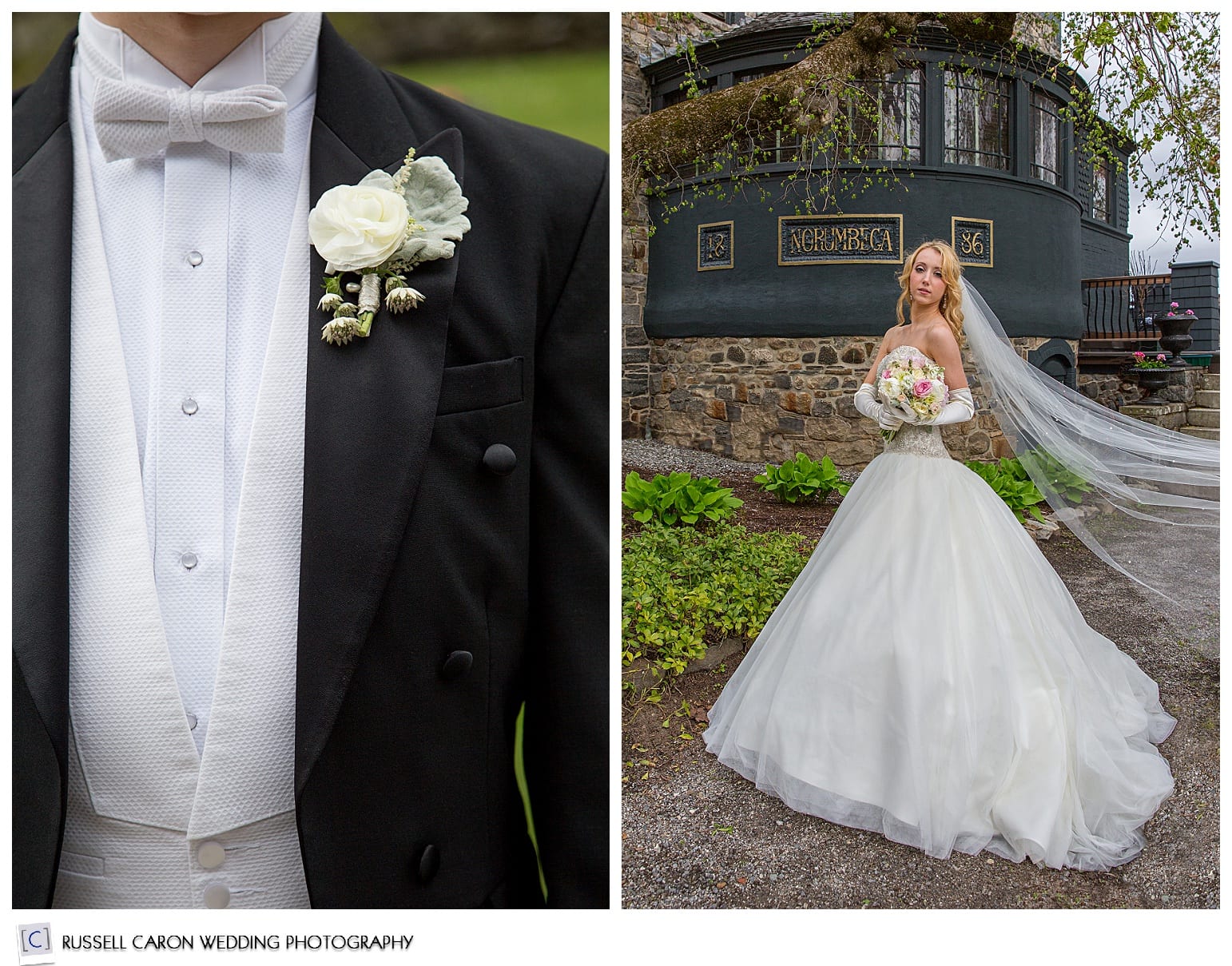 The ceremony was held at the balcony level, overlooking the lawn and head table. At right, the first kiss as officiant John Portella had stepped just out of view for the sake of the photograph.  

Spring breezes were playful with Annabelle's veil in the grassy lawn behind the Norumbega.  The waters of Sherman's Cove and West Penobscot Bay are visible the distance.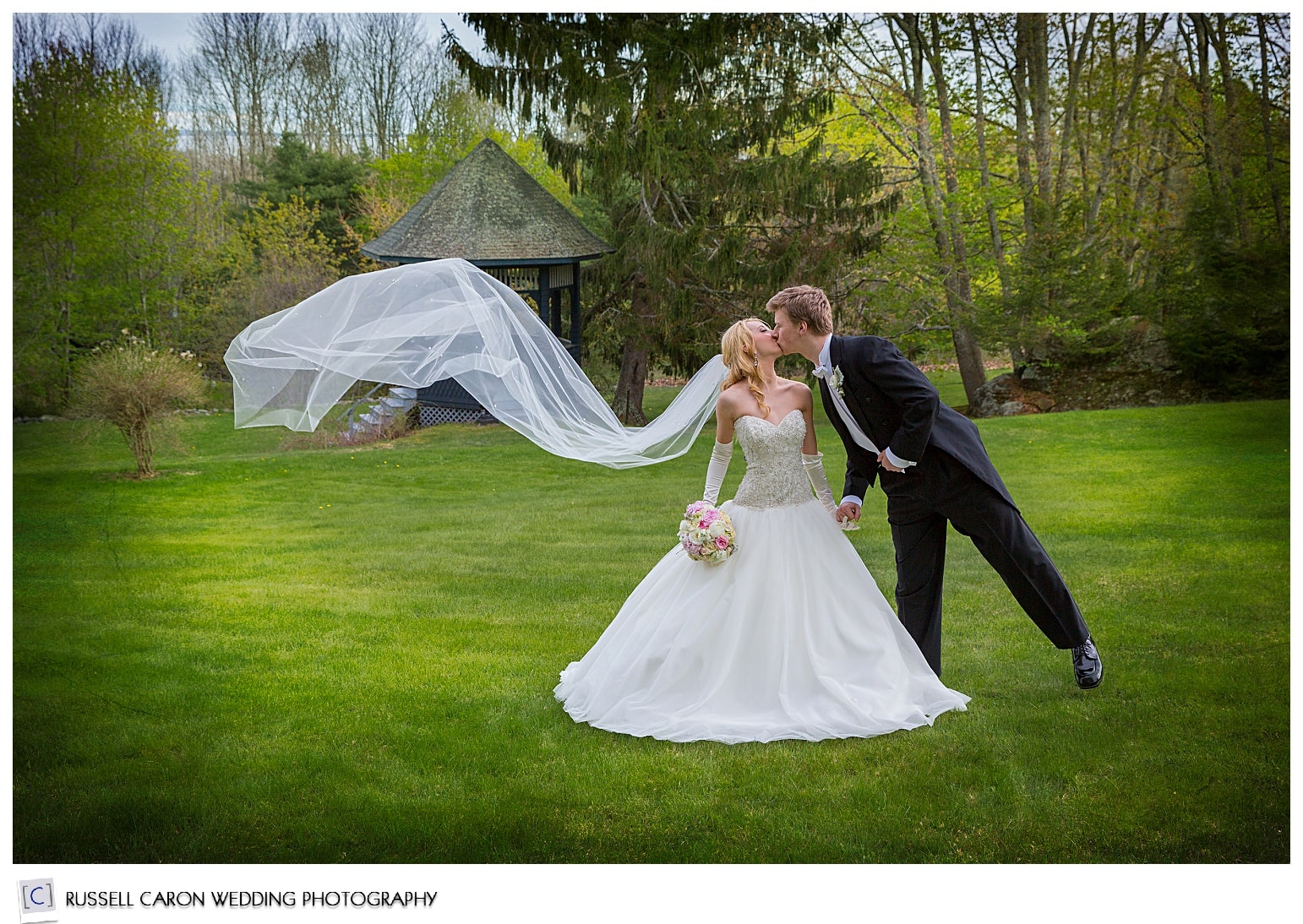 A moment of solitude preparing for their first dinner as husband and wife.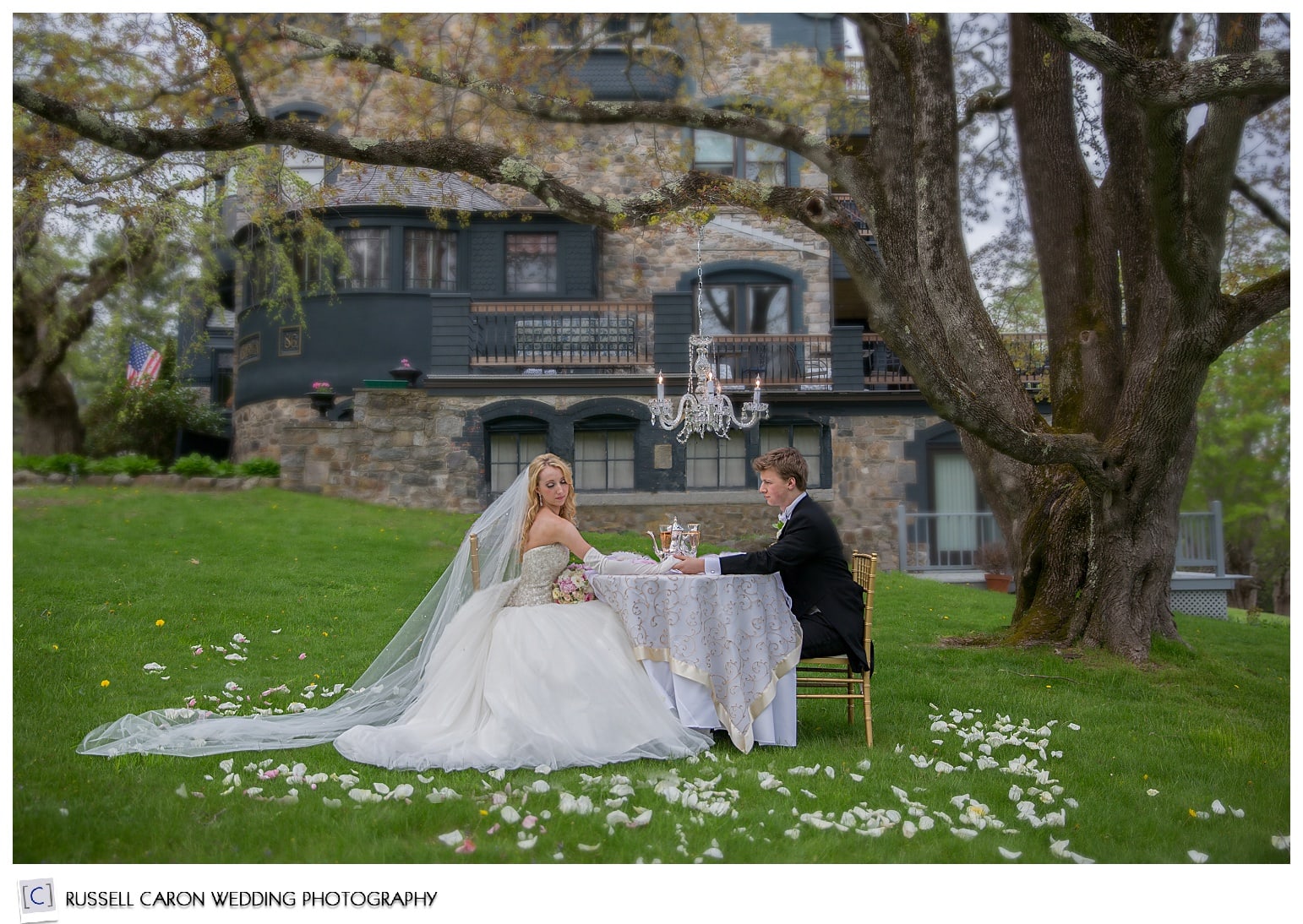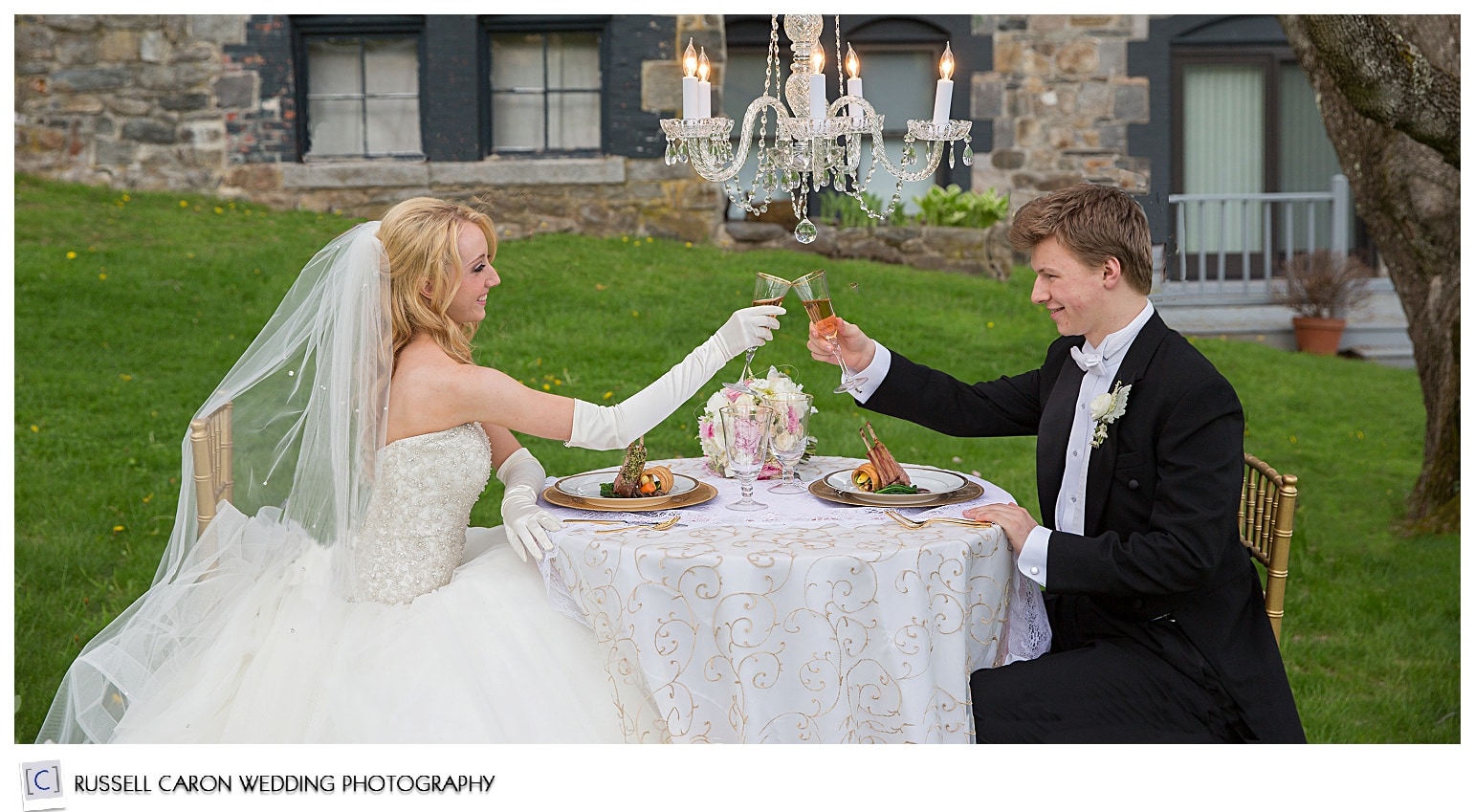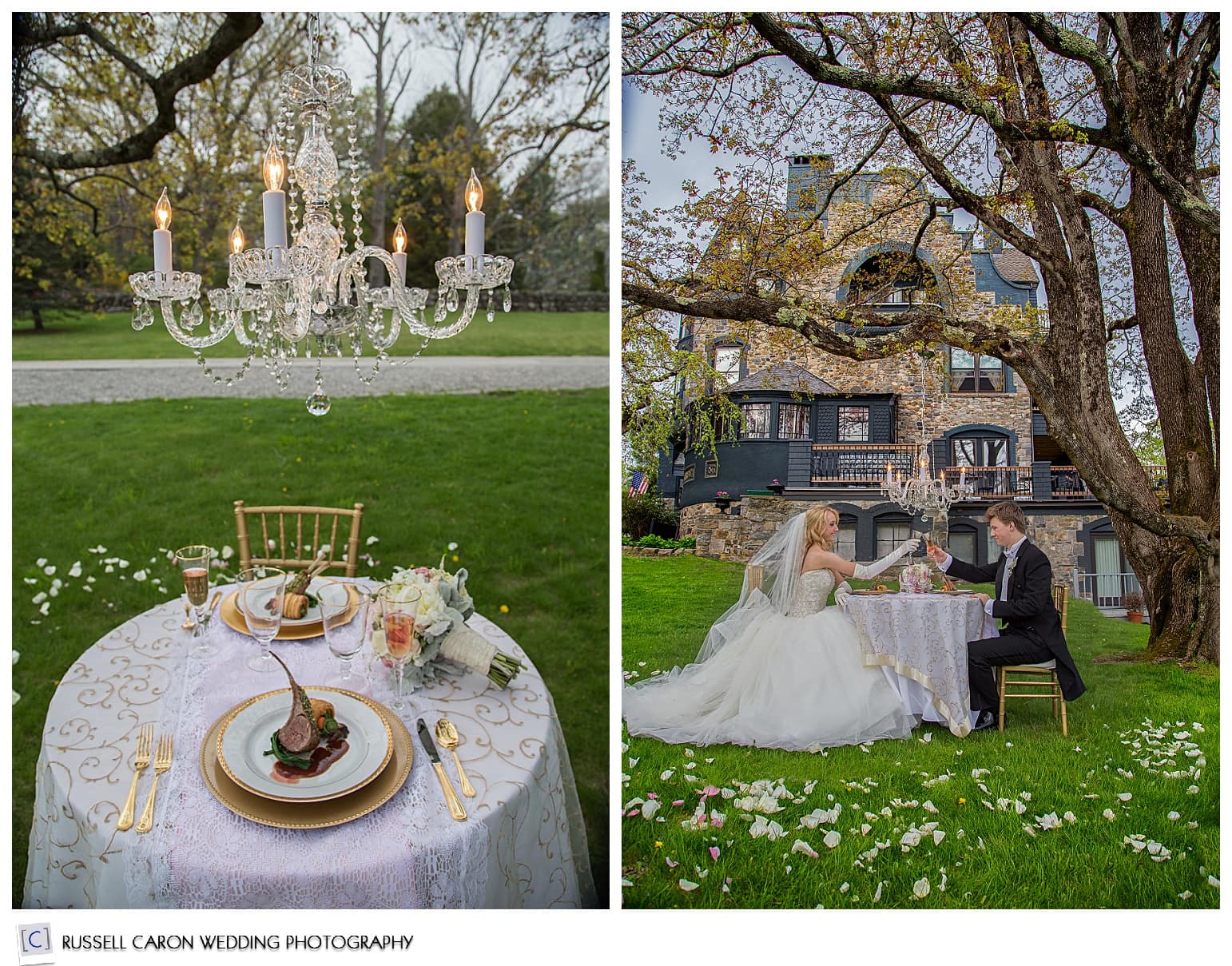 Escort cards were beautifully displayed in the elegant sitting room in the inn amongst a sea of tea-light candles.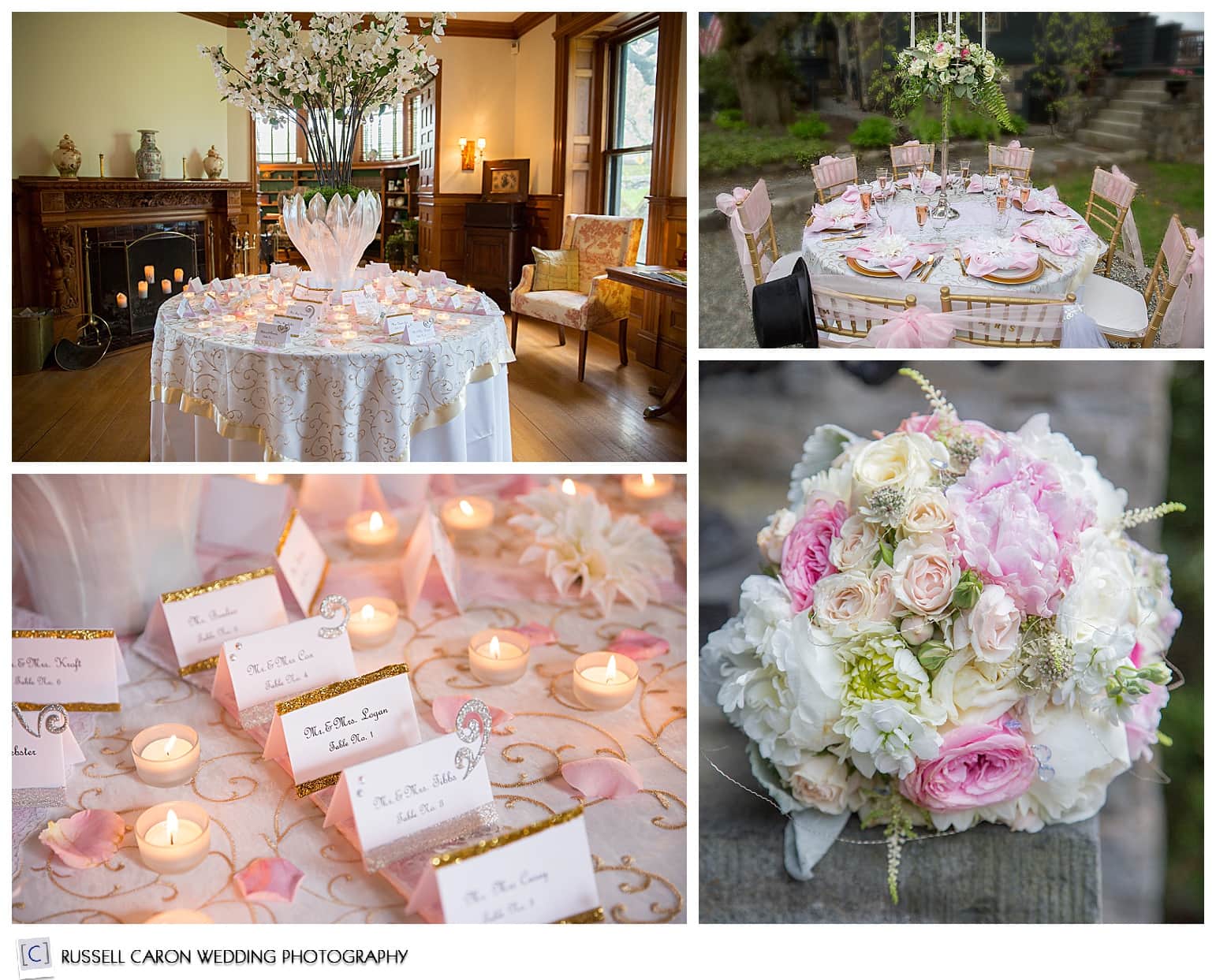 To say that the food was exquisitely prepared would be a dramatic understatement. Norumbega Inn co-owner Phil Crispo is a professional chef, a former instructor at the Culinary Institute of America, and a Chopped! champion from the Food Network.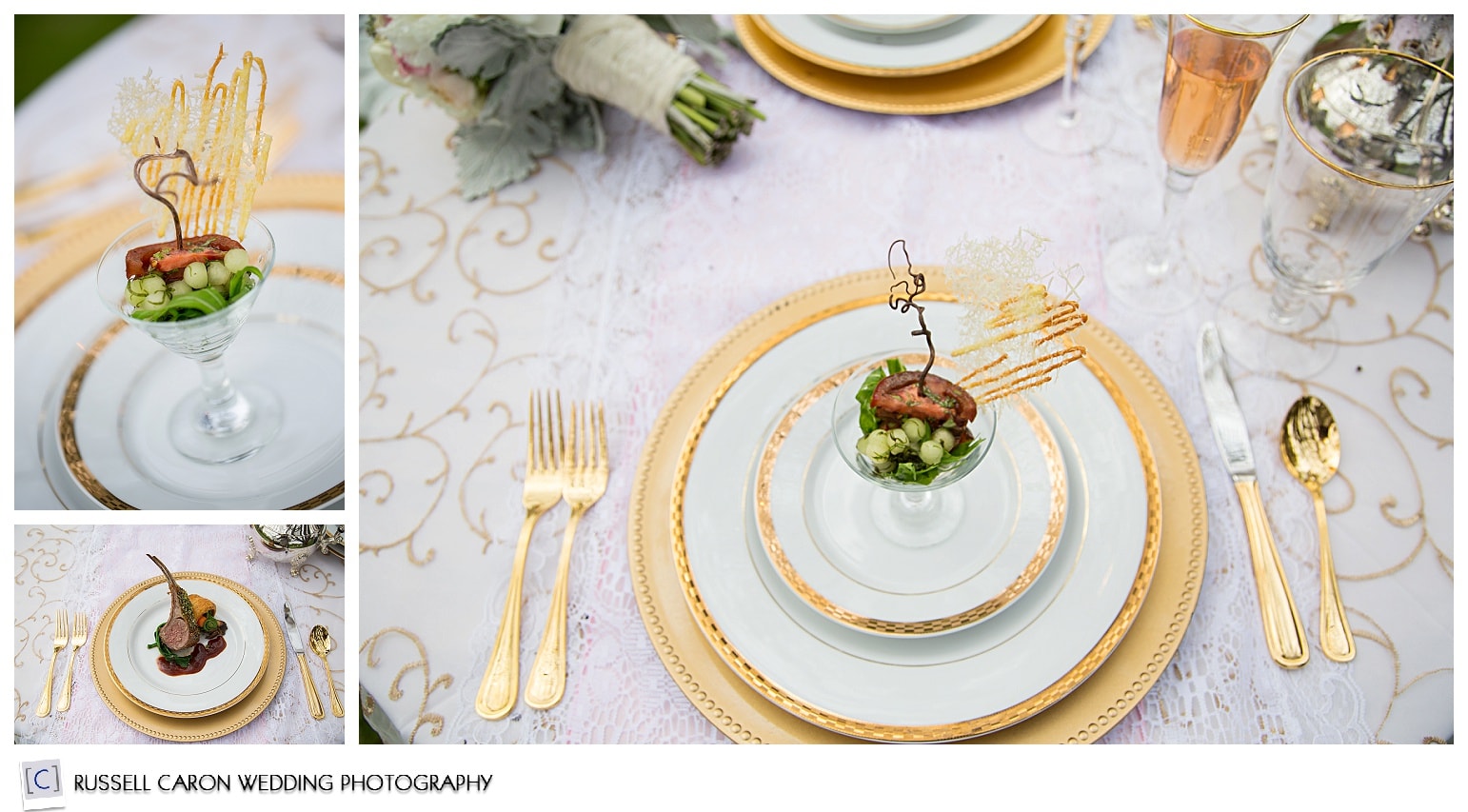 Tea service!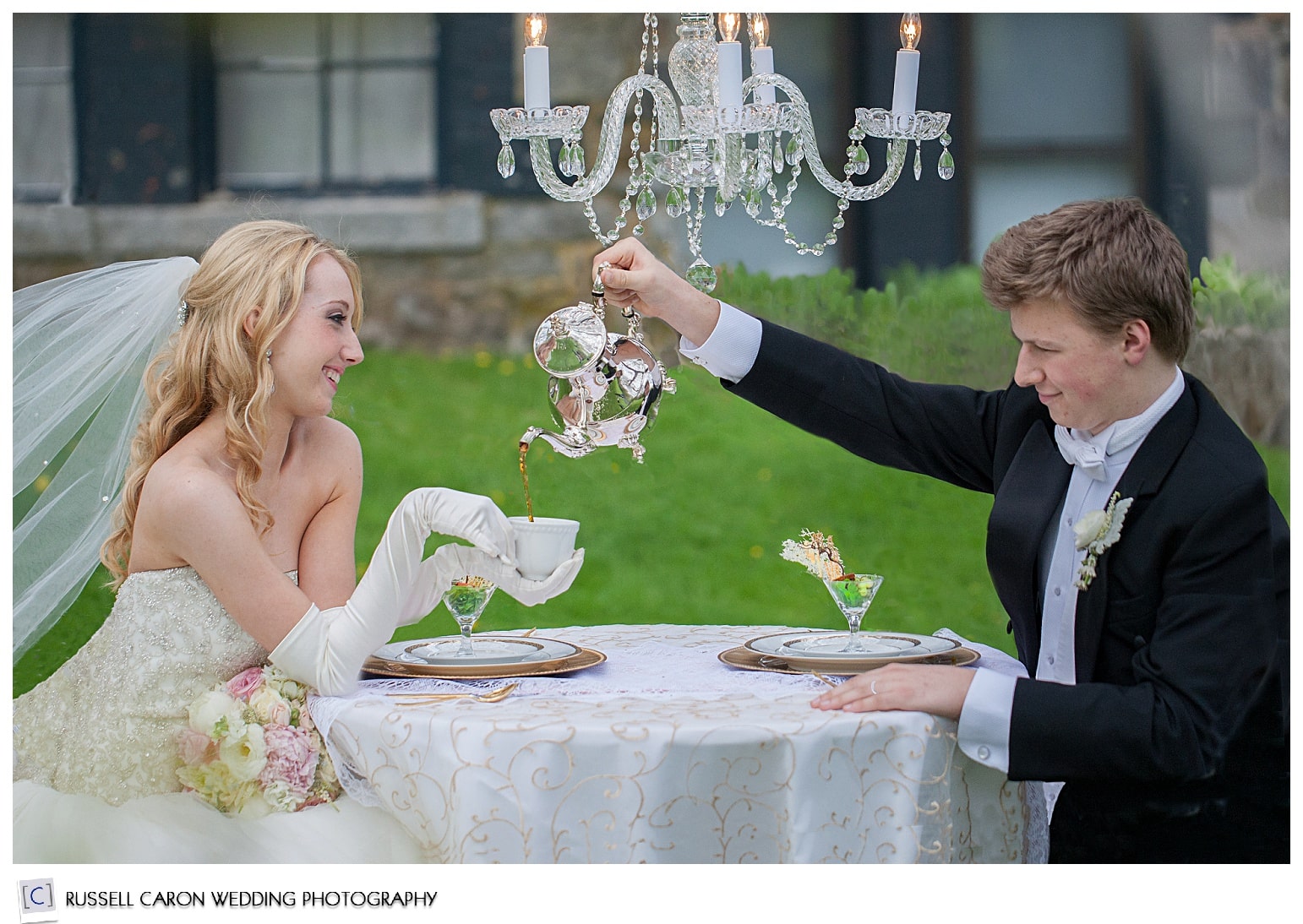 And, a kiss as the bride and groom step off the carriage as early evening sets on.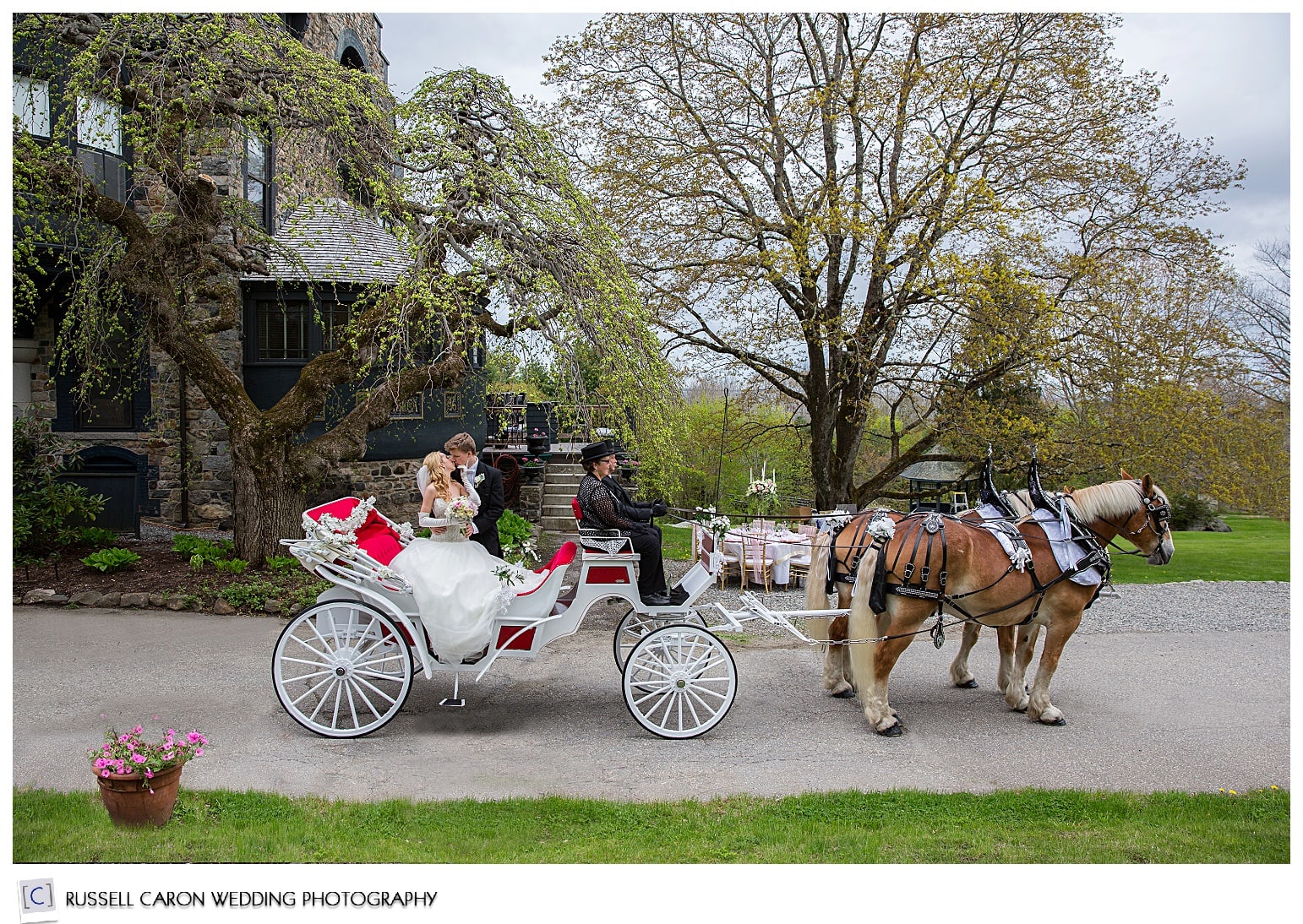 Many, many thanks to the wonderful vendor team that made this fairytale wedding happen:
Photography | Russell Caron Wedding Photography, Biddeford, Maine; Photographers Russell Caron and Liz Caron
Event Design | Officiant: All in 1 Weddings, Brunswick, Maine; Connie Mills. An extra thank you to Connie who gathered this amazing team of professionals. Connie worked tirelessly, as we all did, to make this fairytale wedding come true. She went above and beyond and for that we are truly grateful!
Bride & Groom | Annabelle and Luke, Brunswick, Maine. Thanks to this beautiful couple for sharing this wonderful experience with us!
Bridal Gown | Andrea's Bridal, Portland, Maine; Julia Irace. Andrea's not only provides stunning gowns for every occasion, they also have exemplary service!
Tux | Wendy Herrick Design & Tuxedo Rentals. Thank you Wendy! Wendy not only has men's formal wear, she also specializes in floral designs. She's one talented lady!
Floral  | Seasons Downeast Designs. These ladies do some of the most beautiful florals around!
Venue, Food | The Norumbega Inn, Camden, Maine, Sue Walser and Phil Crispo. Extra, extra thanks to Sue and Phil for their generosity and hospitality. They were superior hosts, very accommodating and gracious. We can't wait to work with them again! Did we mention the food? Incredible!
Horse & Carriage | Meadow Creek Farm. Owners Becky and Butch, are two of the nicest people you will ever meet! But Bill and Ben, the Belgians, stole the show 🙂
Rentals | One Stop Event Rentals
Candelabra & Props | Blue Elephant Events.
Hair & Makeup | I Do Spas. I Do Spas come to you on your wedding day! Professional, friendly service is topped only by the gorgeous hair creations and flawless makeup.
If you enjoyed this fairytale wedding at the Norumbega Inn, Camden Maine, please leave a comment and/or share! Thank you!!
Let Russell Caron Wedding Photography make your real-life fairytale wedding come true in photos like these!  Let us join your wedding and help in creating the perfect storybook memories of your wedding day. For more information, please contact us right away!