Real Maine Wedding of the Year 2013
As Kennebunkport Maine wedding photographers, we were honored to be the co-photographers for the Real Maine Wedding of the Year 2013. The Real Maine Wedding of the Year is an annual contest put on by REAL MAINE WEDDINGS Magazine. This stunning wedding took place at Laudholm Farm at Wells Reserve in Wells! Watch for full coverage in the new issue of REAL MAINE WEDDINGS magazine, set to hit newsstands at the first of the year. The team at Real Maine Weddings made this one incredible wedding! We're only able to share, two of our favorite images, because of our agreement with the magazine. In addition, we'll do a full post in January 2014, that highlights all the gorgeous details and events of the day. Congratulations Tiffany and Patrick and families!
Tiffany and Patrick pose in the entry of the barn at the Wells Reserve Laudholm Farm, below. The barn was decked out in spectacular fashion for the newlyweds! The profusion of flowers, the beautifully set tables, and tablescapes were just amazing to see! The vendors involved in this wedding really went all out to produce a memorable wedding day for Tiffany and Patrick!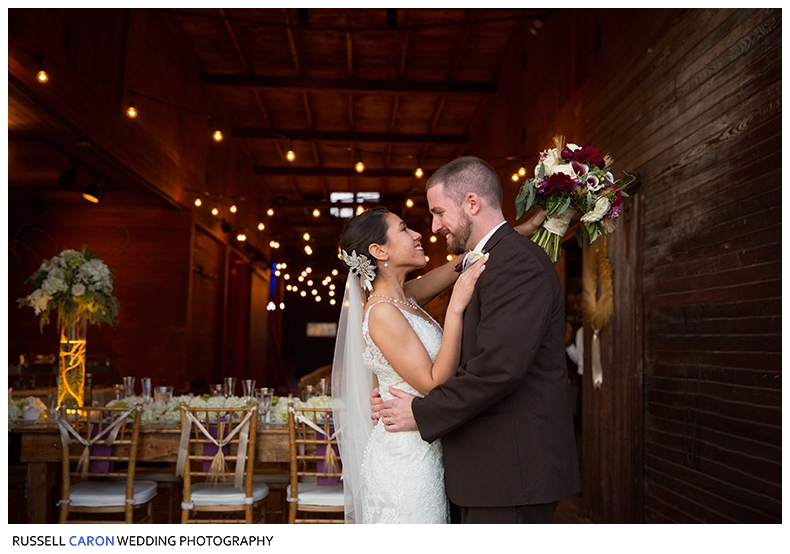 Another of our favorites, at the barn at Laudholm Farm, below. Tiffany and Patrick have a quiet moment alone together, well, except for half of their wedding photography team! We love how you can see just inside the barn. A glimpse the twinkling lights, lets you know the reception and party are ready to begin.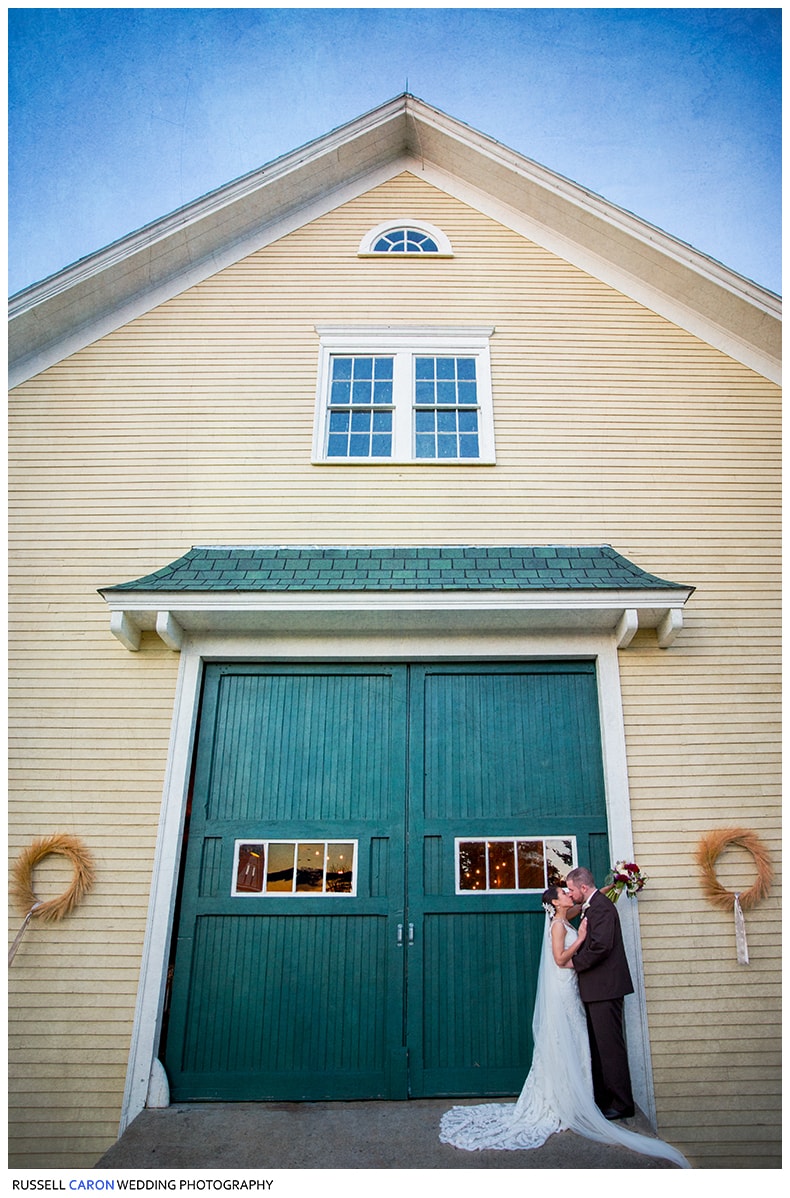 We love comments and shares! Please let us know if you enjoyed this post on the Real Maine Wedding of the Year 2013 at Laudholm Farm. Thank you!
Wells Reserve Laudholm Farm wedding photographers, Russell and Liz Caron, put the fun into wedding photography for Maine wedding couples. Feel the love as this dynamic pair effortlessly capture each of your cherished moments, producing natural poses and unparalleled art for your special day. For more information, please

contact us

right away!