The Top 10 Reasons to Hire a Professional Wedding Photographer
If you're planning a wedding, you know how expensive it is to get married today.   Many couples have a set budget with very little wiggle room.  Things begin to add up…the venue, the food, the band, the dress, the rings, the flowers…and on and on.  A popular question is, where to cut corners??  DIY table scapes, invitations, favors, decorations?  Sure!  Hire a family member or friend who is "into" photography to capture the wedding photos?  Not so fast.
Why should you hire a professional wedding photographer?  Excellent question!  Money gets tight in your planning and sometimes the photography is relegated to a relative or friend who has a camera and may know a bit about photography.  So, we've complied a list of reasons for you to re-consider hiring a professional wedding photographer for what is going to be one of the most significant days of your lives.  Here they are, the top 10 reasons to hire a professional wedding photographer: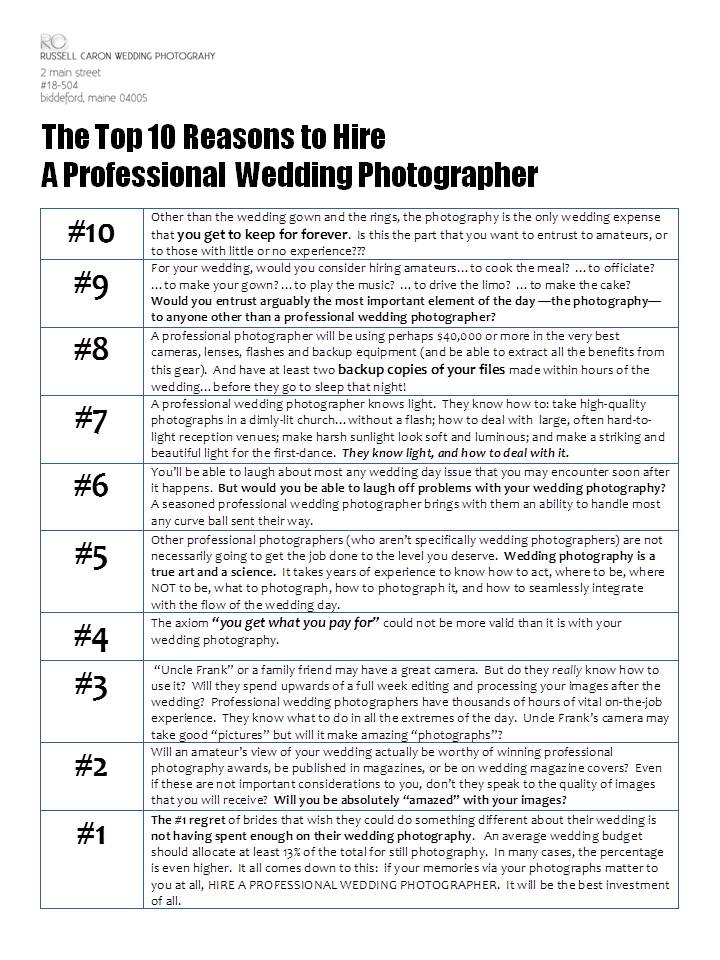 Russell Caron Wedding Photography puts the fun into wedding photography for Maine wedding couples.  Feel the love as this dynamic pair effortlessly capture each of your cherished moments, producing natural poses and unparalleled art for your special day.  For more information, please contact us right away!