My First Ten Years of Digital SLR Photography
June 21, 2003 is an easy day for me to remember.  Besides being the summer solstice, it is etched in my mind as the day I started using my first digital SLR, the venerable Canon EOS10D.  There was so much to love about that camera for me:
1.  It literally re-started my photography career
2.  It was the first serious Canon DSLR that was in relative reach to the masses (we'll look at cost later)
3.  The body size was hefty and rugged, unlike today's entry level DSLR
First, a note of thanks to my brother Ron, who, as a photography hobbyist, purchased one a few months earlier.  Handing it to me one day at a car show, he said "go try it out".  I was wowed.  I was moved.  I was taken.  It was the next day I went to Hunt's Camera in South Portland, Maine and came out the door a very happy owner of one of my own.  So, this is a great place to say "thank you!" to my brother Ron, you literally shaped my life by letting me test drive your new camera.  The reverberations and positive ripple effects to me and to our brother R.L. have been amazing, to say the least.
THE CANON EOS10D, c.2003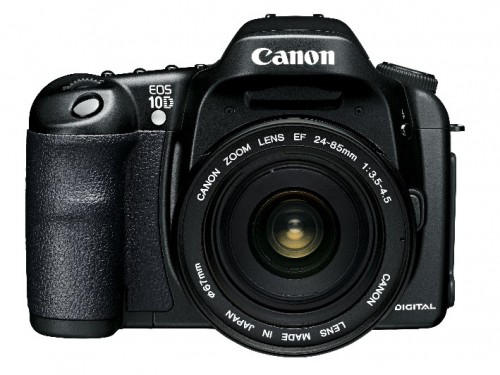 PRICING
Yep.  I still have the invoice.  While this body was replaced before my photography career started taking me to international locations for my work, I keep all my invoices for all my gear with me as I travel, so it was within easy reach.
The camera body ten years ago was a relatively reasonable $1500.  The predecessor, the Canon D60, were more than double that.   And didn't sport ("wow" for its time) 6 megapixel resolution on its APS-C cropped chip.
WOW, HAVE THE SPECS AND COSTS EVER CONTINUED TO CHANGE
Today, a camera with triple the megapixel resolution, realistic ISO capability of probably at least 4 stops better range, and infinitely more features, albeit on a less robust and more compact frame, the Canon 60D, sells for under half that amount, and that is in 2013 dollars, not 2003 dollars.  Call it inevitable progress.
MEMORY CARDS
The 10D used the still-the-best-for-me-today CF card format.  What has changed is the cost per megabyte for these cards.  Let's take a look: I paid $175 for a one-half gigabyte CF card in June 2003.  I just looked at B&H Photo Video's web site, and in 10 seconds I found a name-brand, higher-speed card that is no less than thirty-two time the capacity (16GB) for $20. Yes, TWENTY dollars.  If I had looked more I could have maybe found an even better deal.  But this one is good enough to make my point.  A little quick math leaves us two interesting ways to look at this:
a. Memory today costs 280 times less than it did just 10 years ago
or..
b. I would have spent $5,600 in 2003 to buy 16 GB of memory in CF card format
FOLLOW ON CAMERAS
Of course, progress with my photography, progress by the camera makers, and natural growth and wear and tear lead me to a series of follow-on purchases over the past 10 years.  That EOS10D led to an EOS20D, to a 30D, to a 50D.  Somewhere along the way I found a used 10D that I had converted to infrared (that is another story for another time). Then the full-frame 5D.  Then the amazing for its time 5dDMKII.  Then two pro bodies, (that still see lots of quality use today) the EOS1D MKIIIs.   Then the truly best camera I have yet to own, the EOS5D MKIII, my go-to camera today.
LENSES
The kit I purchased in 2003 included ($494 extra) the still-available today, Canon 28-135 all-purpose zoom.  A film camera lens, it was perfect for the 10D because it accepted the very same lenses as the film body predecessors, Canon's EF-S line.  Little did anyone know at the time all those digital only lenses that Canon (and Nikon for that matter) would subsequently introduce with the 20D era, would not work with some future cameras.  The EF-S lenses would indeed be right at home on yet-to-be-introduced full frame cameras about 3 years later. The 5D was nearly as much of a milestone as the 10D was, as it was the full-frame camera that rocked the world on its introduction in late 2005.  My own 5D will be 10 years old in just 3 more years, as I bought it for a trip to Japan in 2006.  It is still in service to this day as a back-up camera.  I know lots of good photographers that still today shoot with a simple stable of two 5Ds.  It is a great camera.
I later acquired a suite of Canon-only glass:
24-70 f/2.8L
70-200 f/2.8L-IS
15 mm fisheye
100mm f/2.8 L macro
17-40 f/4 L
16-35 f/2.8 L
50 mm f/1.4
85 mm f/1.8
70-200 f/2.8 MKII L (the sharpest lens I have yet to own)
24-105 f/4 L (the most versatile lens I have ever owned, but a notch too slow for weddings for me, and a touch too much DOF to be the elusive 'perfect' lens)
and currently on trial from Canon CPS
the ever-so promising 24-70 f/2.8 MKII L
THE NEXT 10 YEARS
The past 10 years have seen me change most everything in my life, perhaps the change from film to digital in just symbolic for how much else has changed for me during this time.  It's netted out all in the good, and it has been an amazing ride.  That Canon 10D was on the critical path to where I am today, as a successful regional and international wedding photographer, with an uncountable number of weddings from Maine to Boston, to Belize, to Jamaica and the Dominican Republic, to Lake Como, Italy.
It's worth mentioning, some photographers still long for film.  I respect that, but don't personally subscribe to it.  I have not exposed a single frame of film for 10 years now, and will never look back with anything except respect for what film, the darkroom, manual focus, manual exposure, and photography basics, which really never changed, taught me.
I cannot wait to see where the next 10 years takes me and my new life and business partner, Liz.  I hope you enjoyed my look back on my first ten years of digital SLR photography.
Oh, here I am today with my best pal and partner, Liz.  (Photo taken by our friend Kim Chapman).