Foggy Newagen Seaside Inn Wedding | Newagen Wedding Photographers
Erin and Brian's foggy Newagen Seaside Inn wedding produced some incredibly dreamy foggy photos. Especially this one here, our #7 top wedding image of the year. 
Erin and Brian had a fun-packed wedding weekend, starting with a great Friday rehearsal dinner lobster bake. They also had planned for some quiet time after the wedding ceremony and hired a boat to take them (and of course us, their two photographers!) along with them. Of the many different photos we took of them during this hour, this one evokes the feeling of true solitude best. With the fog enveloping the coast, and fairly cool air, Erin and Brian were truly in a world all their own. Not long after the party really kicked in and it was back to a packed, fun, loving wedding reception at the wonderful Newagen venue.
Don't miss their classic Newagen Seaside Inn wedding!
Photo by Russell Caron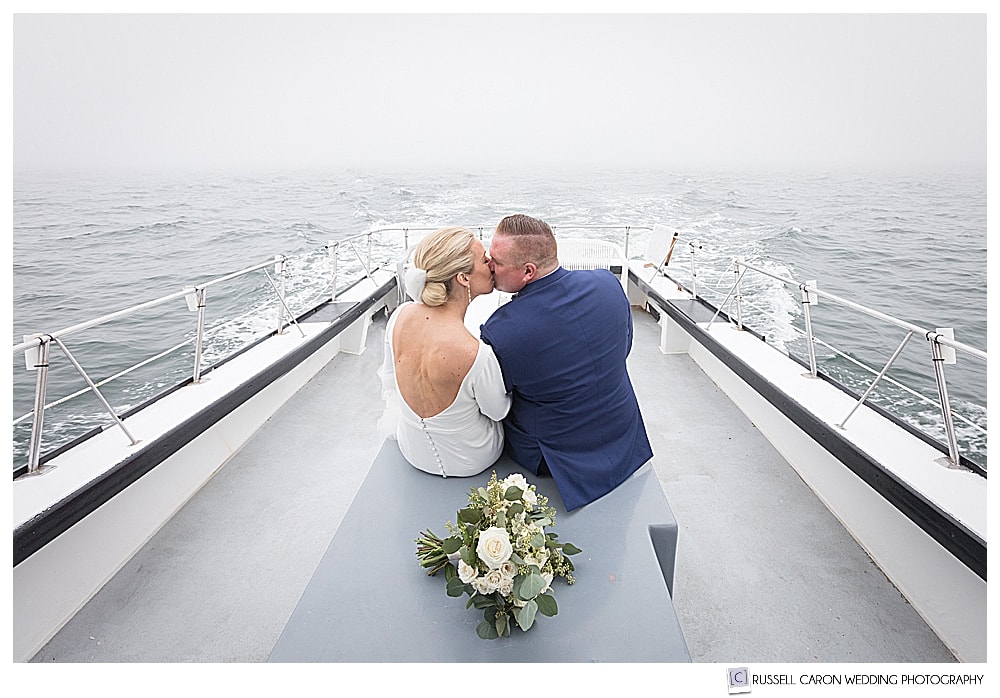 Vendor Partners

Venue: Newagen Seaside Inn
Photographers: Russell Caron Wedding Photography, photographs by Russell Caron and Liz Caron
Officiant: Sally Bullard
Florist: Emily Carter Floral Designs
Paper Suite: Taryn Rose Design
Band: Soul Estate Band
Hair and Makeup: Akari Salon
Wedding dress: Mikaella Bridal
Wedding Dress Boutique: Kleinfeld Bridal
Cake: Nothing Bakes Like a Parrot
Boat Cruise Company: Balmy Days Cruises
You never know what the weather in Maine will bring, like this foggy Newagen Seaside Inn wedding! Let us know your thoughts! Please comment on the blog post, and share!! Thank you 🙂 Any thoughts as to what #6 will be? Come back tomorrow, and every day, until we reach #1 on December 31!
Award-winning Maine wedding photographers Russell Caron and his wife, partner, and co-shooter Liz Caron photograph weddings, and weddings only, from Boston to Bar Harbor and destinations worldwide. Let us tell you more about why choosing us as your wedding photographers could be one of the very best choices you'll make among your wedding day vendors. Contact us today for more information and our availability for your wedding!