Point Lookout Resort Wedding | Maine Wedding Photographers
Jackie and Dan knocked it out of the park with their Point Lookout Resort wedding! We've had relaxed and easy going couples before, yet these two really gave new meaning to the word 'chill'. Plus their wedding party was just as awesome and fun as they were. Talk about a fun day! We were at a Point Lookout Resort wedding, with a very chill bride and groom, they had an awesome wedding day first look, we got to drive them around the Camden Maine area, and finally, their wedding ceremony was as sweet as it could be.
Such a win all the way around. We sometimes have to pinch ourselves, because we consider that we have the very best clients. Period. Jackie and Dan confirmed that. Plus, check out Jackie's Bhldn dress!!! Talk about gorgeous! Plus, Jackie did the florals. Couple all this with 72º Maine summer breezes with low humidity, near cloudless skies, (and oh… that view from Point Lookout!–wOw!), being surrounded by family and friends from far and wide, and you have the ingredients for a just-perfect day.
Look at the fun and memories we made with them, including one of Russ' "signature shots", the downtown Camden "crosswalk kiss" shot…which we only like to do once every two years or so. Since enough time had passed since the last time we took it, we knew that Jackie and Dan would be the right folks with whom to take it again! First, we'll start our photo story with Jackie and Dan in a field of lupine, a cool enough spot that these flowers were still in near-perfect bloom.
Jackie and Dan's Point Lookout Resort wedding: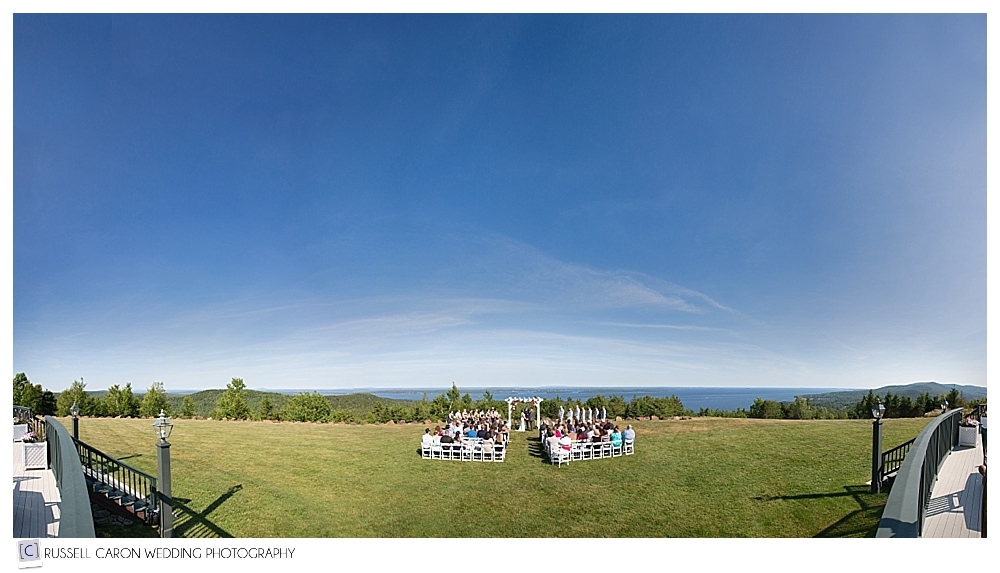 We love comments!! Please leave a comment and share (!!) to let us know if you enjoyed Jackie and Dan's Point Lookout Resort wedding. Thank you!
Maine wedding photographers Russell and Liz Caron put the fun into wedding photography for Maine wedding couples. Feel the love as this dynamic pair effortlessly capture each of your cherished moments, producing natural poses and unparalleled art for your wedding day. Russell Caron Wedding Photography will photograph weddings at any destination you can think of, whether you've planned a Point Lookout Resort wedding, a Caribbean beach wedding, or an Italian villa wedding! For more information, please contact us right away!
A very special thank you to the following vendors:
Venue: Point Lookout Resort
Photographers: Russell Caron Wedding Photography, photographs by Russell Caron and Liz Caron
Florist: The bride, Jackie
DJ: Chris Cole
Hair and Makeup: Acappelo Salons
Wedding dress: Bhldn by Anthropologie