Old Mill Buildings | Biddeford Maine
There's nothing quite like walking through the old mill buildings in Biddeford, Maine, that haven't been used in decades to make you feel like you're walking in history. We were fortunate to recently do just that, capturing the way these buildings are before the vibrant renovation and re-use coverts these spaces into things like hotels, apartments, businesses, and light industrial uses.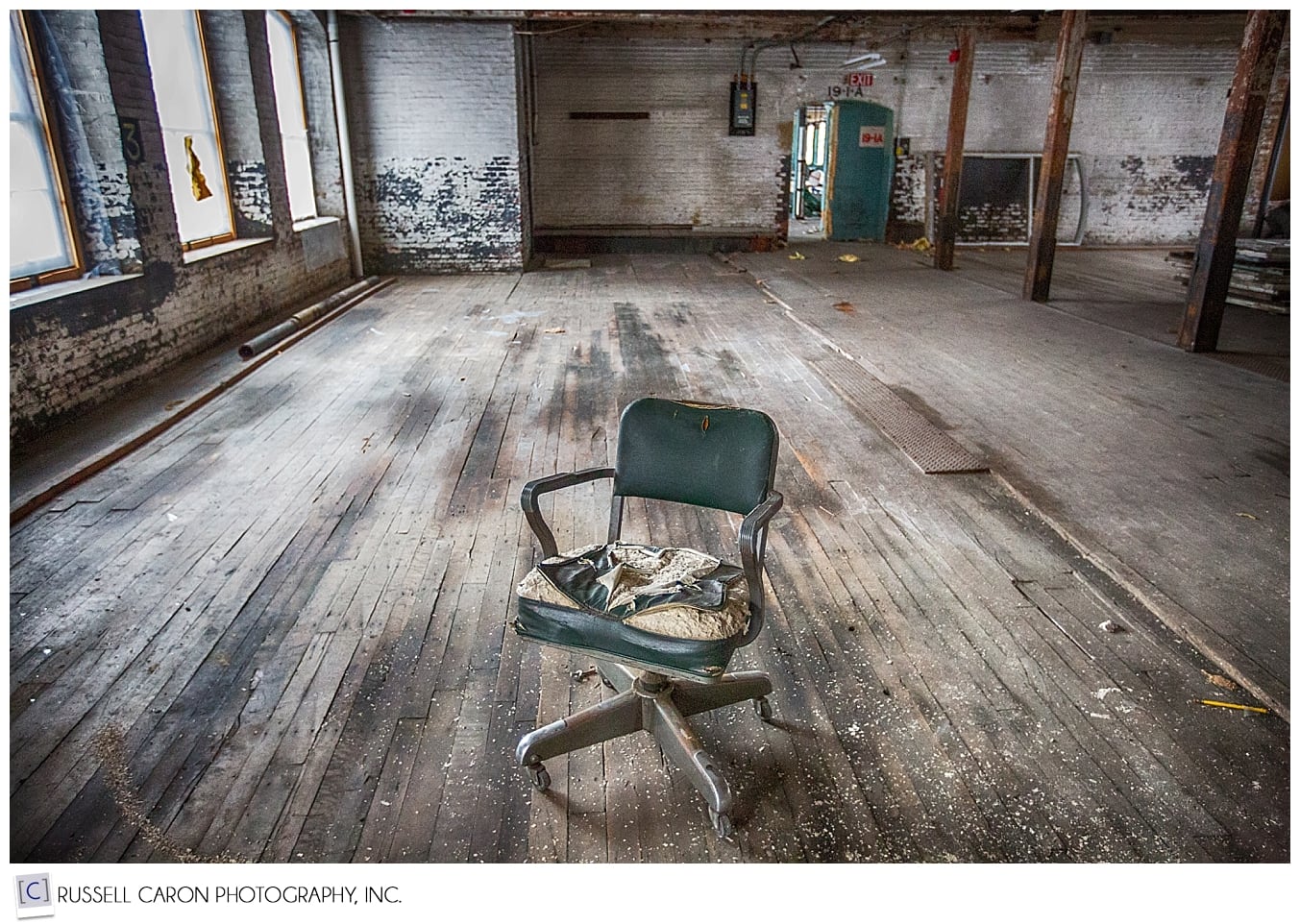 Above, a 1950's vintage office chair sits, having seen better days in the vast emptiness of an old mill space.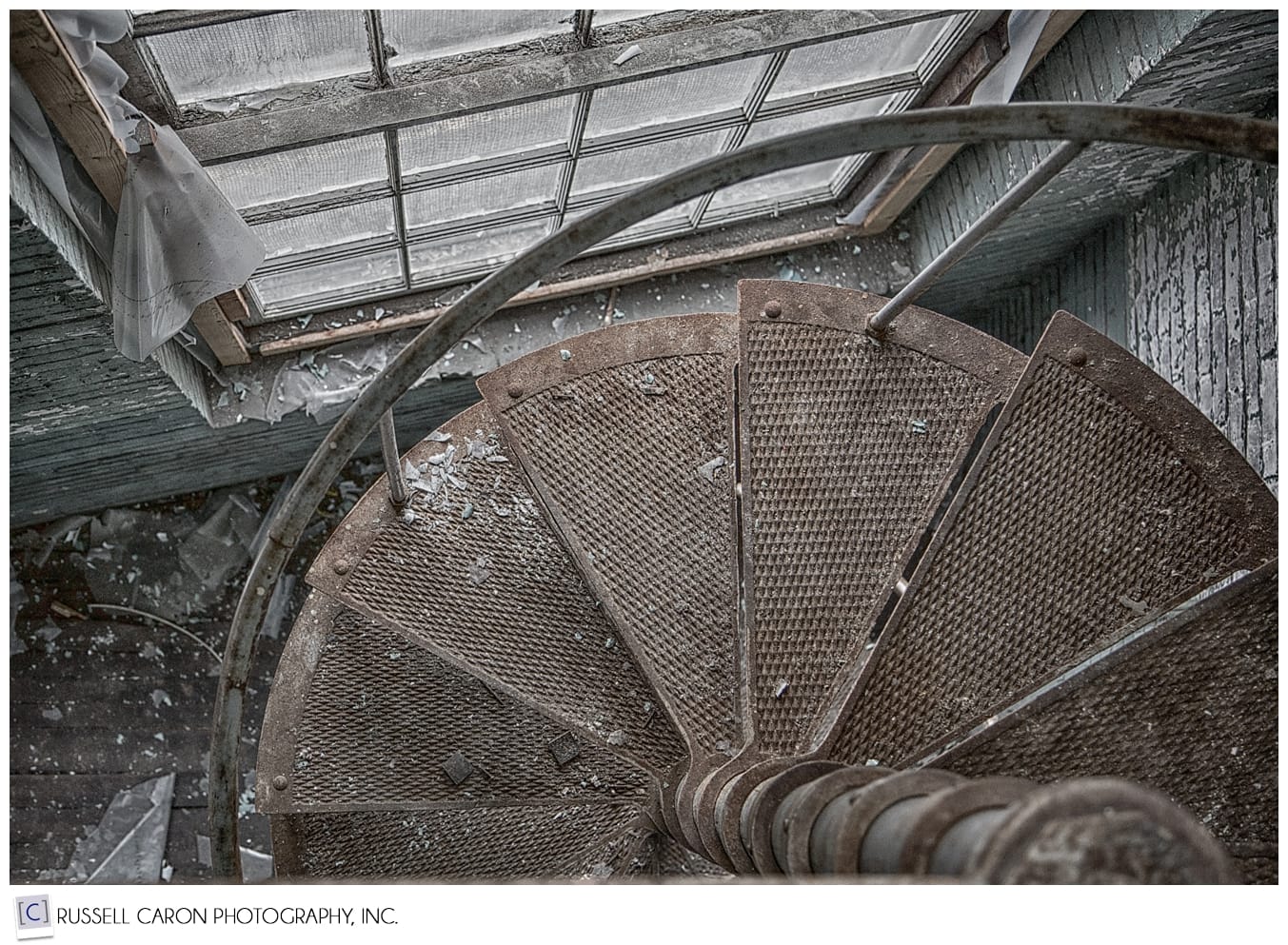 Above photo by Liz Caron. A gorgeous circular staircase with beautiful patterns and symmetry.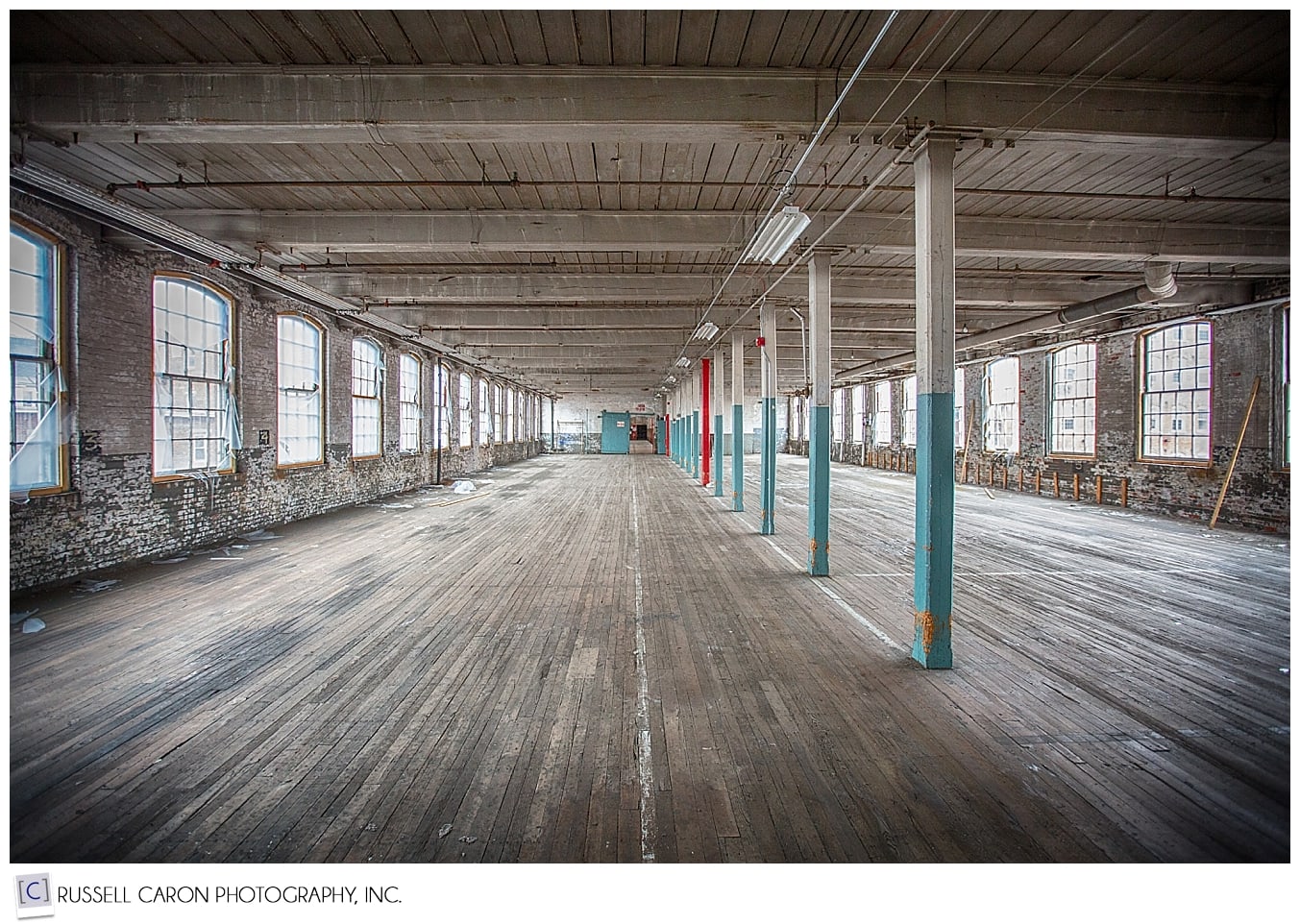 "If these walls could talk…" it would be so interesting to hear what they'd say and hear about what they've seen in these old mill buildings!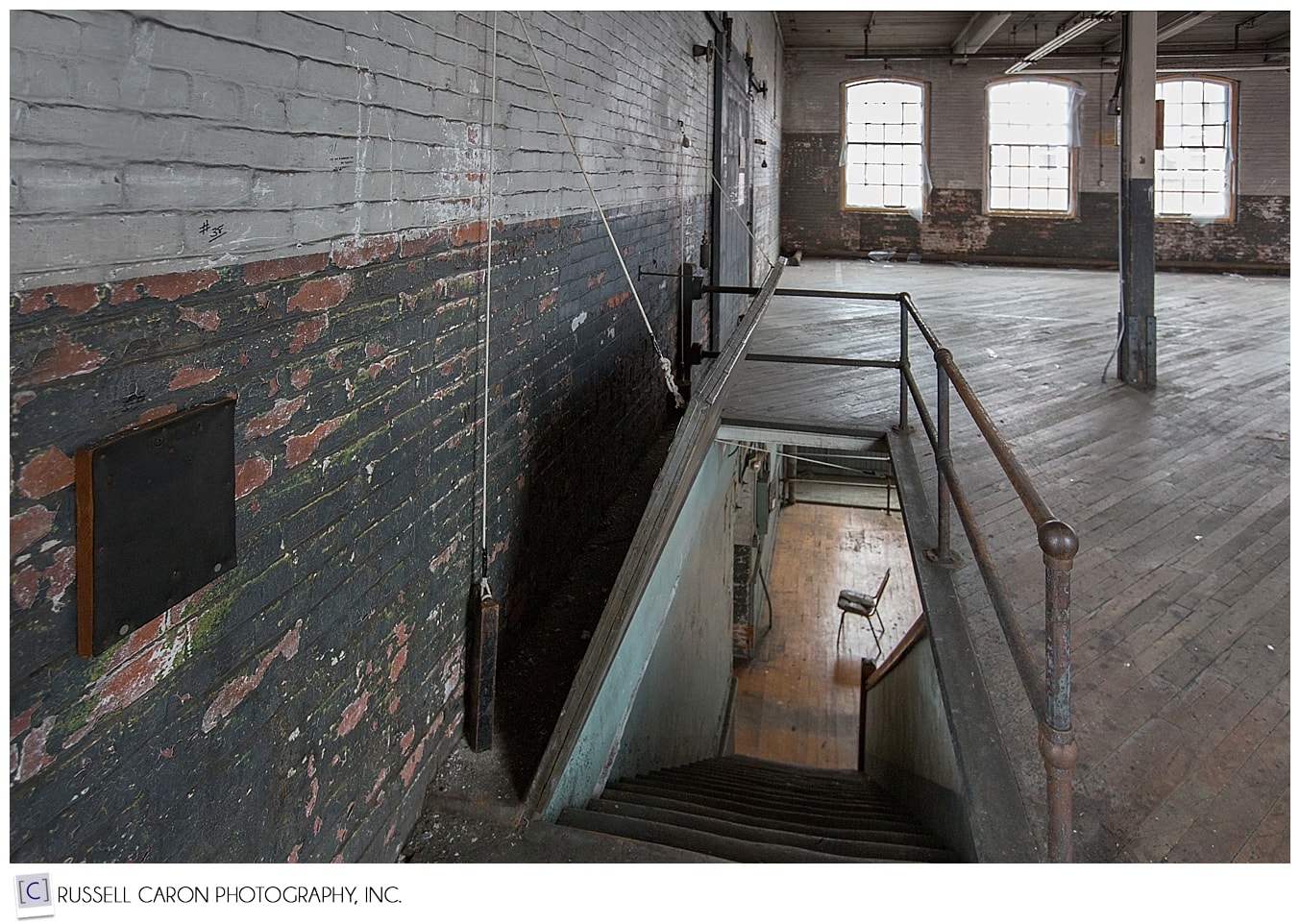 Above, another lone chair on the second level as well look down from the third.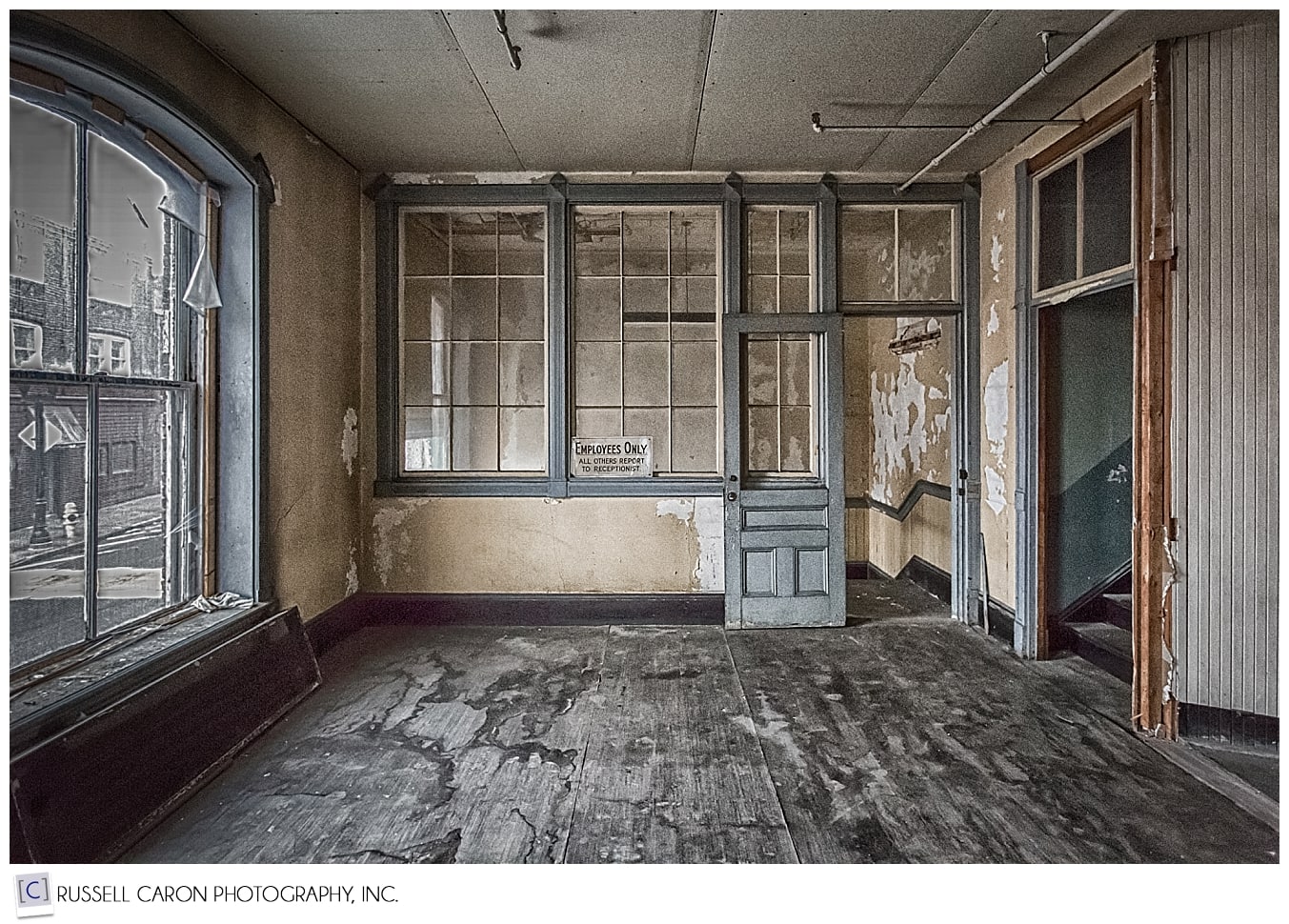 A small amount of space within the hundreds of thousands of square feet of former Biddeford, Maine, textile mills was, of course, dedicated to administrative spaces. Above was the lobby from the street level entrance of this particular mill building.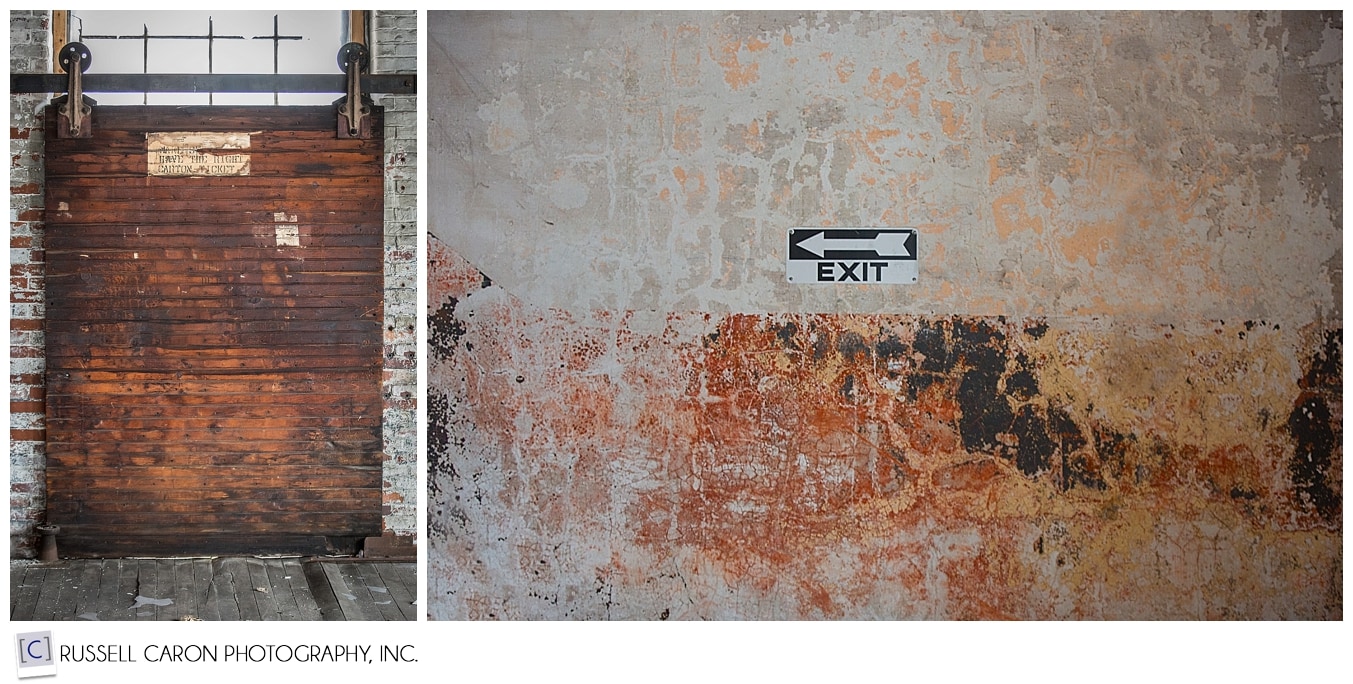 We're forever fascinated by the textures and colors that have shown themselves over time.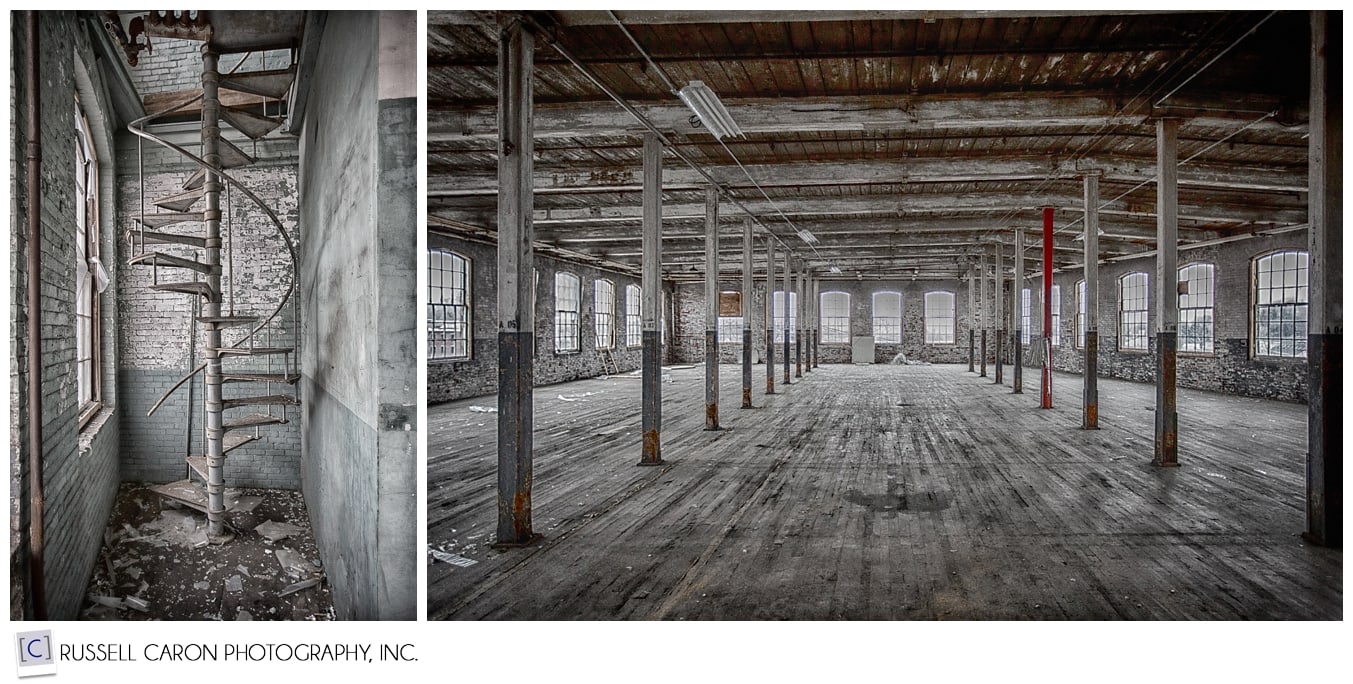 Here's that circular stairway again, above. And more interior space. As large as the space above right is, it's one of the very smallest open areas in the Pepperell Mill Campus, Biddeford, Maine, which totals over one million square feet.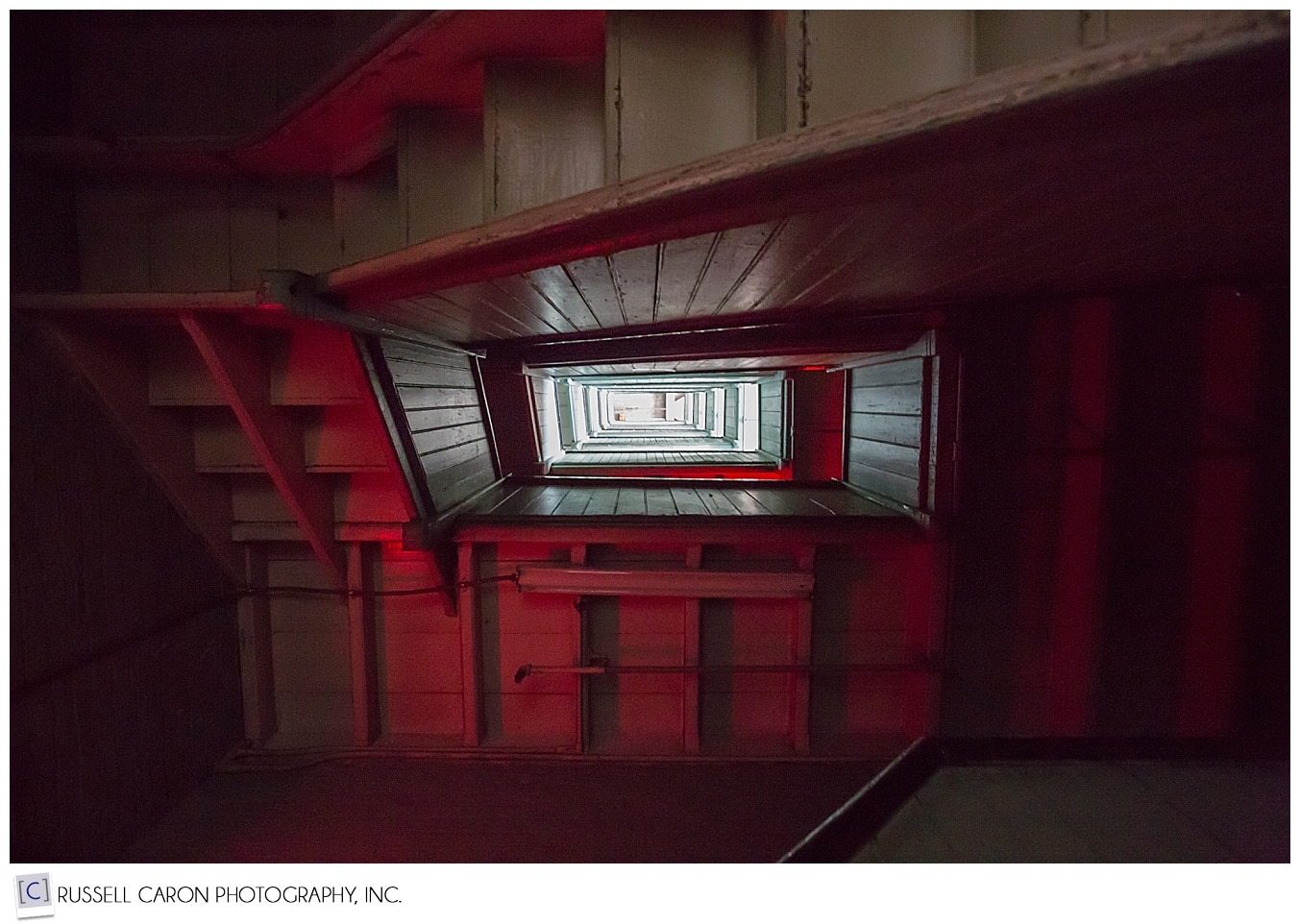 Looking upward a total of 8 floors via the stairwell.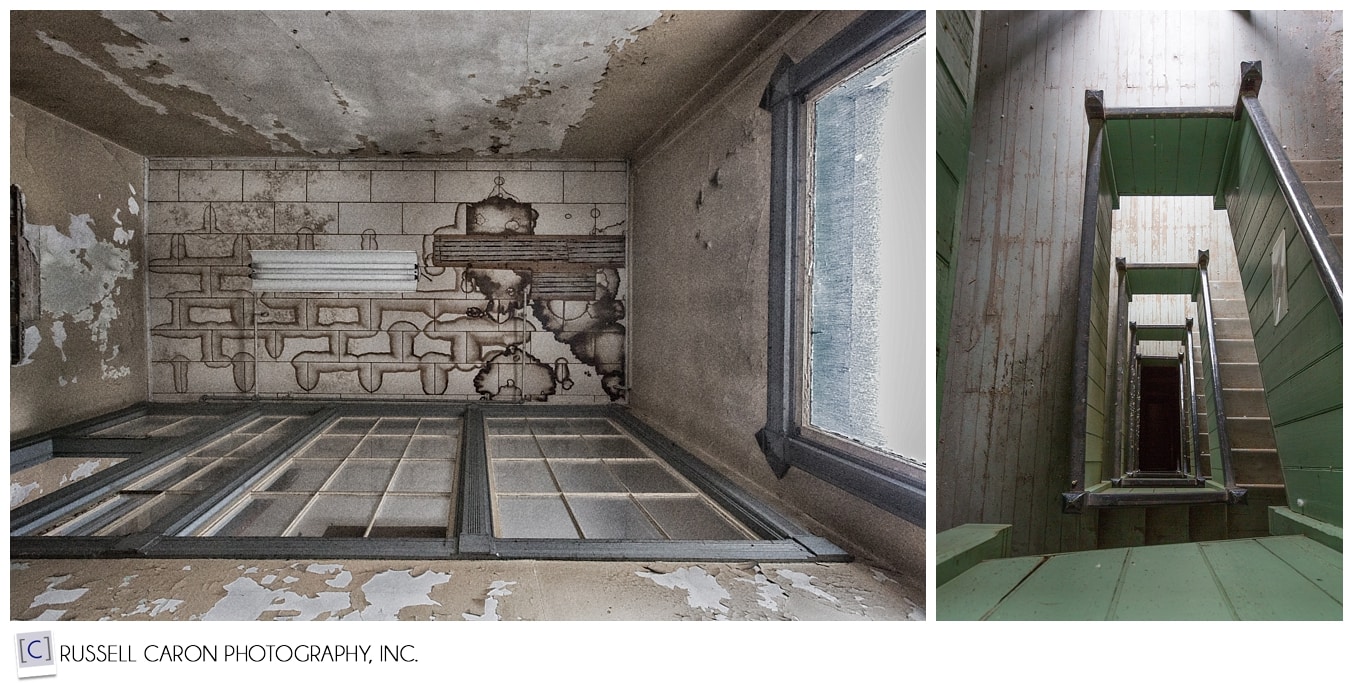 Above left, interesting water stains on vintage ceiling tiles. And more stairway symmetry.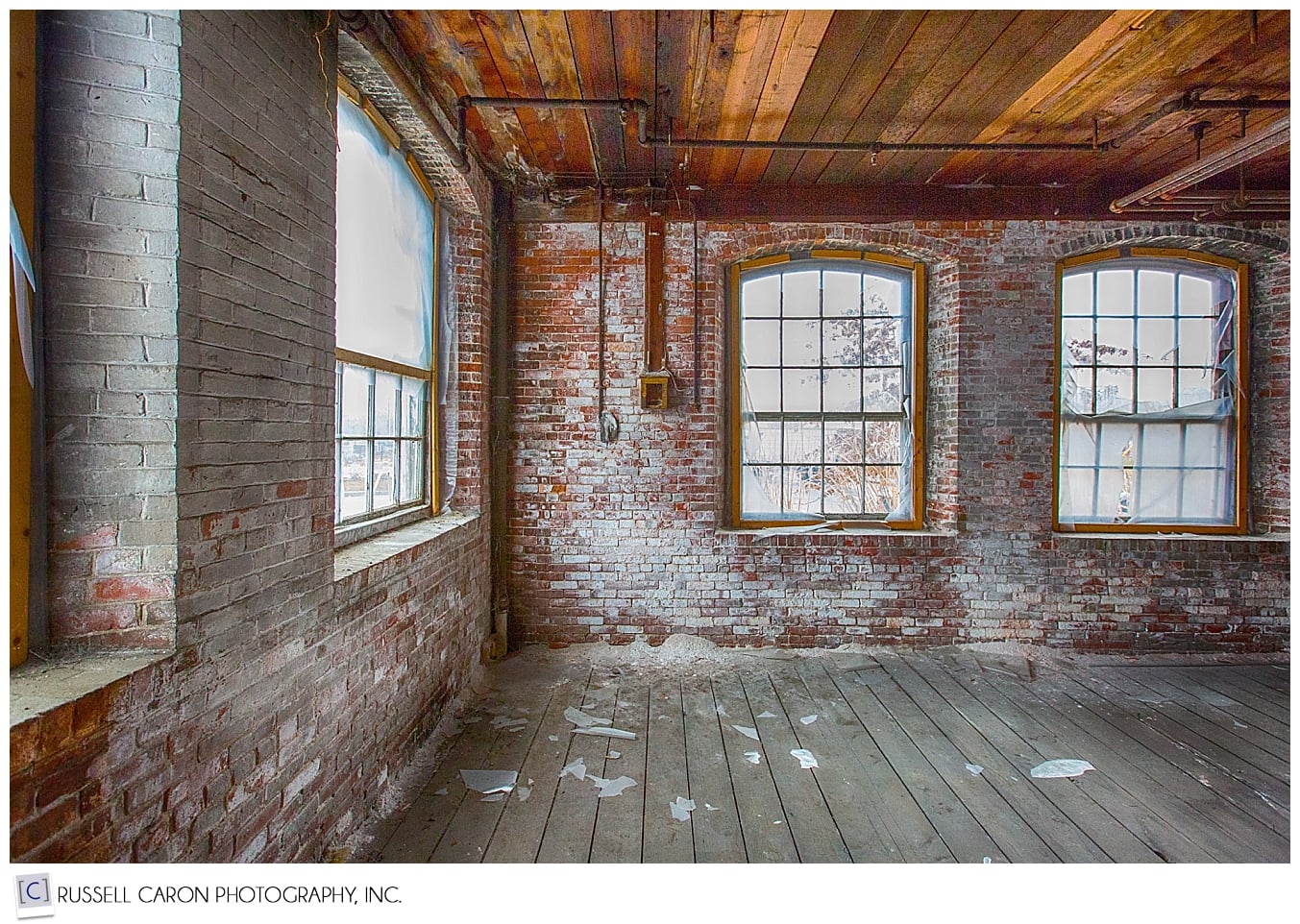 Much of the bricks were painted over time, but there is nothing better than getting back down to the unpainted natural surfaces. Much of the the time, planned renovations such as those for this space include sandblasting the old paint to in fact get back to natural brick.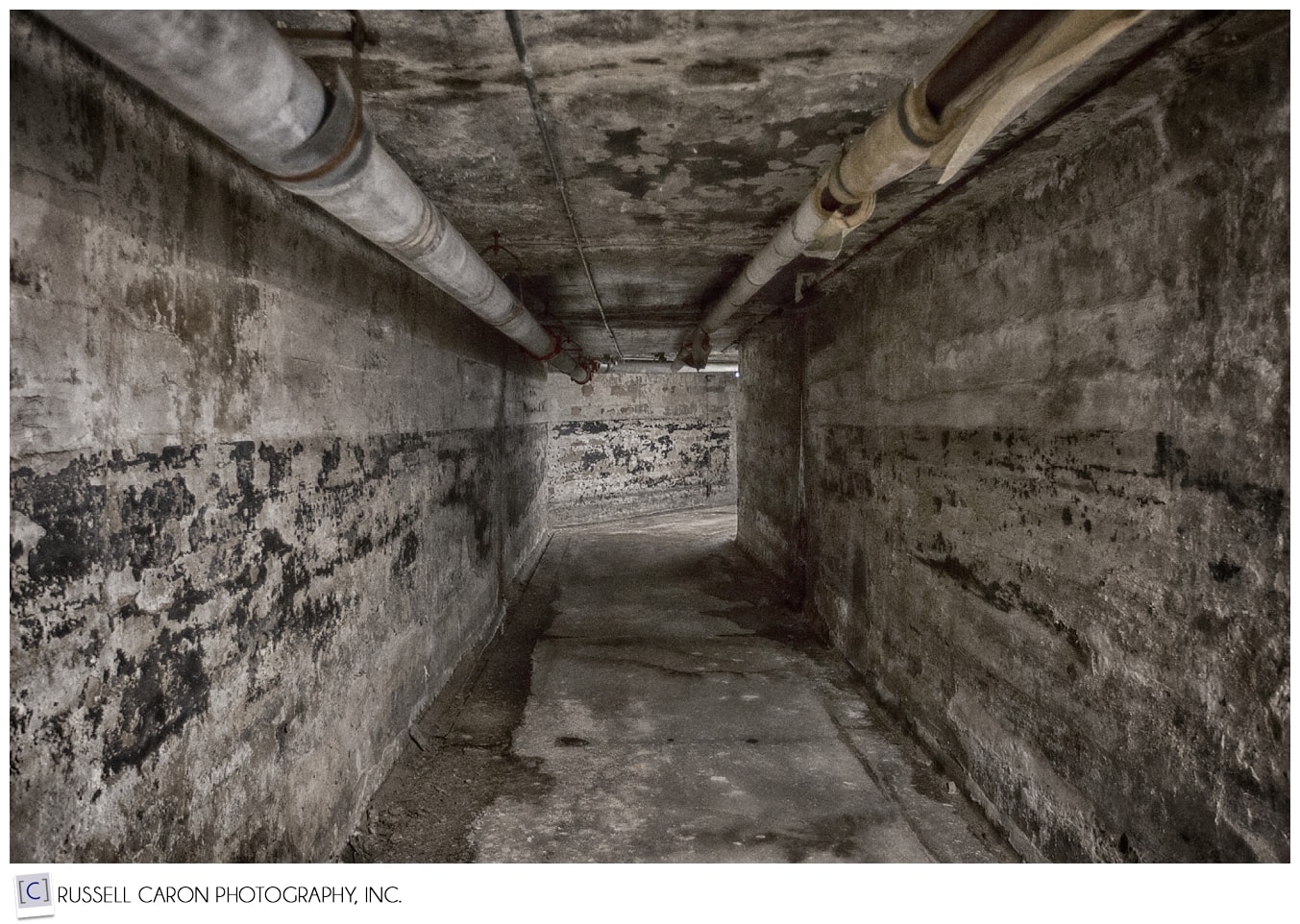 Deep underground the Pepperell Mill Campus are utility tunnels that facilitate connecting utilities and provide an ability to go from mill-to-mill without going outdoors, which also was accomplished with overhead "bridges" (not shown) at upper levels.
All in all, the best part of all these old mill buildings is that excited new uses are planned that will serve them for a good long time into the future. Which means that instead of being at the end of their lives, they may not even be halfway there yet. More impressive when it's realized that most of these buildings were first built in the mid-1800's.
We love comments and shares! If you enjoyed this post on the old mill buildings in the Pepperell Mill Campus, Biddeford, Maine, let us know. Thank you!
Biddeford Maine wedding photographers Russell and Liz Caron are an award winning, husband and wife wedding photography team. Feel the love as this dynamic pair effortlessly capture each of your cherished moments, producing natural poses and unparalleled art for your wedding day. For more information, please contact us right away!