Inn at Cuckolds Lighthouse Wedding | Cuckolds Island Maine
We love the romance and intimacy of small islands, especially on the coast of Maine. There is something about the exclusion and privacy, as if you're alone in your own little world. If you've ever wondered what a wedding would look and feel like if it were just you, your officiant, and a couple of witnesses, wonder no more. This Inn at Cuckolds Lighthouse wedding is the perfect example, set on the world-renown Inn at Cuckolds Lighthouse, off the dramatic coast of Maine. Just off Boothbay Harbor, it can really be yours with a bit of planning, a little dose of flexibility and sense of adventure. Look through these images and sense the romance, solitude, and elegance our bride and groom felt on their wedding day. Did we mention how perfect this would be as an elopement destination??
The beginning. How our Inn at Cuckolds Lighthouse wedding unfolded:
If you look closely, below, you can spot the bride, groom, and their amazing officiant, the Rev. Erika Hewitt!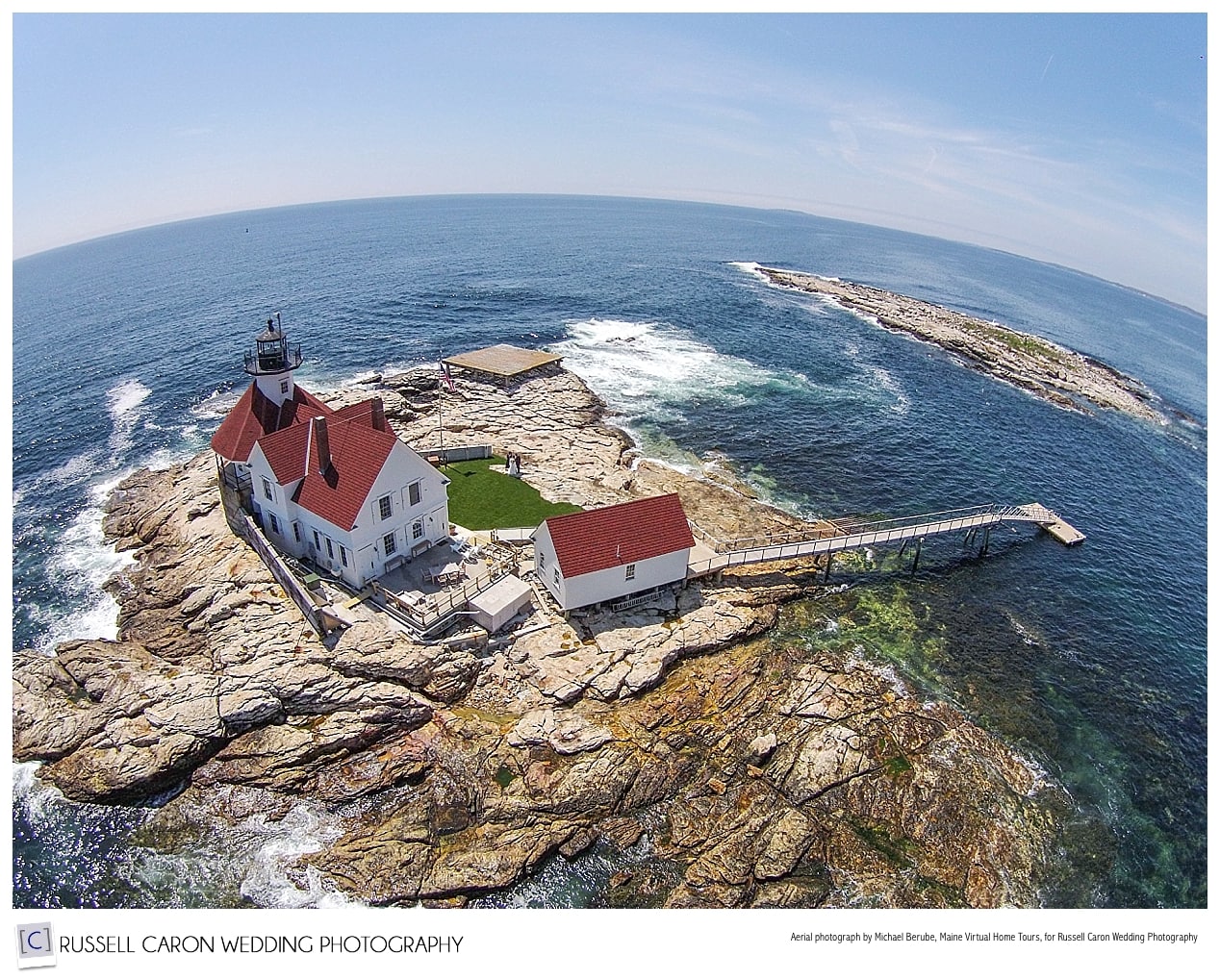 Thanks to Michael Berube of Maine Virtual Home Tours for the aerial photographs of the Inn at Cuckolds Lighthouse wedding, accomplished using their remote control quadcopter.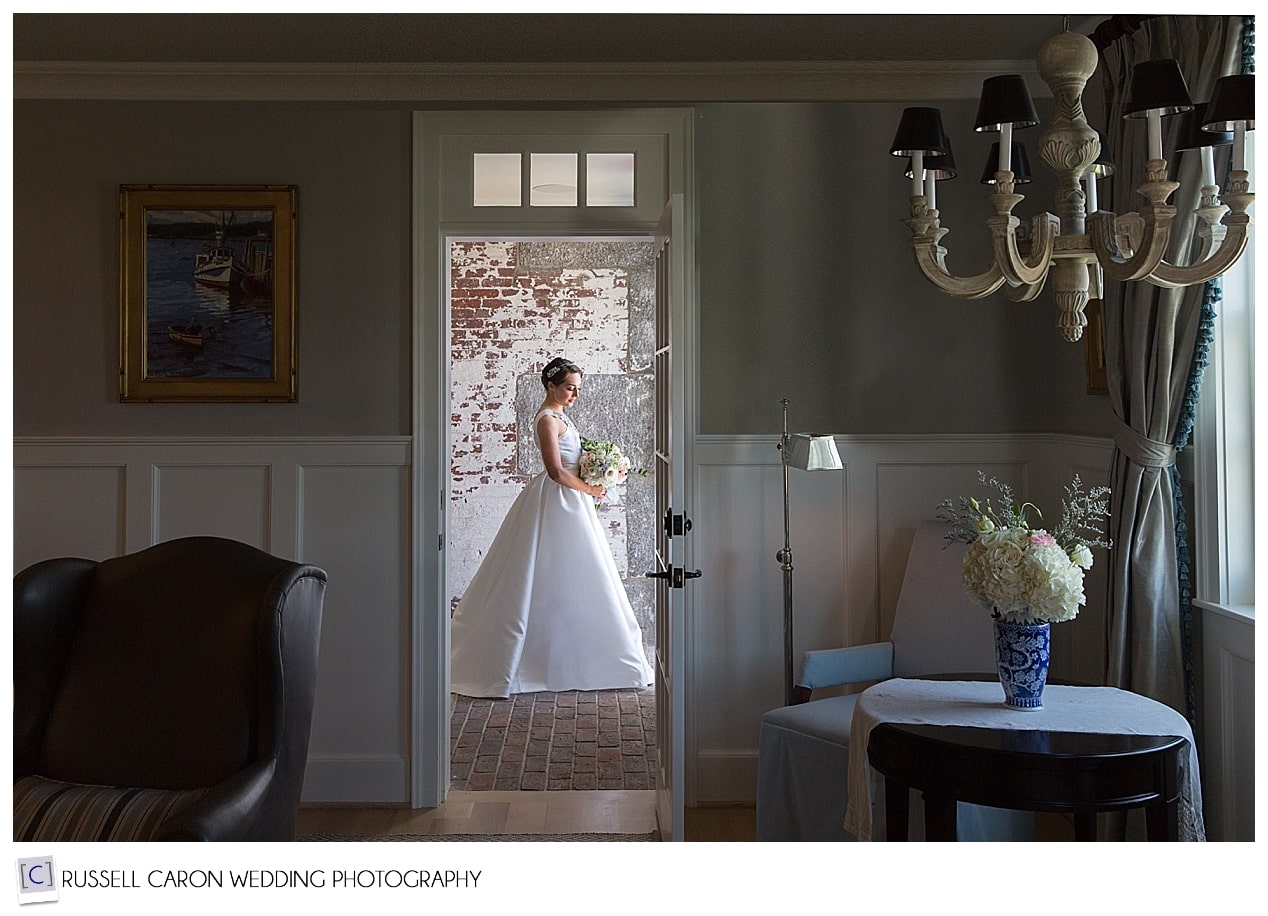 The bride's glowing makeup was skillfully applied by Cindy Clayton, owner of From This Day Forward traveling make-up services, while her updo was beautifully created by Kim Doll.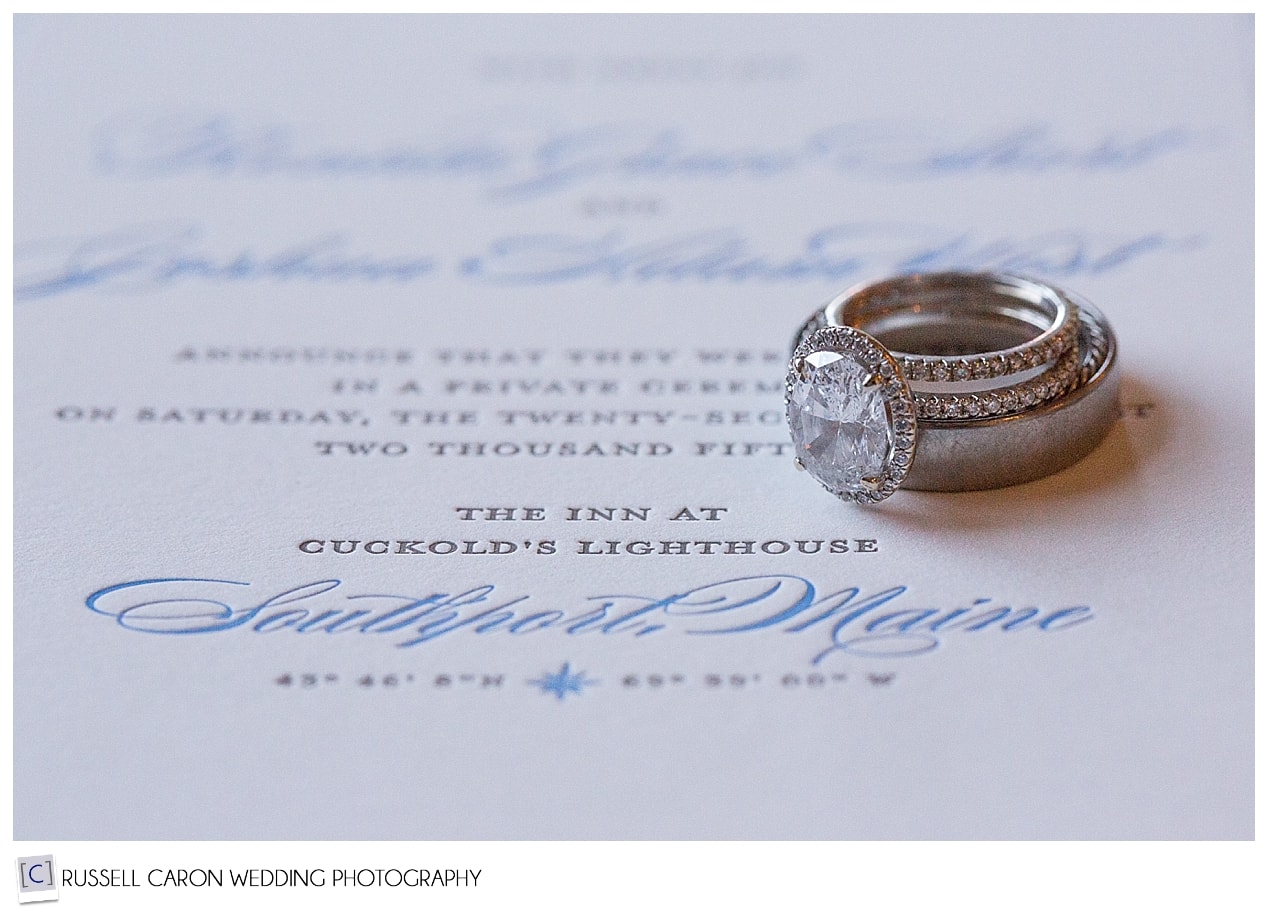 Beautifully elegant custom letterpress wedding announcements from Gus and Ruby Letterpress.

The fabulous Kristen Winters from Beehive Creative Events, did extensive planning for the day. Kristin's knowledge, expertise, and energy ensured a perfect day. She thought of every last detail. Kristin was a delight to work with and her sense of style unmatched. The beautiful spring florals were arranged by Kristin, as well as the gift basket, did we mention that she is multi-talented?! We loved that the couple's dinner table setting was as elegant as the rest of the surroundings and the rest of the storybook day.
Above, when Rev. Erika is your officiant, she works closely with you, the bride and groom, to ensure that the ceremony is touching, fitting, and moving. There are, at times, tears, and at other times, lots of laughter.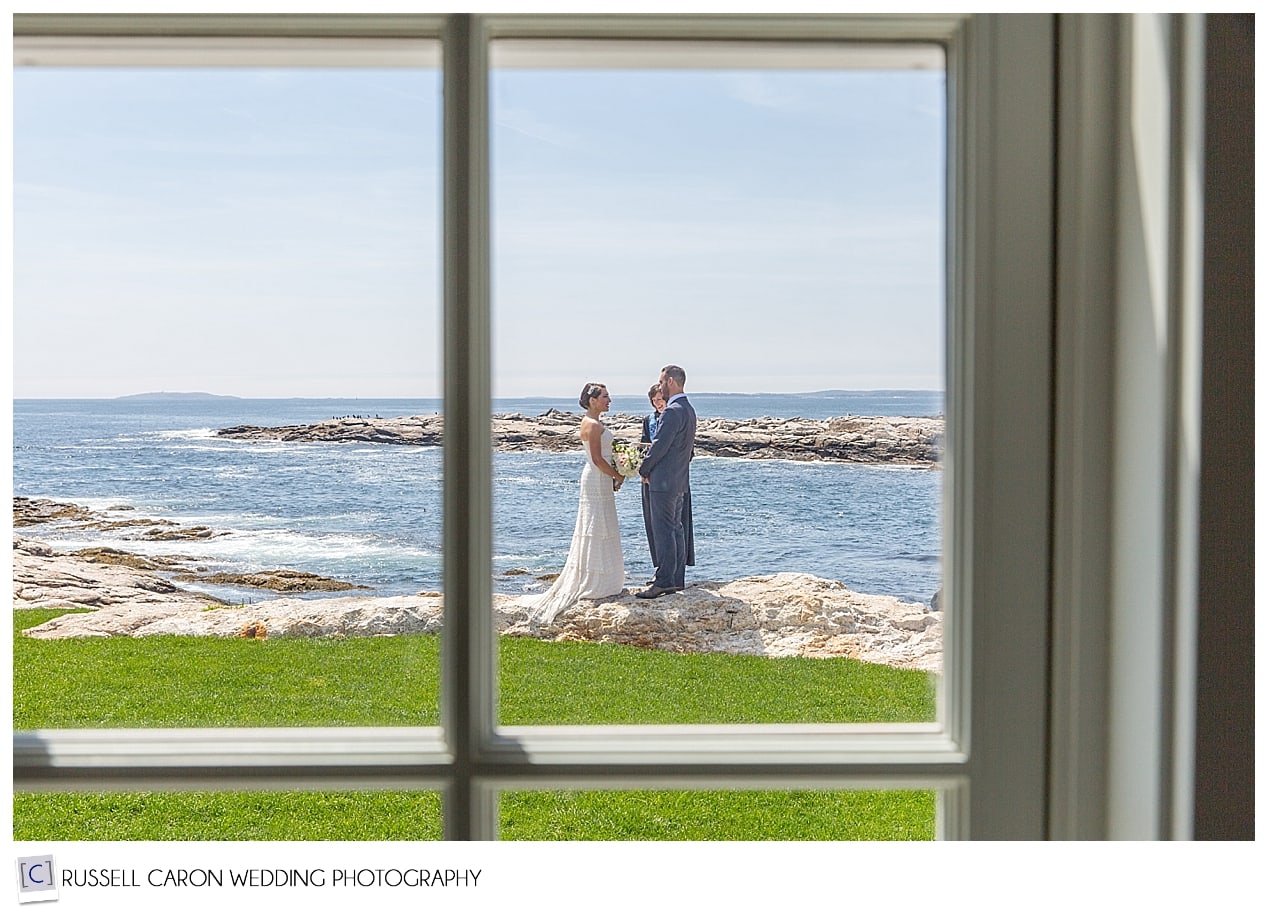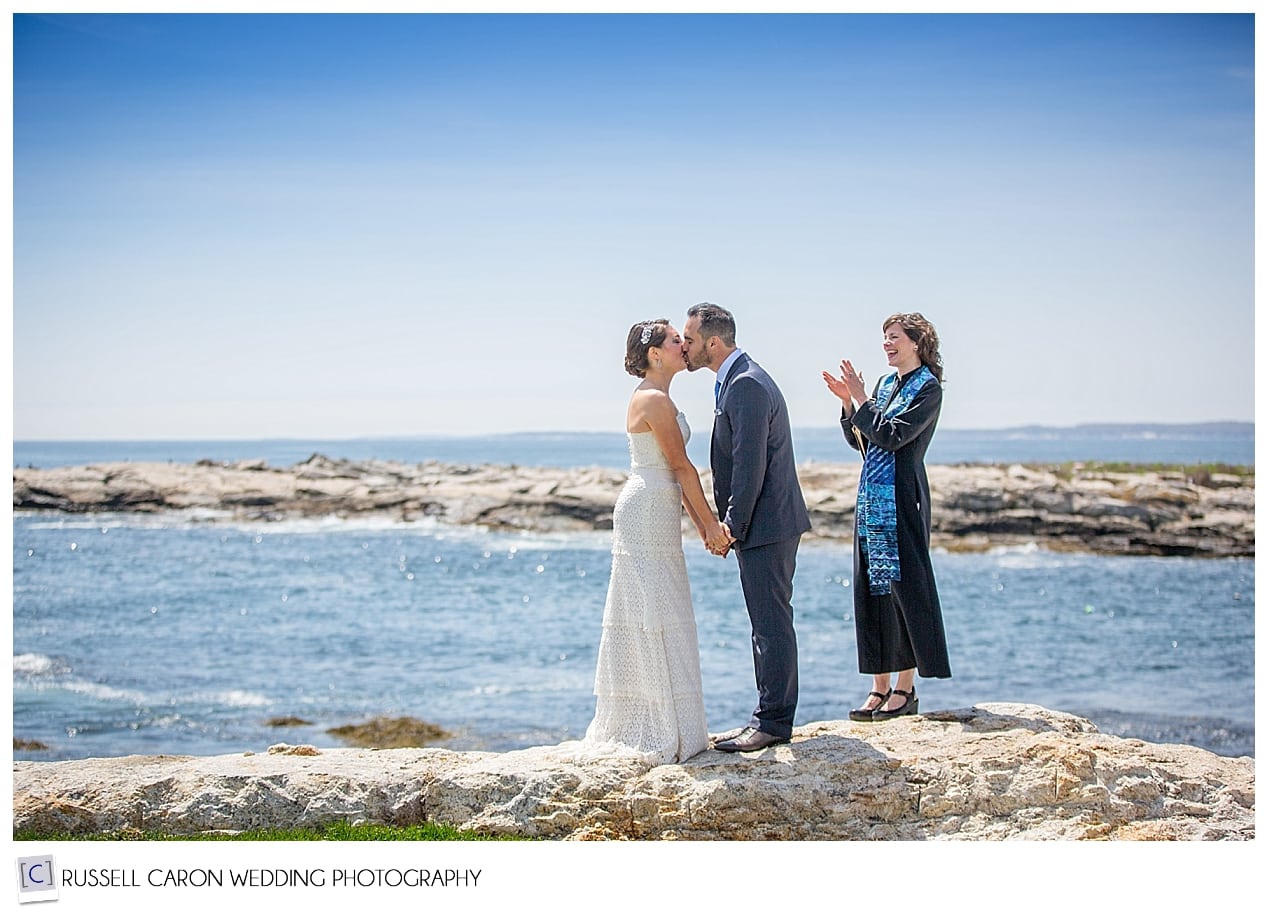 Applause for the newly married couple, and the perfect backdrop for the first kiss!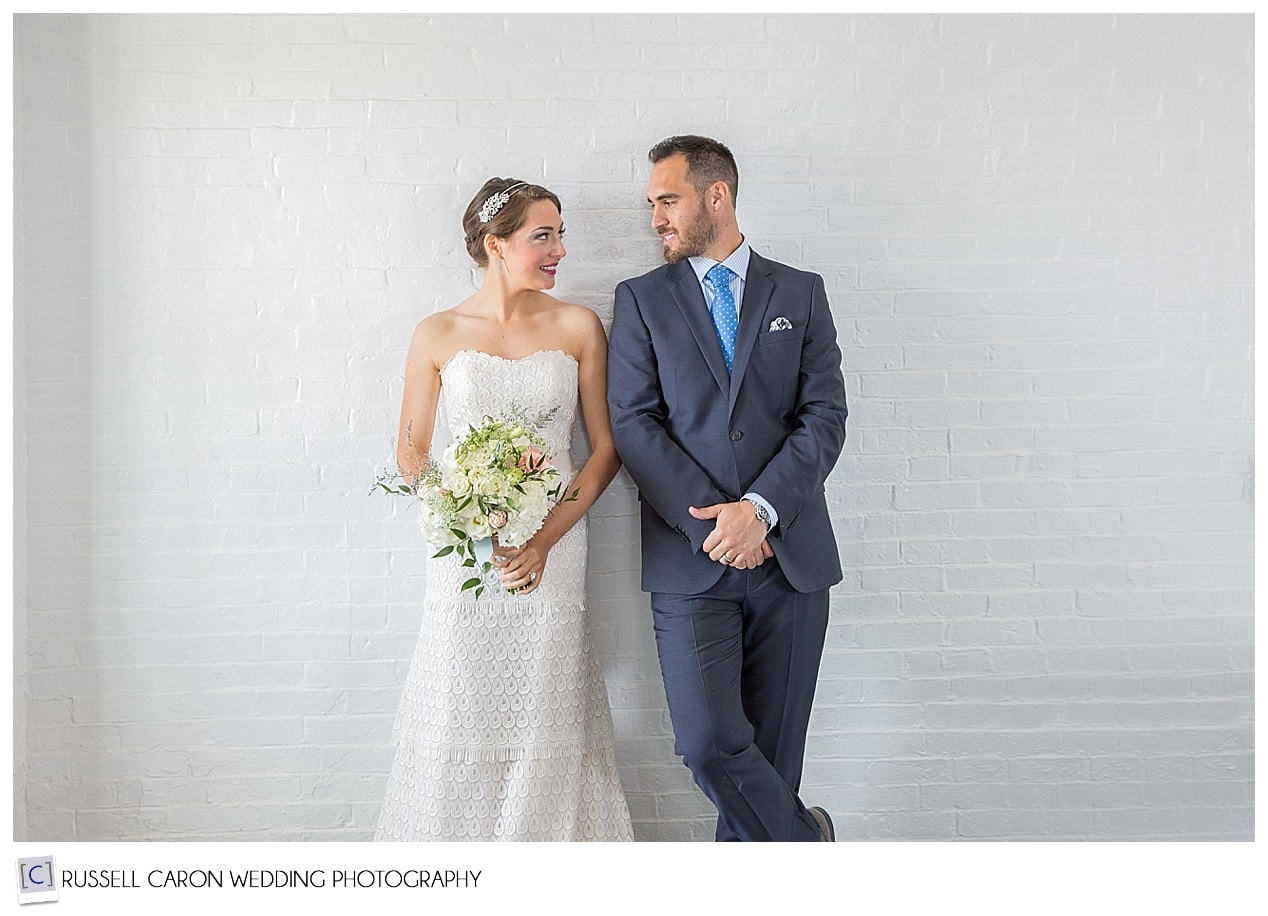 We grabbed the above bride-and-groom portrait inside upstairs at the lighthouse and below on the circular outer deck.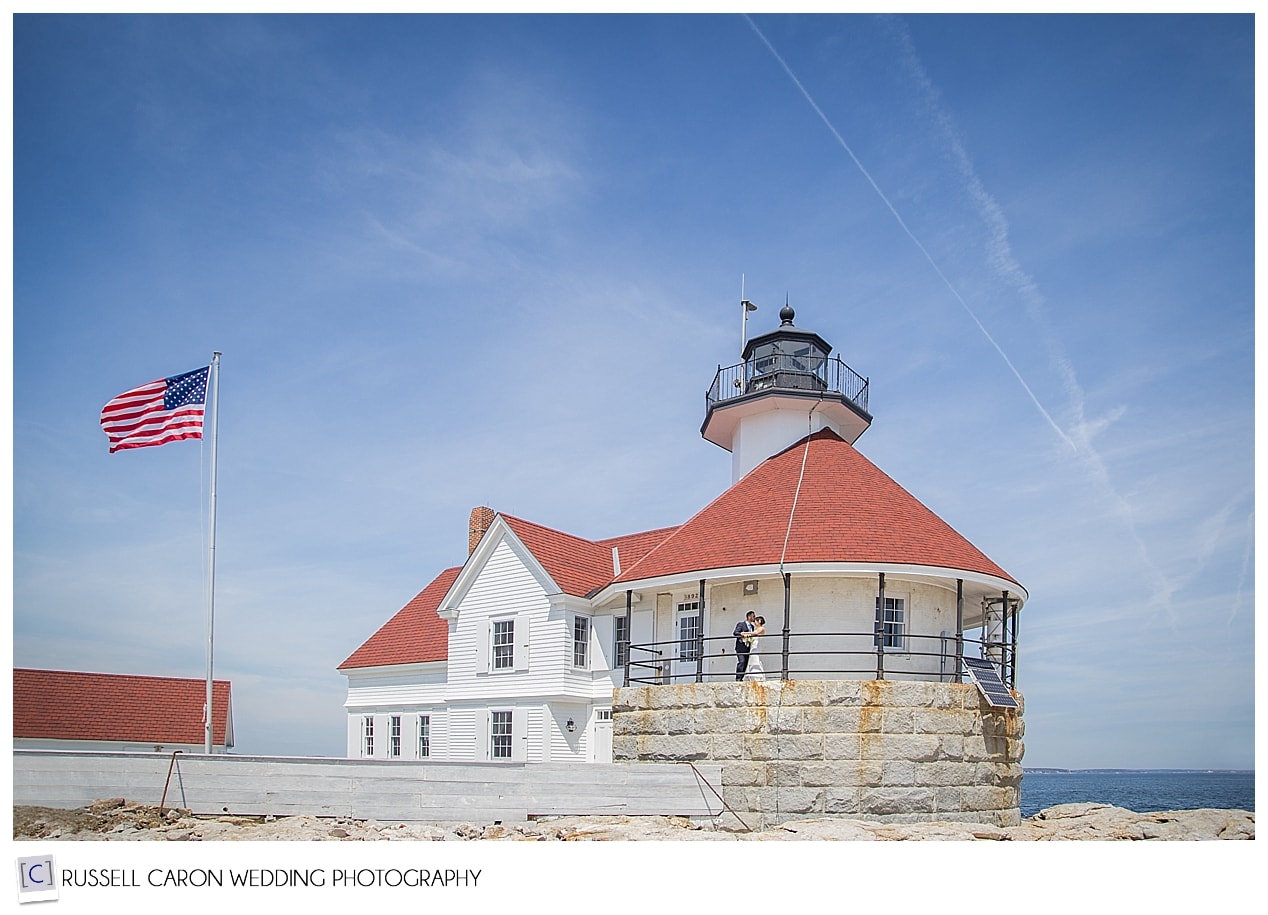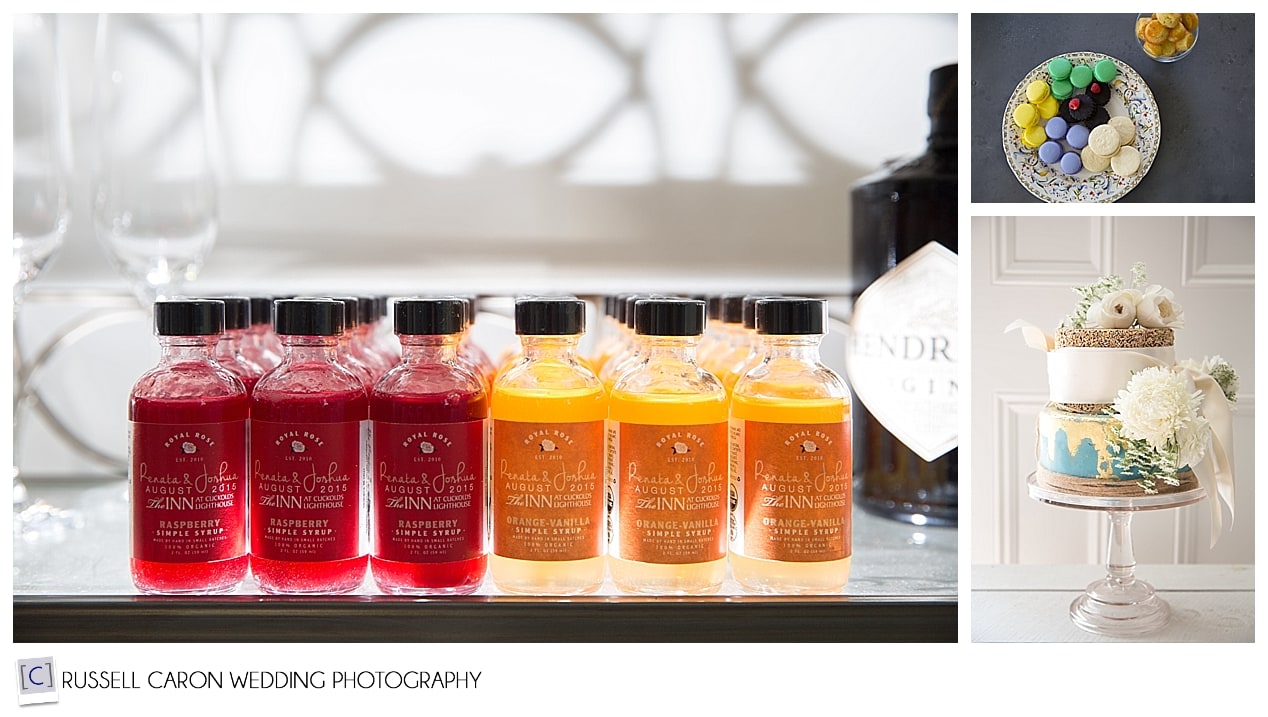 Above, Royal Rose Syrups made their customized organic syrups with personalized labels for the couple's signature drinks. These delicious infused syrups make perfect favors for your wedding guests!  Delicious pastries and cakes were also curated through Beehive Creative's preferred bakers.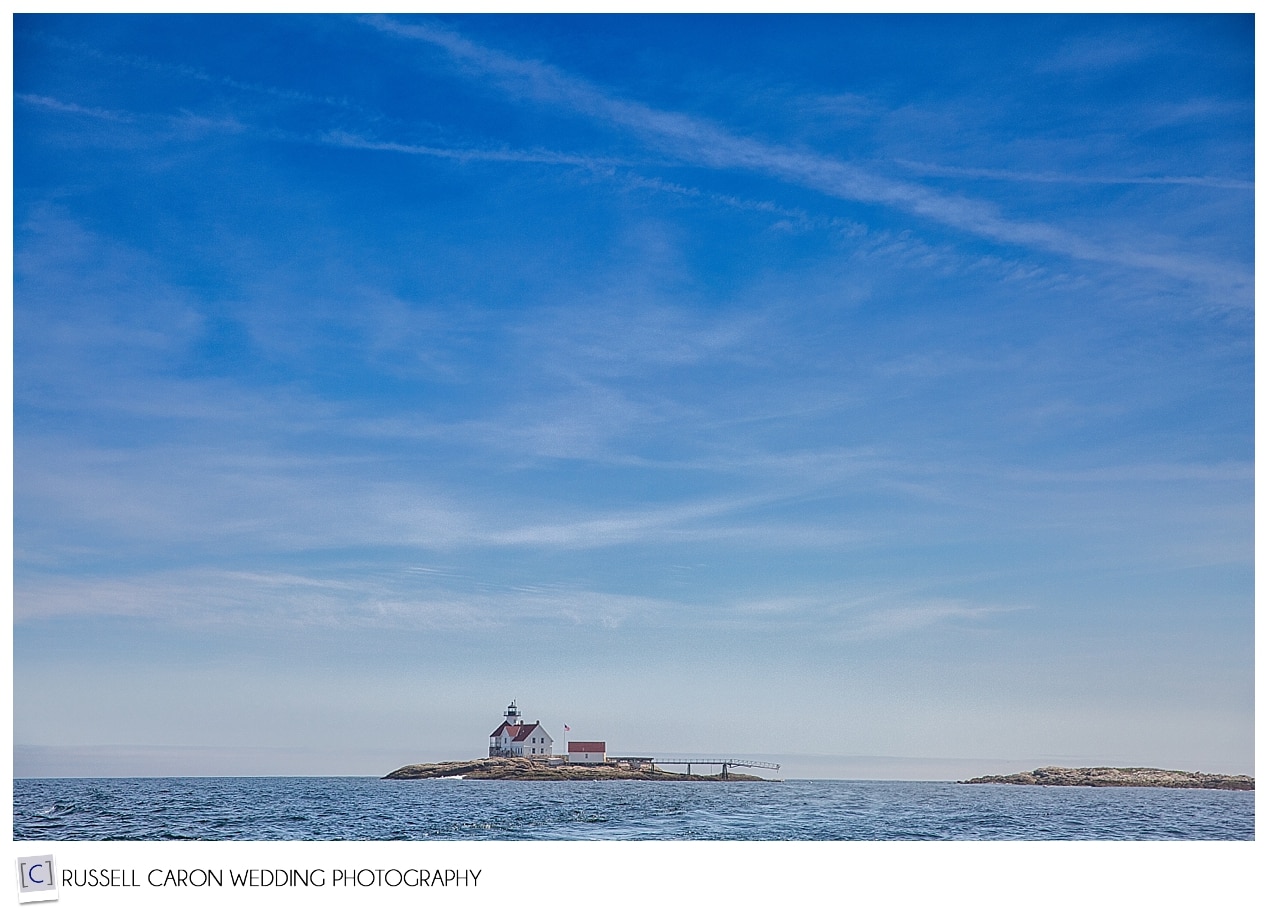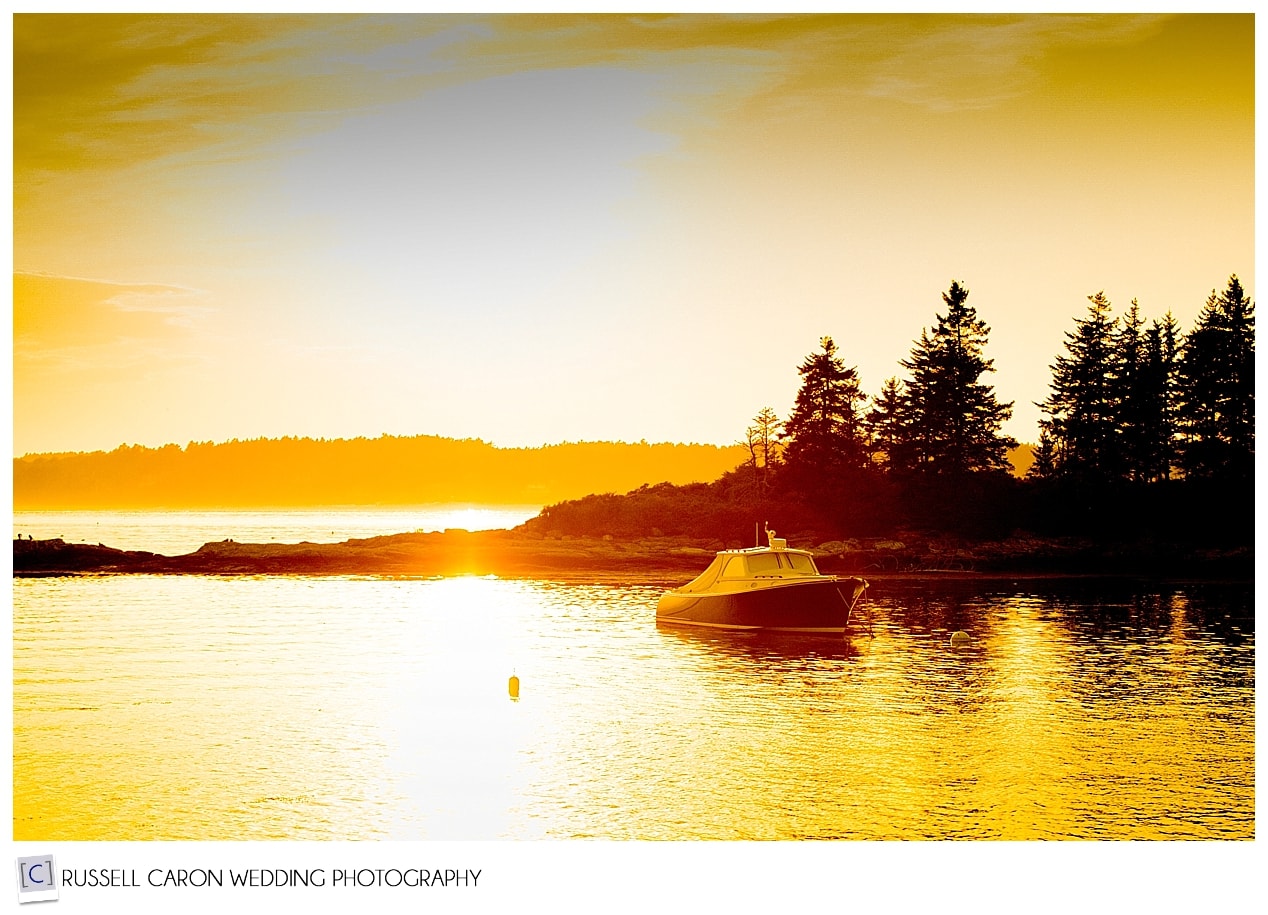 The End!
Above, the sun sets over the cove marking the end of a most perfect Inn at Cuckolds Lighthouse wedding day!
Thank you so much to the fantastic vendor partners, who helped make this vision a reality:
Photographers: Russell Caron Wedding Photography, Photographs by Russell and Liz Caron
Venue: Inn at Cuckolds Lighthouse
Event Planner and Florist: Beehive Creative Events, Kristin Winters
Bride and Groom: Courtney and Albin Hubscher
A-line gown: Marcie Muehike at Celia Grace
Bejeweled gown: LucyNoble at Kate McDonald Bridal
Officiant: Rev Erika Hewitt
Aerial Photos: Maine Virtual Home Tours
Hair: Kim Doll
Makeup: From This Day Forward
Tie and pocket square: Joseph's of Portland
Groom's cufflinks: Chart Metalworks
Paper Suite: Gus and Ruby Letterpress
Favors: Royal Rose Syrups
We love comments and shares! If you enjoyed our post on a Maine island wedding, please let us know. Thank you!
Maine wedding photographers Russell and Liz Caron put the fun into wedding photography for Maine wedding couples. Feel the love as this dynamic pair effortlessly capture each of your cherished moments, producing natural poses and unparalleled art for your wedding day. For more information, please contact us right away!