Lincolnville Wedding | Inn at Sunrise Point
Emma and Josh had one of the sweetest elopements we've ever witnessed at the Inn at Sunrise Point in Lincolnville, Maine. This beautiful Lincolnville wedding took place mere feet from the edge of Penobscot Bay and the Atlantic Ocean. The only guests in attendance at this intimate ceremony were Emma and Josh's parents.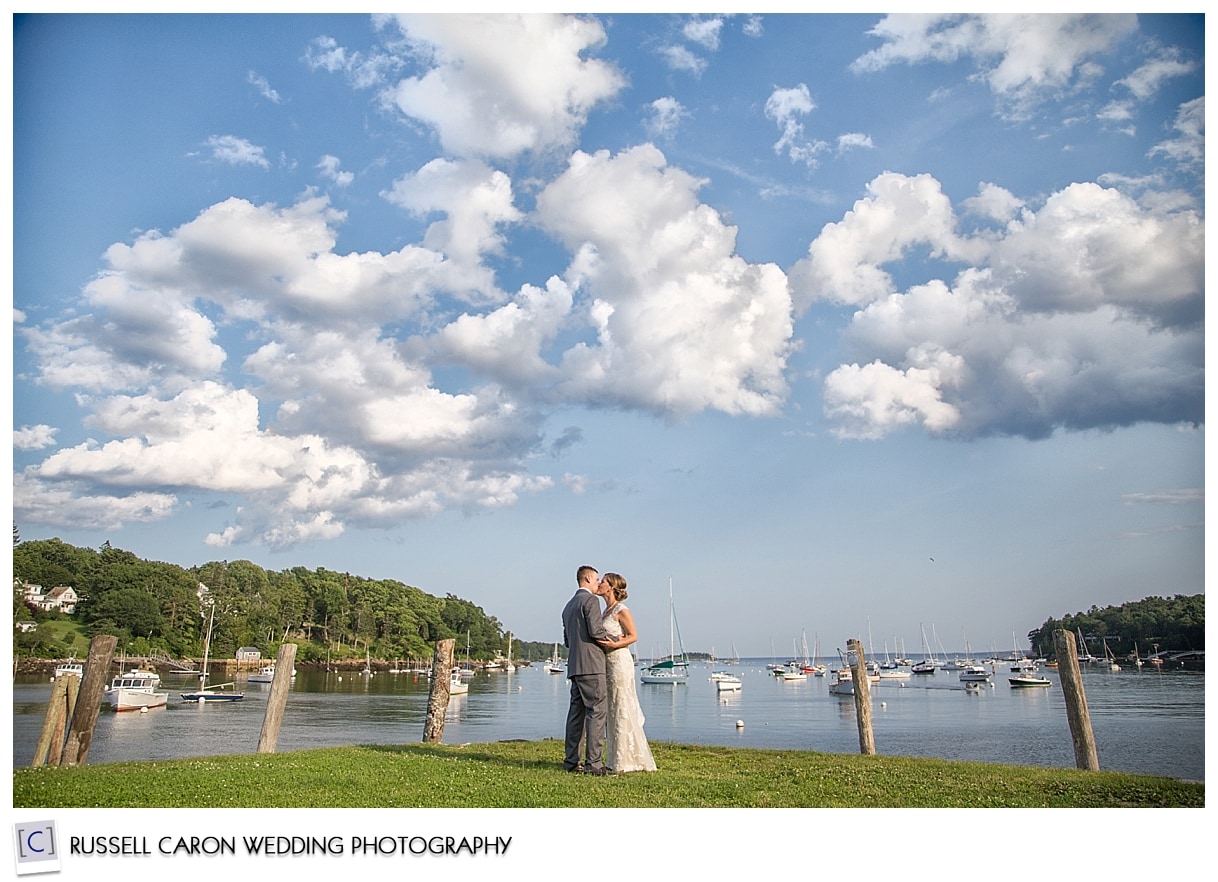 In the above photo, taken after the ceremony later that afternoon, we traveled to quintessentially Maine Rockport Harbor. The below image was taken near the Rockland Breakwater.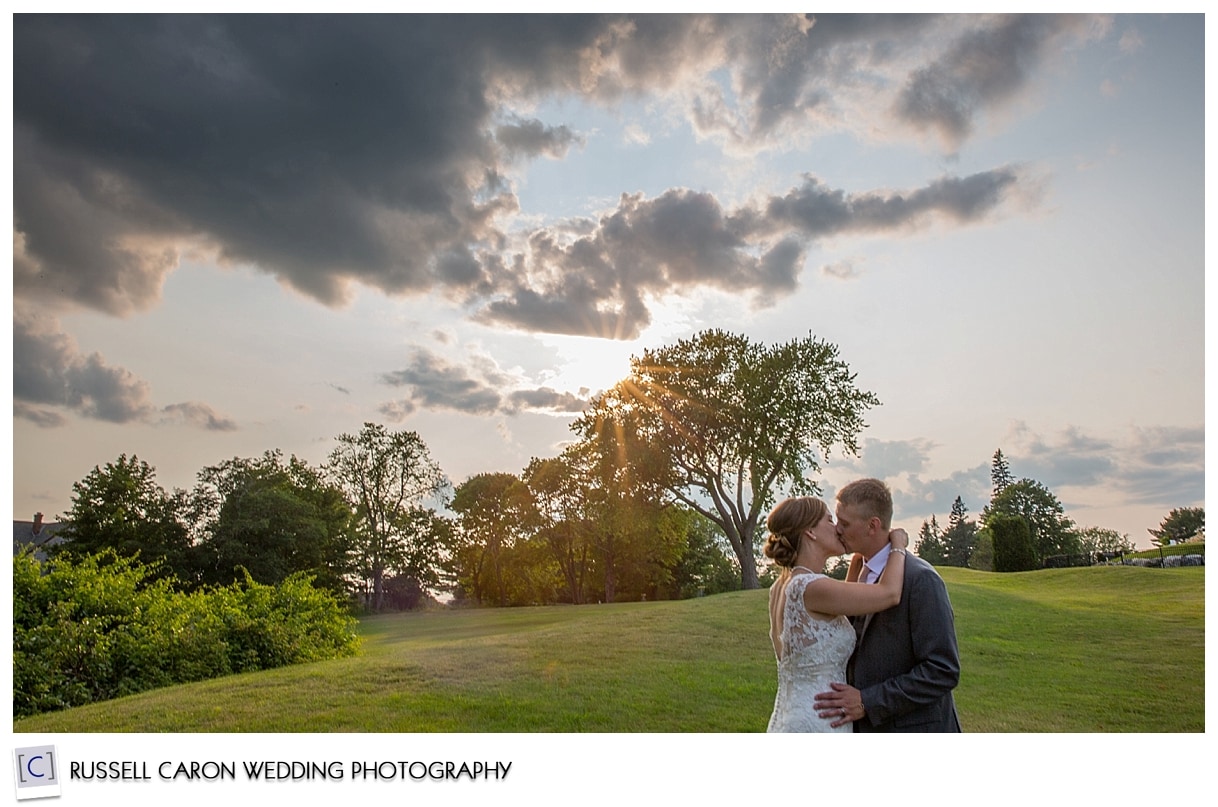 A beautiful bride just as preparation for the 2:15PM ceremony completed.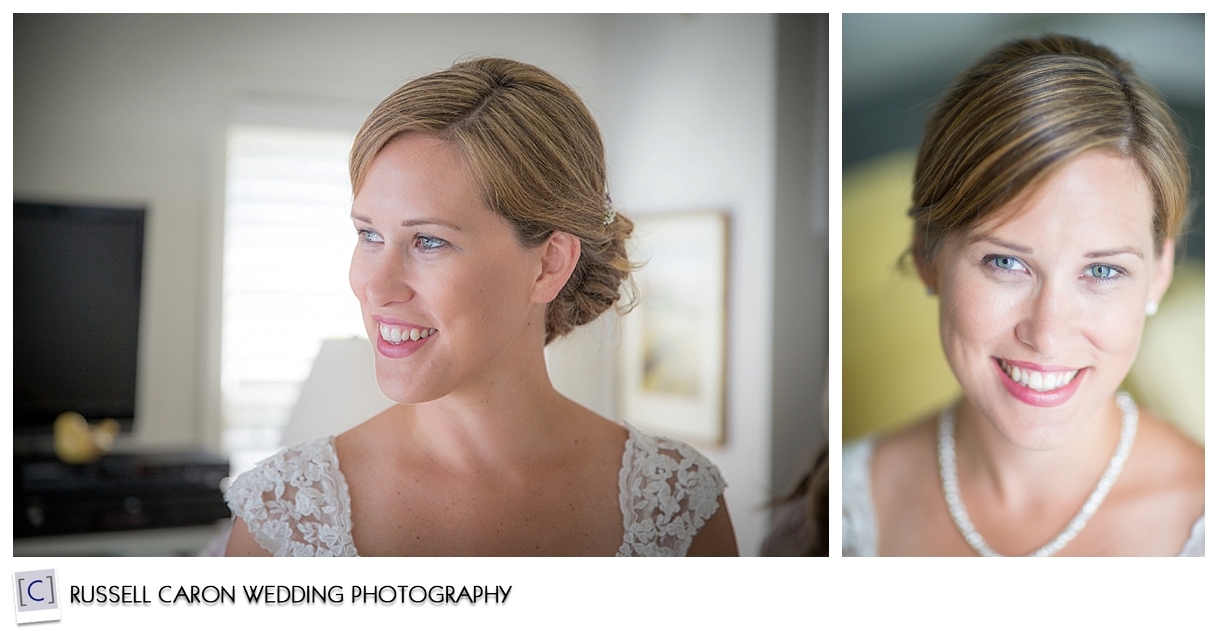 A proud dad walks his beautiful daughter to ceremony site a few yards away.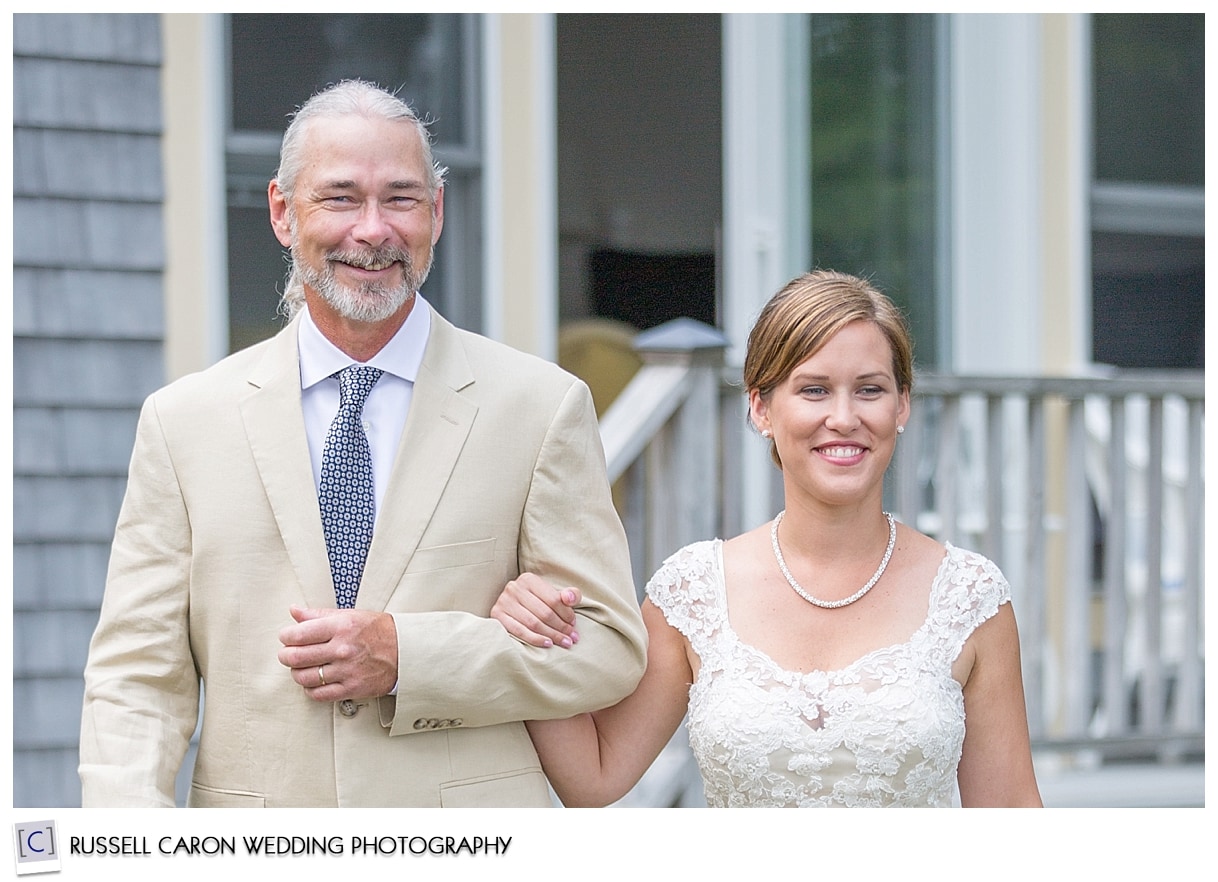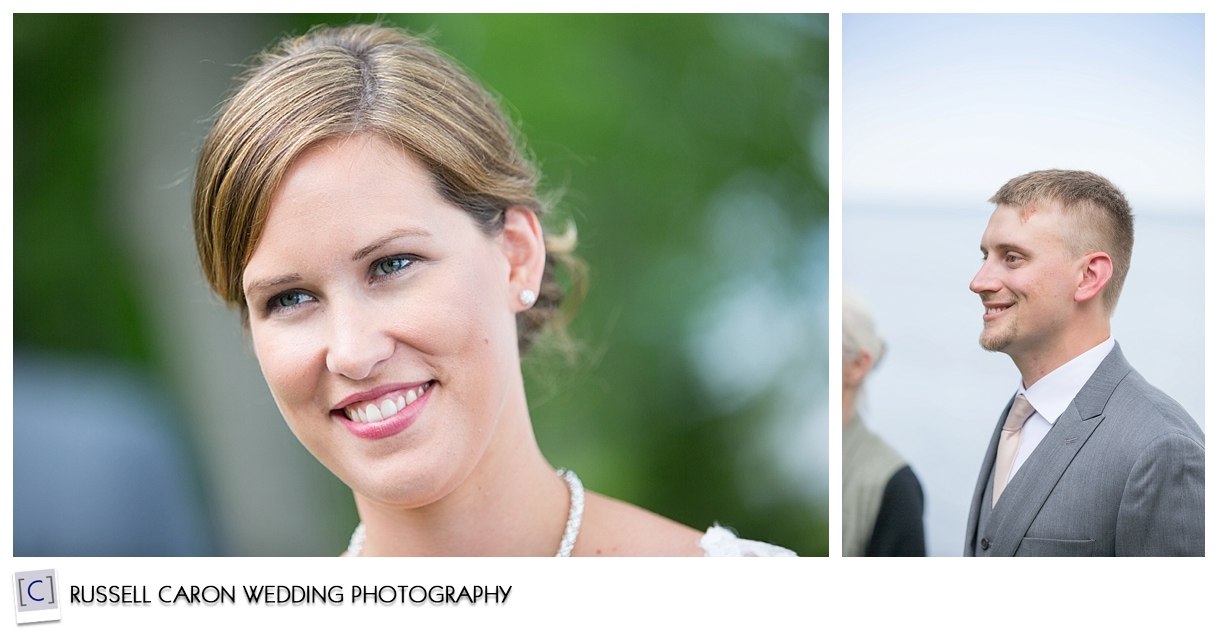 Perched at the ocean's edge, the Inn at Sunrise Point was the perfectly beautiful and serene venue for this cozy ceremony.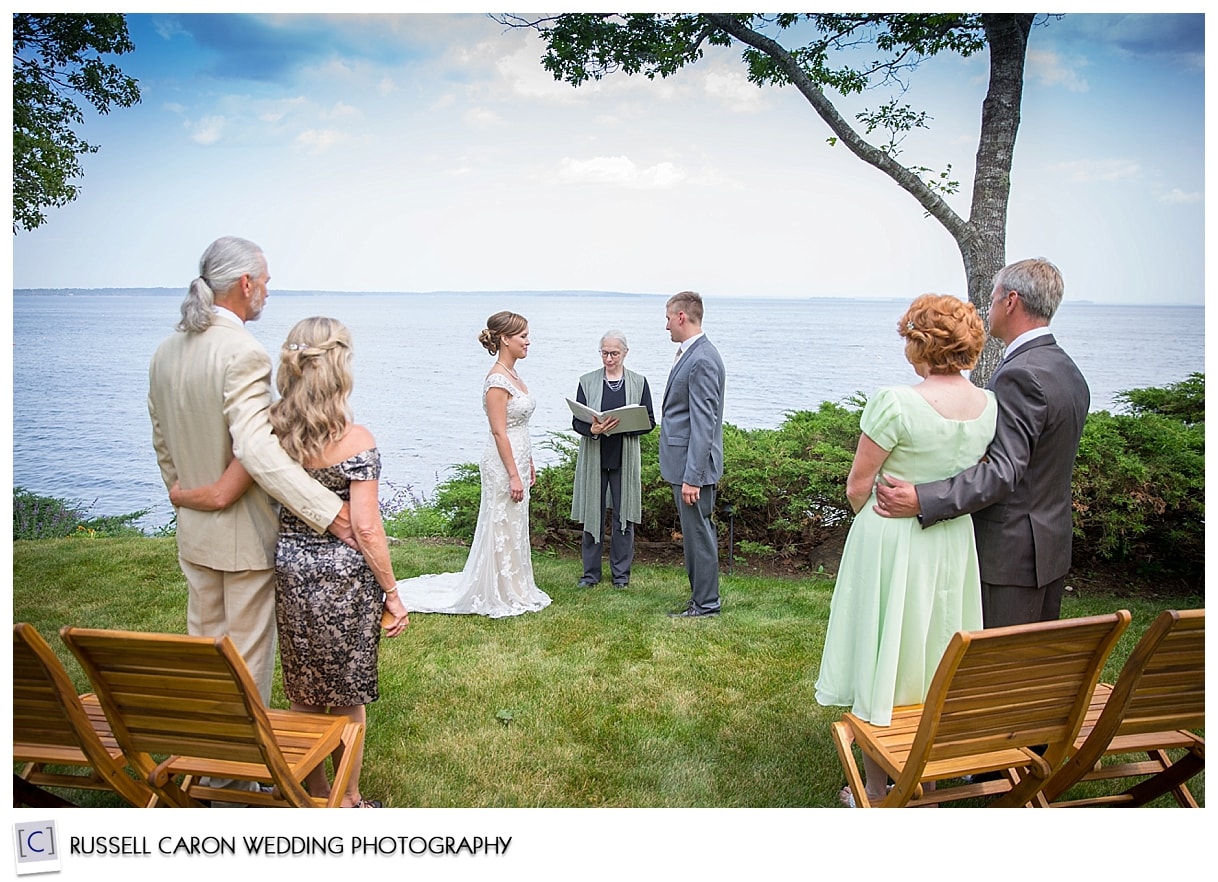 Josh looks emotionally at his bride-to-be.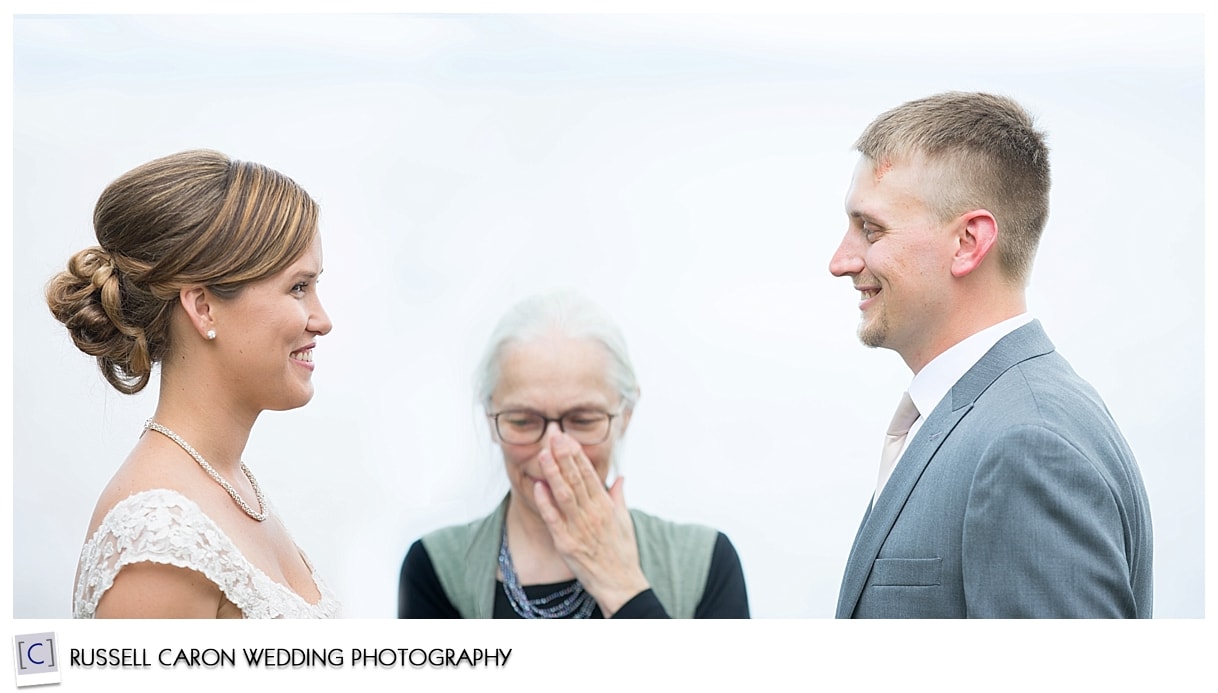 There were tears of joy flowing freely during the heartfelt vows. Even the officiant, Lois, an innkeeper at the inn, (and the photographers!) got misty-eyed.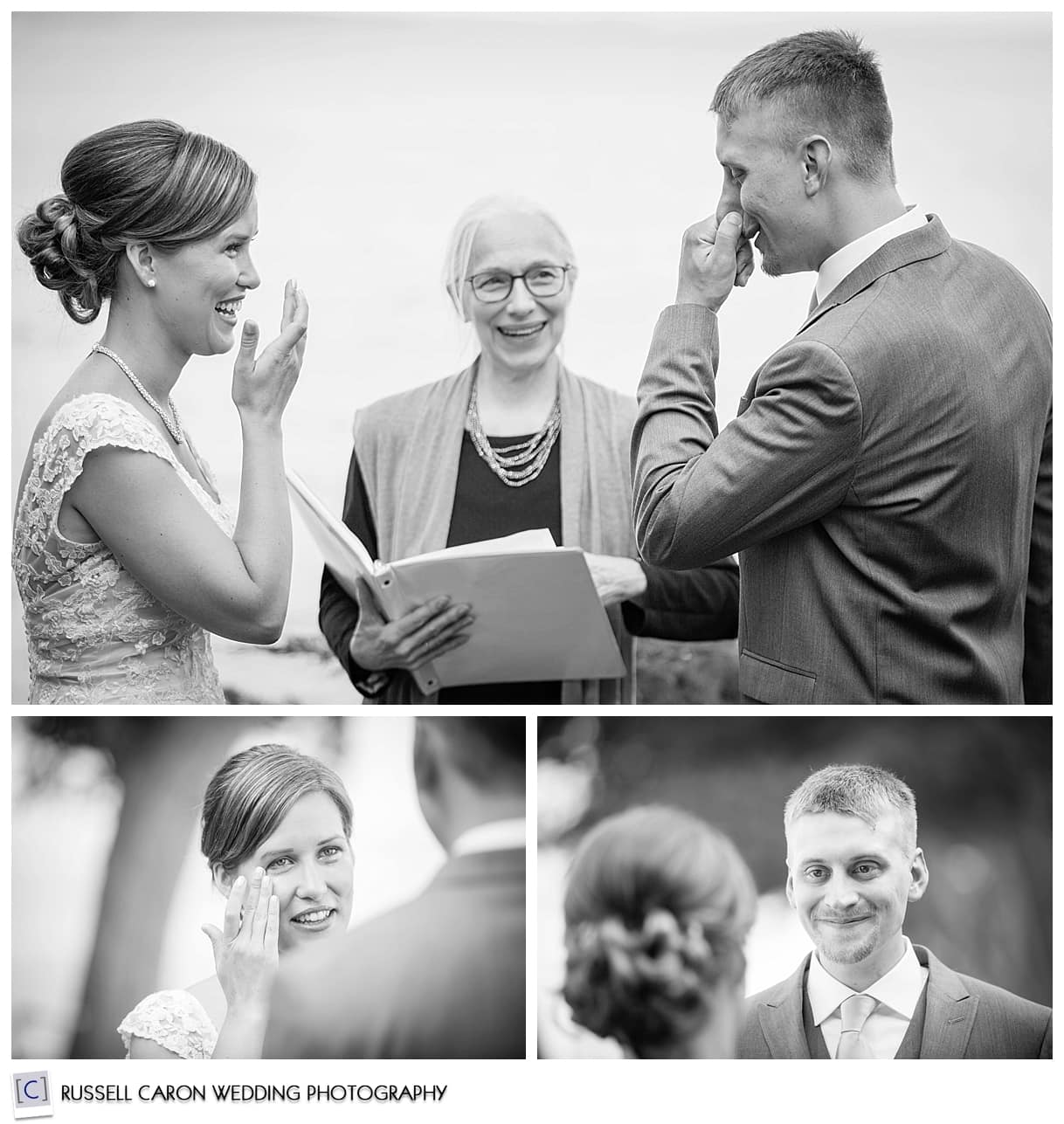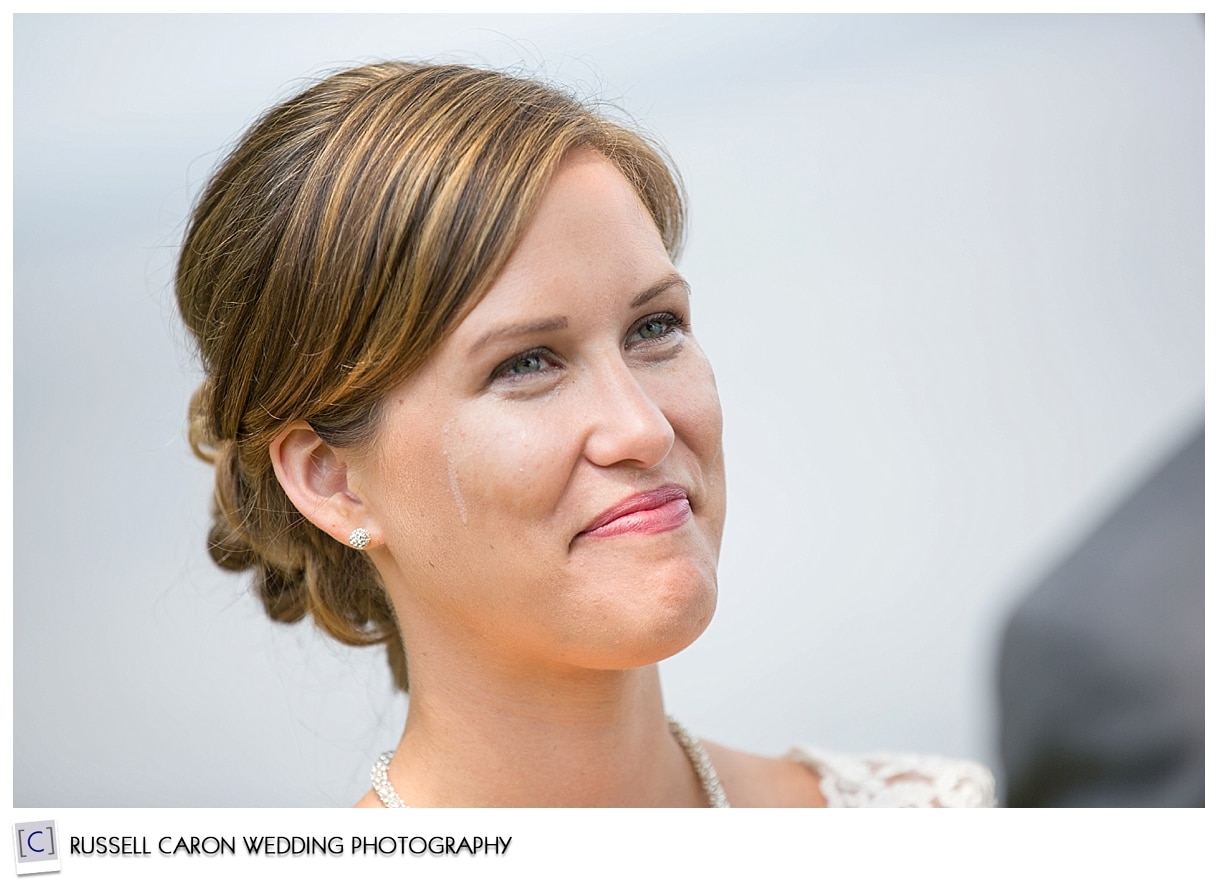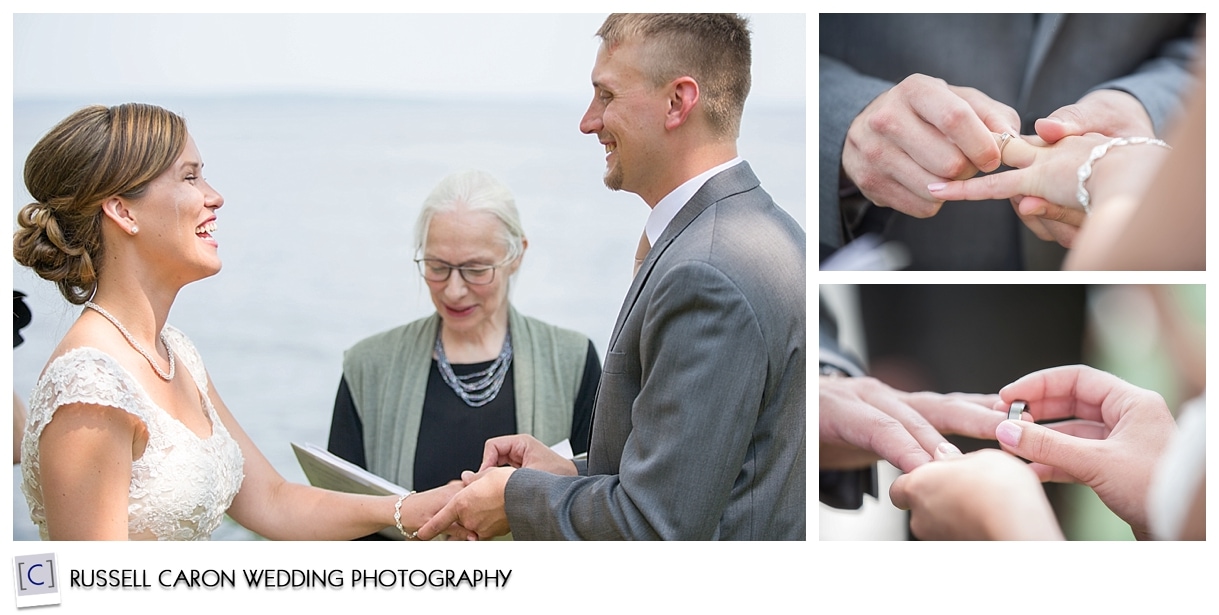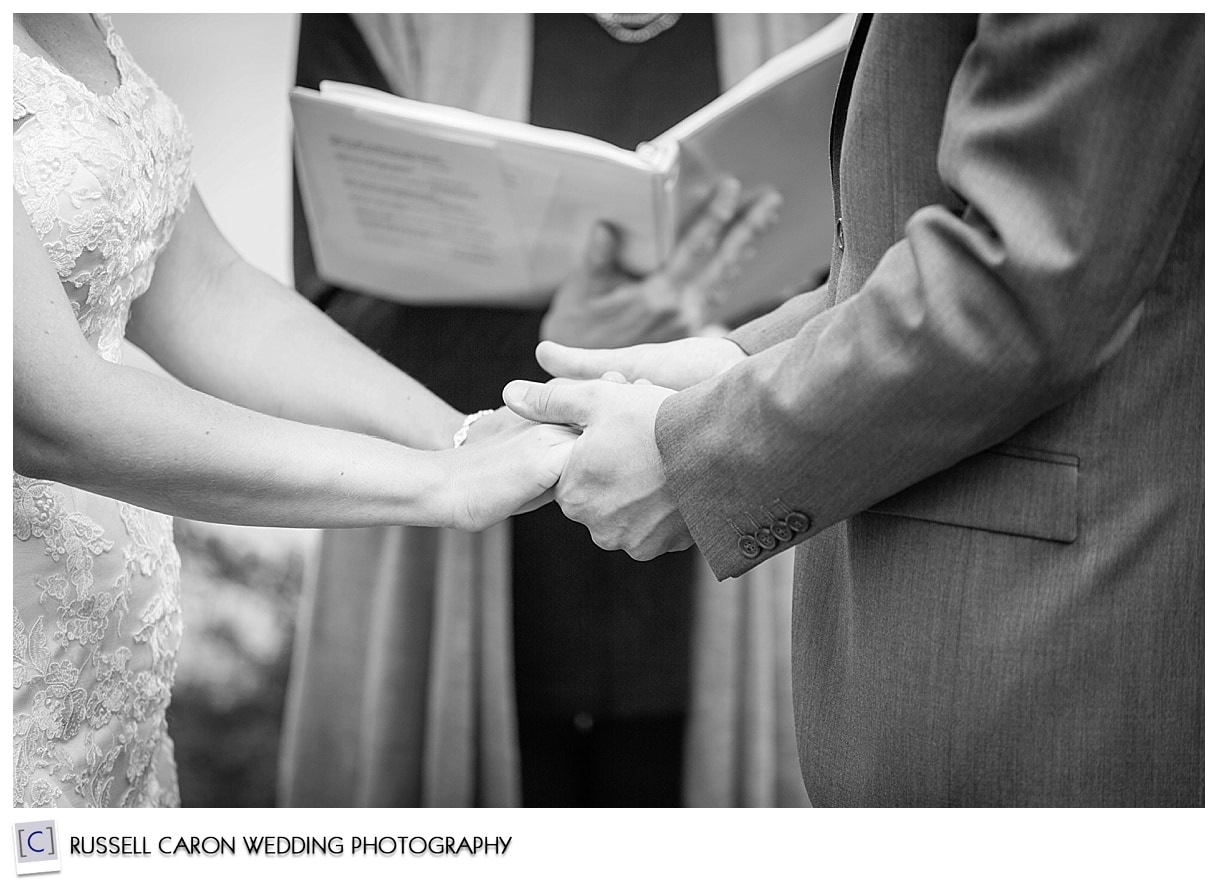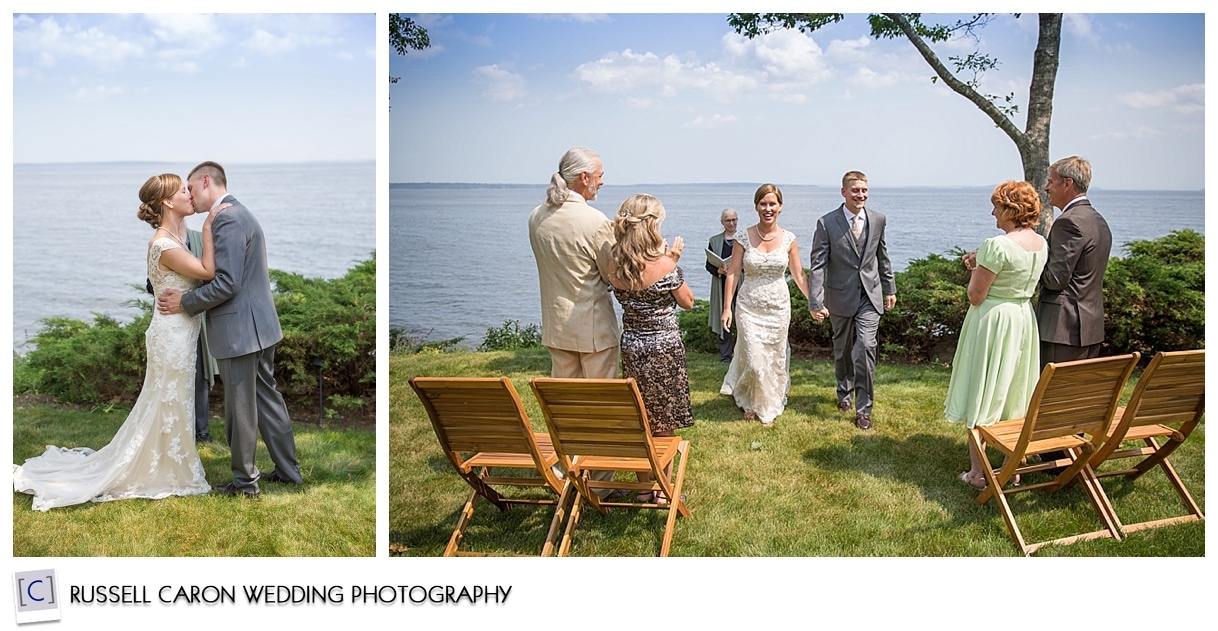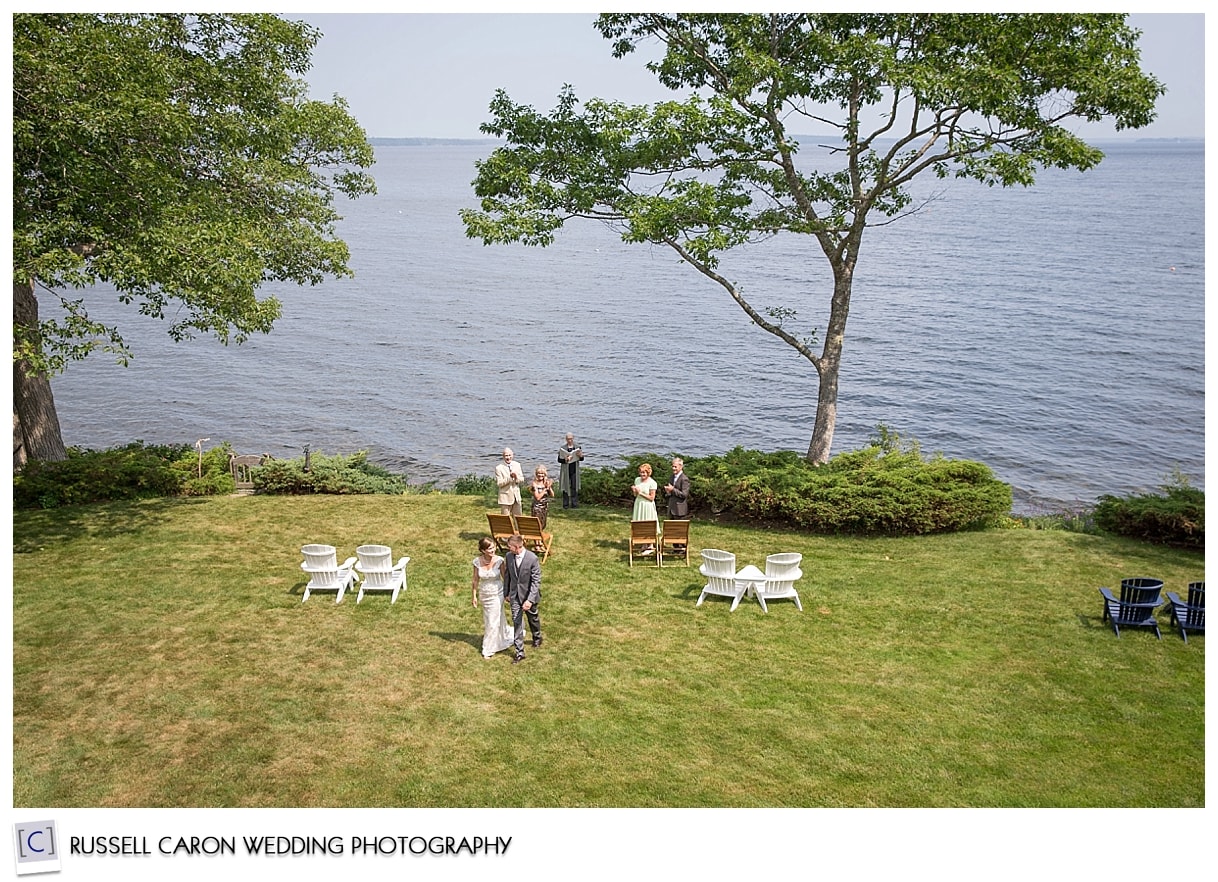 A toast befitting of the moment, the scenery, the location, the warmth, the love that was present!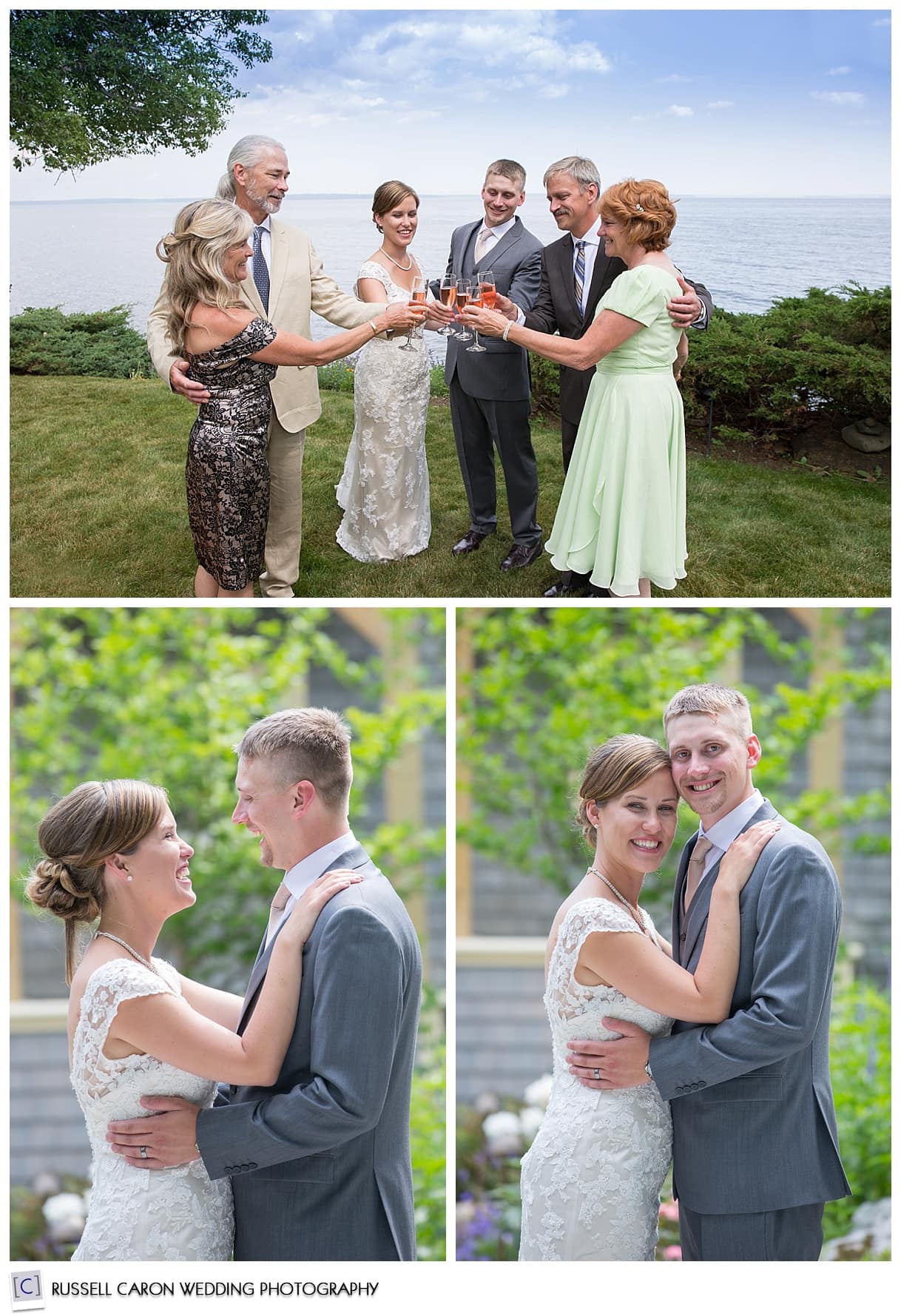 A first-walk along the shores of Penobscot Bay on an absolutely gorgeous Maine summer afternoon.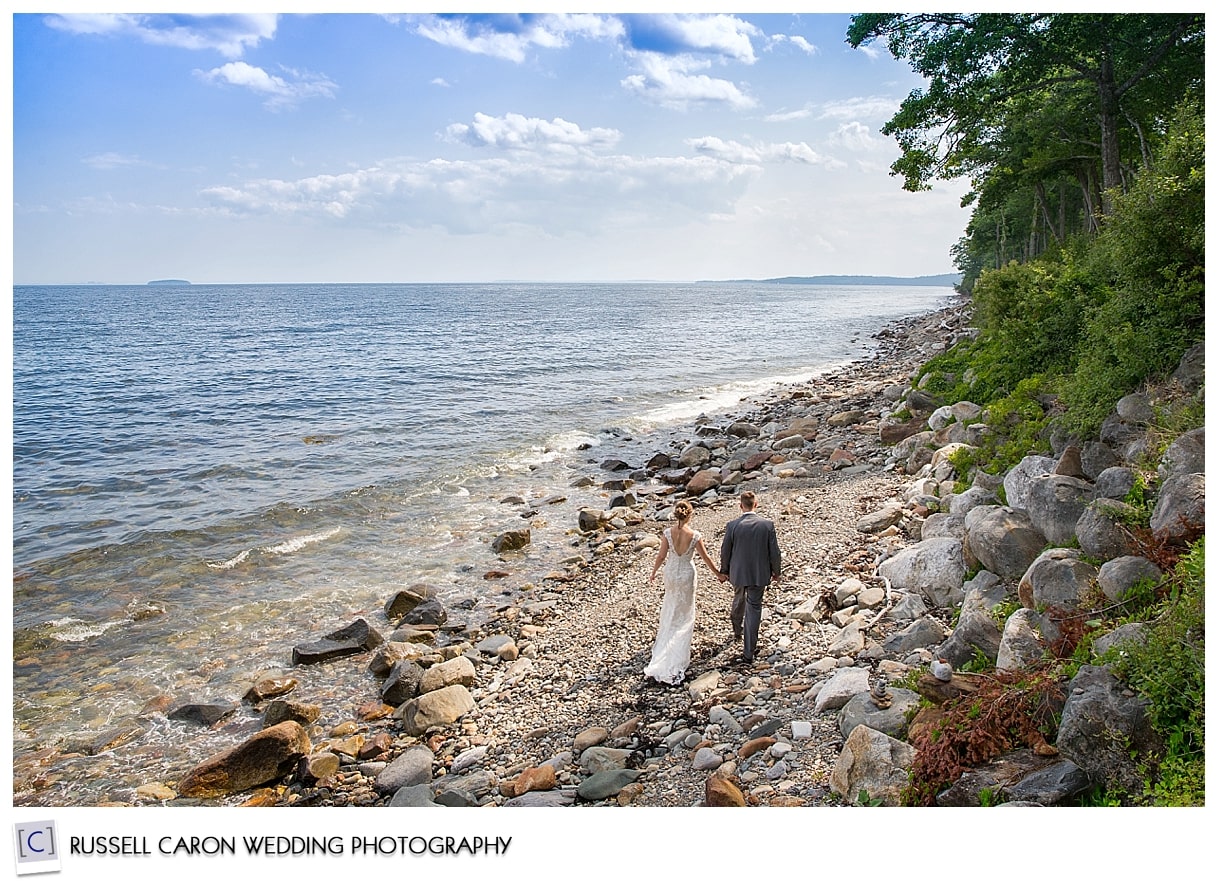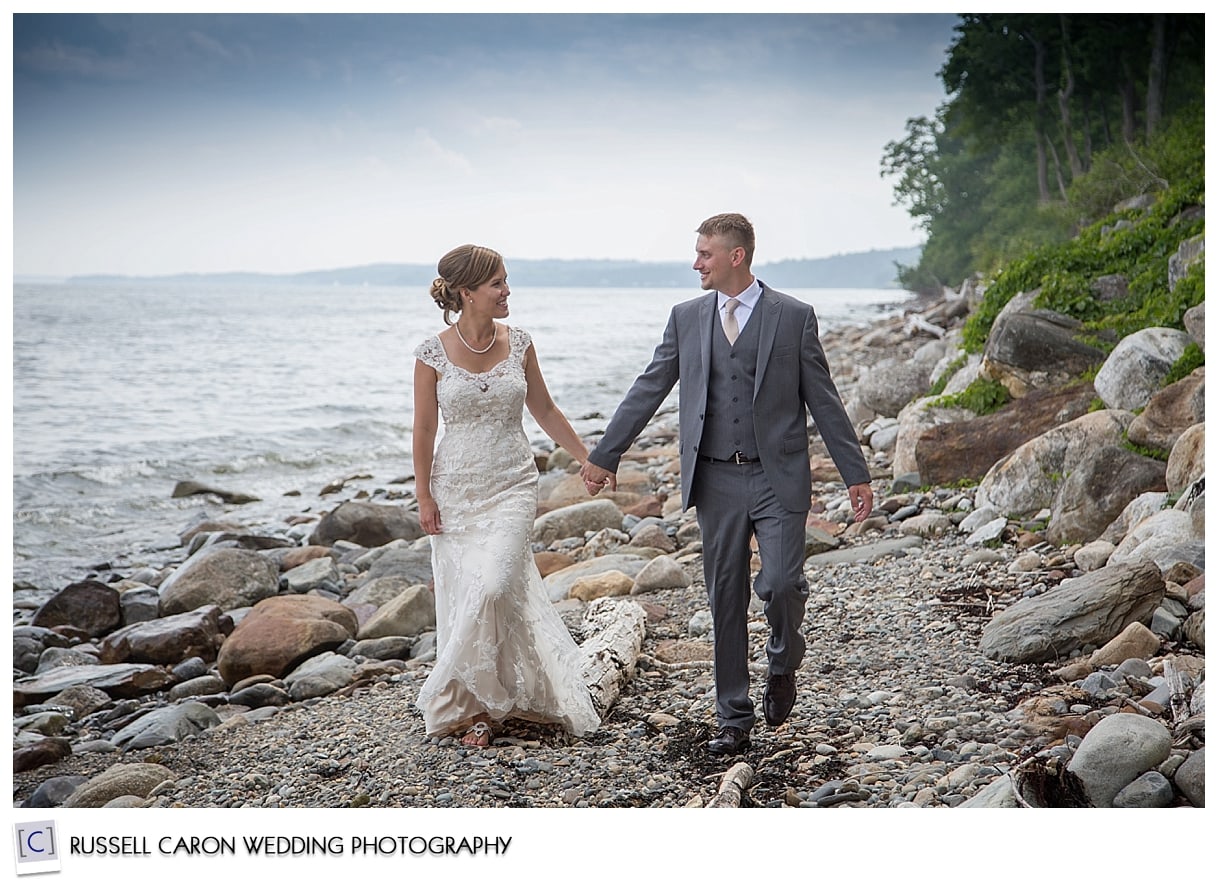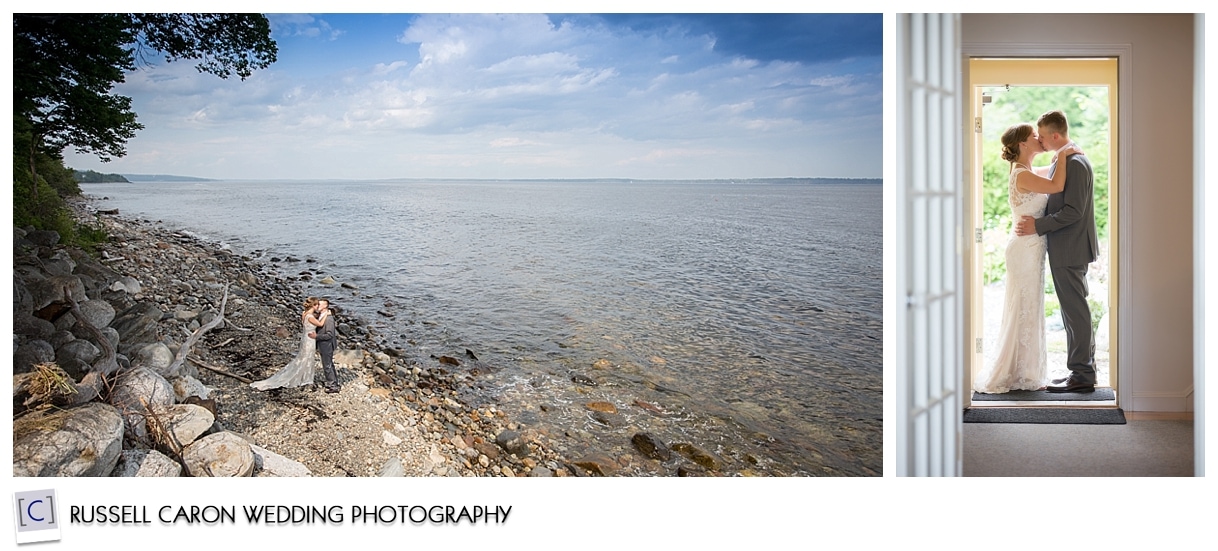 After the ceremony and photos, there were lawn games! Bocce! Corn hole! Even 'Yahtzee' with homemade, oversized wooden dice. Talk about fun! There was a bit of friendly competition, all in good fun, as you can see from the photos below. The bride was the only player to score a Yahtzee, with proof below!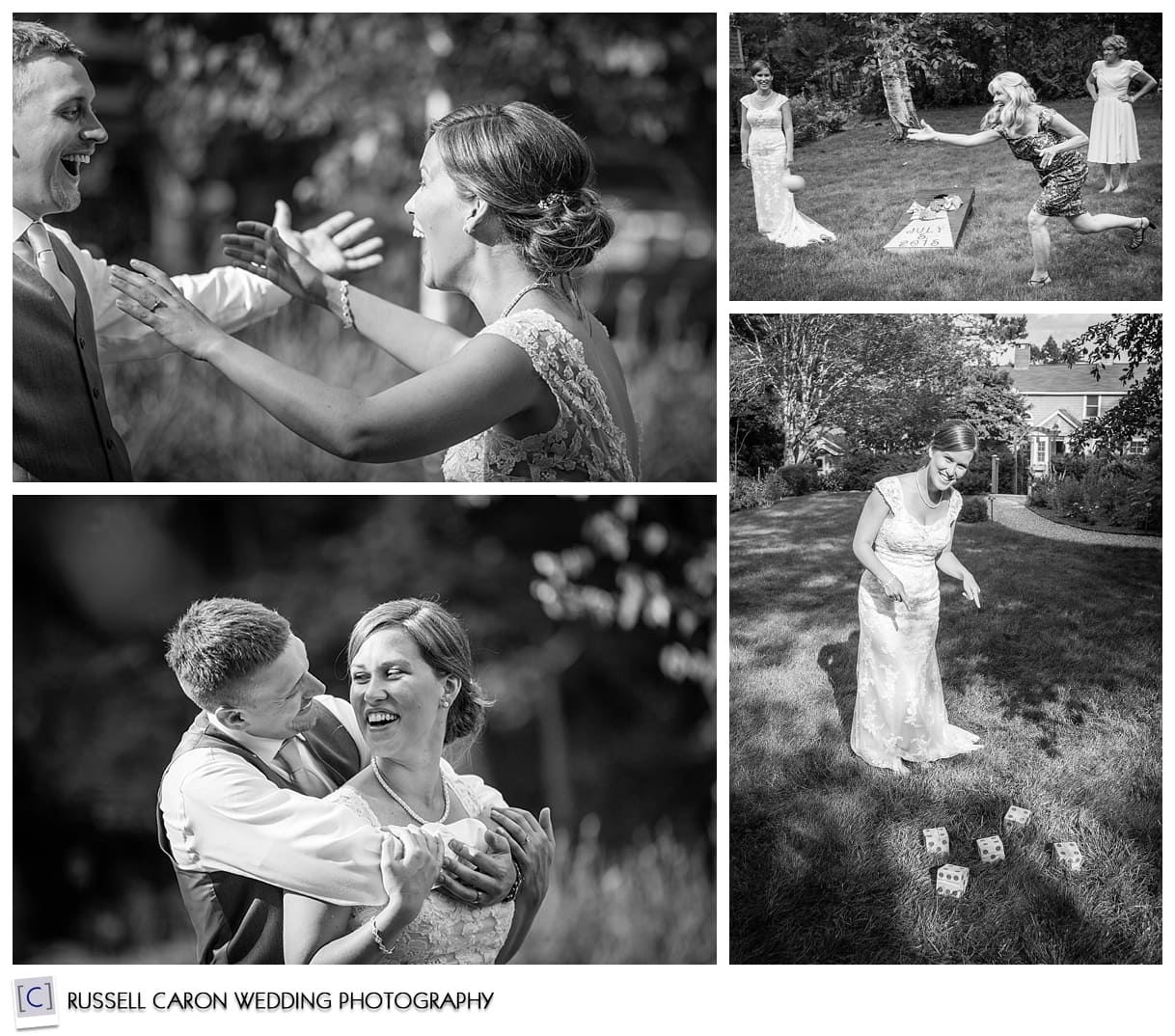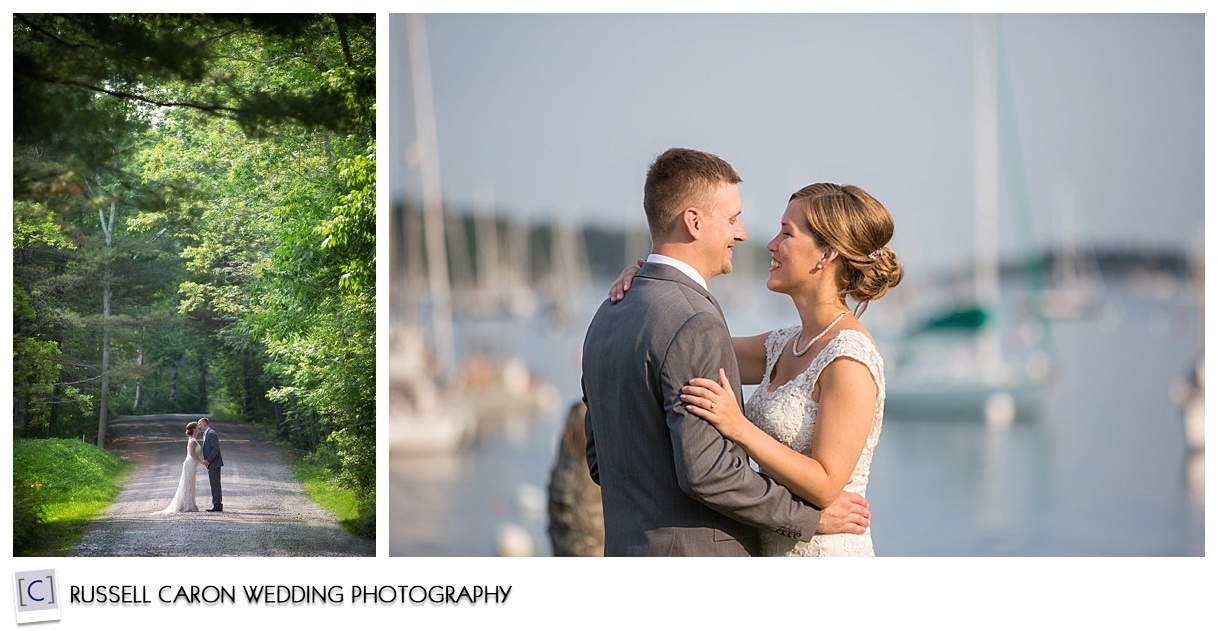 Emma and Josh hired a limo to drive them to their dinner reservations at Primo in Rockland. We followed and stopped at Rockport Harbor for a few scene setting photos, above right, and below.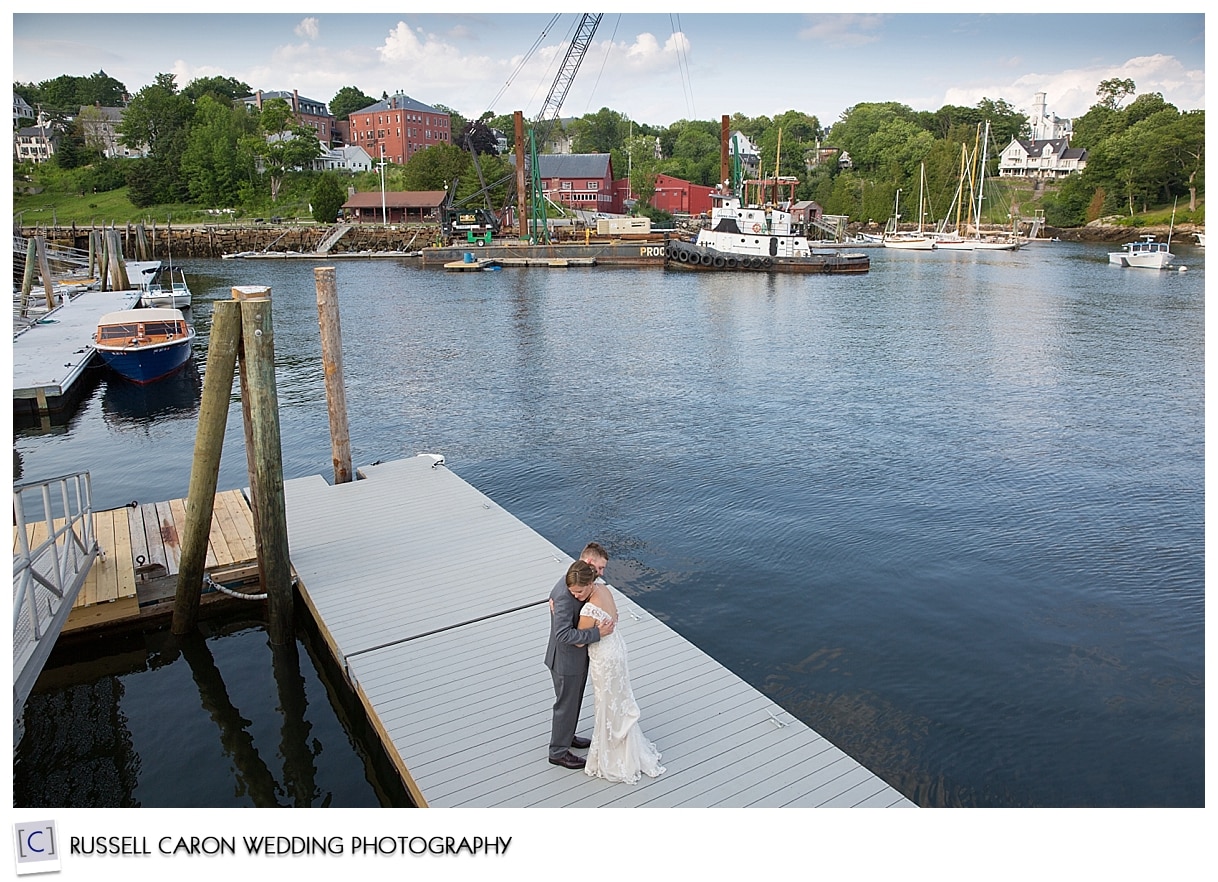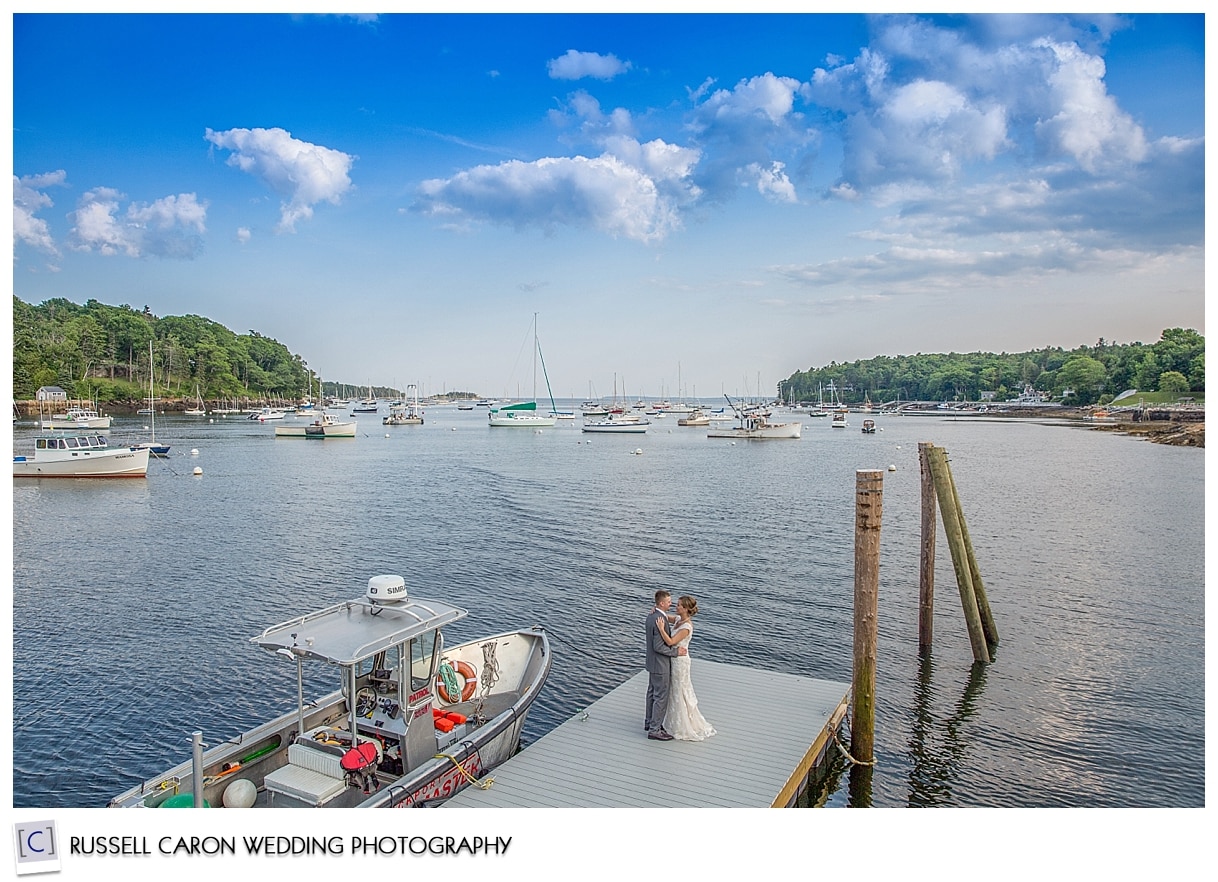 Another stop along the way included the breakwater near the Samoset Resort in Rockland, below.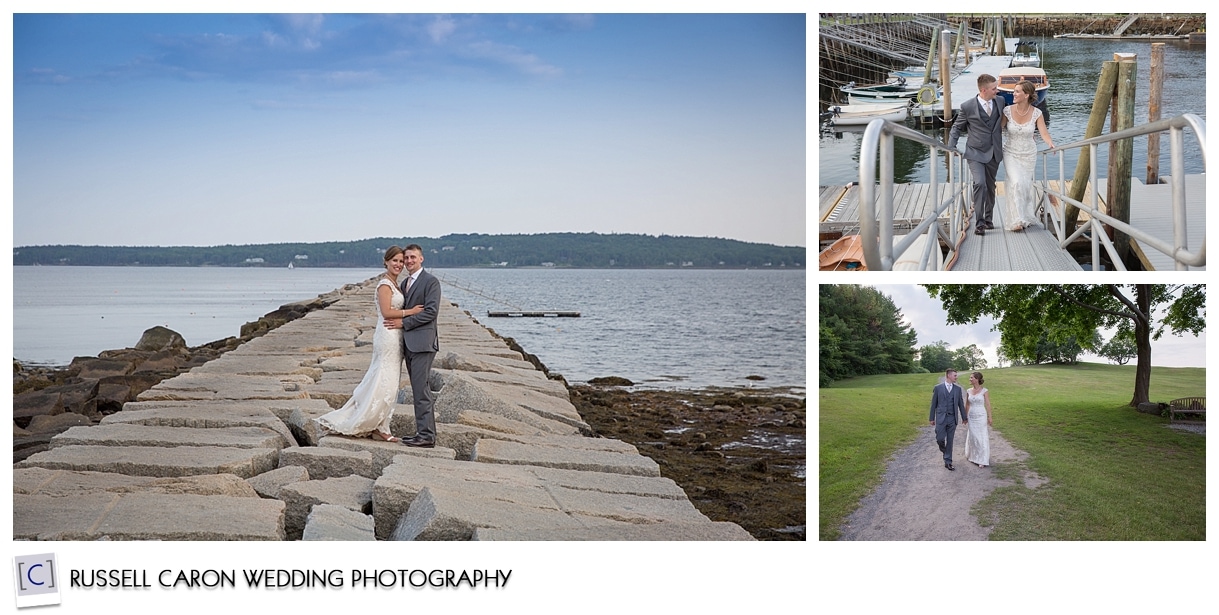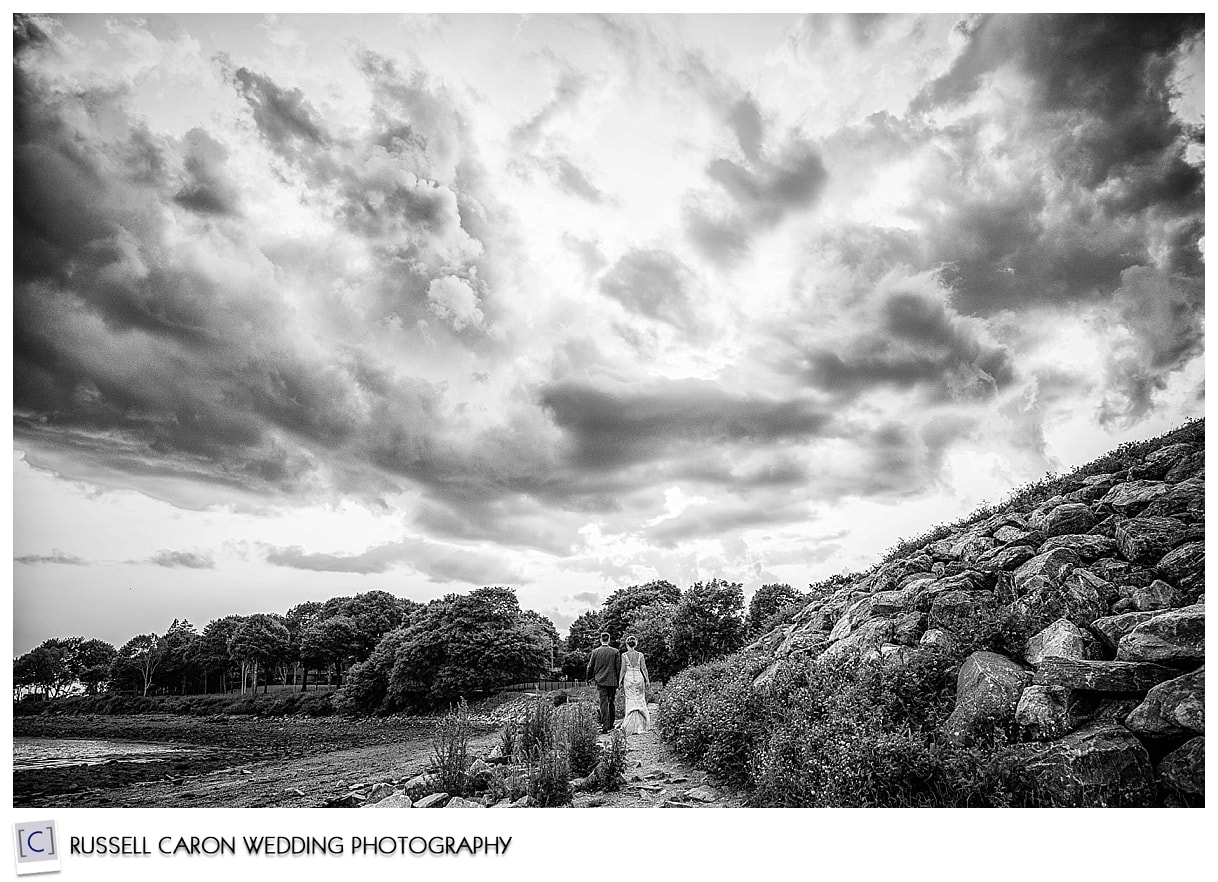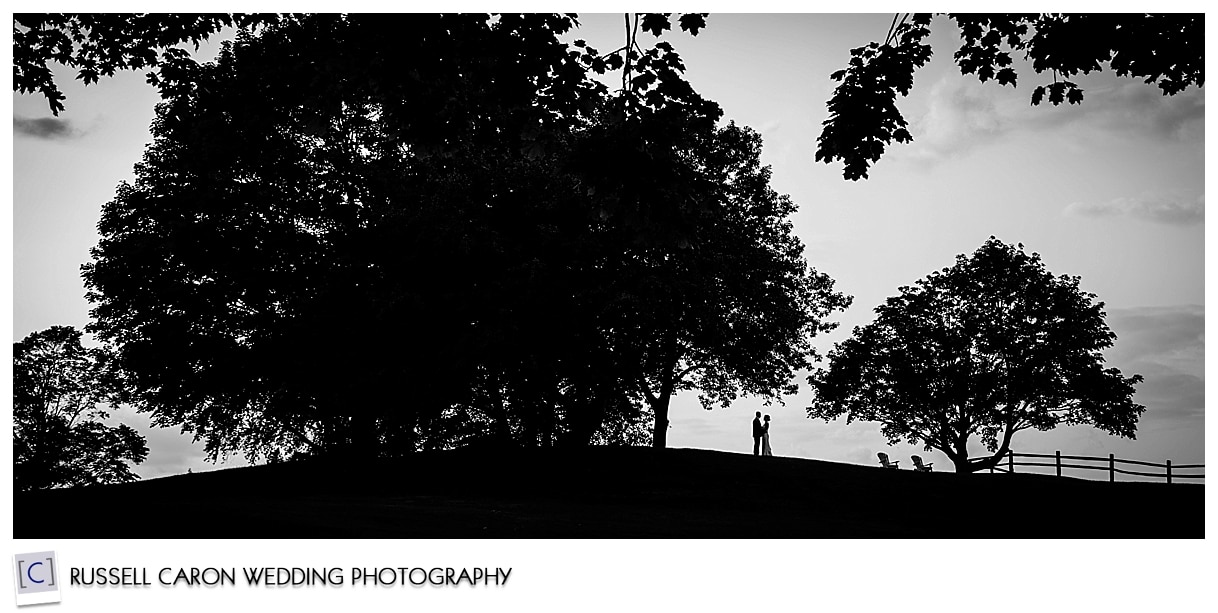 On the grounds at Primo, below. We received a note from Emma and Josh a few days later, noting that they enjoyed each and every bite of their fantastic five-star dinner! So take note, when you're in the area to check out Primo for one of Maine's best dining experiences!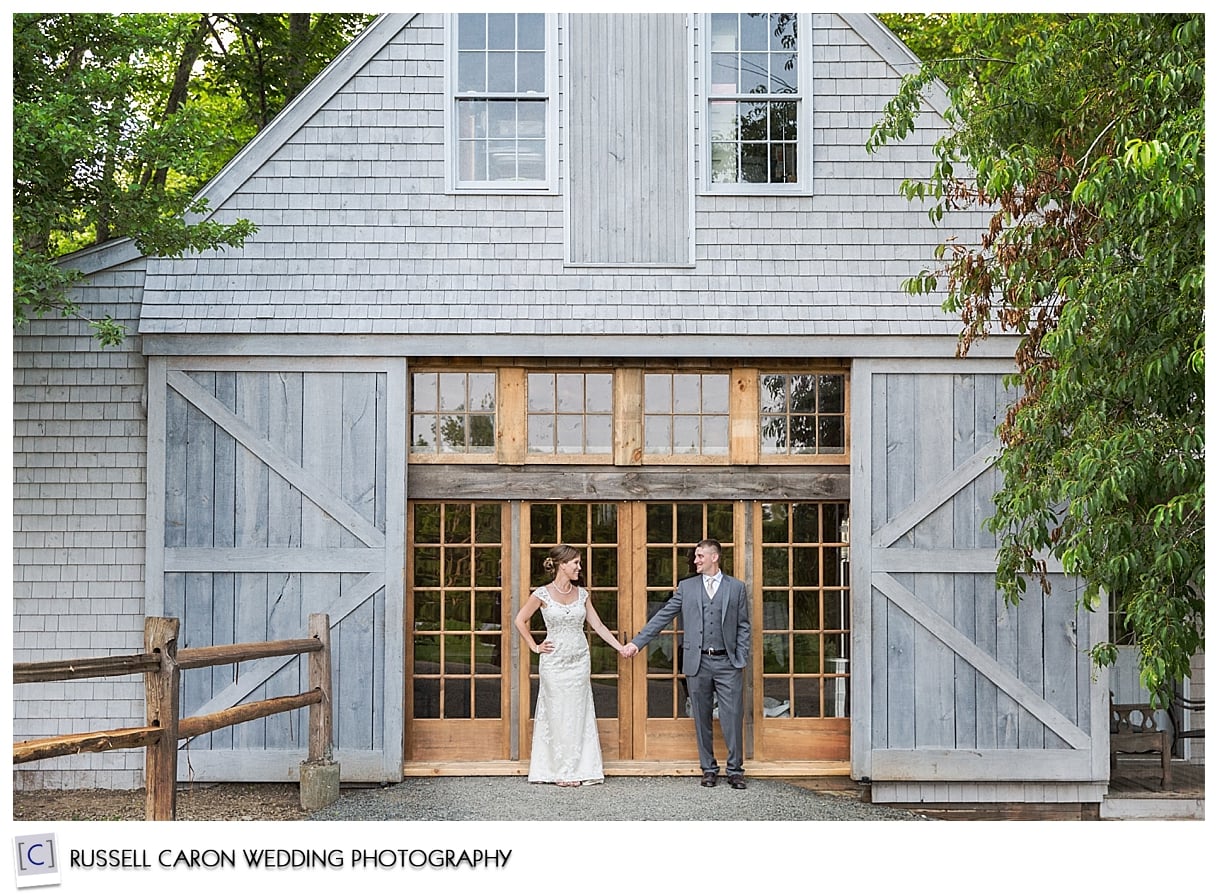 Let us know if you enjoyed Emma and Josh's Lincolnville wedding, by commenting and/or sharing this post. Thank you!
Maine wedding photographers, Russell and Liz Caron, a husband and wife wedding photography team, would love to be part of your special day. Whether you're having a small and intimate gathering like the Lincolnville wedding pictured here, or are going all out and having a huge bash, we would love to capture every moment of your wedding day. Traveling all over New England, the US, and worldwide, this dynamic pair specializes in producing natural poses and unparalleled art for your big day. For more information, please contact us right away!