Keyboard Accessory Cover for Lightroom Users
I love useful, innovative and high-quality products. It's a bonus when the price is reasonable and comes with a high dose of the "why-didn't-I-think-of-this-factor". Such is the case with this nifty keyboard accessory cover from kbcovers.com. Sorry, PC users, these are for Mac (desktop and laptop) keyboards only.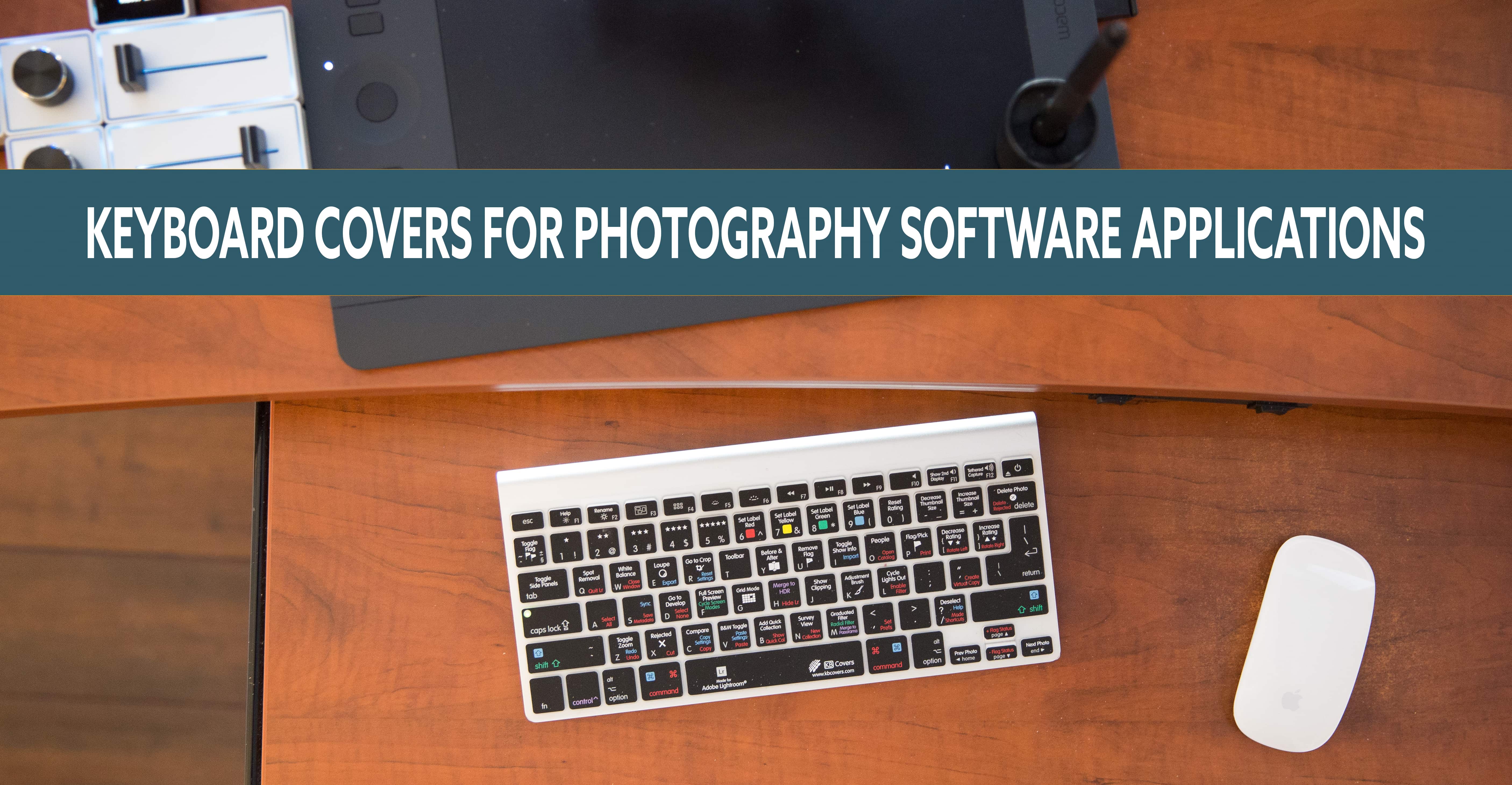 The concept here is pretty fundamental but ultimately supremely useful for most users. As long as I have been using Lightroom, and as many of these shortcuts as I may have known, the first few days of having this overlay on my keyboard I learned several new ones or was reminded of some of the more obscure ones I hadn't used in a while.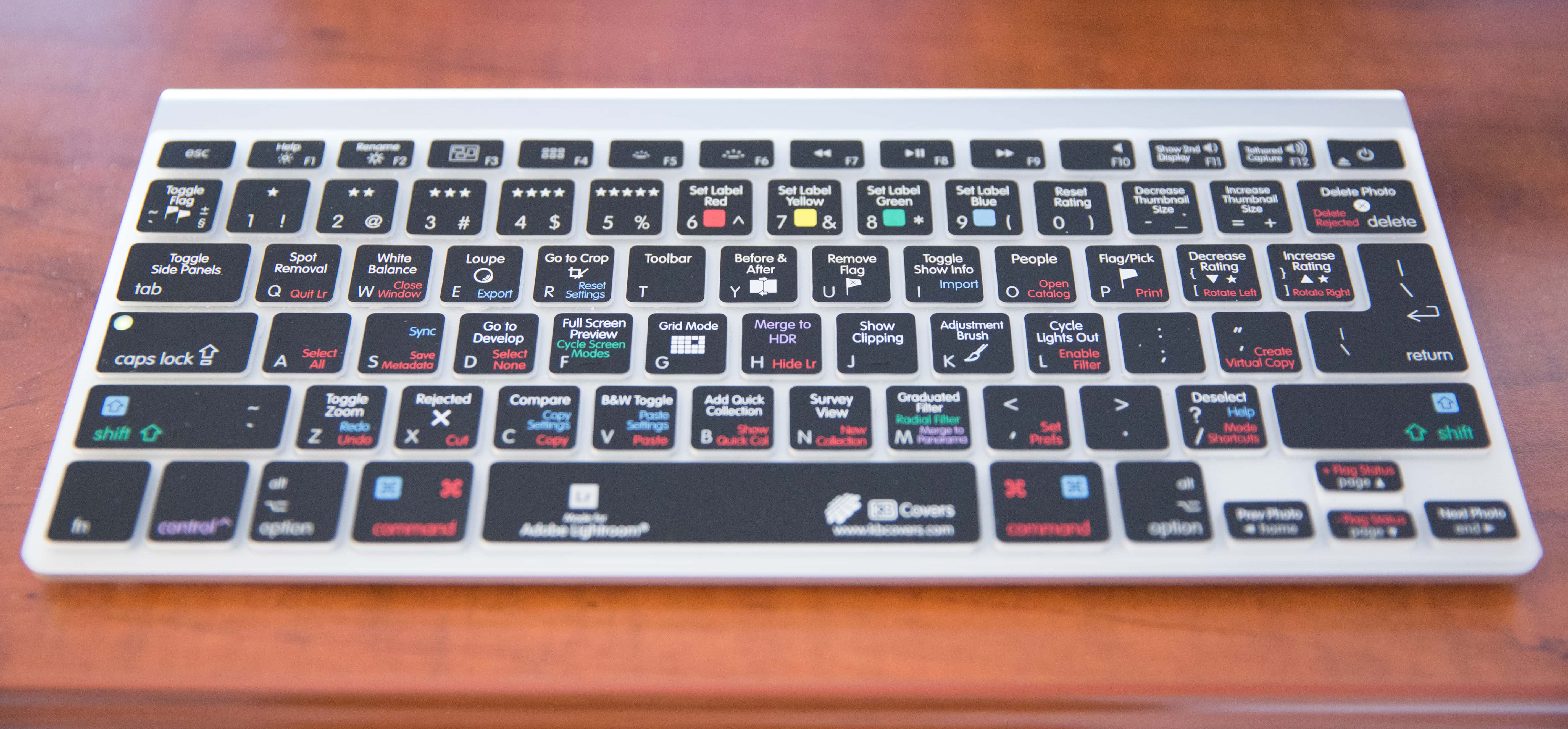 The functionality of the keyboard is 100% intact; regular "typing" works seamlessly as the thin, high-grade silicone cover doesn't impede the smooth press of the keys. All the while all those handy keystrokes are right there with crisp, clear coloring and multi-keystroke combinations intuitively marked. For instance, on the E key, the export function (note it's printed in blue) is accessed by pressing the shift plus the command key, as they are coded with blue. It can also be lifted off in a second's time, if desired. Or changed to a different cover for a different photographic or graphics app.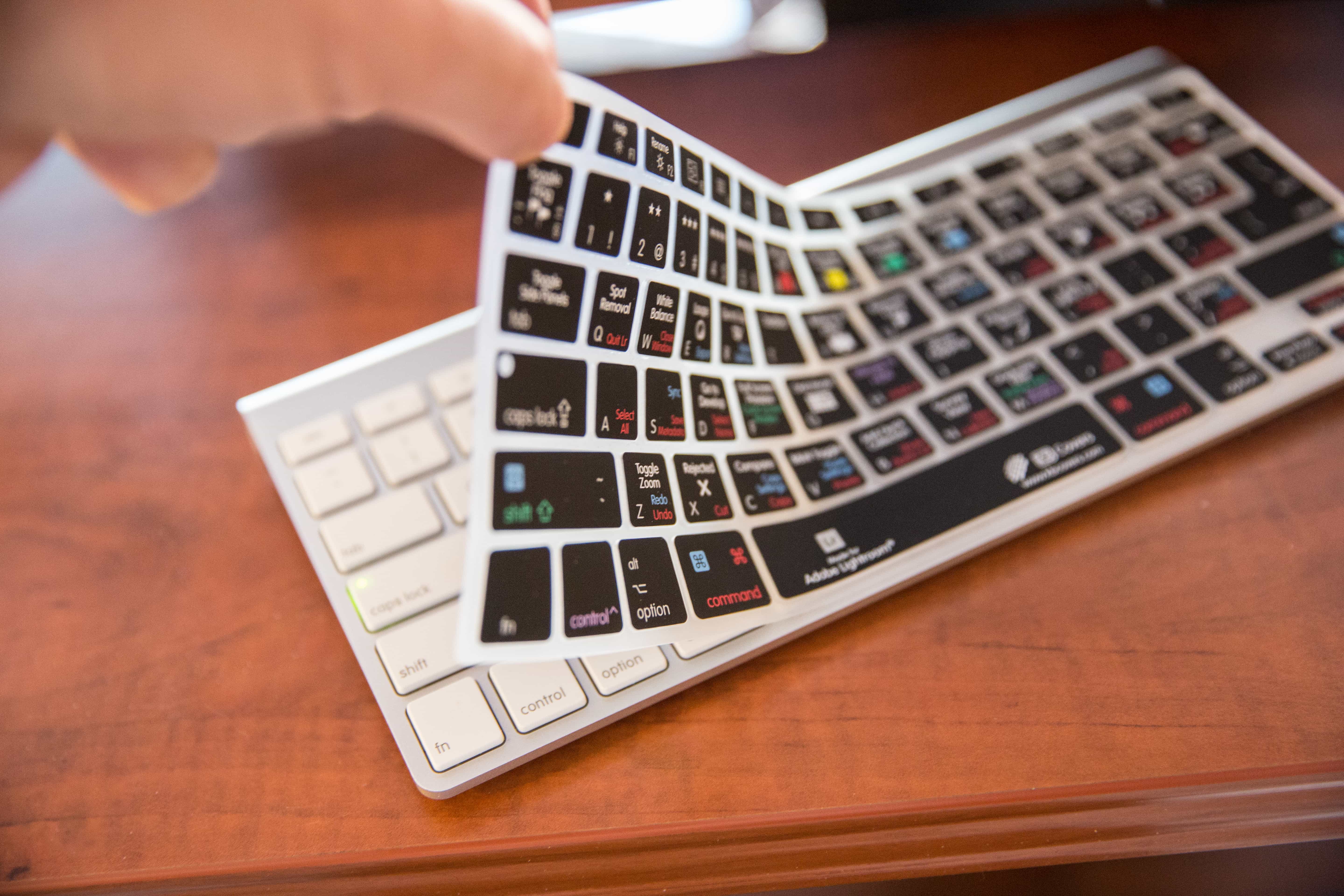 A user switching between, say, an extended Lightroom (Lr) session could very easily lift off the Lr overlay and replace it with the (different) PhotoShop overlay for a run of using that app. These covers are washable, increase productivity, and are one of those unique totally analog products that end up being "now that I have had this I couldn't go back to not having it!" type of upgrades.
KB Covers makes keyboard accessory covers that work with MacBook Pros, MacBook, and MacBook Air, plus the Apple wireless standard and extended numeric keypad ultra-thin models. Some covers work on an even wider range of Apple keyboards. There's a wide variety of software applications with specific keyboard covers, not to mention clear protective, school, and decorative covers. These are affordable, too: the cover pictured was under $30.
Most impressive is that the packaging (which seems pointless but for sure starts the quality experience off on the right foot!) the precision feel and manufacture, and even the key fonts match that of Apple products. Again, this is 25-year-old analog technology that seems so fresh even today; and I wish I had earlier realized how useful these could be. Coupled with my new Palette keys Lr productivity is set to reach new heights for our upcoming wedding season. Thanks to my brother R.L.Caron for pointing me to this fine keyboard accessory.
If you enjoyed this post on keyboard accessory cover for Lightroom users, please share! …and thank you!
Maine wedding photographers, Russell and Liz Caron present their Technical Tuesdays series. This Technical Tuesdays post, keyboard accessory cover for Lightroom users. Do you have questions, or recommendations for the Technical Tuesday series? Let us know in the comments! And don't forget to share this post with your friends. Russell Caron is available for workshops, group instruction, or one-on-one mentoring. Call Russ at (207)233-4050, or email him at russ@wed-pix.com.