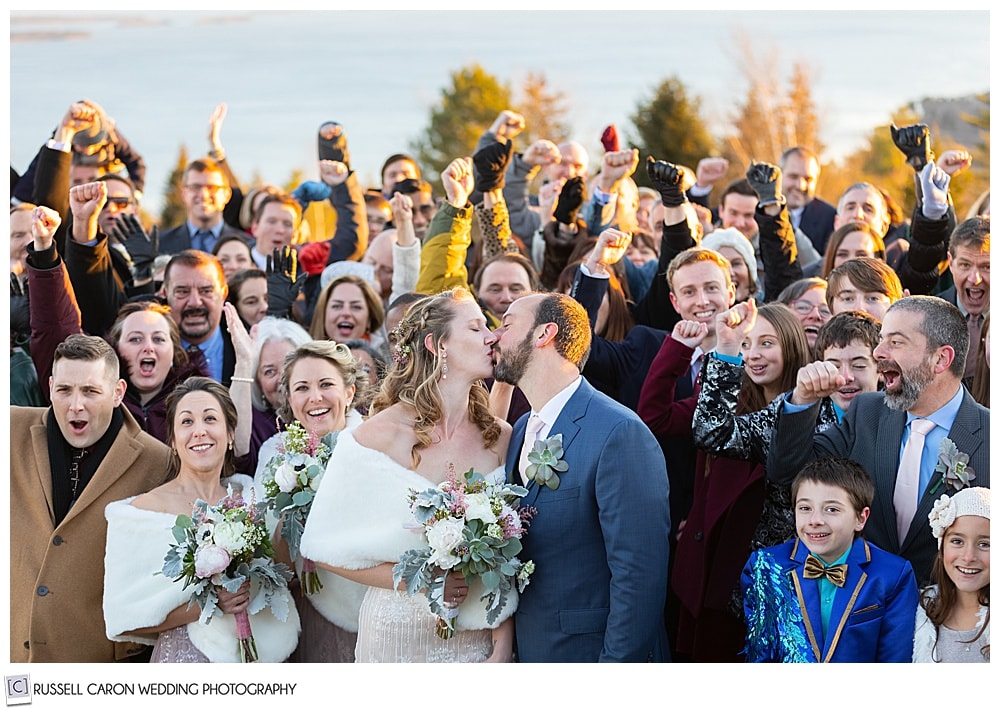 Julie and Lorenzo's joyful wedding kiss, with their families and friends smiling and cheering them on, is my #19 favorite of 2019!
What constitutes a favorite? For me, a favorite photo evokes a feeling for the moment, the place, and/or the couple. It may not be a crazy amazing photo (or it may be!), but may remind me of the specialness of the bride and groom, the fun we were having, or the day itself.
Julie and Lorenzo were so happy, excited, and easy going for the entire day. They were a joy to be around! It didn't matter what else was happening, they were living in each precious moment.
Their joyful wedding kiss happened just after the recessional. It was chilly outside, okay, it was COLD! And Julie and Lorenzo wanted a group photo of everyone in attendance. We quickly worked to gather family member and friends to take the group photo.
I loved the feeling of happiness, excitement, anticipation, and giddiness, and not just from Julie and Lorenzo. It was contagious! You can see it in the faces surrounding the couple. Guests are cheering, raising their arms, and smiling. It was an incredible feeling to be a part of this lovely day!
See Julie and Lorenzo's wedding: Midcoast Maine Wedding
Venue: Point Lookout
Photographers: Russell Caron Wedding Photography, photographs by Russell Caron and Liz Caron
Officiant: Scott Mazuzan
Floral Designer:
DJ: Dionne Entertainment
Hair and Makeup Artist: Green With Envy Salon
Wedding dress designer: Allure Bridal
Wedding dress boutique: Andrea's Bridal
Cake: Vicki Pettinger
Photo Booth: Maine To Boston Photo Booth
Please comment on the blog post, if you enjoyed our joyful wedding kiss photo! And please share!! Thank you 🙂 Come back every day, until we reach #1 on December 31!
Midcoast Maine wedding photographers, Russell and Liz Caron, are romantics at heart who love photographing people in love. Are you getting married? No matter where your wedding is located, we'd love to travel there and take breathtaking wedding photos. For more information contact us right away!