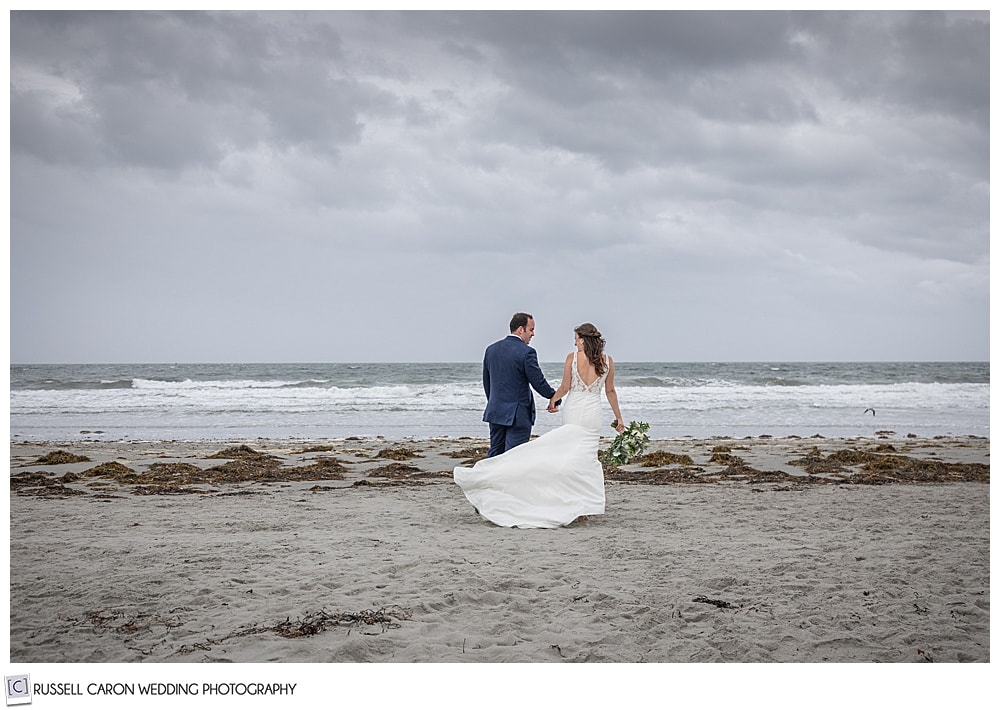 Erin and Sean had one of the most fun weddings of the 2019 season! And here's why: they didn't let anything get to them. Whatever came at them, they took in stride. Including this windswept Maine wedding photo!
It wasn't raining at this point of the day, but the wind was pretty fierce, as you can tell from the movement of Erin's dress. What you don't see is that moments before, Erin's veil flew out of her hair! Luckily, it didn't go far!
Having that easy-going attitude definitely helps when your wedding day doesn't turn out exactly the way you'd hoped. Maybe there's rain, or too much wind, or too high of a tide to walk on the beach. Erin and Sean knew that at the end of the day, what mattered most was that they were married. And, that they had one heck of an amazing dance party 🙂
See Erin and Sean's wedding at: Colony Hotel Kennebunkport Wedding
Venue: The Colony Hotel
Photographers: Russell Caron Wedding Photography, photographs by Russell Caron and Liz Caron
Planner: Kim Charland at Destination Maine Weddings
Officiant: Rev. Fred Morse, St. Martha Church, Kennebunk ME
Floral Designer: Flour Events
Band: Brick Park
Hair and Makeup: Big Day Beauty
Wedding dress designer: Sarah Seven
Wedding dress boutique: Ceremony Bridal Shop
Paper suite: Shine Wedding Invitations
Videographer: Levi Hanusch Wedding Videography
Cake: Flour Events

Please comment on the blog post if you enjoyed our windswept Maine wedding photo! And please share!! Thank you 🙂 Come back every day, until we reach #1 on December 31!
Colony Hotel Kennebunkport wedding photographers, Russell and Liz Caron, are romantics at heart who love photographing people in love. Are you getting married? No matter where your wedding is located, we'd love to travel there and take breathtaking wedding photos. For more information contact us right away!