Exceptional Wedding Images
December 26, 2015: Here we are, now in the top 5 exceptional wedding images of 2015.  Exceptional wedding images that inspire us, evoke emotion, and talk to us with impact and storytelling.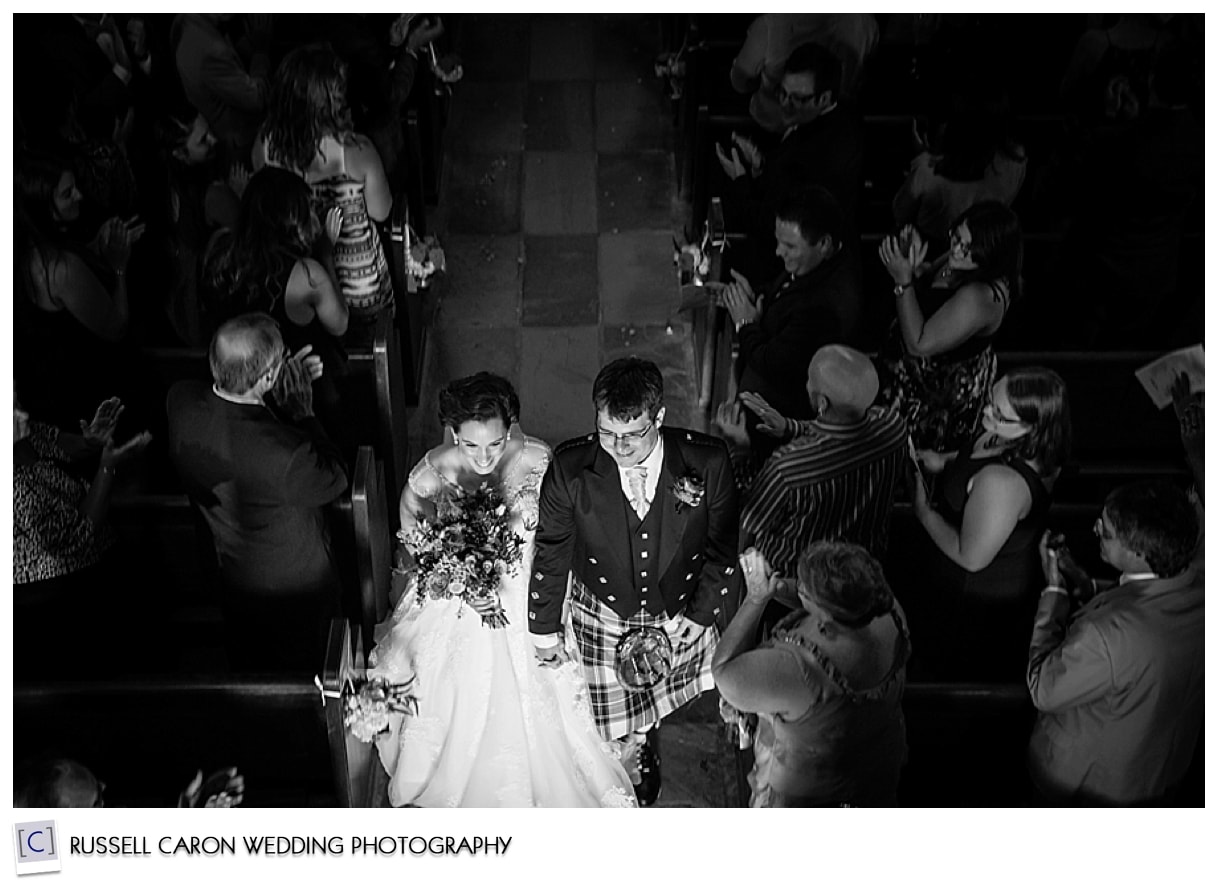 #5
Audrey and Chris had a perfect August wedding at St. Ann's Episcopal Church in Kennebunkport, Maine. In addition to family and friends, guests in the church included many priests, as Audrey is an Episcopal priest. It was an emotional and special ceremony, for so many wonderful reasons. When Audrey and Chris exited the church, Liz, from the balcony above, captured this splash of light that so brilliantly illuminated the newlyweds. The crowd of people clap in happiness as the couple radiates their own sheer joy with beaming smiles. Every time we look at this photo we can't help but smile. If you've been following along with our countdown, you have indeed seen Audrey once before: the portrait of Audrey standing near an open doorway in this very same church was our #23 Top Wedding Photo of 2015. We love how what inspires us and gets an image into our top favorites category can be, and is, so varied. For sure we have our most-loved styles, often including wide, dreamy scenics that look unposed, and lovely bridal portraits. We love how we blend the different ways weddings can be photographed, including this example of pure journalism, a real moment, a second of time immortalized in a still image. You can see the rest of Audrey and Chris' beautiful Nonantum Resort Wedding here.
Photograph by: Liz Caron
Watch for  #4 of our exceptional wedding images tomorrow! Wondering what our #1 choice will be? Be sure to check back the rest of this week!
Russell Caron Wedding Photography puts the fun into wedding photography for Maine wedding couples. Feel the love as this dynamic pair effortlessly capture each of your cherished moments, producing natural poses and unparalleled art for your special day. For more information, please contact us right away!