Emotional Wedding Moments
Merry Christmas Day! December 25, 2015: Here's #6 of our Top Wedding photos of 2015 and it's one of our favorite emotional wedding moments: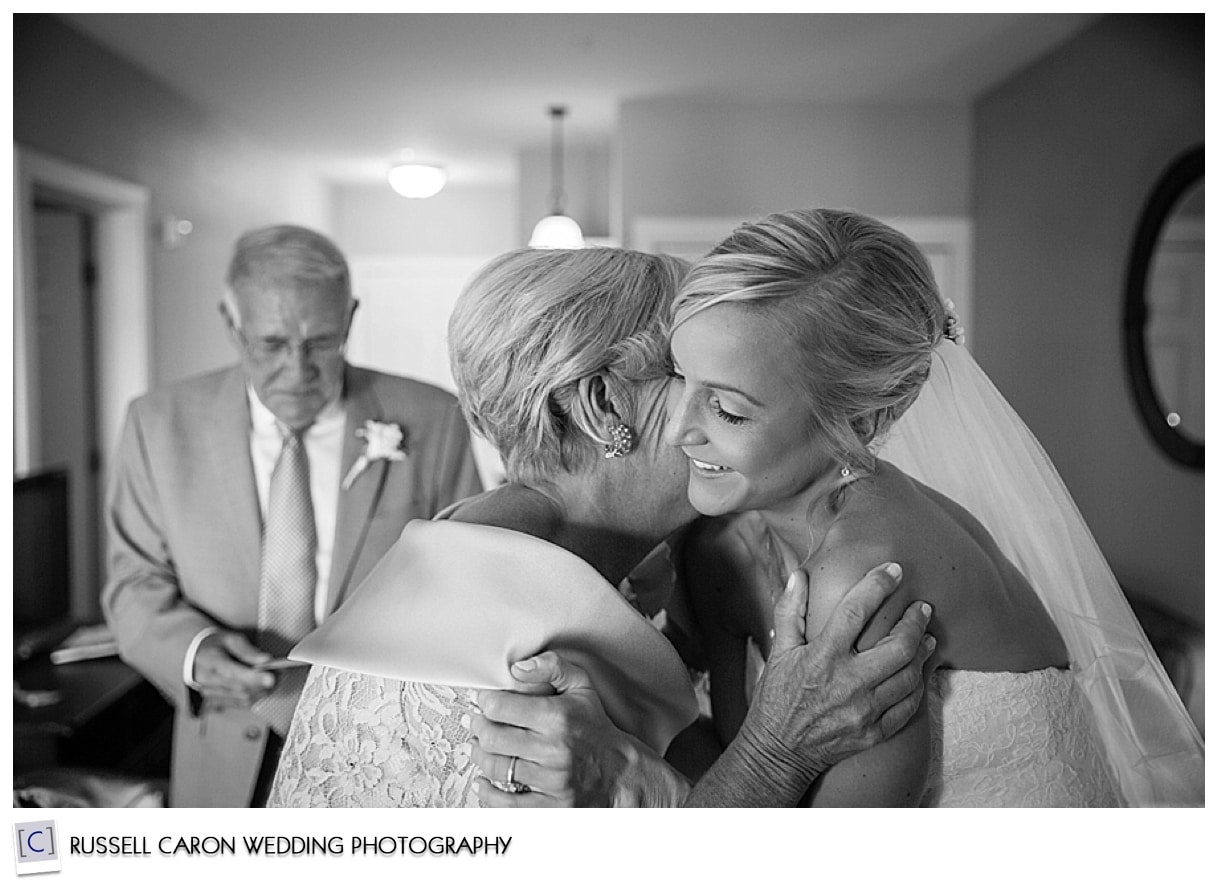 #6
Ali shares a most special hug with her mom moments before her wedding ceremony to Charlie at Sebasco Harbor Resort in August. In the background with intentional soft focus is Ali's dad, reading a heartfelt message on a card just given to him by his beautiful daughter. So many emotions pour through at times like this. With so much planning for a relatively long period of months prior, suddenly everyone realizes the minutes don't stop and the time is her! We know that we, as the wedding photographers, arrive, it more than cements the fact that it is all real. This is THE day. Even though mom's face isn't on the camera side of things here, it's pretty easy and certain to know mom's emotions were really high here, too.
Moms have tears of joy, brides smiles of happiness, and dads have their own way in their quietness to realize of realizing what a monumental occasion this really all is. Time for reflection, time to realize raising a daughter from birth to adulthood went by a lot faster than anyone could know would happen. Time for joy to overtake the emotion, and time for moments like this. Like we mentioned in yesterday's post, these are moments we are so proud to be a part of. These are the emotional wedding moments that mean the world to our clients! See the photos of Ali and Charlie's Sebasco Harbor Resort wedding.
Again, another case for classic black and white.
And, if you love these mother-daughter moments, please do stay tuned to the rest of our installments in this year-end best countdown!
Photograph by: Russell Caron
Thank you for following along in our top 50 Images from 2015. We're in the Top 5 starting tomorrow! There will be more emotional wedding moments yet to come!
Maine wedding photographers, Russell Caron Wedding Photography, puts the fun into wedding photography for Maine wedding couples. Feel the love as this dynamic pair effortlessly capture each of your cherished moments, producing natural poses and unparalleled art for your special day. For more information, please contact us right away!