Environmental Wedding Portraiture | Kennebunkport Maine Wedding Photographers
What is environmental wedding portraiture? For us, it's when we take our couples into the area surrounding their wedding location. We then find the right look in terms of direction, light, composition, and background. Then we direct the couple relative to what we we'd like to see them doing in the photo. Now and again, something different happens during this process, such as our #2 image. We'll elaborate more below.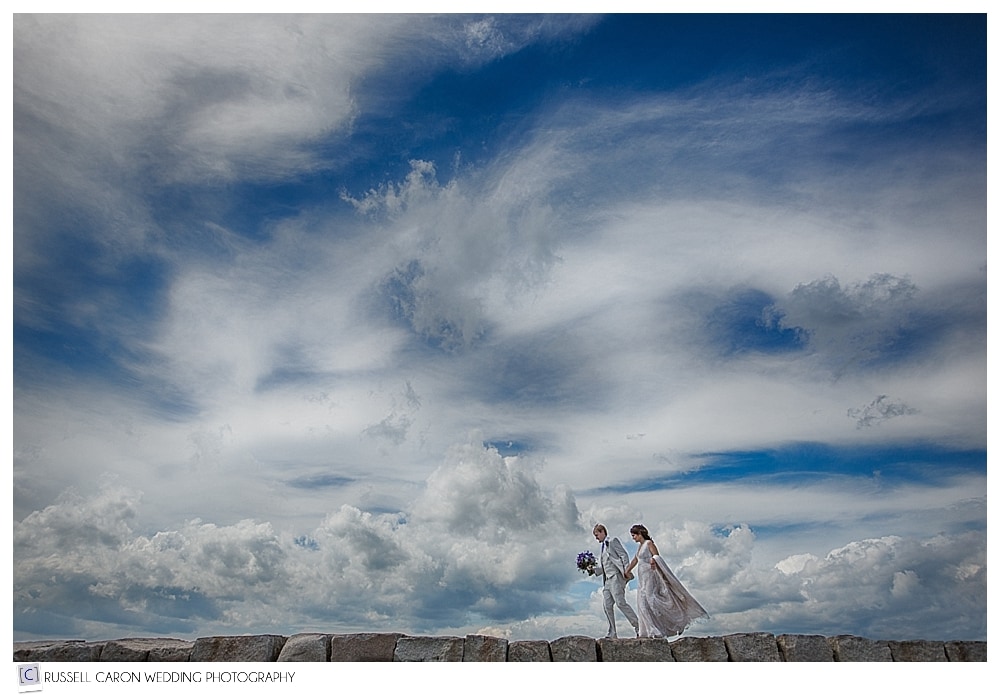 #2 of 2016 | Environmental Wedding Portraiture
First, let's note that we just saw Jennifer and Mike two days ago in our #4 best wedding image of 2016. In that photo, Jennifer's dad so happily embraced Mike at the beginning of the wedding ceremony. It was an abundantly rich day for winning photographs, to be sure.
About the photo:
We had envisioned sending Jennifer and Mike further down the breakwater rock wall for our shot. Yet, while walking toward the designated spot, something great happened. With Mike carrying Jennifer's bouquet so she could drape her beautiful gown over her arm, we captured this moment. And with that striking and amazing cloud structure as the dramatic backdrop. As such, it blends the love we have for directed environmental portraiture with a genuine and very real moment.
This wedding was based at the classic, iconic, and stately Colony Hotel in Kennebunkport, Maine.
Environmental wedding portraiture really gets us excited!  Do you love this kind of photo? If yes, there will be a similar one again tomorrow! To recap, this is our next-to-last day of our Top Images of 2016 countdown, and tomorrow we will present our #1 Top Wedding Image of 2016, so please be sure to watch for it!
Kennebunkport Maine Wedding Photographers, Russell and Liz Caron, put the fun into wedding photography for Maine wedding couples. Feel the love as this dynamic pair effortlessly capture each of your cherished moments, producing natural poses and unparalleled art for your special day. For more information, please contact us right away!