Breathtaking Wedding Photos | Bar Harbor Maine Wedding Photographers
Bar Harbor Maine weddings evoke breathtaking wedding photos, like this one of Meredith and Jeff on the cliffs in Acadia National Park. Breathtaking to the point that this earned our #1 Top Wedding Photo of the year for 2016! Read more about it below: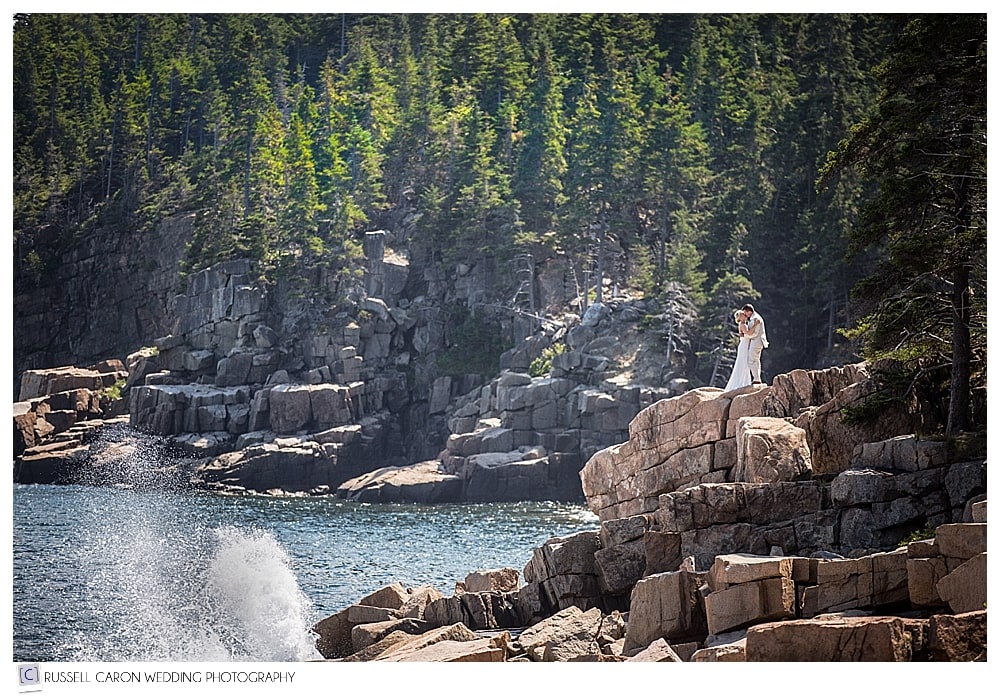 #1 of 2016 | Breathtaking Wedding Photos
Meredith and Jeff could not have been greater, nicer, or more pleasant to work with. This made the day a win-win-win for everyone. With a carefully-crafted timeline and route that we, as their photographers, rehearsed and timed the day before, allowed for visiting some key spots in Acadia National Park, Maine. Parking came amazingly easy despite the park's 100th anniversary centennial season in full swing.
About the photo:
We arrived at the rocks and pink granite along Park Loop Road. We then set up this specific shot, though the specifics were a last-minute decision. Liz took Meredith and Jeff down the road a few hundred yards to the flat outcropping. The spot was awash in nice quality light amidst other areas of more shade. Then, Russ stayed behind and prepared with a telephoto lens. After Liz draped Meredith's gown and directed the couple to simply interact, Russ grabbed a surprisingly few clicks before a wave crashed and splashed in the foreground. Voila, a winning image! Consequently, it wasn't until after we pored over thousands of candidate images for our top spot that we realized it prevailed as the #1 Top Wedding Image of 2016.
Back in Bar Harbor, Meredith and Jeff's wedding and reception was at the fantastic Atlantic Oceanside Hotel and Event Center.
We know this photo represents an indelible moment for Meredith and Jeff, and its memory be outlasted only by their love and marriage!
Please comment and share if you enjoyed our breathtaking wedding photos in The Top 16 of 2016! We'll soon publish a single blog post with all of our Top16 in review!
Bar Harbor Maine wedding photographers, Russell and Liz Caron, put the fun into wedding photography for Maine wedding couples. Feel the love as this dynamic pair effortlessly capture each of your cherished moments, producing natural poses and unparalleled art for your special day. For more information, please contact us right away!