Impressive Wedding Photos
The impressive wedding photos selections are well-varied in our Top 50 as well as in our Top 10. From breathtaking wide-angle views of a couple in tall trees, to dramatic skies, to moments of emotion between mom and bride (hint: two such examples coming soon…tomorrow in fact for one, and next Tuesday at #2 for another!) to this one of a dad whose eyes say it all.
Today is December 24, 2015 and we present #7 of our impressive wedding photos: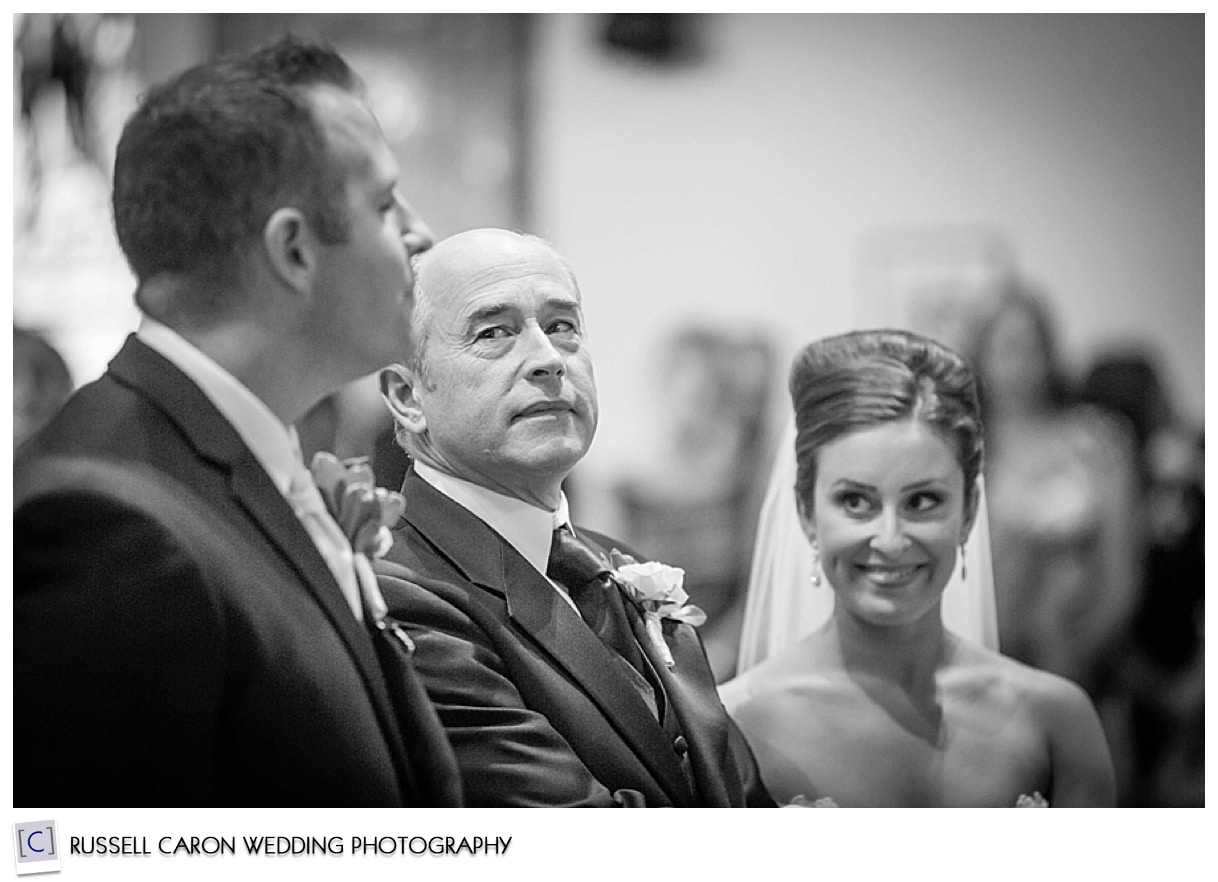 #7
Moments after Angela walked up the aisle at St. Luke's Cathedral in Portland, Maine, during their August wedding, meeting groom-to-be Thomas. Tradition has it that the dad (Mark) figuratively and literally hands his daughter to his future son-in-law. Mark's eyes say it all. You can practically read what he's saying via his thoughts, as seen by those eyes.
As a journalistic moment, which we artfully blend in as a key ingredient to our approach with our wedding photography, we love how this image translates in black and white. We can't think of a wedding that was more focused on warm family, love, close friends, and fun. This all makes lots of opportunity for gorgeous images, especially with a grand celebratory reception at the Westin Portland Harborview. This was yet another wedding that was first-class every single moment of the day. Which is no small part to why we love our work as wedding photographers as much as we do!
This is the third appearance of images from this wedding (all from inside this cathedral) in our countdown.  #21 back on December 15 we saw Angela and dad again as Mark was adjusting her gown just prior to the processional; and finally, at #25 on December 13 the little flower girl fast asleep on the bench. You can view Angela and Tom's Westin Portland Harborview wedding.
Photograph by: Russell Caron
#6 of our impressive wedding photos continues tomorrow! Stay tuned for more from the Top 50 of 2015!
Russell Caron Wedding Photography puts the fun into wedding photography for Maine wedding couples. Feel the love as this dynamic pair effortlessly capture each of your cherished moments, producing natural poses and unparalleled art for your special day. For more information, please contact us right away!