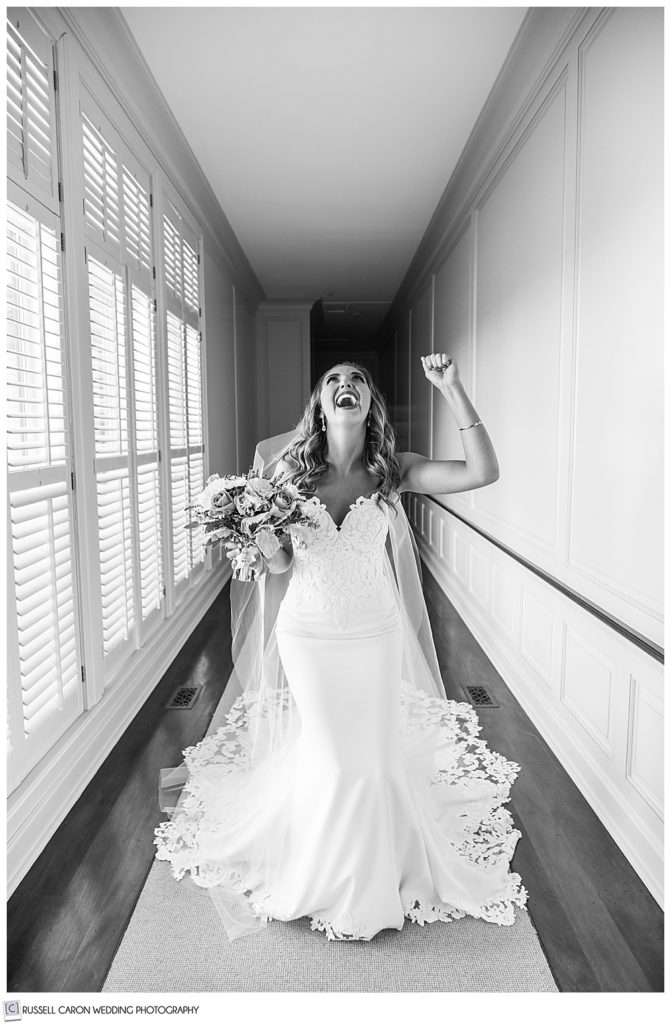 Liz's #6 favorite photo of 2019 is Tiffani's ecstatic bride image!
Tiffani and Peter's Elegant Point Lookout wedding was as fun and easy going a wedding as you can get. One of the best things about being a wedding photographer is that you get to spend the entire wedding day together. When you're spending this kind of quality time with a couple, you really get to know them.
During Tiffani and Peter's wedding, I was able to spend a little bit of time alone with Tiffani, just before she walked down the aisle. We'd had the first look between Tiffani and Peter, and taken them down to the beach. All the family formals and bridal party images had been taken.
Tiffani and I were just finishing up a couple of bridal portraits in the hallway leading to the boardroom at Point Lookout, where the ladies get ready. There are windows on one side, as you can see in the photo, and it makes for some beautiful light falling in.
At the end of our quick session in the hallway, Tiffani raised her arm, threw her head back, and laughed. All on her own. She was more than ready to marry her true love, Peter!
See Tiffani and Peter's wedding story here: Elegant Point Lookout Wedding
Venue: Point Lookout
Photographers: Russell Caron Wedding Photography, photographs by Liz Caron and Michele Stapleton
Officiant: Captain Barnes
Floral Designer: Seasons Downeast Designs
DJ: Greg Young, Northeast Event Design
Hair and Makeup Artist: Kimberly Savage
Wedding dress designer: Badgley Mischka
Wedding dress boutique: Vows Bridal
Men's Wear: Men's Wearhouse
Cake: 3 Dogs Cafe
Please comment on the blog post if you enjoyed Liz's ecstatic bride image! And please share!! Thank you 🙂 Come back every day, until we reach #1 on December 31!
Elegant Point Lookout wedding photographers, Russell and Liz Caron, are romantics at heart who love photographing people in love. Are you getting married? No matter where your wedding is located, we'd love to travel there and take breathtaking wedding photos. For more information contact us right away!