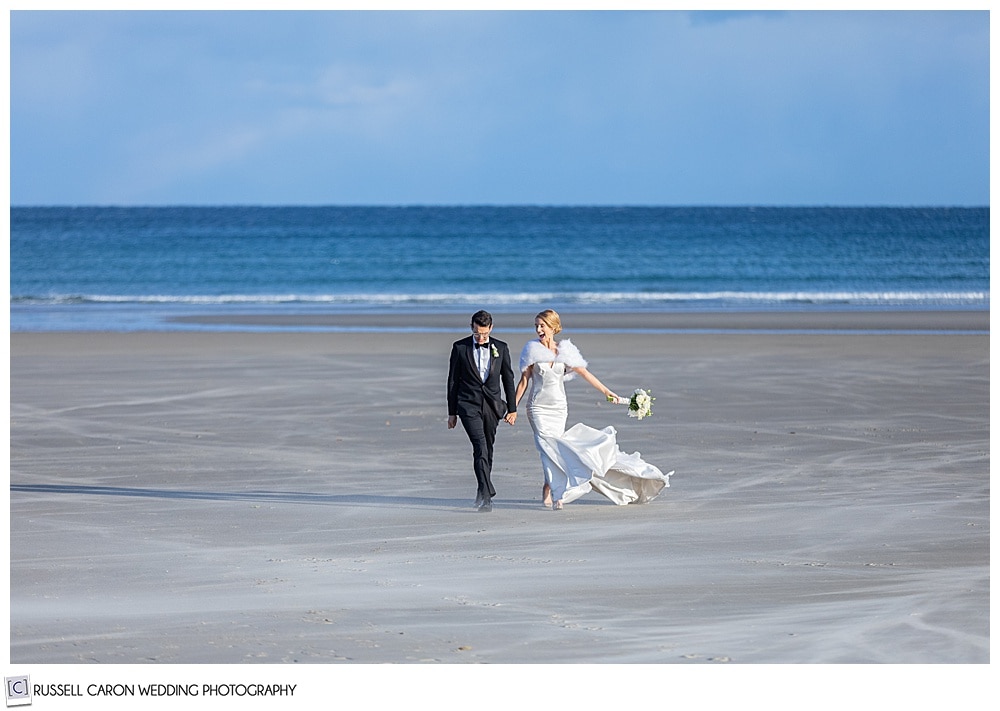 We're in the top 5 of 2019! Russ' beachy environmental wedding photo of Koko and Joe, is #5!
You can't tell by this photo, but, wow, it was COLD outside when we took this. What sports Koko and Joe were, so willing to be outside in what must have been single-digit wind chill. But, it was SO worth it, they loved the fact that they were virtually the only people on the entire beach, literally for miles!
And how beautiful it was. Blue water, blue sky. Clean, flat beach, with just a little sand blowing at their feet. Look at the fun Koko is having!
We were so proud and honored to be a part of their day not even two months ago. It was an intimate wedding, on a Friday afternoon, for these two, surrounded by many close friends and family.

Everyone braved an outdoor ceremony that could not have been any more special or perfect for them. You will want to check the link below to see more.

This moment resonated with me very much for a multitude of reasons, and it is my #56 top wedding photo of 2019!
Here's a link to Koko and Joe's wedding: Perkins Cove Wedding
Reception venue: Northern Union Restaurant
Photographers: Russell Caron Wedding Photography, photographs by Russell Caron and Liz Caron
Officiant: Jacqueline Barnum
Floral Designer: Ilex Floral
Hair and Makeup: Jessica Candage
Shoes: Jimmy Choo from Madison Ave of Melrose
Men's Wear: Theory
Please comment on the blog post if you enjoyed Russ' #5 beachy environmental wedding photo! And please share!! Thank you 🙂 Come back every day, until we reach #1 on December 31!
Perkins Cove wedding photographers, Russell and Liz Caron, are romantics at heart! And love photographing people in love. Are you getting married? No matter where your wedding is located, we'd love to travel there and take breathtaking wedding photos. Just like we did at this glamorous Perkins Cove wedding! For more information contact us right away!