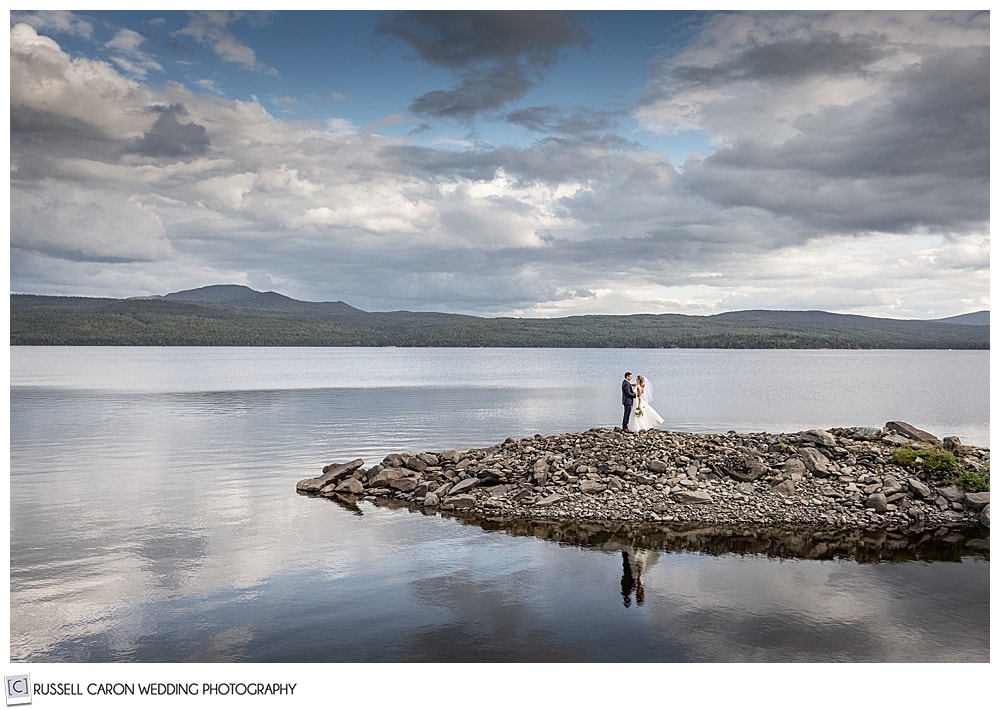 This breathtaking scenic wedding photo of Haleigh and Eddie is Russ' #5 photo of his top 19 of 2019!
We knew we were driving so far up into northern New Hampshire that once we there we could practically throw a stone into Canada. I hadn't been that far up in the state before. "It's beautiful up there", they said. "They" were right. Oh, the beauty of the New Hampshire mountains and lakes.

But this post is really about Haleigh and Eddie's beautiful wedding amidst all this gorgeous scenery.
The day was peaceful and serene. I was taken aback at the beauty of the site along First Connecticut Lake and at the venue, The Glen at Bear Tree. When I see a place like this in my travels the first thing I think of is how I would love to photograph a couple being married in the scene.

On this fine late summer day, I didn't have to do any wishing, because right after the ceremony, Haleigh and Eddie were more than happy to walk out to the point and let me photograph this stunning view with them, just minutes after they were married. Truly the awe of the surroundings with this sweet couple made this my #6 top wedding image of 2019.
See Haleigh and Eddie's sweet wedding at: Intimate Wedding at The Glen
Venue: The Glen at Bear Tree
Photographers: Russell Caron Wedding Photography, photographs by Russell and Liz Caron
Officiant: Shawn Brooks
DJ: Bob Wilson, Wilsons DJ Service
Makeup Artist: Amanda Orlowskyj
Wedding dress designer: Essense of Australia
Men's Wear: Men's Wearhouse
Please comment on the blog post if you enjoyed Russ' #6 breathtaking scenic wedding photo! And please share!! Thank you 🙂 Come back every day, until we reach #1 on December 31!
New Hampshire wedding photographers, Russell and Liz Caron, are romantics at heart who love photographing people in love. Are you getting married? No matter where your wedding is located, we'd love to travel there and take breathtaking wedding photos. Just like we did for Haleigh and Eddie at their intimate wedding at The Glen! For more information contact us right away!