Copyrights and Photo Credits | Maine Wedding Photographers
To anyone who's not a photographer, the terms copyrights and photo credits, and commercial use of images sounds daunting.
In the wedding world, there are often dozens of vendors working together to make a client's vision come alive. As wedding photographers, we do our best to ensure that we take photos of every single part of the wedding day. Dress, shoes, tux, flowers, rings, place settings, paper suite, people, food, cake, etc. So. here's a question for you: how do you, as wedding vendors or clients, use the photos that are taken by the professional photographer(s)?
There's often misunderstanding about copyrights and photo credits, and commercial use of photographs taken by wedding photographers. Photographer's images are often used with a free rein by others, because it can be very confusing. If you're not a photographer, you may not even realize that you need to pay attention to things like copyrights and photo credits.
The Nuts and Bolts of Using Copyrights and Photo Credits, and Commercial Use of Images
We'll explain the basics, and show you how easy it can be to be 100% compliant with the law regarding copyrights and photo credits, and the commercial use of images. What we're covering here also applies to online social media (Facebook, Instagram, etc), website blogs, as well as print. (There's an example Facebook post at the end of this post.)
Here is a sample print ad (of a fictitious small business) to illustrate: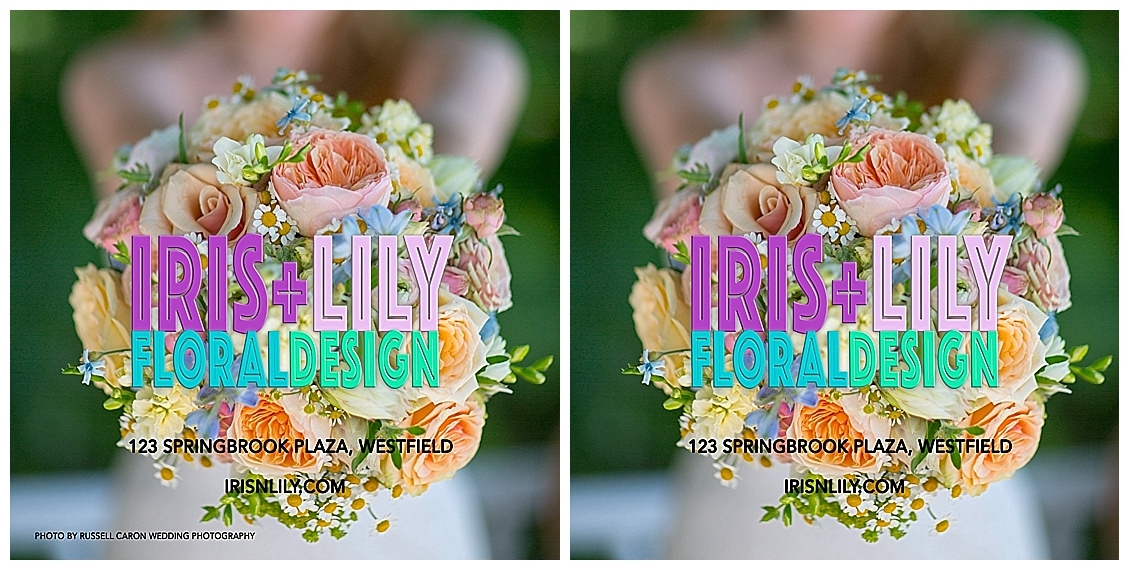 The simple difference between these ads is that with Photo A, there's a photo credit; with Photo B there isn't. What's a photo credit? It means that you give credit to the photographer, by using the correct name and spelling of the photographer/business.
Photo credit is generally always required when using a photo, unless a commercial license has been obtained from the photographer who took the photograph. 
This is what's known as U.S. Copyright Law, because the image is OWNED by the photographer. When a photographer provides photos to their clients, they are only LICENSING them the use of the image for specific reasons. Those reasons include personal use, limited commercial use, and unlimited commercial use, among other options. They're not "giving the image away".
When There IS a Photo Credit:
In the case of Photo A where there IS a photo credit, the likely scenario is that Iris+lily asked the photographer for permission to use the image. The photographer agreed to let them use the photo as basis of their ad, or on social media, so long as a legible photo credit was included A good rule of thumb for 'legibility' is that the photo credit should be no smaller than the smallest font otherwise used in the ad. Photographers may or may not charge a fee for this. It is up to the photographer's discretion. 
When There Is NO Photo Credit:
In the case of Photo B where there is NO photo credit, it could mean one of the following things:
Iris+Lily ASKED the photographer for a commercial-use license. The photographer provided the license, the terms of which Iris+lily accepted. Most photographers would charge a fee for this.
Iris+Lily didn't ask the photographer for permission. Iris+Lily obtained the image on-line, from a client, or some other (highly-likely incorrect) way. This scenario could be very costly to Iris+Lily. The owner of the image, the photographer, could file a claim for violation/infringement of rights of the image. They'll also most likely submit a substantial invoice (which is totally legal) for the improper, non-licensed use of the image.
Iris+Lily took the photograph themselves. At which time, as the copyright owner, how they decide to use it is totally up to them.
The Bottom Line
Just ask! Most photographers are more than happy to work together with their industry vendor partners and provide them with photos.
If you have an image but don't know who the photographer was, our advice is to stay safe and DO NOT USE IT.
Let's wrap up with a simple test that works every time:
A. Do you have the OK from the photographer to allow you to use the image in the manner you intend?
B. Is the image marked with a clear (and correct!) photo credit to the photographer (when their usage agreement so requires)?
C. Are you using a photo that was provided to you from the photographer (so it will be of the best resolution)?

Three YES answers here means you should be totally in the GOOD.

Any one or more NO answers mean you need to be sure to touch base with the photographer and change that NO to a YES, before using the image.
Remember, it's as easy as ASKING.
Social Media Posts With Proper Photo Credit
Here's an example of how giving proper photo credit works when a photographer's image is being posted on a social media site such as Facebook. First, we'll assume that the image was provided to Iris+Lily by us, the photographers, along with our permission to use so long as proper photo credit was given. By the way, the words 'Russell Caron Wedding Photography' should be a "live link" to that same page. When this is done, the words change color to indicate that it's a link. To do this easily just start with the "@" symbol as you type out the business name.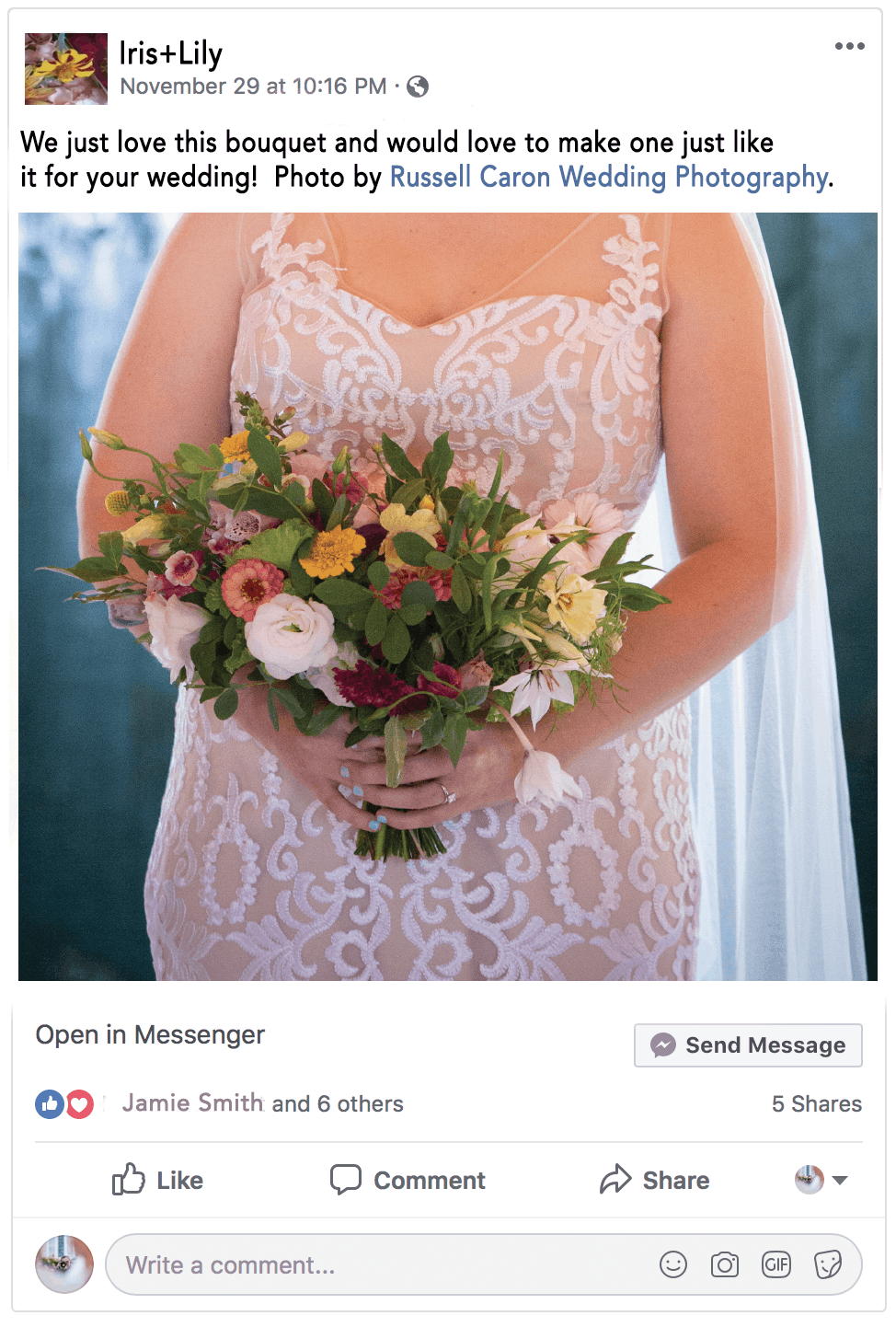 Note: If you're the client holding a personal-use license for your wedding images, do not send any copy or copies of your images to vendors, venues, magazines, or contests, relatives, or anyone else without first communicating with, and obtaining permission from, your photographer. This is because most personal-use licenses do not allow reassignment of the usage rights of the photos. Your photographer will likely require that they be the party to do the "gatekeeping" and, again, is the one party with the authority to issue a new license for the use of the images.
I
f you enjoyed this post, about copyrights and photo credits, please let us know by commenting and sharing! Thank you!
This Tech Tuesday post is about copyrights and photo credits. Russ and Liz Caron are Maine wedding photographers, based in Brunswick, Maine. Do you have questions, or recommendations for the Tech Tuesday series? Let us know in the comments! And don't forget to share this post with your friends. Russell Caron is available for workshops, group instruction, or one-on-one mentoring. Call Russ at (207)233-4050, or email him at russ@wed-pix.com.