How To Be The Best Maid Of Honor Ever!
So, you've been asked to be Maid/Matron of Honor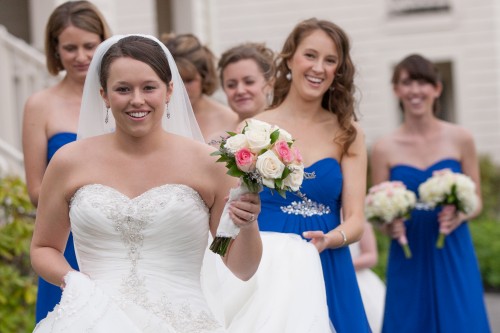 —now what? You're flattered, of course, but do you know how to be the best maid of honor ever? Do you know exactly what it is you're supposed to do, especially on the day of the wedding? We'll concentrate on the day of, because this is go time, and you need to be organized and have a game plan in place. Your biggest job is to help the bride have a relaxed and stress-free day. Here are 12 steps so you can be the most help.
12 Steps on how to be the Best Maid of Honor—Ever!
Get a copy of the wedding day timeline, so you can help the day start and stay on track. Make sure to keep the bridesmaids in the loop with the timing of the day, so there are no last minute surprises.
Be the bride's right hand. Help with anything and everything that she may need during the day and throughout the reception. In particular, arrange the bride's train and veil before she heads down the aisle, hold her bouquet when she arrives at the altar, and help bustle her dress after the first dance.
Help to make sure the bride eats something. She may feel too distracted to eat, but having her nibble on snacks during the day will help stave off irritability that comes with low blood sugar. Be sure she stays hydrated with plenty of water.
Introduce yourself to vendors so that they know they can count on you to help out or answer questions.
Be sober, especially if the ladies are going to enjoy champagne while they get glam. Two drinks max, some munchies while you party will help!
Run blockage with any last minute crises or details. The bride doesn't need to be bothered with any last minute snafus, it will only serve to be upsetting. Handle any mini-emergencies with aplomb.
Keep the bridal suite picked up so that when the photographer is there to take photos, the room looks neat.
Ensure that the bridesmaids are all coifed, made-up, and dressed in time to help the bride with her dress. We've seen instances where the bridesmaids are more concerned with themselves than with the bride. You can derail this kind of activity.
Put the groom's ring in a safe place, we recommend putting it on your thumb, for safekeeping. OR, give it to the best man.
Sign the marriage license as a witness, along with the best man. Be where you need to be after the ceremony to save having to be hunted down.
Arrange to collect any cards and gifts that guests bring to the reception, and keep them safely stashed away.
Prepare your toast in advance, giving it last minute tweaks, and practice it to get it down. Keep the toast to just a few minutes, this way if you're nervous, you won't ramble. Remember to bring a glass to toast with at the end!
So there you have it. Twelve steps on how to be the best maid of honor ever!
Let us know, in the comments, if you think we've missed anything!
Russell Caron Wedding Photography is a resource for brides and brides-to-be. Did this post on how to be the best maid of honor ever, help? Check out some of our other pages for more information about first looks, unplugged weddings, why you need two photographers, and wedding photography 101.