Artistic Bridal Portrait | Portland Maine Wedding Photographers
Lenaya's artistic bridal portrait, was a dreamy moment just before her first look with Brandon.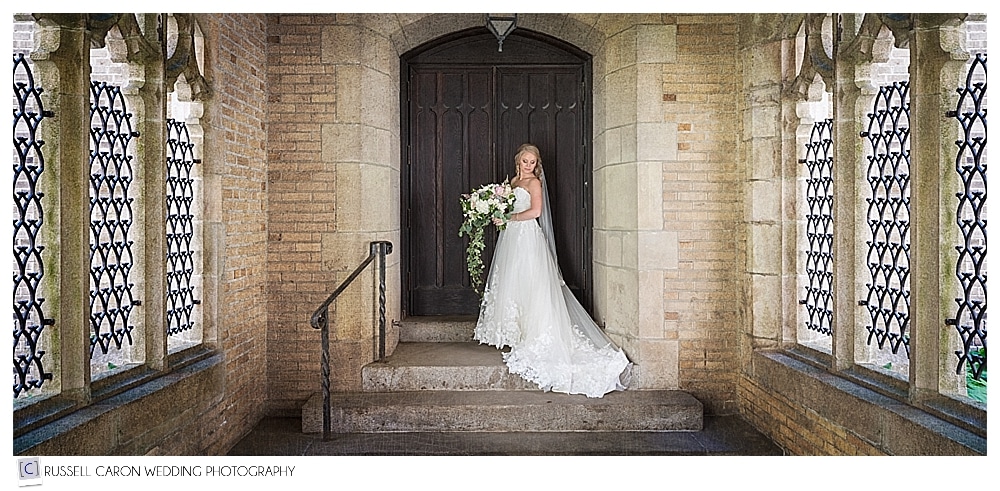 Lenaya and Brandon celebrated an elegant downtown Portland, Maine wedding at the Westin Portland Harborview Hotel in June. At their ceremony venue, the Williston-Immanuel United Church, we found some gorgeous light in the courtyard vestibule, and took Lenaya's full-length bridal portraits at this classic arched doorway.
It was a warm – may we say even 'hot' – day. In addition to the shade and light breeze of this vestibule, we found that it was a perfect place of respite. For both staying cool and for photographic purposes.
This image represents one of the several key categories that we love and specialize in. hat is, bridal portraiture. Therefore, this joins our other major categories including environmental couples portraiture, candids/moments, classic standards, details, and artistic images. It's because of this that bridal portraiture is a vitally important part of every wedding.
This view captures the front, back, and side of this gown. As a result, from close, mid, and far distances, all the nuances and memories are captured. Of course, the bride's beauty is the real subject here and that is captured with all the differentiating elements, too, with our approach and care toward bridal portraiture on wedding day!
All these factors combined for us and landed this photo as our #14 top favorite of the year for 2017.
What did you think of this artistic bridal portrait? We'd love it if you would comment on the blog post, and please share!! Thank you 🙂 What will our #13 image be? Stay tuned for the next in the series, tomorrow and every day until we reach #1 on December 31!
Maine Wedding Photographer of the Year 2016 and 2017 Russell Caron and his wife, partner, and co-shooter Liz Caron photograph weddings, and weddings only, from Boston to Bar Harbor and destinations worldwide. Let us tell you more about why choosing us as your wedding photographers could be one of the very smartest choices you'll make among your wedding day choices. Contact us today for more information and our availability for your wedding!