York Harbor Engagement | York Harbor Maine Wedding Photographers
Heather and Zack drove to Maine from New York, for a York Harbor engagement session. We had a great time with Heather and Zack, as they are not only easy going, but super fun as well! They'll be married in October at the Union Bluff Hotel, right on the beach in York Harbor, Maine. So that's where we began our session. Being that it was out of season, we pretty much had the outside of the Fun-o-Rama and Bowl-o-Rama to ourselves. We love these buildings because of their vintage aspect as well as injecting a sense of playfulness. And you can tell that Heather and Zack have that fun vibe!
From there, we went to the Wiggly Bridge in York Harbor. If you've ever been on the bridge while runners are crossing, you'll definitely know why it's called the Wiggly Bridge! Interesting fact: the Wiggly Bridge is the smallest pedestrian suspension bridge in the world. It was so gorgeous there! The sun was setting, and the water was as smooth as glass. Russ took out his drone, and you can see the spectacular results in the last photo below.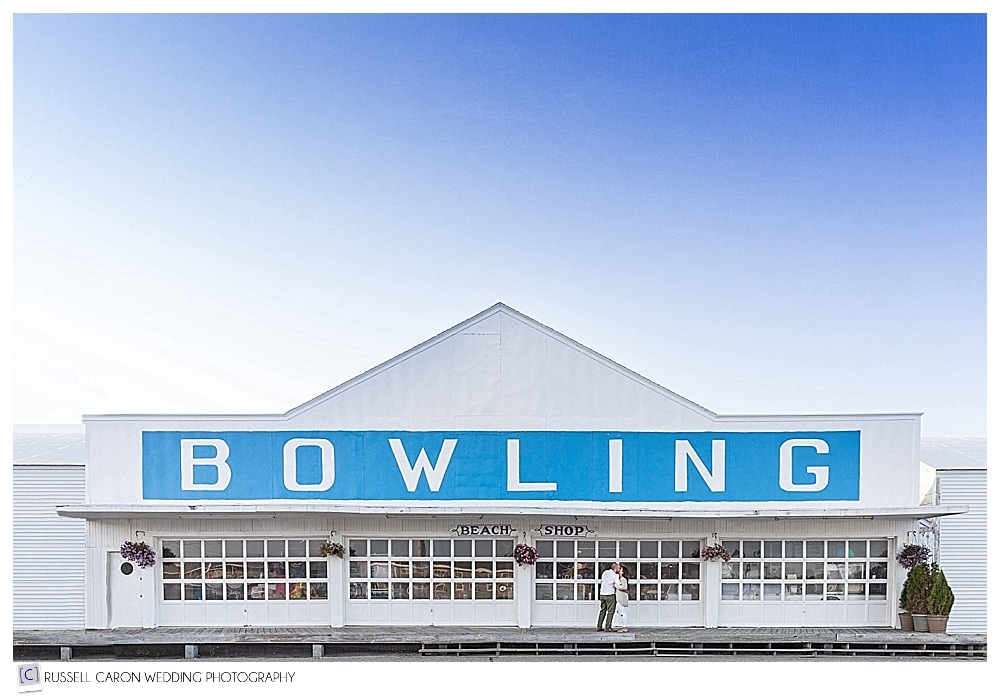 Comments and shares are awesome! If you enjoyed Heather and Zack's York Harbor engagement session, please comment and/or share this post, thank you!!
Maine wedding photographers, Russell and Liz Caron of Russell Caron Wedding Photography, would love to be part of your wedding day. While an engagement session isn't mandatory with our wedding photography packages, it gives us an opportunity to work together before your special day. The connection we build during an engagement session is invaluable, and a whole lot of fun! We had so much fun with Heather and Zack during their York Harbor engagement session, imagine yourself doing the same! For more information, please contact us right away!