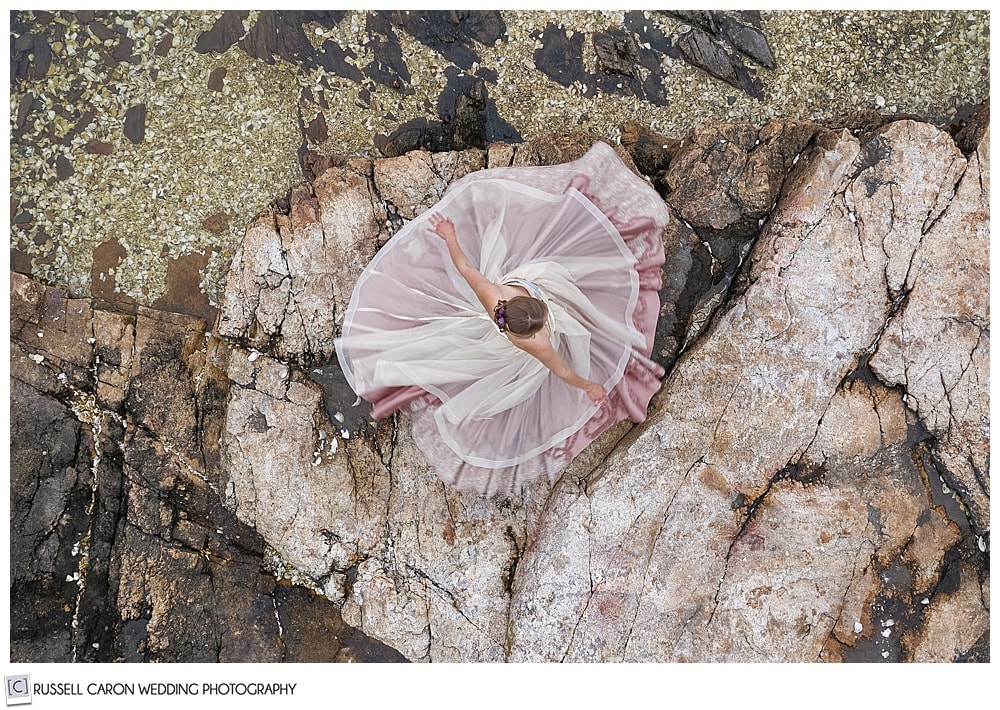 Sure! Why not a twirling bride drone photo?! Especially since I'm a Maine Drone Wedding Photographer! It's in Russ' Top 19 of 2019 at #18!
Back in the first few minutes of the summer solstice, on June 21, Krysten and Robin had a truly magical, "storybook" wedding. The ceremony taking place in the woods at the water's edge in Harpswell, Maine.
Krysten's gown was hand-made (by her mother-in-law!) and, well, its uniqueness was beyond stunning. Her easy-going, playful nature led us to instantly know we wanted to get a straight-down shot of her with the dress swirling and twirling!

The subtle hues of pink peeking through the many shimmering layers gave us the look we were seeking, and this image is all about the unique vantage point our drone camera provided for this shot.
We're counting down from #19 to #1 each day until the end of the year, looking back at our most favorite images we've each taken!
Keep an eye open each day to see more unique wedding images from the wonderful year we've enjoyed!
See Krysten and Robyn's full blog post at: Maine Summer Solstice Wedding
Venue: Private Residence
Photographers: Russell Caron Wedding Photography, photographs by Russell Caron and Liz Caron
Officiant: Alexandra Godfrey
Flowers: East of Eden Flower Farm
Hair and Makeup Artist: Amy Valente
Wedding dress: Heather Cahill
Cake: Debra Bradley
Catering Company: 111 Maine Street
Tent rental: Coastal Maine Canopies
Please comment on the blog post, if you enjoyed our twirling bride drone photo! And please share!! Thank you 🙂 Come back every day, until we reach #1 on December 31!
Harpswell Maine wedding photographers, Russell and Liz Caron, are romantics at heart who love photographing people in love. Are you getting married? No matter where your wedding is located, we'd love to travel there and take breathtaking wedding photos. For more information contact us right away!