Have you been considering delivering your client digital images on custom-made USB branded drives? Or, maybe you're looking for a fresh new look of your branded drives? Read on for USB branded drives worth considering.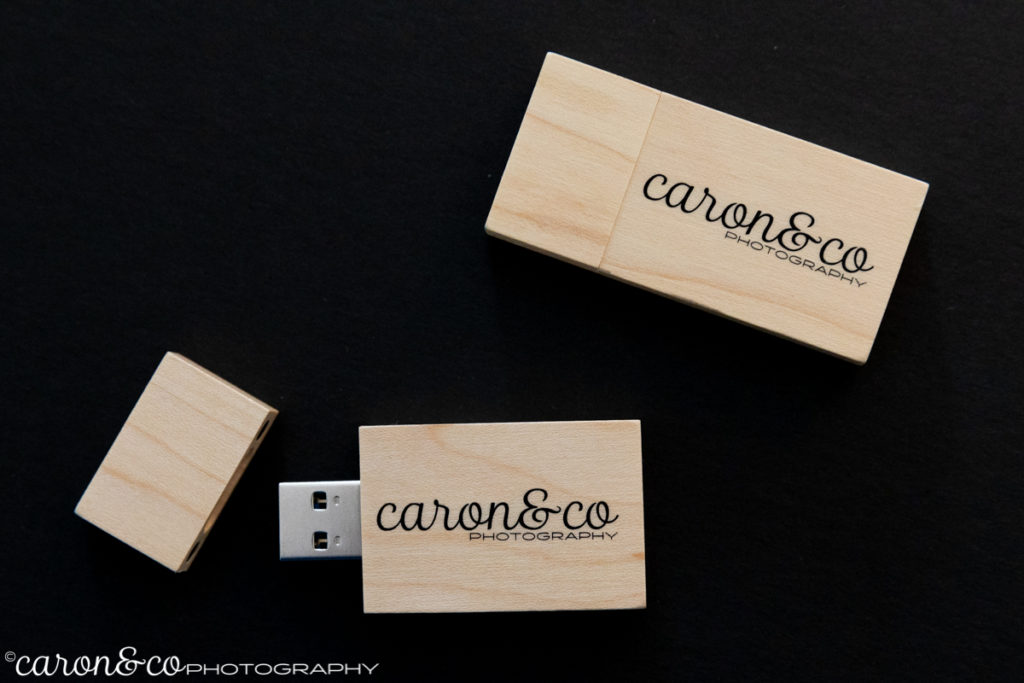 I hadn't jumped on to using branded USB drives for some time, and for a variety of reasons. The reasons I had are now a non-issue thanks to USB Memory Direct. Here's what I mean.
My first issue (of the past) with many custom-made drives was the fact that most were only USB 2 speed. With the offerings of USB Memory Direct that's no longer an issue as USB 3 drives are readily available – yay!
These USB branded drives are among the nicest looking that I've seen. Liz and I chose a beautiful natural wood finish for our drives with our new branding. There are six wood finishes if you choose the wood style; there are many other types, too.
We sent in a PNG file of our logo and it reproduced flawlessly. The drives are available in sizes from 4GB to 128GB in the USB 3 speed – which is what we highly recommend to speed up your workflow as you upload large wedding galleries.
As an additional nice touch, the wooden cover includes tiny embedded magnets so it gently snaps on and covers the USB plug.
If a wooden drive doesn't suit, not to worry. USB Memory Direct offers other styles including card style, key styles, and many other types in addition to conventional styles.
The second I issue I had in the past, but no longer, was with cost. How does the price compare to buying generic USB drives? I was honestly very surprised to find the pricing nearly the same, and that's even when purchasing as few as 25 at a time. Buying 100 gives another price break of 20% or more.
The folks at USB memory Direct are great to work with I suggest going on to their site putting together a request for pricing and giving it strong consideration.
Take 10% off your first order with code THANKS10.
Please comment on the blog post if you enjoyed Russ' review of USB branded drives! And please share!! Thank you 🙂
Russell and Liz Caron of caron&co photography (formerly Russell Caron Wedding Photography) are romantics at heart who love photographing people in love. Are you getting married? No matter where your wedding is located, we'd love to travel there and take breathtaking wedding photos. For more information contact us right away!