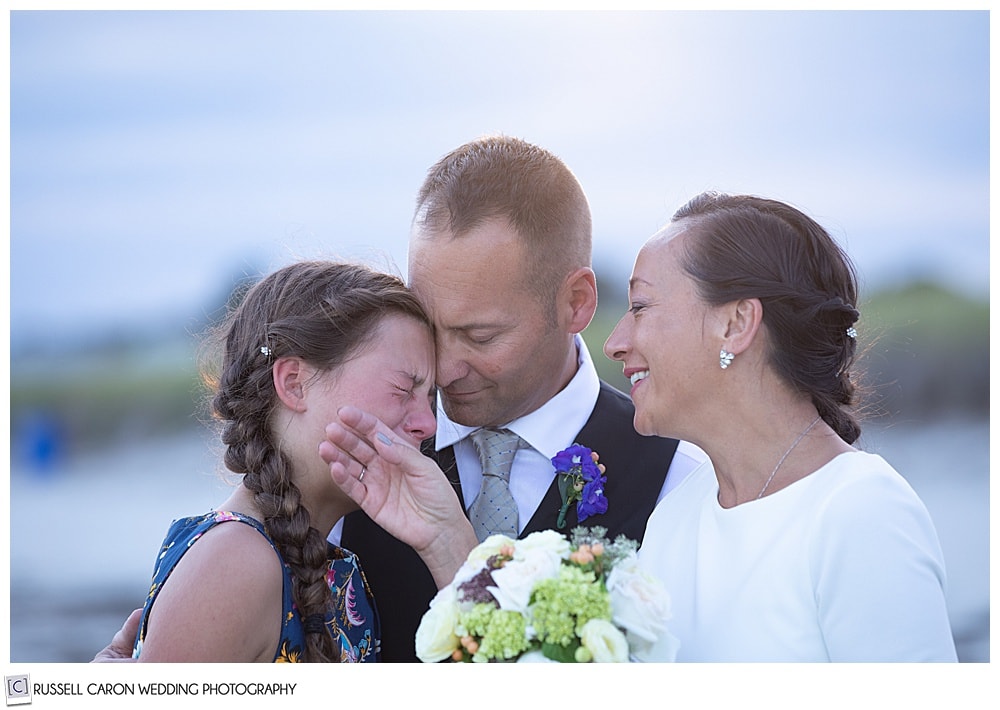 Poignant family wedding moment! On the last day of every year we reach #1 of our Countdown of the Year's Top Wedding Images. In honor of 2019, this year Russ and I each selected our top 19 images.
Once again I gravitated to a real moment, a sweetly emotional image, as my top photo. This image is one that gets me in the heart every single time I look at it. Michael's amazing daughter was overjoyed about him marrying Jennie. She just wept tears of joy all day long. It was incredible to witness such love. This photo is an indication of just how close this beautiful family is.
Jennie and Michael's loving elopement in September was such a highlight of our 2019 wedding season. Jennie is an accomplished landscape photographer, and to be hired by her was an incredible honor.
See more of Jennie and Michael's Pine Point Scarborough elopement at: Pine Point Scarborough Elopement
Venue: Pine Point Beach, Scarborough, Maine
Photographers: Russell Caron Wedding Photography, photographs by Russell Caron and Liz Caron
Bride and groom's attire: Macy's
Flowers: Harmon's Floral Company
Please comment on the blog post if you enjoyed Liz's poignant family wedding moment! And please share!! Thank you for joining us for Liz's top 19 of 2019!
Maine wedding photographers, Russell and Liz Caron, a husband and wife wedding photography duo, would love to be part of your special day. Whether you're having a sweet, intimate gathering like the Pine Point Scarborough elopement pictured here, or are going all out and having a huge bash, we'd love to capture all the special moments of your wedding day. Traveling all over New England, the US, and worldwide, this dynamic wedding photography team specializes in producing natural poses and unparalleled art for your big day. For more information, please contact us right away!