U.S. Navy Blue Angels Air Show | Maine Wedding Photographer
If I'm not photographing a wedding, the next best thing I can think of to photograph is an air show. Especially a U.S.Navy Blue Angels Air Show! As a boy, around age 5, growing up in Brunswick, Maine, the home of the Brunswick Naval Air Station, (known by most from the area as 'the base'). I saw them just about every summer. Fortunate for those of us who are air show devotees, the Navy's departure from the "base", as we called it, didn't mean that the Blue Angels would stop visiting Brunswick. Now a privately-run event, the Great State of Maine Air Show is generally an every-other-year event. In any case, today was the practice day for the air show and no one left disappointed. The sights, the sounds and even the smell of the jet smoke vividly evoke those childhood memories.
U.S. Navy Blue Angels Air Show | Brunswick, Maine | Sunday 08.27.17
August 27, Sunday. It's my third (and final) day at the U.S. Navy Blue Angels Air Show. And it's a third location, very different again from days #1 and #2. I especially loved seeing the take off of the two planes with their afterburners facing us. Not to mention being in a really unique place during landing of all 6 jets.
August 26 brings an update to this original post. It's now Saturday and it's Day 1 of the Great State of Maine Air Show. It's also the day we took position at a new location, along the Bath Road in Brunswick along the northern external perimeter of the base.
This vantage point gets us closer to the planes and allows some area of interest in terms of terrain to make its way for scale and placement. There was a lot of pretty light, continued dramatic skies in places, and lots of smoke from the amazing show. Follow along today's favorite shots:
Great State of Maine Air Show | U.S. Navy Blue Angels Air Show | Saturday 08.26.17
U.S. Navy Blue Angels Air Show, Practice Session, Friday 08.25.17
Before the Blue Angels flew, an Air Force F-16 flew tight maneuvers. Including this awesome fly-by with this vintage WWII era fighter (first photo). Of course the (P51 Mustang??) prop plane was running pretty much full-throttle while the F-16 jet was just loafing. It was nevertheless impressive as could be, and the vintage plane surely demonstrated incredible power and maneuverability on its own. All the other photos after the first two of course feature the U.S.Navy Blue Angels!  Enjoy the photos, and get to the show on either Saturday August 26 or Sunday August 27 if you can!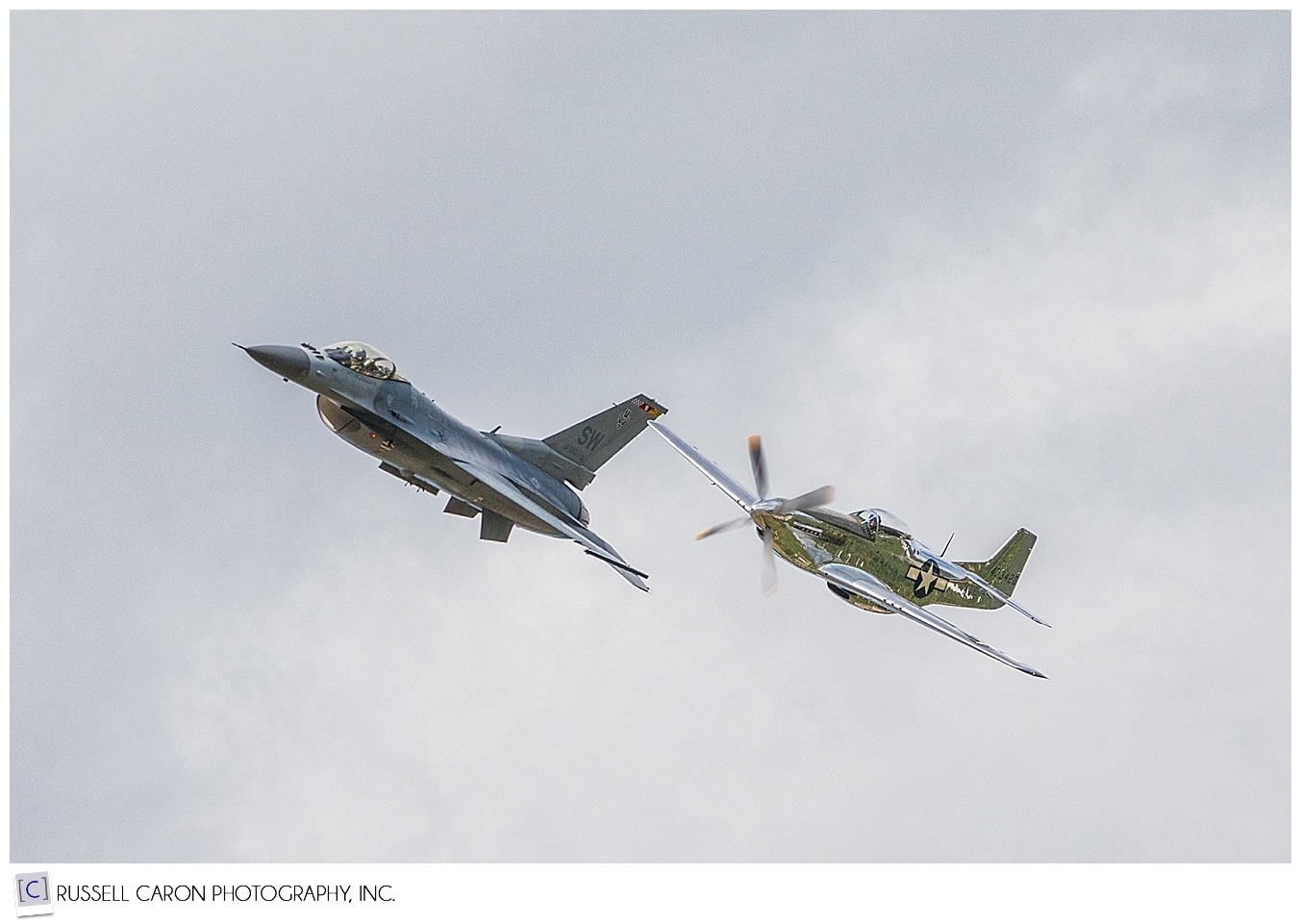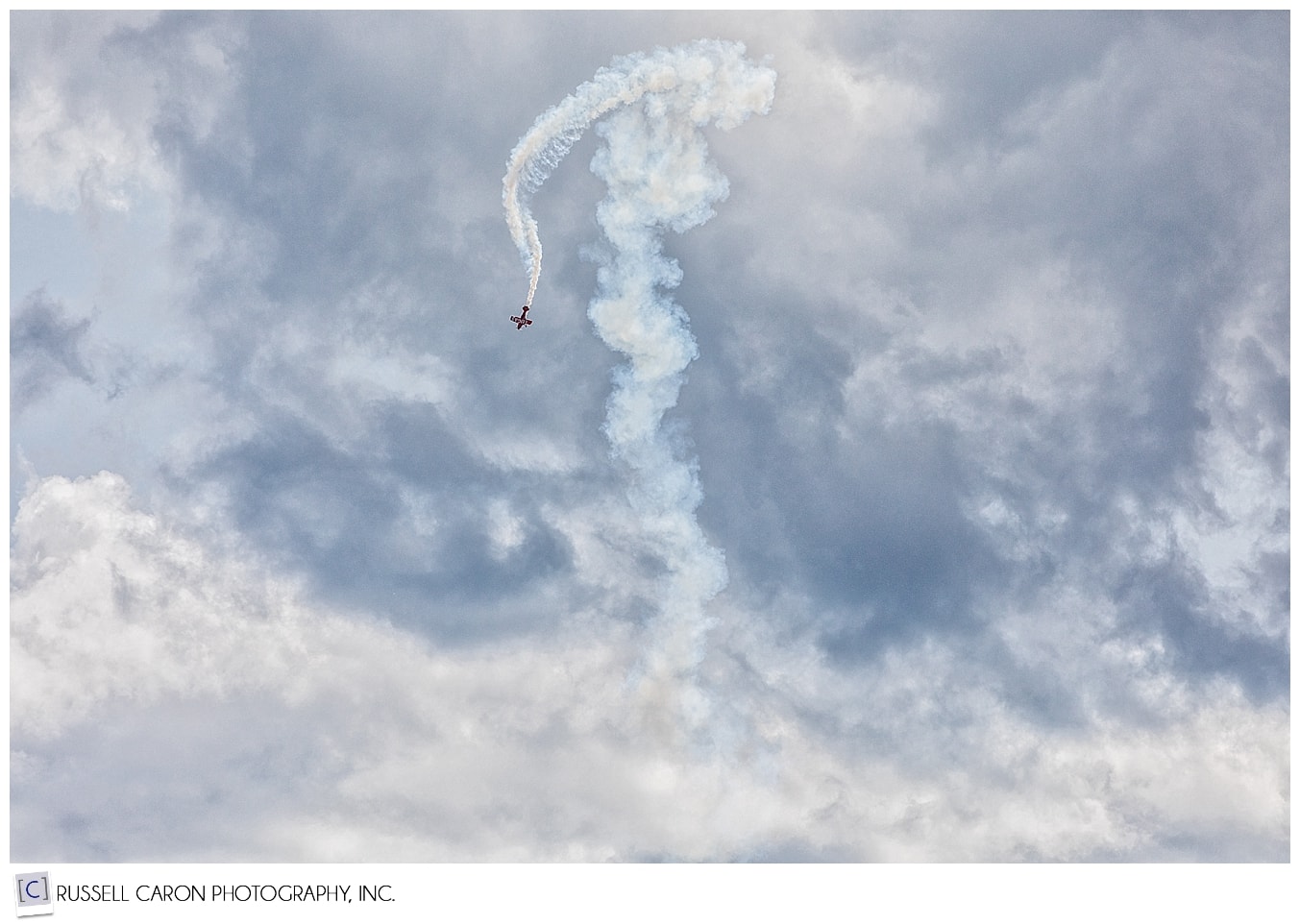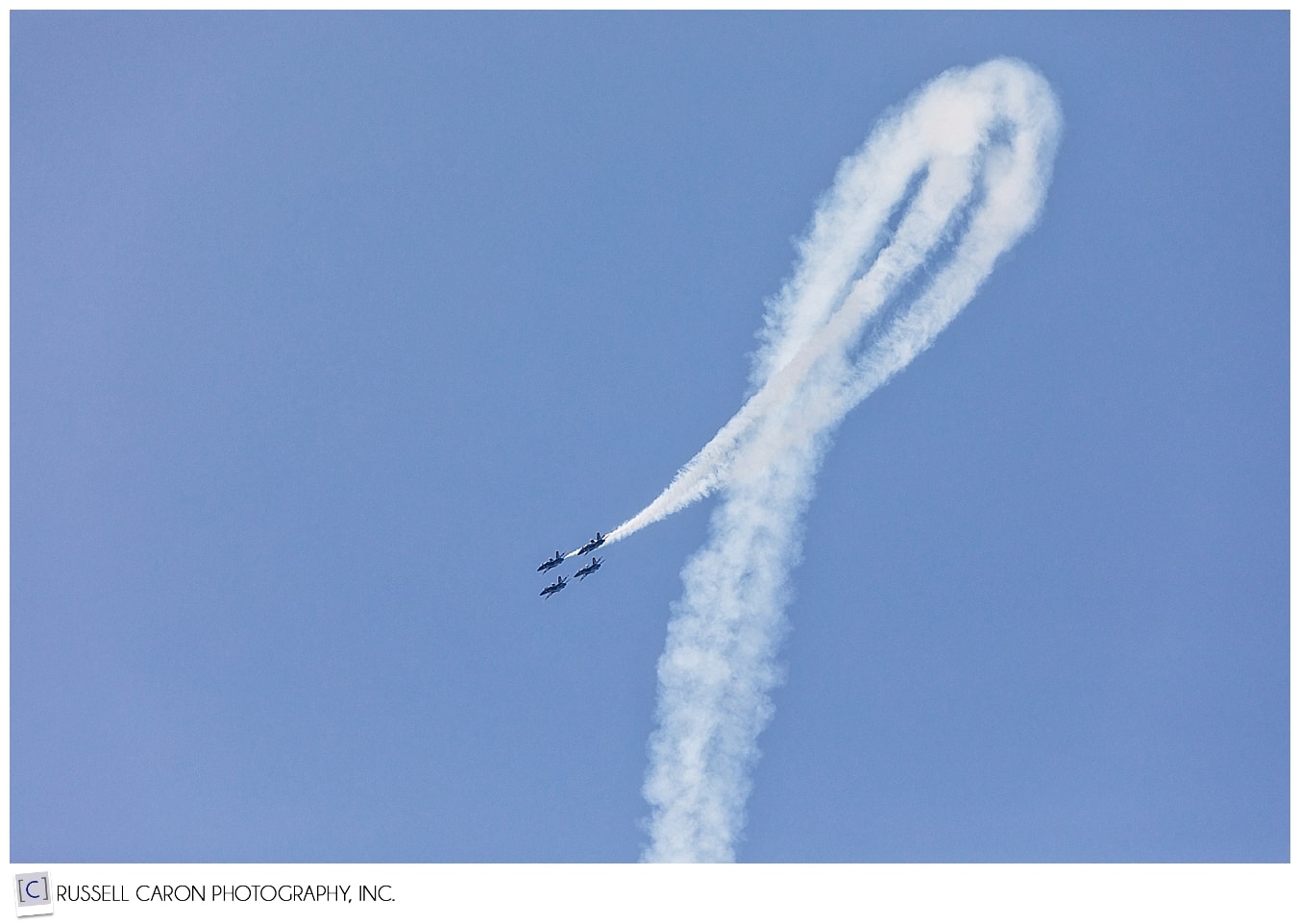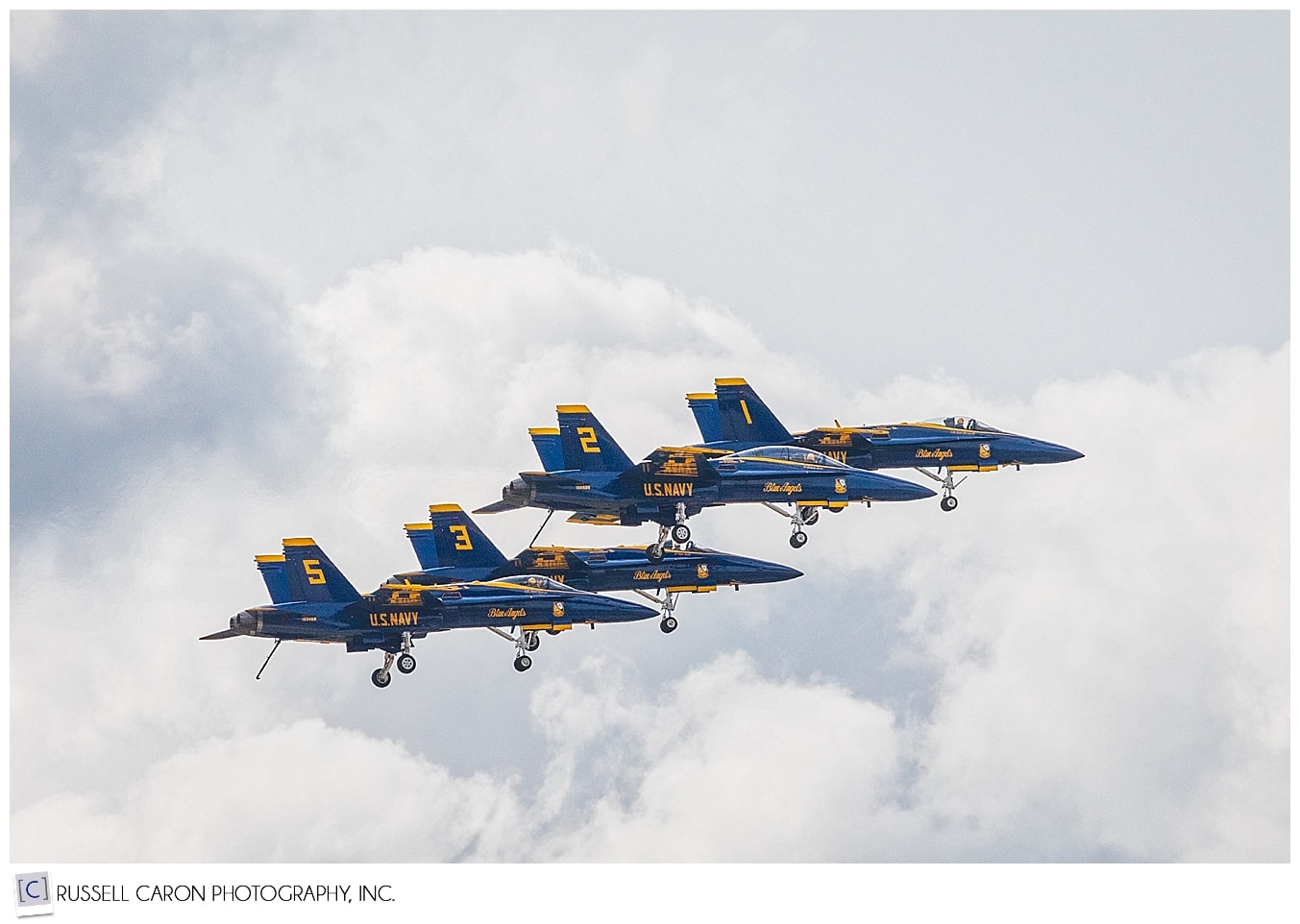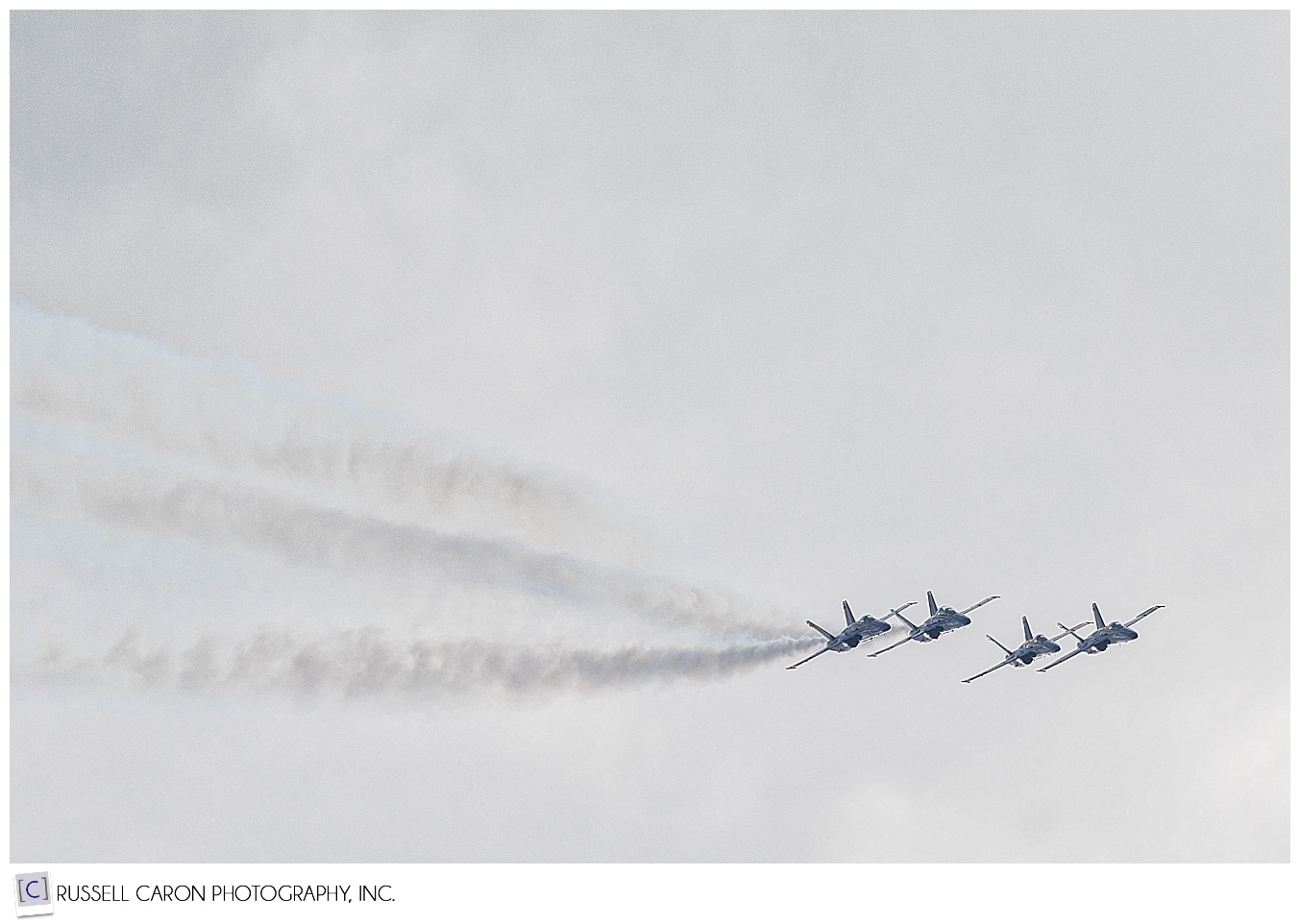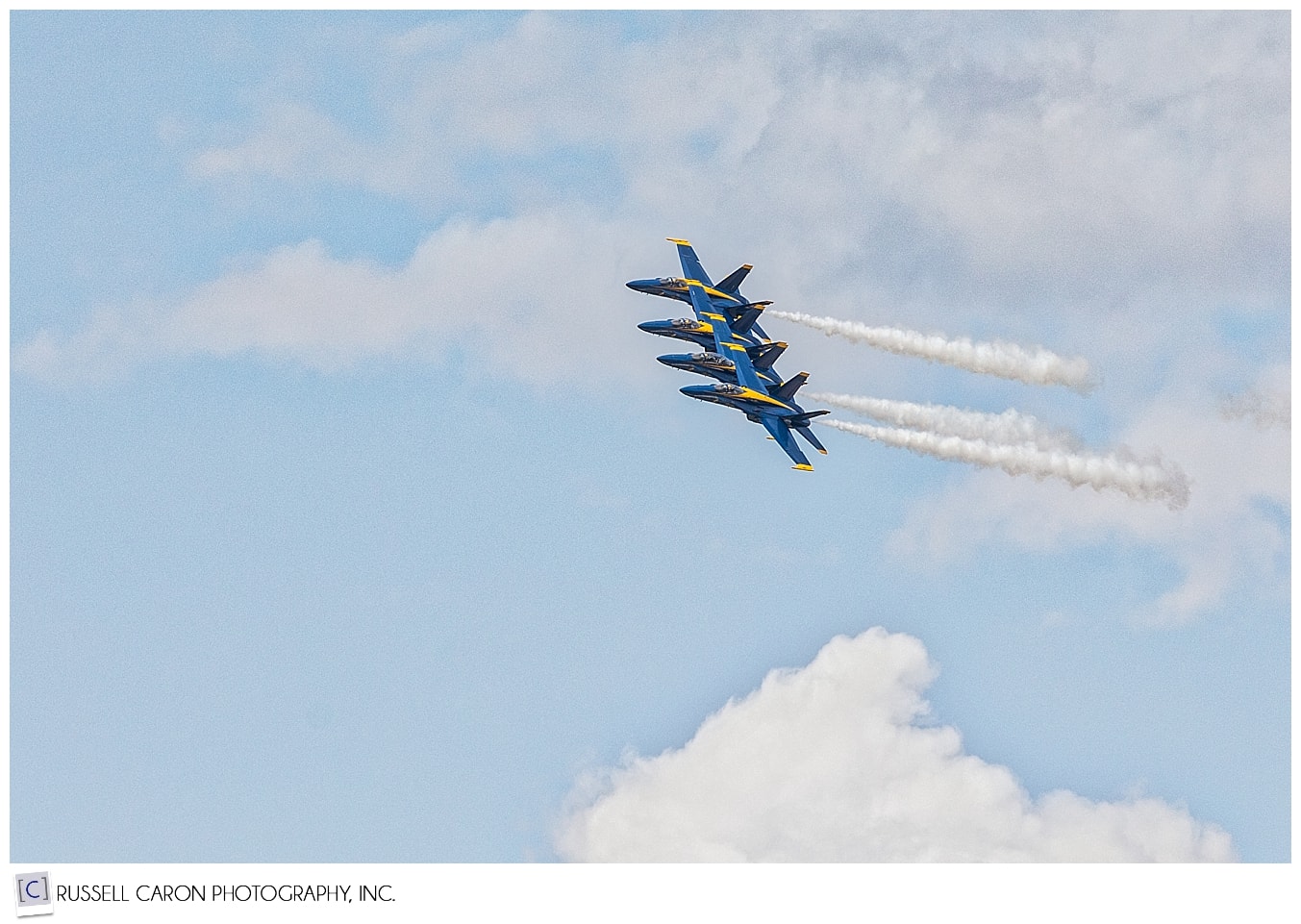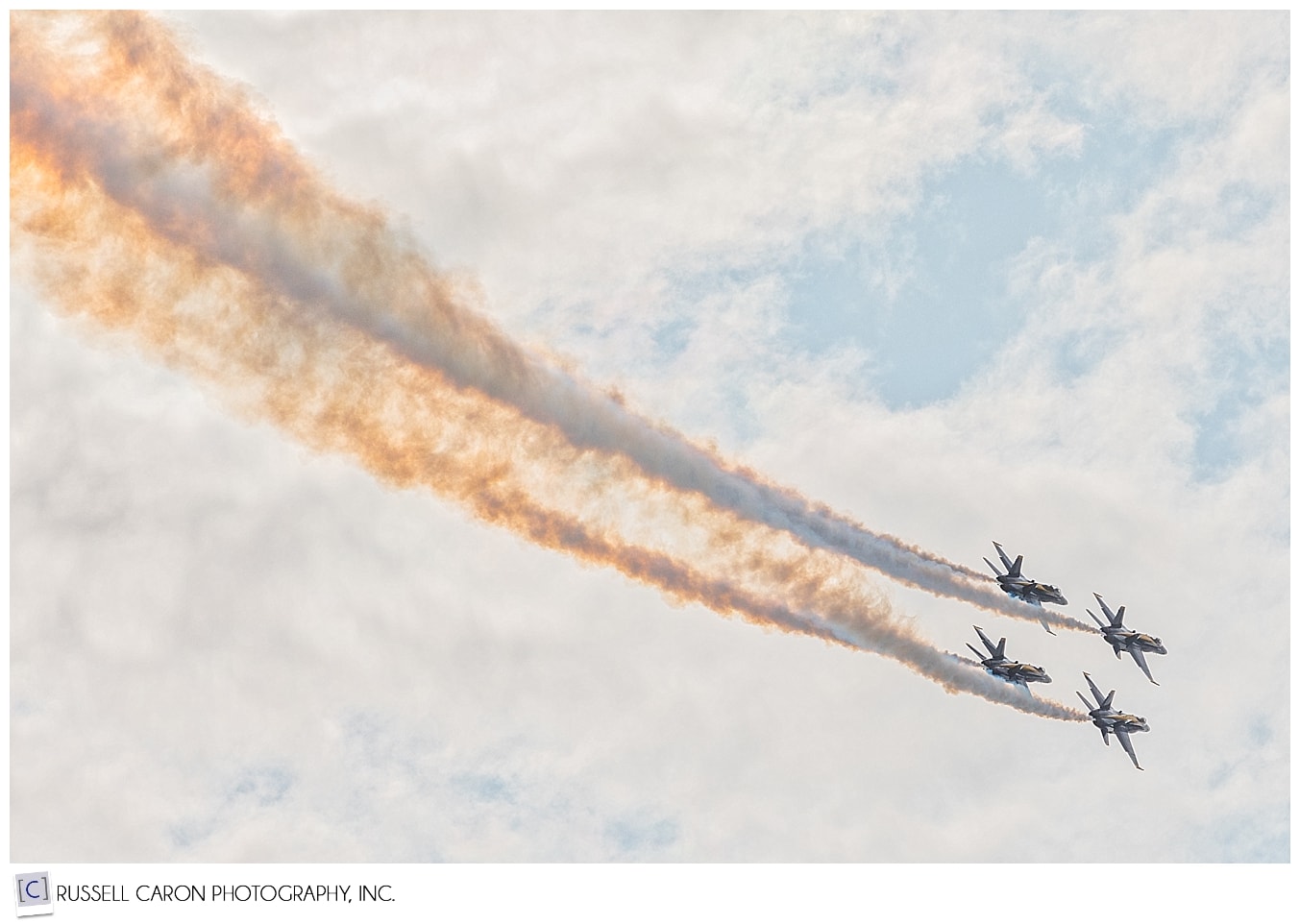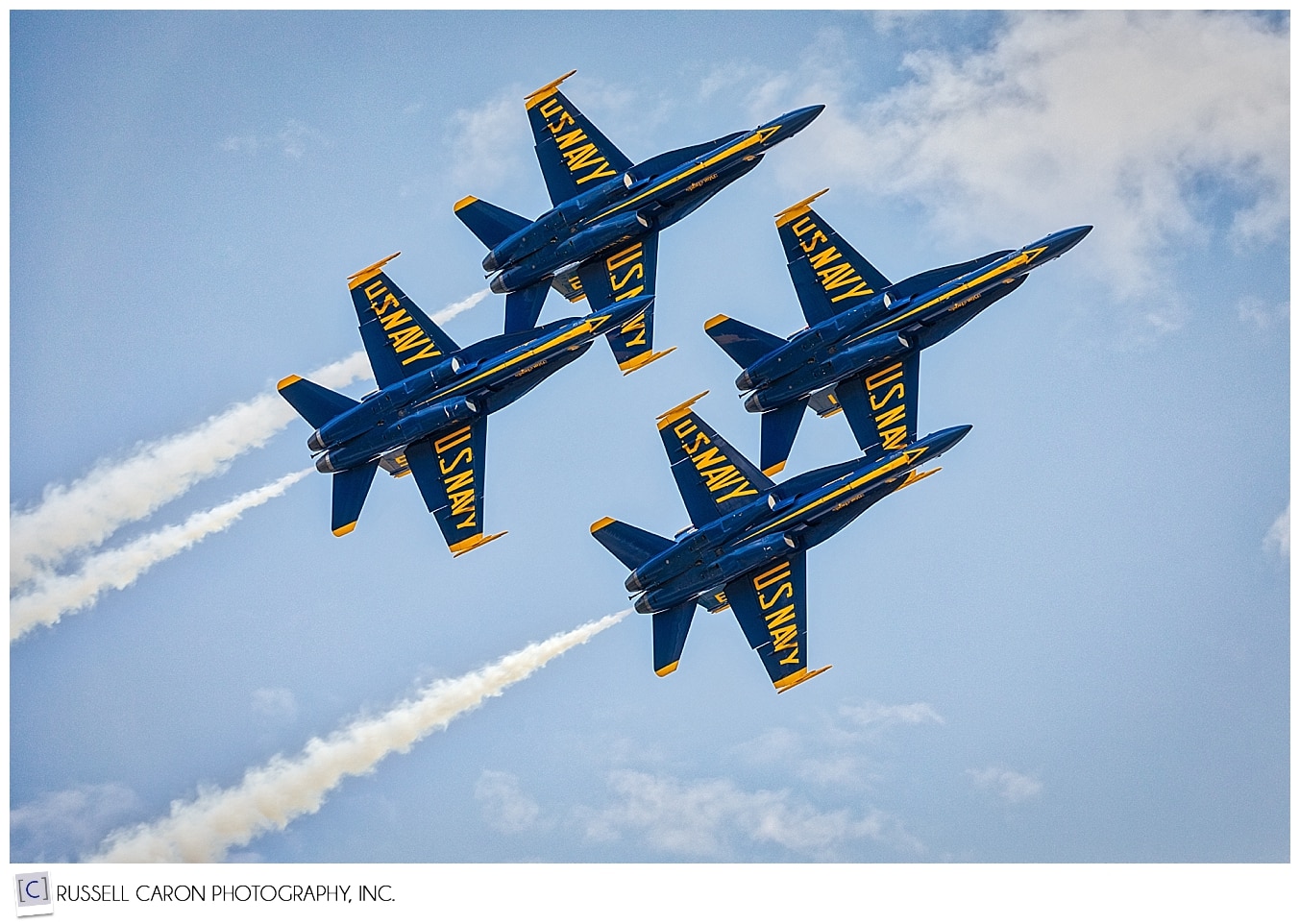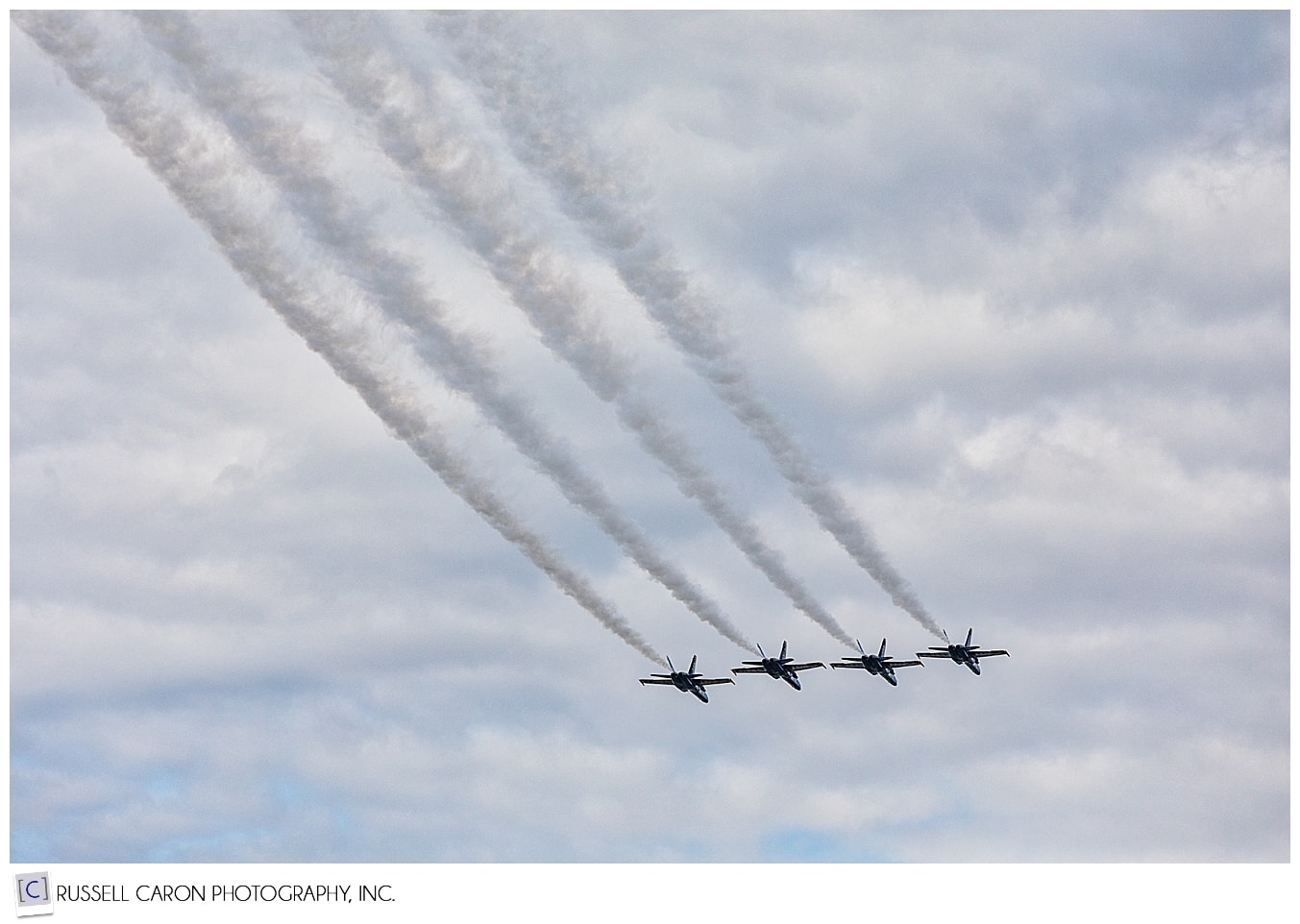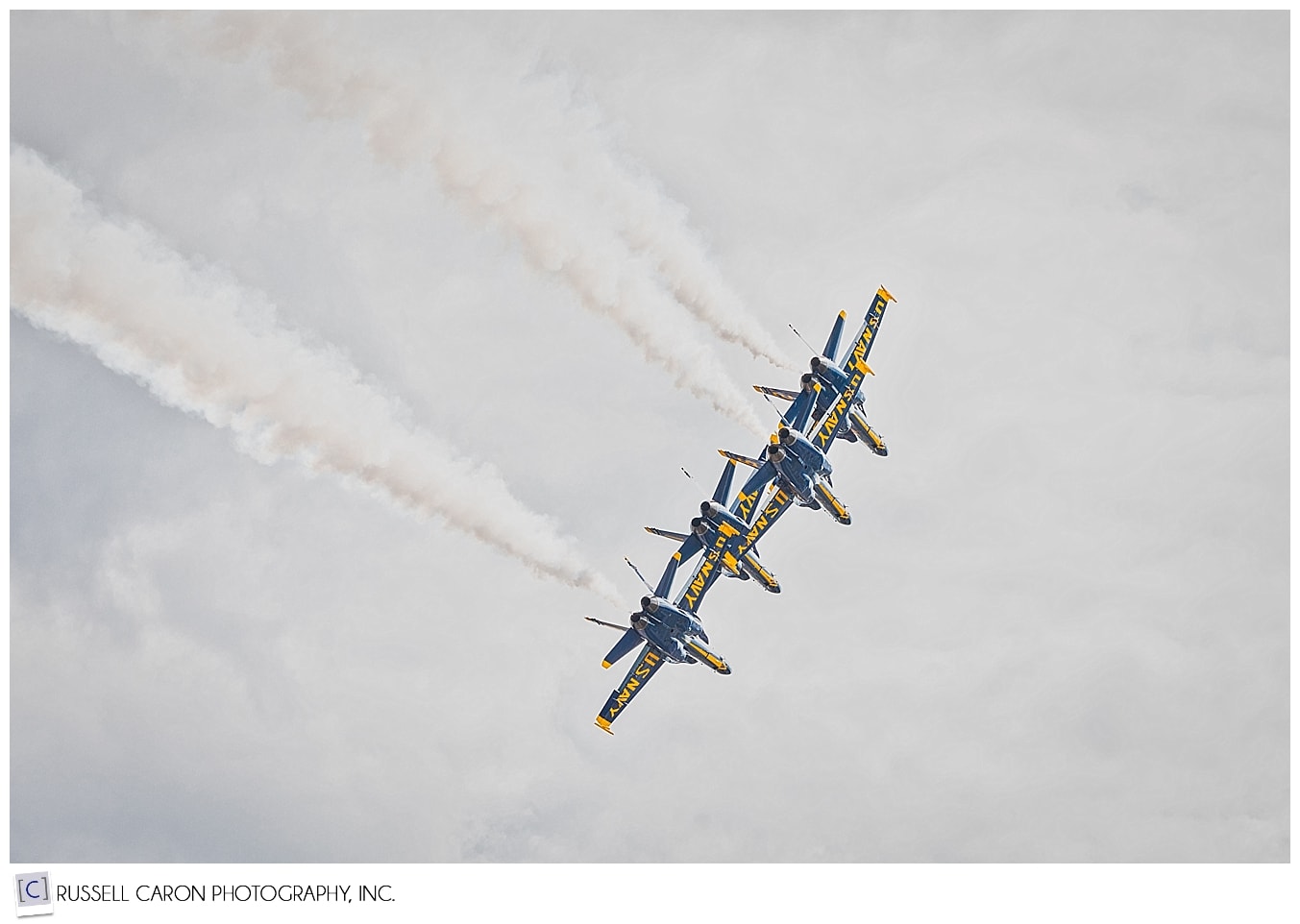 Maine wedding photographers, Russ and Liz Caron of Russell Caron Wedding Photography, not only put the fun into wedding photography for Maine wedding couples. They also enjoy photographing other passions, such as the U.S. Navy Blue Angels Air Show that takes place in Brunswick about every two years. Feel the love as this dynamic pair effortlessly capture each of your cherished moments, producing natural poses and unparalleled art for your special day. For more information, please contact us right away!