Top Maine Wedding Photos | Peaks Island Maine Wedding Photographers
We're counting down our top Maine wedding photos of 2017! As such, we're re-publishing this, our #2 image post, because we can now share the image with you. Read on: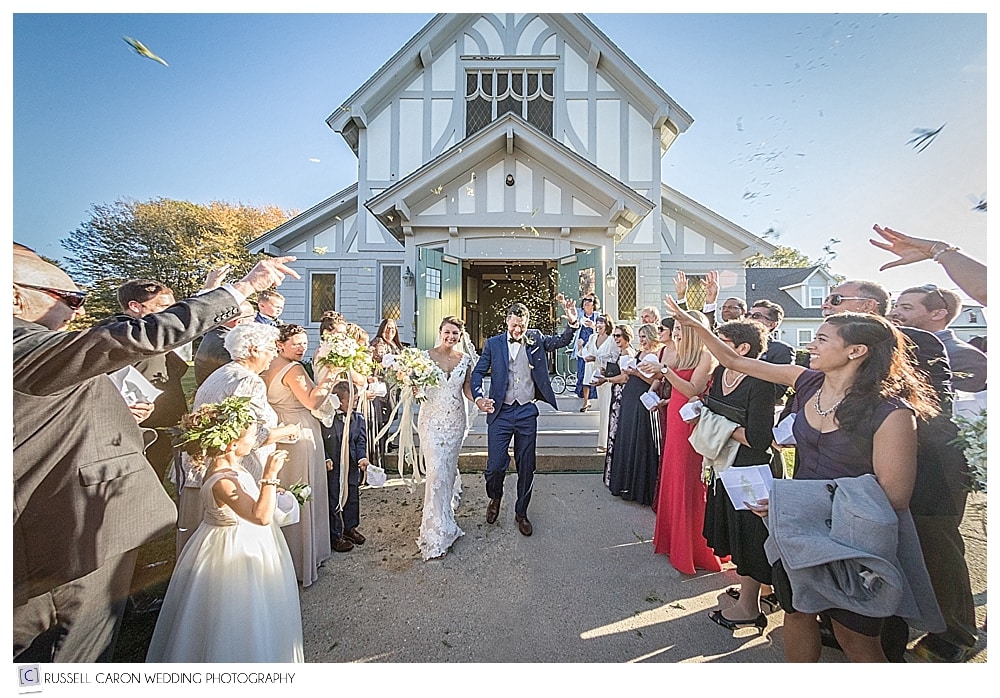 This is an update to our December 30, 2017 post. As a result, we can now share the image with you! It's our #2 top favorite image of 2017.
Here, Emily and John exit the quaint and charming St. Christopher's Roman Catholic Church on Peaks Island, Portland, Maine at their October 20, 2017 wedding. Most noteworthy, Emily and John won the Real Maine Weddings Magazine Real Maine Wedding of the Year contest for 2017. The January 2018 issue of Real Maine Weddings Magazine features all the details. Certainly you'll want to check out the magazine, starting on page 117, which you can see on-line here, while you wait to grab your copy from the newsstand. Not to be missed is their multi-day wedding weekend. The welcome party to their sparkler exit on wedding day is all chronicled! As a result, we've even opened this digital version to open to the correct page.
What made this image our #2 top wedding image of 2017 was its feels and its essence. For this reason, it's about how the newlyweds emotions shine through, its quintessential feel, and how the crowd is seen sharing that joy as they throw sprigs of fresh rosemary on the couple during a ceremonial exit. Above all, it was an uncustomary warm (may we say, hot?) mis-fall day, with crisp blue skies and lots of bright sunlight.
Please comment on the blog post, and share!! Thank you 🙂
Maine Wedding Photographer of the Year 2016 and 2017 Russell Caron and his wife, partner, and co-shooter Liz Caron photograph weddings, and weddings only, from Boston to Bar Harbor and destinations worldwide. Let us tell you more about why choosing us as your wedding photographers could be one of the very smartest choices you'll make among your wedding day choices. Contact us today for more information and our availability for your wedding!