Maine Drone Wedding Photos | Maine Drone Wedding Photographers
There's no question, our Maine drone wedding photos are capturing people's interest!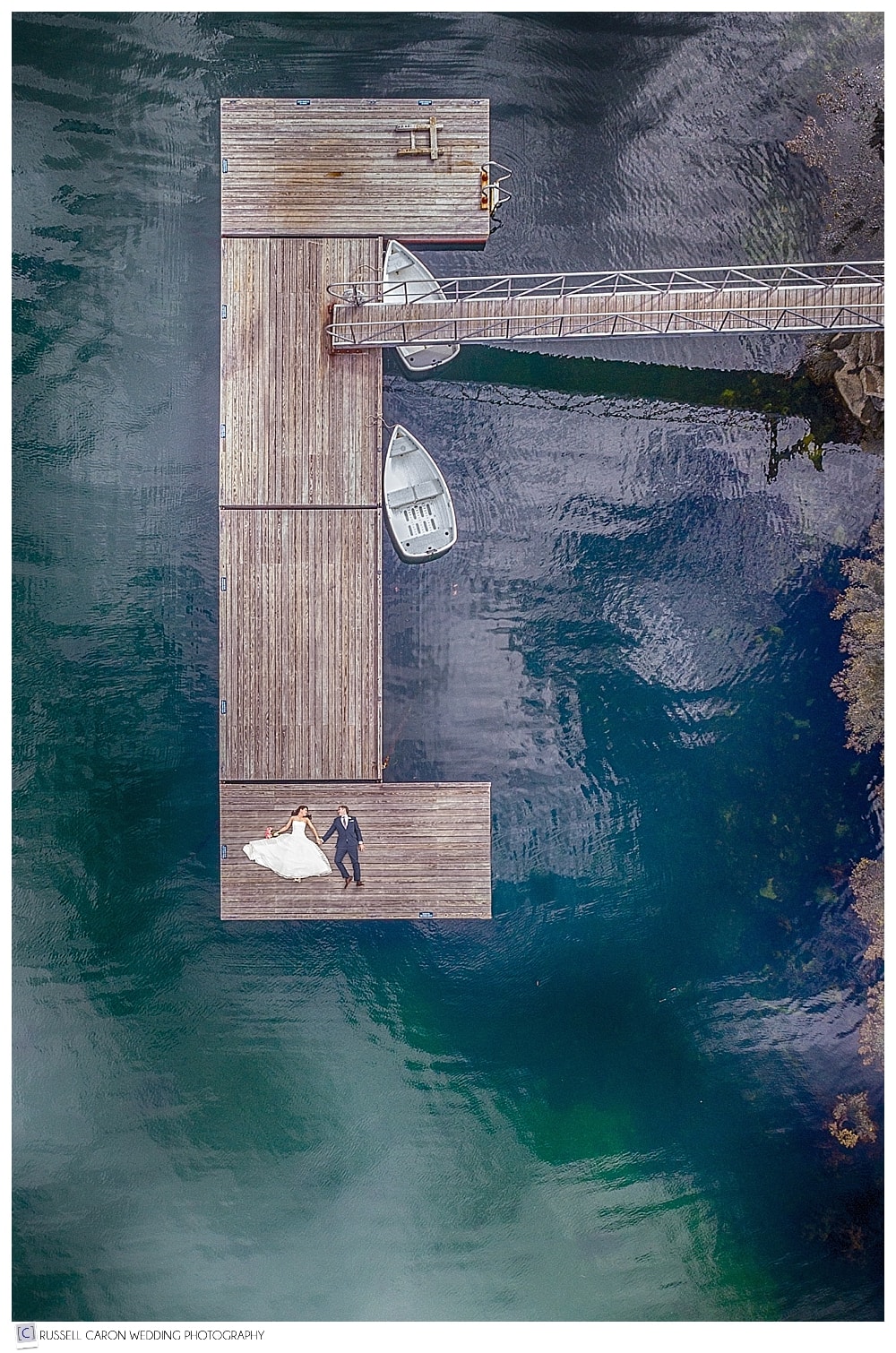 Here we are at #1!
Danielle and Rob on the dock at their Newagen Seaside Inn wedding.
The photo above, is our #1 Top favorite wedding photo of 2017 for so many reasons. First, our couple, Danielle and Rob, were as sweet as could be. They gave us the time to do what we wanted to do with our drone. And laying down on a dock was absolutely fine. Luckily, the dock at the Newagen was spotless!
Another reason is that while this was our very first image of its type, one we repeated a number of times over the season at subsequent weddings, this one remains our favorite. The setting is perfect, the dock pristine, the water color varied and saturated. Danielle and Rob's pose looks realistic.
This became a signature image for us, and thus it easily became our #1 favorite wedding image of the year. No small feat when you consider how many photos we take in the course of the year, hundreds of thousands!
We've reached our #1, but the counting down isn't quite over yet. We'll start featuring a series of 'honorable mentions' soon, so keep an eye out in this very space!
If you're enjoying our Maine drone wedding photos, please let us know. Comment on the blog post, and share on social media!! Thank you 🙂
Maine Wedding Photographer of the Year 2016 and 2017 Russell Caron and his wife, partner, and co-shooter Liz Caron photograph weddings, and weddings only, from Boston to Bar Harbor and destinations worldwide. Let us tell you more about why choosing us as your wedding photographers could be one of the very smartest choices you'll make among your wedding day choices. Contact us today for more information and our availability for your wedding!