Teaching a Photography Workshop | Maine Photographers
While we really enjoy presenting wedding photography and business workshops, our recent schedule hasn't allowed us the time to present one in over a year-and-a-half.  We were thus very pleased to be asked to develop a basic photography workshop by ISANNE, the Independent Schools Association of Northern New England. This gave us the chance to teach again without all the logistical issues associated with managing and teaching a larger scale event. Designed to help those tasked to take photographs as part of their jobs at these private schools, eighteen people enrolled in the half-day course on a recent August weekday at the host school location, Thornton Academy in Saco, Maine.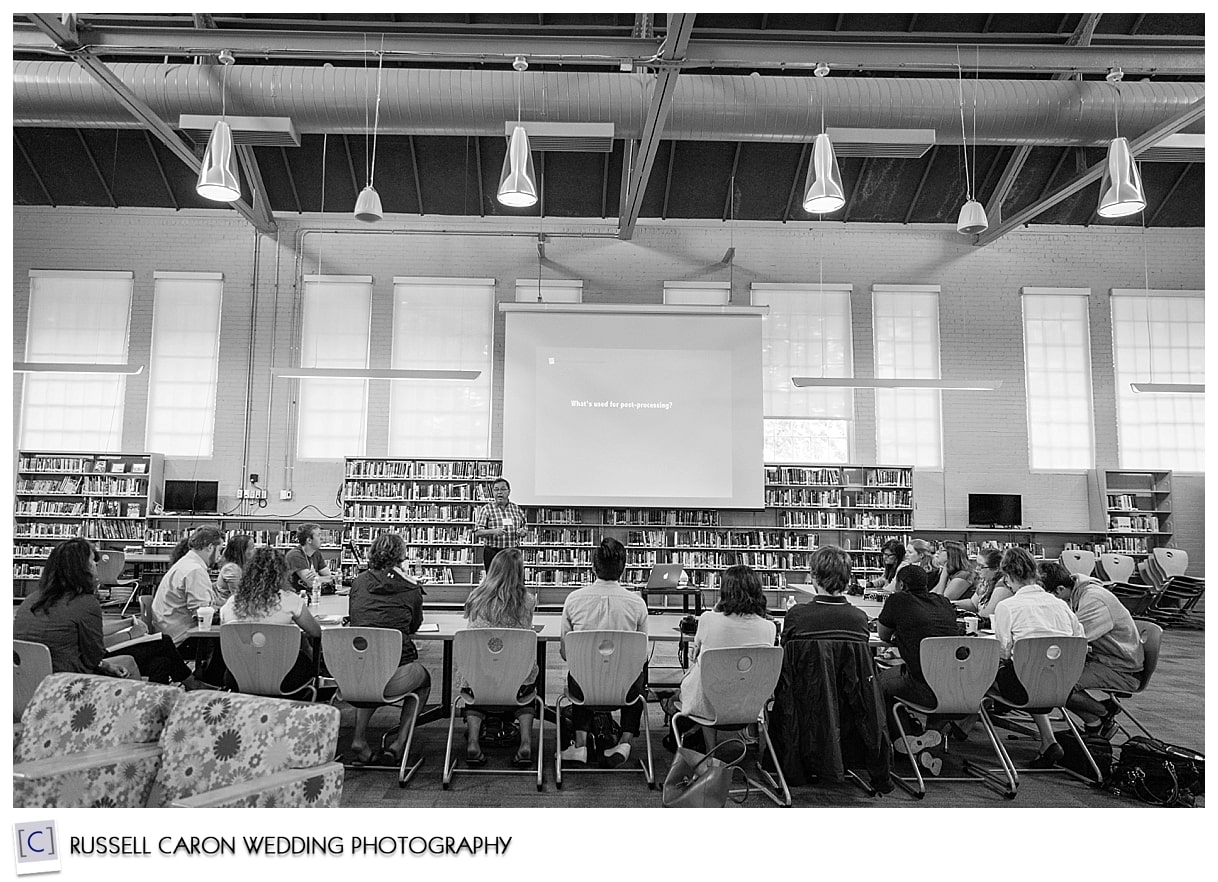 The enrollees were enthusiastic and eager to learn, and were presented with a technical background in basic photography which explored the fundamentals in photography; a "photo 101" per se.  The goal we had as instructors was to ensure that each participant left the session feeling they knew much more about their cameras and how to use them more effectively photographing school events that are tasked to do in their roles at their schools.
Presenters really enjoy when students have questions, as this group did throughout the day. They learned about the three principal ways light is adjusted to reach the camera's sensor, the difference between the sizes of sensors in their digital cameras and why it matters. They learned about the effect of lens choices on depth-of-field, and mostly how to use their cameras on more advanced settings other than "automatic". And they learned that the "pop-up" flash in their cameras has little value for the type of photography they do. And, of course, what to do about it.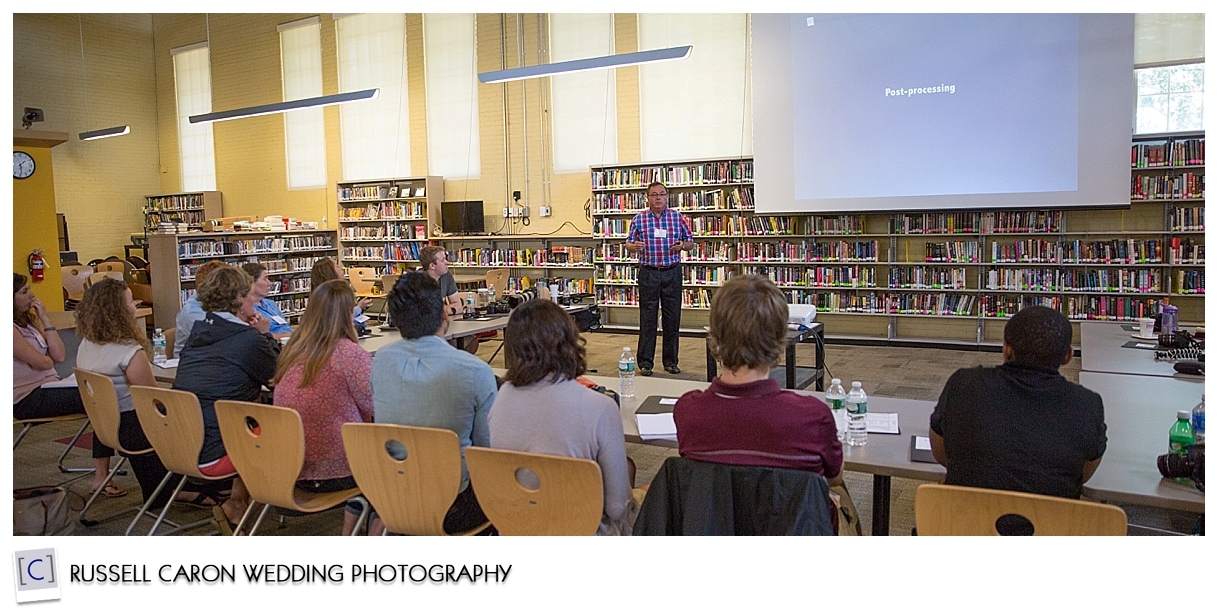 Rigorous backup routines were touched upon, under the thinking that images worth taking are images worth ensuring are safe and backed up. Samples from events photographed by Russell Caron Wedding Photography were shown.  Information from key vendor partners was shared, and the day wrapped up with some valuable give-aways from photography partners we work with.
We're looking forward to presenting follow-up photography workshop courses with ISANNE in the future in other areas of New England, and we really love that the participants largely showed that we met our goal of sending them out the door feeling that they had learned several key things and that they were excited to go out and put what they'd learned to the test at their schools.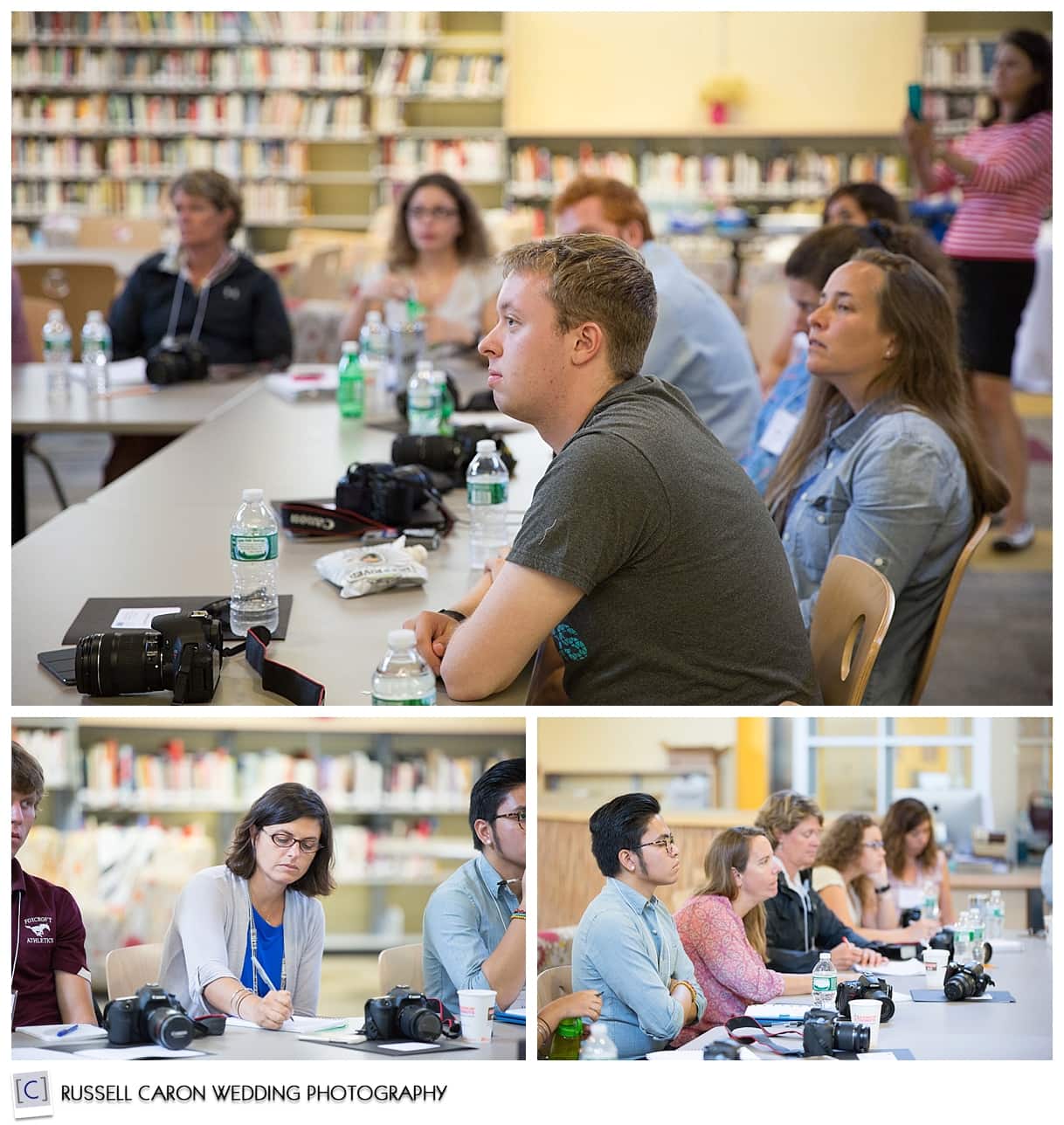 We love comments!! Please leave a comment to let us know if you enjoyed this article about teaching a photography workshop, or if you have questions, or want more information. Thank you!
Whether teaching basic a photography workshop, photography business basics, or off camera flash, Maine wedding photographer, Russell Caron, is available for workshops, group instruction, or one-on-one mentoring. Contact us, call Russ at (207)233-4050, or email him at russ@wed-pix.com.