Sweet Father-Daughter Dance | Rockport Maine Wedding Photographers
We love this moment during Perri and her dad's sweet father-daughter dance!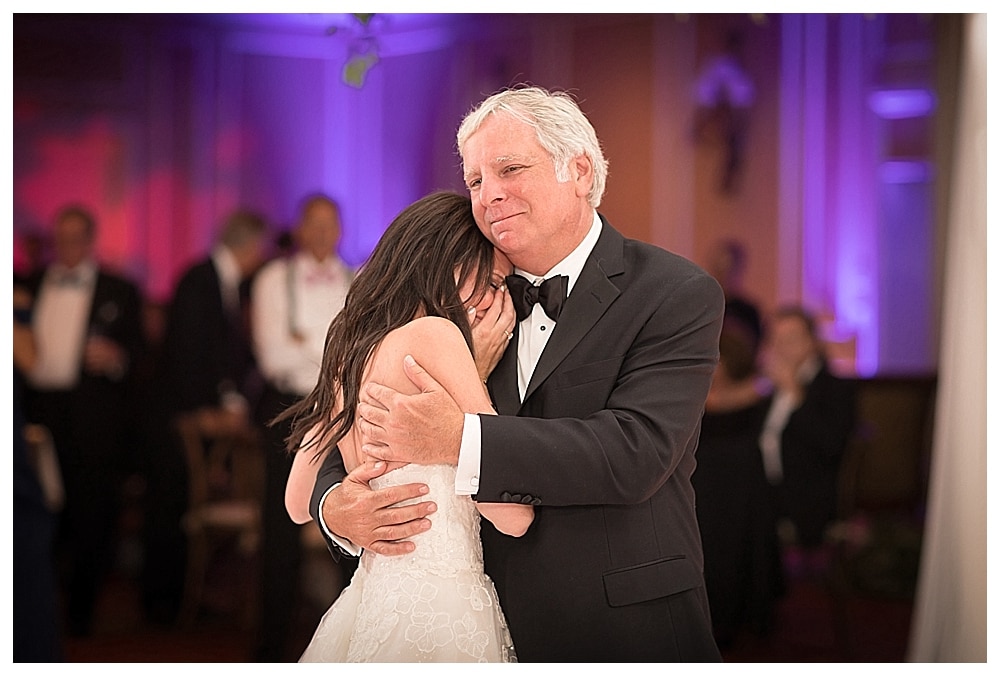 Well, here's Perri making her second appearance in our Top 17 of 2017 countdown, here at #4! (See Perri in her first appearance, here at #8 from 4 days earlier)
Perri and Steve's wedding at the Samoset Resort in Rockport, Maine was, absolutely spectacular! It was a swoon-worthy wedding in every aspect. From the decor, to Perri's dress, to the first look, to the crazy-awesome dance party. We won't forget this fantastic wedding anytime soon!
There were so, so many incredible moments, but none more amazing that this incredibly tender, loving, and emotional moment between Perri and her dad, Michael. There were three shots in this series we took; one with emphasis on the emotions of Perri; the next on her dad; (these two are not shown) and then this one, that combines the best of both.
The out-of-the-park ambience thanks to the talented Purple Orchid Events lends itself, too, to the beautiful shapes and light of the background. Intentionally in soft-focus, the viewer's attention falls to Perri and her dad. The other hallmark of an award-winning photograph, in our book, as well as that of others, is the fact that absolutely no storytelling is needed to know exactly everything that was going on.
Top 3 begins tomorrow!
What a sweet father-daughter dance!! Please feel free to comment on this blog post, and please share!! Thank you 🙂 #4 is coming up tomorrow! What do you think it will be? Come back tomorrow, and each day, until we reach #1 on December 31!
Maine Wedding Photographer of the Year 2016 and 2017 Russell Caron and his wife, partner, and co-shooter Liz Caron photograph weddings, and weddings only, from Boston to Bar Harbor and destinations worldwide. Let us tell you more about why choosing us as your wedding photographers could be one of the very smartest choices you'll make among your wedding day choices. Contact us today for more information and our availability for your wedding!