Emotional Groom Photo | Scarborough Maine Wedding Photographers
There's nothing that we love more than an emotional groom photo! And this is one of our favorites!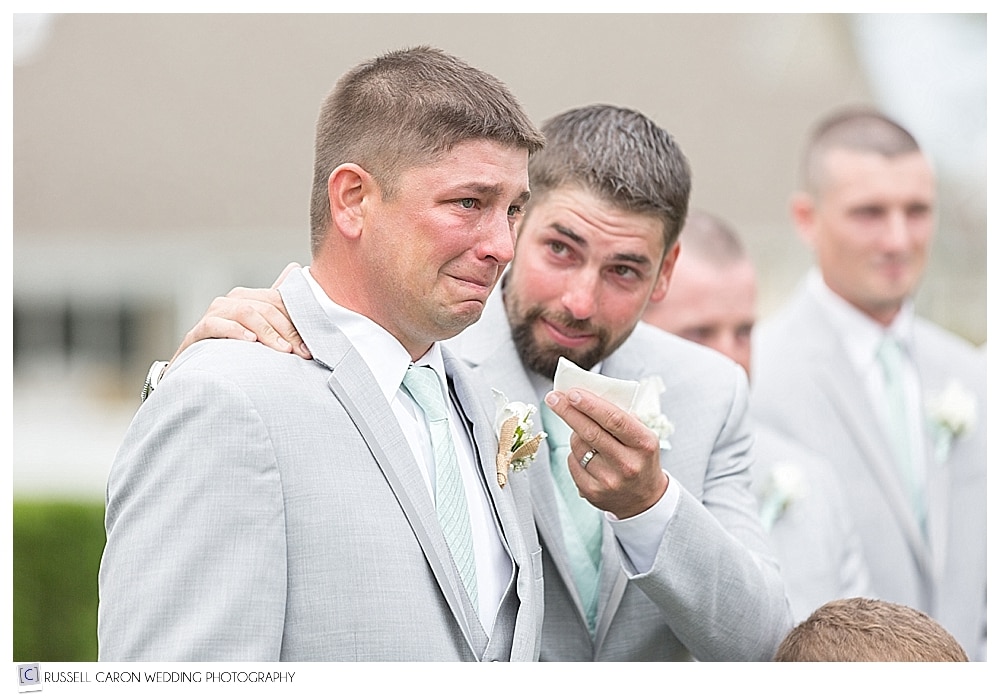 And, we continue with EMOTION! It's such a powerful part of what we do as we capture wedding images for our clients. And this one is the best of the best in emotion of all our wedding images of 2017, and our #3 overall top wedding image of 2017. This photo was taken by Liz Caron.
Jillian and Jon are yet another one of our clients where words cannot describe their love and chemistry. Jon is a lobsterman, a tough and intense occupation, to be sure. Tears are reserved for emotions, and this image illustrates well just how much emotion we were dealing with here. When Jon saw his beautiful bride-to-be round the turn escorted by her dad; well…. The ceremony was at Dunegrass Country Club in Old Orchard Beach, Maine last June.
This photo is really also totally about the best man, too! That arm around his shoulder, and that offer of a tissue. And his eyes! Both of their eyes, for that matter!
We could go on and on about all that we love here, and why it's such a strong image to us, but who wants to hear words when this photo doesn't speak a thousand words, it speaks volumes about Jon and Jillian.
See the gorgeous bride here, by the way!
Wow, we love this image, and that is why it is our #3 image of the year! (Also, watch for this image in print in the upcoming Winter 2017-2018 issue of REAL MAINE WEDDINGS magazine, it was one of their Editor's Picks!)
If you love this emotional groom photo as much as we do, please comment on the blog post, and share!! Thank you 🙂 We're down to the top 2 images!! Come back tomorrow, and the next day, as we reach #1 on December 31!
Maine Wedding Photographer of the Year 2016 and 2017 Russell Caron and his wife, partner, and co-shooter Liz Caron photograph weddings, and weddings only, from Boston to Bar Harbor and destinations worldwide. Let us tell you more about why choosing us as your wedding photographers could be one of the very smartest choices you'll make among your wedding day choices. Contact us today for more information and our availability for your wedding!