Stellar Wedding Image | New England Wedding Photography
There are so many thing about his stellar wedding image of Amy and Jim, that we just love!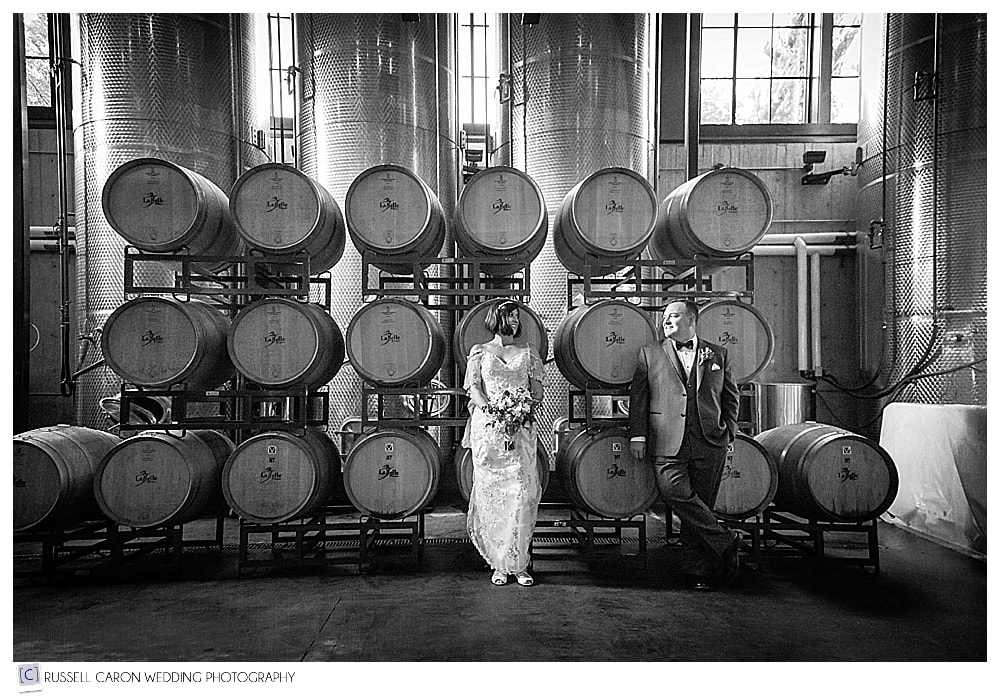 Amy and James' wedding at LaBelle Winery in Amherst, New Hampshire could not have been more perfectly fitting for them. A beautiful, idyllic setting at a countryside vineyard and winery in the still-colorful fall of a New England small town. Large enough for all of their family and friends, warm enough for an outdoor ceremony at dusk.  And also, with lots of delicious wine for everyone's enjoyment.
After Amy and Jim's first-look and artistic photos on site, we were offered the opportunity to do use the wine room amidst the shiny stainless tanks and among the classic wooden casks. Never mind the deep pleasing aroma of this room, strands of light were shining just-right here and there and were just right for us to add a little supplemental light of our own to create a perfect look.
One of the many things we love about this image is the fact the viewer's eyes land on Amy first; being centered as we placed her, and being dressed, of course, in a beautiful white gown. The viewer may not even immediately see Jim in the photo. Which adds an element of mystique that we really enjoy. However, when the eye moves to Amy's face, we see she's looking to her left, and that is toward, naturally, her soon-to-be-husband, Jim.
Like our favorite from yesterday, this image, taken by Liz Caron, spoke to us best in black and white.
Did you enjoy this stellar wedding image of Amy and Jim? Let us know by commenting on this blog post, and please share!! Thank you 🙂 Tomorrow we begin the top 10! Stay tuned tomorrow and every day until we reach #1 on December 31!
Maine Wedding Photographer of the Year 2016 and 2017 Russell Caron and his wife, partner, and co-shooter Liz Caron photograph weddings, and weddings only, from Boston to Bar Harbor and destinations worldwide. Let us tell you more about why choosing us as your wedding photographers could be one of the very smartest choices you'll make among your wedding day choices. Contact us today for more information and our availability for your wedding!