Dramatic Environmental Portraits | Kennebunkport Wedding Photographers
We're known for our dramatic environmental portraits, like this one of Laura and Ben.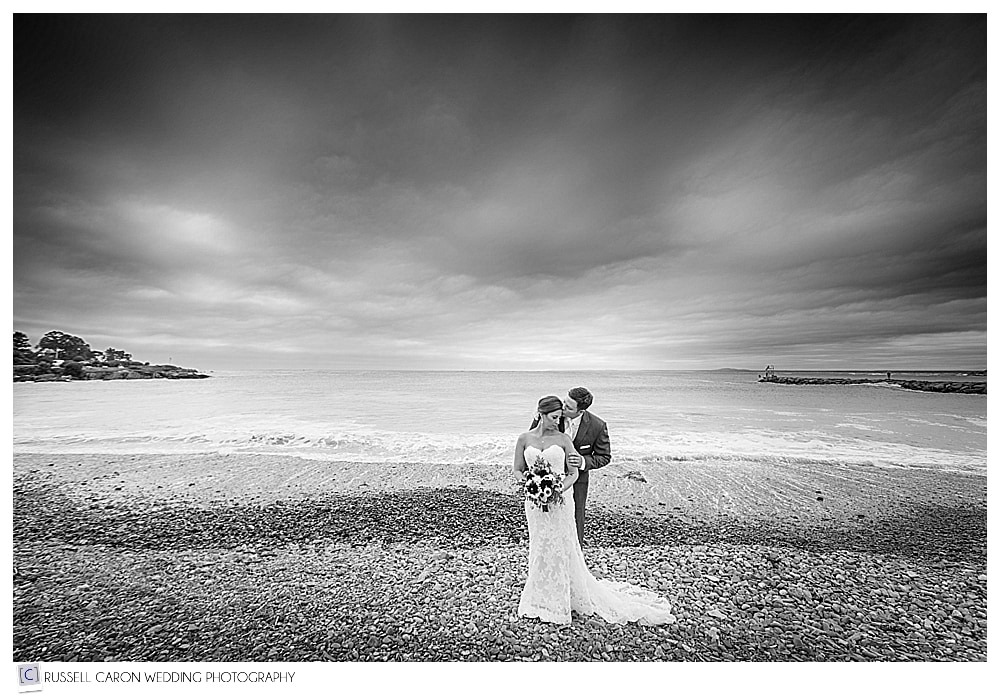 It was Laura and Ben's September wedding in Kennebunkport, Maine, at the Colony Hotel. What is one of the many awesome things about the Colony Hotel? The nearby beach, unofficially known by locals as, fittingly, Colony Beach, is an easy walk. During our artistic set with Laura and Ben, we headed there.
On the heels of an offshore hurricane, the water level was extremely high. A nearby fisherman on the breakwater, visible in the background, was nearly swamped by a rogue wave. All of this built into the drama that was completed for us with the moody skies.
Being that we love dramatic skies, we were hopeful that the offshore storm was indeed going to generate some great cloud action, and it did. We walked Laura and Ben along the shore after capturing some images with the Colony Hotel in the background. We shot some more of the two of them walking, then posing quietly. Among these there were many favorites, but the image above, with it's pensive, deep contemplative connection between these two became our favorite. Laura and Ben had just done a first-look, and it was still about an hour and half before their actual ceremony on the lawn at The Colony (a fantastic location for an outdoor, very-Maine-flavored wedding, by the way!).
Lastly, we love the color version of this image but found our real favorite, our #12 of the year in fact, to be this black and white rendition.
Do you enjoy our dramatic environmental portraits? We'd love it if you would comment on this blog post, and please share!! Thank you 🙂 #11 is next! What do you think it will be? Stay tuned, tomorrow and every day until we reach #1 on December 31!
Maine Wedding Photographer of the Year 2016 and 2017 Russell Caron and his wife, partner, and co-shooter Liz Caron photograph weddings, and weddings only, from Boston to Bar Harbor and destinations worldwide. Let us tell you more about why choosing us as your wedding photographers could be one of the very smartest choices you'll make among your wedding day choices. Contact us today for more information and our availability for your wedding!