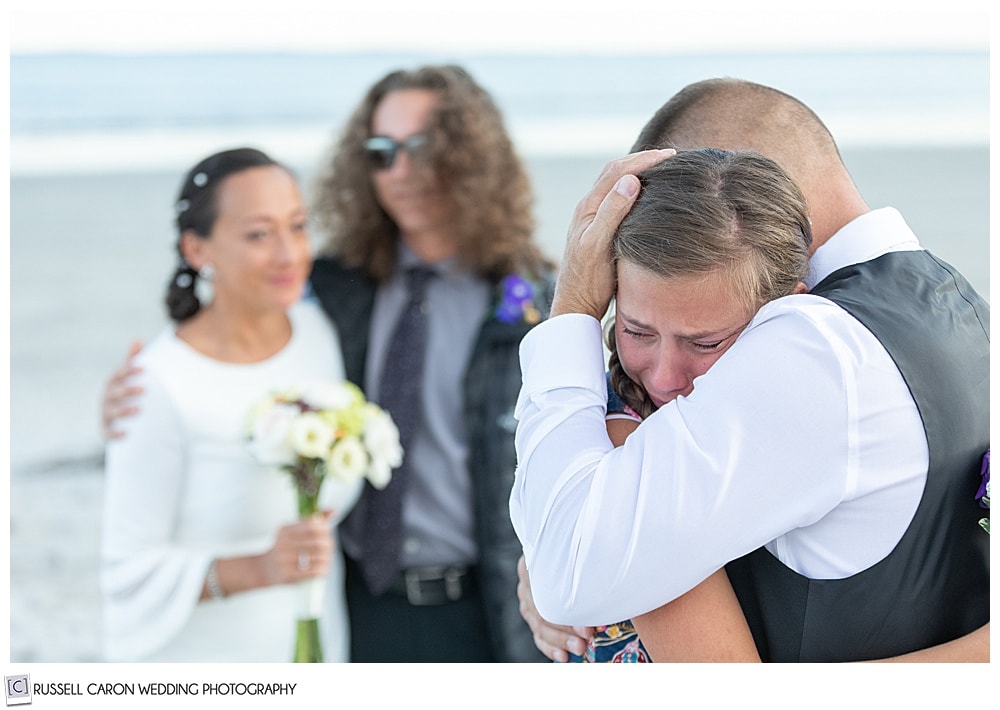 This elopement-sized wedding had it all, not the least of which was precious family emotion!
It's not often we so love a wedding day image that doesn't directly show the couple who just was married together. But this one's different. For all the right reasons, it's one of my top wedding images for 2019.
Jennie and Michael chose to marry in a very intimate secluded ceremony on the beach at Pine Point, Scarborough, Maine; a locale that has special meaning to them.

But what was truly special was the emotion that shone through so beautifully by Michael's daughter. So happy to have her new step-mom become an official part of her life from this moment on, she gave us ample opportunity to catch true emotion as she witnessed the marriage.
But it was this moment after the ceremony that was so special to me, making it my #7 top wedding images of the year. A heartfelt embrace with her dad the area of sharp focus, as intended, but just in soft focus Jennie, at just the right distance back, being comforted by her son.
It's one of those photos with a lot going on, with elements that lead around and back, and it is a photo I will long love, as we are sure that Jennie and Michael do.
See more of Jennie and Michael's Pine Point Scarborough elopement at: Pine Point Scarborough Elopement
Venue: Pine Point Beach
Photographers: Russell Caron Wedding Photography, photographs by Russell Caron and Liz Caron
Bride and groom's attire: Macy's
Flowers: Harmon's Floral Company
Please comment on the blog post if you enjoyed Russ' #7 precious family emotion! And please share!! Thank you 🙂 Come back every day, until we reach #1 on December 31!
Maine wedding photographers, Russell and Liz Caron, a husband and wife wedding photography team, would love to be part of your special day. Whether you're having a small and intimate gathering like the Pine Point Scarborough elopement pictured here, or are going all out and having a huge bash, we'd love to capture every moment of your wedding day. Traveling all over New England, the US, and worldwide, this dynamic wedding photography team specializes in producing natural poses and unparalleled art for your big day. For more information, please contact us right away!